© 2016 The Texas Lawbook.
By Natalie Posgate
(Oct. 17) – Not much changed in the world of Texas M&A during the third quarter from a year ago. Workload for corporate transactional lawyers was about the same as Q3 2015 and far less busy than Q3 2014, the best three months of M&A in Texas history.
Texas businesses were involved in 209 mergers, acquisitions, divestitures and joint ventures in the third quarter of this year – nearly a 4 percent decline from Q3 2015 and a 26 percent decline from Q3 2014 – according to new data from independent research firm Mergermarket.

Due to a couple of megadeals, deal value skyrocketed from Q3 2015, which put some nice cash in the pockets of the Texas lawyers who advised those companies. The total value of the 209 deals was $110.83 billion, which is almost double Q3 2015's $57.5 billion total value.
If one factors out two largest Q3 2016 deals – Enbridge's $40 billion purchase of Spectra Energy (debt included) and NextEra's $18.7 billion purchase of Oncor – the total deal value plummets to $52 billion, which is 9 percent lower than total deal value in Q3 2015.
The Mergermarket data also provides notable statistics for total deal count and value and law firm rankings for deals handled during the first nine months of this year compared to the same time period in previous years. Among them are:
• Kirkland & Ellis, Latham & Watkins and Vinson & Elkins (as usual) ranked at the top for working on the most deals involving Texas companies;
• Three firms – Baker Botts, Andrews Kurth and Norton Rose Fulbright – that were in the top 10 last year fell to rankings fall to the double digits;
• 11 of the top 25 firms have advised on fewer deals in 2016 than they did a year ago;
• The top 12 law firms ranked by deal value are based out-of-state;

• Four of the five firms with the highest deal value do not even have an office in Texas;
• Deal count fell 5 percent in Q1-Q3 2016 compared to Q1-Q3 2015, but increased by 5 percent in deal value;
• Deal count and value for the first nine months of this year are down by 20 percent and 33 percent, respectively, from the first nine months of 2014; and
• Average value per deal in the first nine months of 2016 is nearly 11 percent higher than the same time period in 2015, but 16 percent lower than the same time period in 2014. The average value per deal in the first nine months of 2014, 2015 and 2016 was $372 million, $283 million and $313 million, respectively.
No matter how one looks at the data, it shows there is less M&A work for lawyers representing Texas businesses than there was in 2015 and 2014 – at least from the standpoint of the deals that were announced or closed.
And for some Texas-based lawyers, that means work is stacking onto the desks of New Yorkers instead of their own.
"We've been in a continuing period of fewer, larger deals," said Chad Watt, an analyst with Mergermarket. "That impacts regional firms in two ways: Large companies do work with New York-centric law firms, and the biggest law firms (often from New York) will work to maintain their share of the deals available."
As a result, midsized deals have been on the decline this year, Watt says, which in turn affects the law firms that handle those deals.
Haynes and Boone, Norton Rose Fulbright and Andrews Kurth Kenyon – all of which handle a fair amount of midsized deals – have all dropped in the Mergermarket rankings from where they stood during the first nine months of last year.
The exception is Locke Lord, whose midsized M&A work is their "bread and butter," as Joe Perillo, a corporate partner in the firm's Houston office, once told The Texas Lawbook. Locke Lord jumped from eighth to fourth in Mergermarket's rankings.
"Firms that specialize in middle-market deals have had fewer deals reaching completion," Watt said. "And as a general statement, companies hire lawyers, and not law firms, so if you have some key attorneys shift firms year-to-year, that would cause a shift," Watt says.
That certainly rings true for Kirkland. Since the Chicago-based corporate law powerhouse entered the Texas market in 2014, it has added more than 80 attorneys to its fledgling Houston office – most from the top firms in Texas. A few hires since Q3 2015 include corporate partners Cody Carper from Akin Gump, Adam Larson from V&E and tax partner Chad McCormick from Baker Botts. Last year, while at V&E, Larson was No. 2 at his firm for leading the most deals. He ranked ninth in this category out of 334 of the state's leading M&A lawyers, according to The Texas Lawbook's Corporate Deal Tracker.
Energy deals continue to dominate Texas M&A in 2016. Watt said most of the deals he's been seeing in the first nine months of the year are in the energy infrastructure space, including the two largest Q3 2016 deals in Texas M&A (Enbridge-Spectra Energy and NextEra-Oncor).
The Enbridge-Spectra deal also ties back to Watt's point about large Texas companies that have recently opted for New York and other global law firms for their most profitable deals.
Despite both companies having headquarters or major operations in Houston, Enbridge and Spectra both hired lawyers from five firms outside of Texas, including New York powerhouses Sullivan & Cromwell and Wachtell, Lipton, Rosen & Katz, which ranked second and fourth, respectively, for deal value during Q1-Q3 2016.
Energy deals aside, Watt says M&A activity in other business sectors is "slow."
"That's true in Texas and across the U.S. middle market M&A, mostly among private companies, family-owned, closely-held businesses and [deals] involving generalist private equity investors has been very slow," he said. "In normal times, you could also lay blame on the upcoming presidential election."
(Editor's Note: This data is collected and pulled solely by Mergermarket. The Texas Lawbook simply receives the data once it is completed through our exclusive agreement with Mergermarket to collect Texas-specific data. It is completely separate from the Corporate Deal Tracker data mentioned in this article.)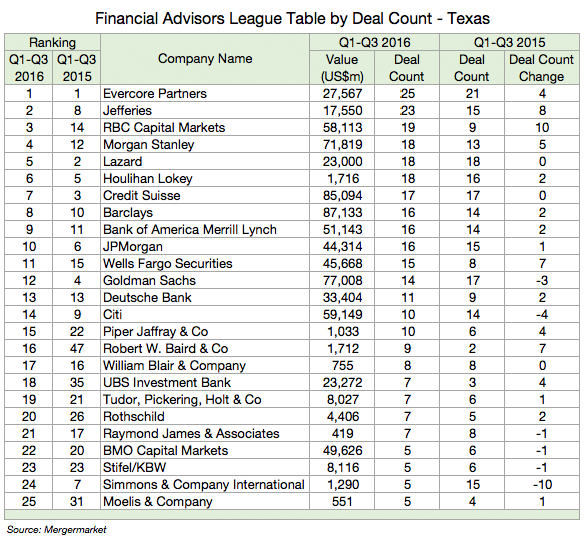 © 2016 The Texas Lawbook. Content of The Texas Lawbook is controlled and protected by specific licensing agreements with our subscribers and under federal copyright laws. Any distribution of this content without the consent of The Texas Lawbook is prohibited.
If you see any inaccuracy in any article in The Texas Lawbook, please contact us. Our goal is content that is 100% true and accurate. Thank you.