Back in middle school, Johnathan Jordan started playing Halo, a military science fiction game set in the 26th century in which the player controls a technologically created super soldier to battle evil aliens.
Despite his love for gaming, Jordan knew even in seventh grade that he wanted to be a lawyer like his father, who is a prominent commercial trial attorney in Dallas.
Never did he think the two passions — law and gaming — would collide. Back then, esports and professional computer gaming were not even an industry. "Back then" was not even two decades ago.
In January 2022, Jordan became the first corporate general counsel in Texas of an esports and gaming business, OpTic Gaming. The Frisco-based entertainment company employs professional game players and content creators, and it manages the Esports Stadium Arlington, which is the largest turnkey esports arena in North America.
"I handle everything under the sun, and then some," said Jordan, whose official title is vice president of legal. "One of the many joys of working at a company like OpTic is that I get to wear many different hats. On the legal side, I handle our day-to-day contracts — sponsorships, player and content creator/influencer contracts and vendor agreements."
During the past year, Jordan helped OpTic acquire internet platform Botisimo, which is popular with video game streamers and content creators, and worked on partnerships with consumer brands such as eyewear provider Oakley and soft drink maker Mountain Dew. He also played a key role in launching a first-of-its-kind loyalty program — OpTic Nation — for professional esports.
"Esports is now a $1 billion industry and growing quickly and experiencing some growing pains, but it is exciting to be in the middle of it at such an exciting time," he said.
The Association of Corporate Counsel's DFW Chapter and The Texas Lawbook have named Jordan as a finalist for the 2022 DFW Corporate Counsel Award for Rookie of the Year.
ACC-DFW and The Lawbook will honor all the finalists and announce the winners at an awards ceremony on Jan. 26 at the George W. Bush Institute.
"Johnathan is a trailblazer in the esports legal landscape," said Mitchell Garrett, a lawyer at Ryan Law Partners and the person who nominated Jordan for the award. "At just 31 years old, Johnathan has already achieved what many would consider a successful career. What he has done at OpTic Gaming is impressive."
Jordan is to esports, the business of gaming and law what Robert Strauss, Vernon Jordan and James Baker were to the intersection of politics, public policy and law.
"Johnathan excels in an impossible task — he's challenged to lead in an emerging industry without the benefit of history, precedent or established case law," said Greenberg Traurig shareholder Steve Walkowiak, who co-chairs the global law firm's video games and esports practice group. "Much of what we do day to day is standing on the shoulders of legal giants who came before us."
"Yet Johnathan is thrust to the tip of the spear, breaking new ground and working without a net," Walkowiak said. "He excels in this task, boldly leading and guiding in an industry still in its legal infancy."
OpTic, which merged last year with Envy Gaming, employs about 20 professional esports gamers who compete in esports such as Call of Duty, Halo and Overwatch. OpTic now has a global audience of 50 million people.
OpTic has Jordan serving in several prominent positions, including corporate secretary, where he is the primary point of contact for the orgs' current investors.
"I am also helping to lead the company's current fundraising efforts," he said. "I also work closely with our COO and assist with operational aspects as well. It is a lot, but I enjoy every minute of it. It's a truly rewarding experience to be able to help lead such an innovative company in such an innovative and ever-evolving industry."
OpTic Gaming President Geoff Moore said Jordan has a "natural interest" in the industry.
"Having a well-integrated legal counsel is important on many levels – the earlier in a discussion he can be involved to both give feedback and learn about our objectives and situation – the better result we have," Moore said. "Both in the result of the individual business issue and in developing internal cohesion.
Maria Garrett, a labor and employment litigator at DLA Piper and former law school classmate of Jordan at Baylor University, said Jordan was not satisfied with just "developing a book of business that his superiors guided him toward."
"Johnathan developed an interest in esports and networked his way to significant contacts, which eventually turned into business development opportunities and ultimately an in-house job," Garrett said. "He was intentional in his pursuits, focusing on joining organizations aimed at the esports community, attending events in the field and reaching out to individuals in the industry on his own.
"He was undeterred by the rules of firm business development or, frankly, his own lack of expertise in the area," she said. "Instead, he cultured that expertise all on his own. And he continues to do so, leading industry organizations and associations, going on industry podcasts."
Jordan was born in Dallas and grew up in Coppell. His father, Jim Jordan, just completed a term as chair of the litigation practice at the corporate law firm Munsch Hardt in Dallas. His mother, Sue Jordan, was a stay-at-home mom. His older sister, Allie, is also an attorney in Dallas.
After earning a bachelor's degree in business administration from Southern Methodist University in 2013 and a law degree from Baylor in 2016, Jordan spent more than five years practicing litigation at Phelps Dunbar and Kane Russell Coleman Logan.
Jordan worked a lot with KRCL directors Mike Logan and Brian Hail on various types of commercial litigation.
"I could not have asked for better mentors at KRCL," he said. "The mentorship and support I received at KRCL was second to none. The firm genuinely cares about the development of young attorneys and provides tremendous support for young attorneys who want to develop their own practices."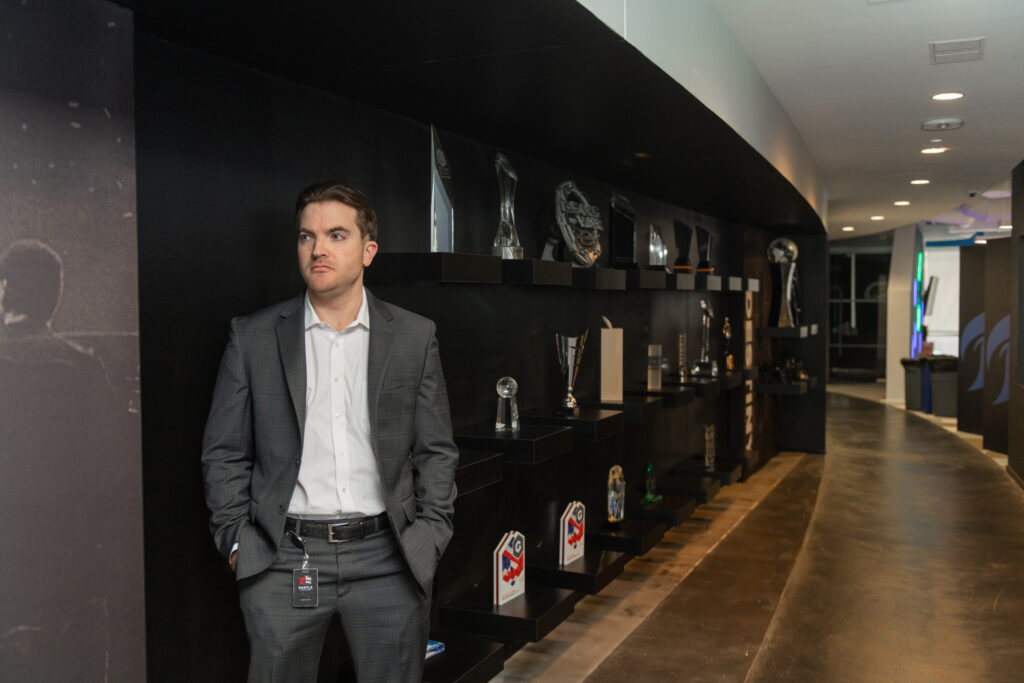 Jordan's interest in esports law started in 2018 when he saw a Netflix documentary called 7 Days Out, which followed the League of Legends World Championship.
"After seeing that, I started paying more attention to the industry and very quickly realized how big it was becoming, especially in Dallas, which is often referred to as the second capital of esports," he said. "For the next couple of years, I really worked primarily on expanding my network within the industry and really deep diving into it."
Los Angeles is viewed as the headquarters of esports.
His first clients in the space were Esposure, which is a Dallas esports facility; Skullz, an apparel company; and the Esports Awards, which is considered the Oscars or ESPYs of esports.
Jordan "fell in love" with the esports work he was doing. He networked with others in the esports and gaming industry and was elected to the Esports Trade Association's board of directors in 2021.
"My clients in the esports industry were primarily startups, and I acted as their outside general counsel, advising them on legal matters and business matters," he said. "Being able to see the impact I had on the direction of their businesses was extremely rewarding."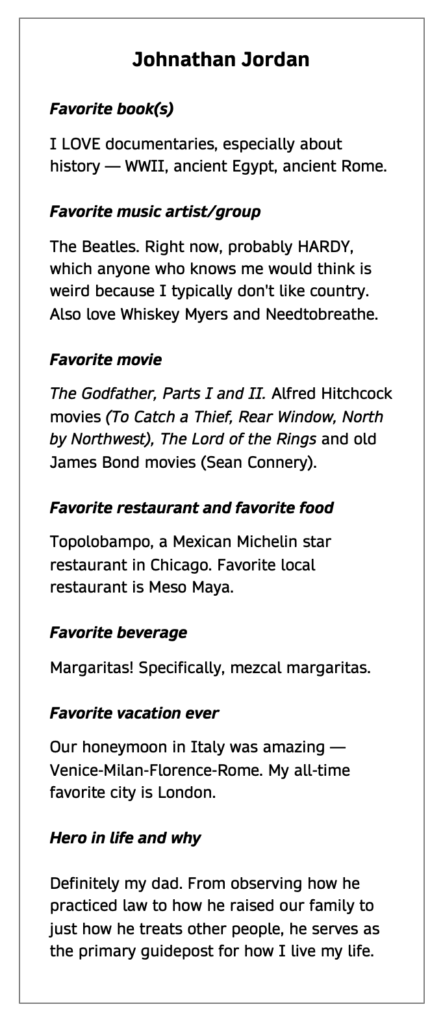 "I decided that being able to devote all of my time and energy to one client and to take a meaningful part in company leadership would provide me with the most career satisfaction," he said. "While I got a lot of great experience doing litigation, it just simply wasn't where my heart and passion was."
At the end of 2021, Envy Gaming acquired the OpTic Gaming brand, and rebranded to OpTic Gaming. In January 2022, the CEO said the company wanted to add an in-house attorney and asked if Jordan was interested.
"It really was perfect timing," he said.
As the first in-house attorney at OpTic or at any esports and gaming organization in Texas, Jordan is developing legal processes "from scratch, which has been challenging but also a very rewarding experience."
Jordan said he's also "finding ways to bring in revenue for the company."
"There's a significant shift in mindset moving from a law firm to in-house as you are going from a revenue generator to a cost center," he said. "I am always trying to find ways to bring revenue to the company, whether that be through making introductions with potential sponsors or by working with our business development team on other revenue-generating projects."
Jordan feels that he successfully adapted to being an in-house counsel and an integral part to the company's management. And he said it happened fast.
"As fast paced as the esports industry is, and as even faster paced our company is, there was really no transition period," he said. "I was fully integrated immediately."
Jordan said one of the biggest challenges he faces comes from the fact that esports is still in its infancy.
"We don't have the benefit of history, precedent or established case law to help guide us," he said. "There is certainly still a significant amount of sophistication that needs to take place. For example, there are no independent player associations and no regulatory/governance bodies, which is particularly problematic given the continued emergence of esports gambling."
"The true biggest challenge to the industry remains how to make it profitable," he said. "2023 will likely see the failure of several professional esports organizations and, quite possibly, the consolidation/merger of others. For us, the biggest challenge in general is finding out how to consistently make a profit in order to drive long-term sustainability."
Greenberg Traurig shareholder Tom Woolsey said he expects Jordan's role will expand further to cover media and social media matters.
"Johnathan's roles require him to address a significant volume of questions of first impression in a rapidly evolving business ecosystem," Woolsey said. "Johnathan must balance the needs of sophisticated counter parties for multiyear sponsorship agreements. He must navigate the nuances of securities laws and debt offerings, legal issues related to international joint ventures, media rights and distribution arrangements, and employee and independent contractor matters."
"Johnathan's industry requires him to move quickly and decisively to beat his competition, and … Johnathan possesses a unique combination of skills that allow him to excel," he said.
OpTic Gaming board member Randy Chappel said the company was lucky to find someone with the skills and interest in the industry to be its first in-house counsel.
"Johnathan has helped in so many ways," said Chappel, who is managing director at Hersh Family Investments. "Although based in Dallas, OpTic is complex international company and there are so many things to stay on top of – trademarks that we use around the world, employees of many nationalities competing in tournaments across the globe, shareholder relations, board meetings, player contracts, influencer contracts, league relations, real estate leases, arena operations at Esports Stadium Arlington, social media channels and construction projects."
"Johnathan's ability to think comprehensively every day about all those things and more that affect our business has really made a difference at OpTic," he said.