In this edition of P.S., the Houston Bar Association opens early-bird registration for its largest fundraiser of the year, four law firms prevail in a challenge to raise money and donate food to the North Texas Food Bank, and four associates participate in a program that's part of a major bank's diversity, equity and inclusion initiatives.
For your public service news to be considered in a future P.S. column, email public.service@texaslawbook.net
The Latest Charitable Happenings
— Four Texas-based associates — Dallas attorneys Gabriella Alonso, Alex Brakefield and Alfred Blue III and Houston attorney Brandi Pikes — have been selected to participate in U.S. Bank's annual Spotlight on Talent program, accounting for roughly 29 percent of the 14 total associates selected nationwide. The mentorship-oriented program, which is part of U.S. Bank's diversity, equity and inclusion initiatives, aims to increase opportunities for diverse and underrepresented legal talent in an effort to diversify U.S. Bank's outside counsel. During the year-long program, the associates network with bank attorneys, general counsel and U.S. bank's chief diversity officer and participate in monthly events, including leadership meetings, practice group roundtables, mentoring and the opportunity to make a presentation to the U.S. Bank Law Division.
Alonso practices at Bradley Arant Boult Cummings in the firm's banking and financial services group. She advises financial institutions in consumer, real estate and commercial matters at the state and federal level.
At Winston & Strawn, Pikes practices litigation, including complex commercial, trade secrets and labor and employment matters. She taught middle school English with Teach for America before becoming a lawyer.
Blue, who practices at Thompson Coburn, focuses on all phases of federal and state litigation, advising clients in matters ranging from advertising and rights of publicity to antitrust litigation to insurance and product liability. In 2021, he participated in another DEI mentorship program, the Leadership Council for Legal Diversity's Pathfinder program. He is a member of the inaugural class at University of North Texas at Dallas College of Law.
Brakefield's complex commercial litigation practice at Husch Blackwell focuses on breach of contract claims and federally regulated housing. She has advised clients on interlocutory appeals, government compliance, special asset recovery, pre- and post-judgment remedies, injunctive relief, DTPA actions and anti-SLAPP proceedings.
— The North Texas Food Bank named four law firms as winners in its recent Partners 4 Hope campaign, which enlists members of the North Texas legal community in a friendly fundraising competition to combat childhood hunger during the summer months, when school is out. Members of each participating law firm spent the month of May raising money and collecting nonperishable food supplies, which were delivered to the Food Bank at a later date. They also volunteered on-site at the Food Bank. Collectively, the firms raised $118,000, which amounts to 348,147 nutritious meals provided to children and their families.
The Top Overall Award went to Vinson & Elkins, while the Top Per Capita Award went to Simon Greenstone Panatier. Thompson Coburn took home the Can-Do Award, while Waters, Kraus & Paul took home two awards: the Collective Force Award, which was based on the number of volunteer hours logged, and the #RaiseTheBar Award, which was based on the firm's efforts to raise awareness about the campaign on its website and social media accounts.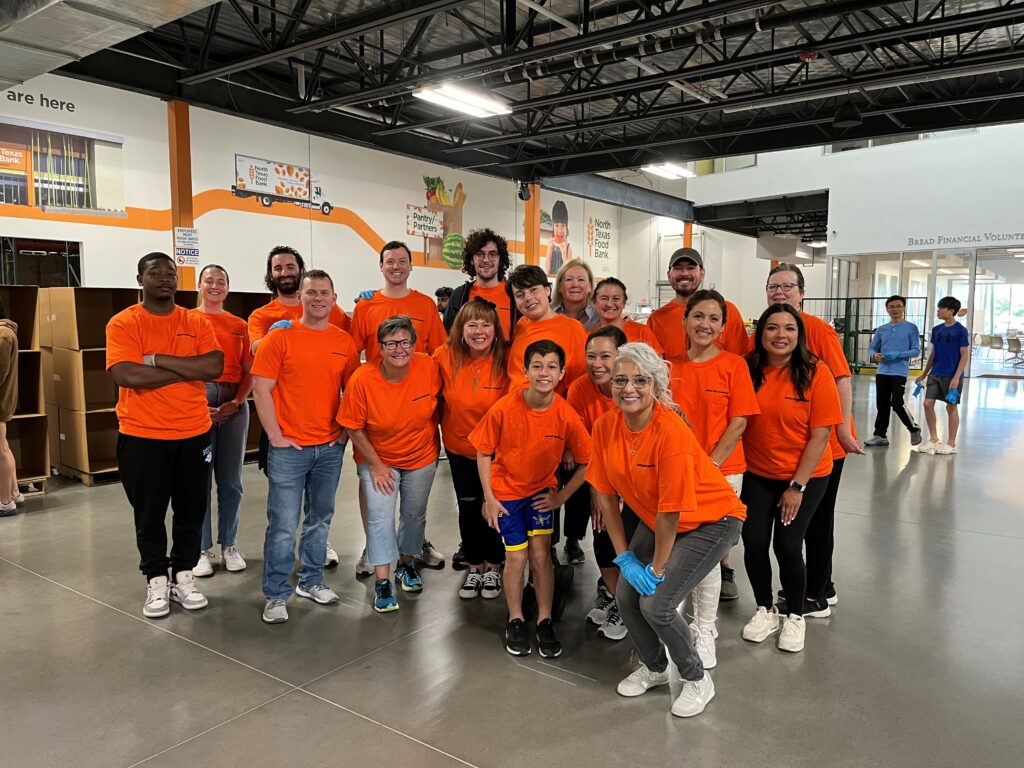 Group shot of team Waters Kraus & Paul volunteering at the Food Bank.
This year's co-chairs of Partners 4 Hope were Sheppard Mullin partner Amanda Cottrell and Simon Greenstone Panatier founding member David Greenstone.
Other firms that sponsored Partners 4 Hope this year include Gibson, Dunn & Crutcher; Dean, Omar, Branham & Shirley; Akin; and Quilling Selander Winslett & Moser.
To inquire about supporting Partners 4 Hope 2024, email P4H@ntfb.org
— Early bird registration is live for the Houston Bar Association's 74th Annual Harvest Celebration, its largest fundraiser of the year. All net proceeds go toward Houston Volunteer Lawyers, the pro bono arm of the HBA that provides free legal assistance to low-income Houstonians. Last year's Harvest marked the first time for the event to raise just over $1 million, and this year the HBA aims to match — if not surpass — that benchmark. The early bird rate for individual tickets is currently $225; after Sept. 24, prices go up. Sponsors who pledge at least $2,500 by Aug. 25 will be listed in the Harvest Celebration invitation that will be mailed to all HBA members. Donors who pledge at least $1,000 before Oct. 31 will be recognized in a full-page advertisement in the Houston Chronicle.
When: Monday, Nov. 13 from 7 p.m. to 10 p.m.
Where: River Oaks Country Club in Houston
Why: The more money raised, the more resources HVL will have to serve Houstonians through pro bono legal services. It's also one of the most elite fundraising and networking events in the Houston legal community.
Attire: Professional/cocktail
Who: This year's Harvest Celebration co-chairs are HBA president Diana Gomez (Chamberlain Hrdlicka), HBA treasurer Daniella Landers (Womble Bond Dickinson) and HBF chair Monica Karuturi (executive VP and general counsel of CenterPoint Energy).
Sponsors so far: Dozens of law firms and corporate legal departments are already underwriting the event, but those who have pledged the most (diamond sponsors) include Baker Botts, Bracewell, Hunton Andrews Kurth, Locke Lord, Norton Rose Fulbright, Vinson & Elkins and Williams Hart & Boundas.
To purchase tickets or sponsor: https://www.hba.org/?pg=events&eid=265840&evAction=regV2
Questions: Contact Ashley Steininger — ashleyg@hba.org or (346) 471-3431.