Corporate law firms strode into 2020 with an air of confidence about their financial prospects in Texas – even with low prices casting a pall over the oil patch. Then the COVID-19 pandemic hit, throwing clients' businesses into disarray, forcing lawyers to work from home and confronting firm managers with the alarming possibility of drastic declines in billings.
As firms close their books on 2020 and move forward with restored confidence, The Texas Lawbook took an advanced look at firm finances in a year like none other.
Part One of Three
A survey of 26 firms specializing in Texas business law found that half actually expect revenues to grow from 2019 to 2020. Slightly more than a third reported 2020 revenues were down. Revenues remained about the same at 15% of firms.
2020 Revenues v. 2019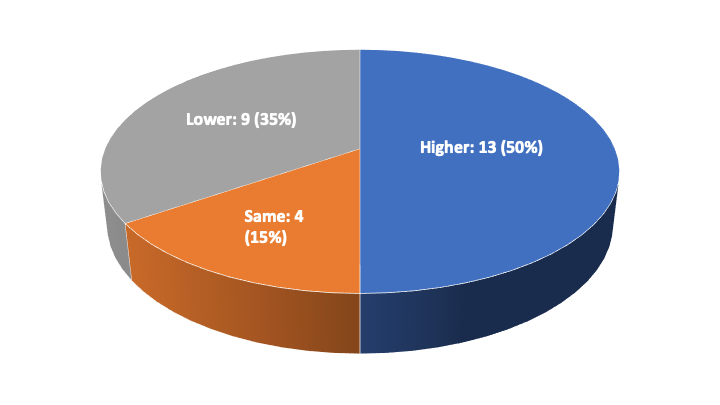 Twenty law firms told The Texas Lawbook the pandemic's 2020 revenue impacts were less harsh than they'd expected, or feared, when the coronavirus and policies to fight it began to ravage the U.S. economy in March and April.
More or Less Than Expected?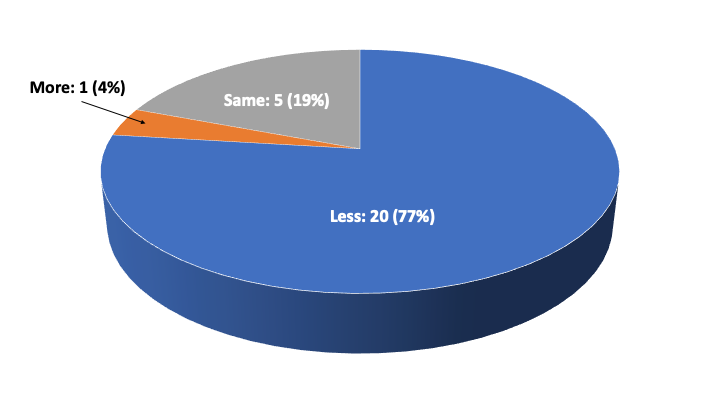 "At the end of March, we didn't know if Armageddon had hit," said Wade Cooper, managing partner at Jackson Walker. "All of us should be on bended knee, giving thanks for how things turned out for the better."
Texas corporate law's financial powerhouses – those with the highest revenues per lawyer, hourly rates and profits per partner – were more likely than other firms to grow the revenue pie in 2020. Even the richer firms that experienced declining revenue said the pandemic's impact was far less severe than they had expected 10 months ago.
The pandemic's financial impacts extended beyond revenues. For example, some firms reporting revenue increases and even some that saw declines quietly projected improved profits because expenses, led by travel and entertainment, went down even more than income.
All in all, firm leaders are glad to make it through 2020 relatively unscathed. Nearly all of them recalled that the end of March was like looking into an abyss.
"No one had any pandemic experience before," Locke Lord chair David Taylor said. "We were all starting from the same place. Clients didn't know what was around the corner and we didn't either. We needed to help them figure it out."
Taking care of clients paid off for law firms, allowing so many of them to avoid taking a revenue hit in 2020. Other Texas Lawbook research points to some of the ways law firms have increased business during the pandemic.
Federal bankruptcy records show that a handful of law firms, including Kirkland & Ellis, Weil Gotshal, Vinson & Elkins, Haynes and Boone, Jackson Walker, Munsch Hardt and Porter Hedges, benefited greatly from the record number of corporate restructuring filed during 2020.
No law firm in Texas advised more debtors in large, complex business bankruptcies than Kirkland. Preliminary data collected by The Lawbook shows that the Chicago-founded firm, which has more than 250 lawyers in Houston and Dallas, generated well above $100 million in revenues just from reorganizations in the Houston federal courts.
"We try to be well-hedged in the full services that we offer clients," Kirkland partner Andy Calder said.
Firms responded to the pandemic finance survey with a grant of anonymity, and on-the-record interviews followed with more than 20 firm leaders. The Texas Lawbook's annual Law Firm Finance Report, which publishes in April, will present final 2020 data on revenue and other financial yardsticks for the top 50 law firms operating in Texas. Thesurvey and follow-up interviews also found:
Firms maintained lawyer headcounts and pay. No reports of any sustained pandemic-induced retrenchment – no cuts in lawyer positions, any compensation deferrals were quickly reinstated. In fact, most firms bolstered their ranks by hiring summer associates and lawyers from other firms.
Energy prices added to pandemic woes. The market price of a barrel of West Texas Intermediate plunged from $54 in February to less than $20 in April – in fact, going negative on April 20. The energy industry's struggles combined with the pandemic to wallop the Texas economy with a one-two punch. Firms split on which took a bigger toll: 11 named the pandemic, eight pointed to low oil prices and six said both equally.
Pandemic or Oil?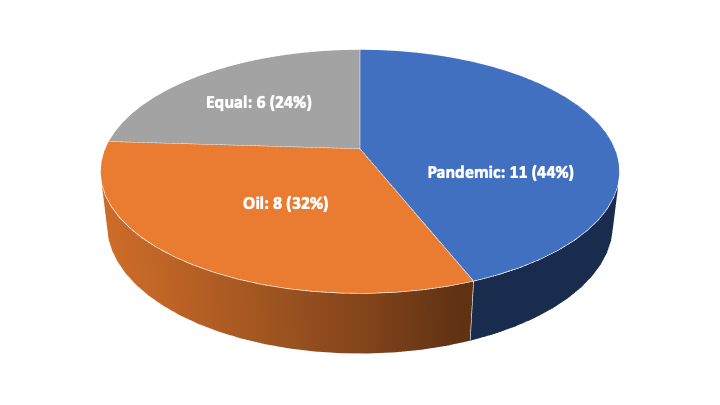 Revenues per lawyer made a difference. Among the 12 firms with revenue per lawyer above $1 million in 2019, eight reported higher overall revenues, with just three lower and one the same. For the 14 firms with revenue per lawyer below $1 million, the results were mixed – six declining, five rising, three the same.
Revenues per Lawyer Above $1 Million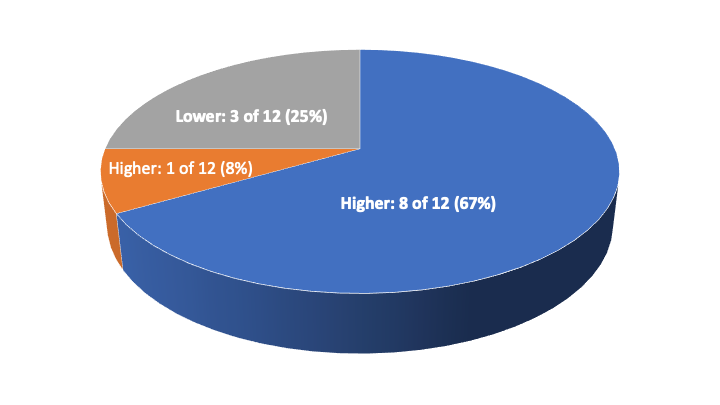 Revenues per Lawyer Below $1 Million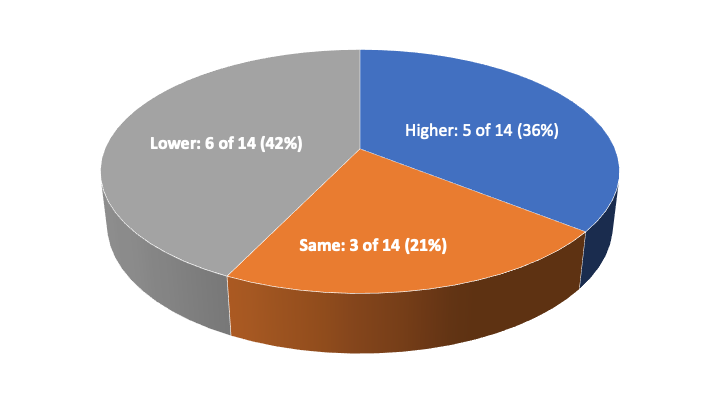 Profits per lawyer made a difference, too. Nine of the survey's 13 firms with the highest profits per partner in 2019 had higher revenues in 2020, with three lower and one the same. Among the 13 with lower profits per partner, six saw revenue declines, with four higher and three the same.
Profits Per Partner: Top 13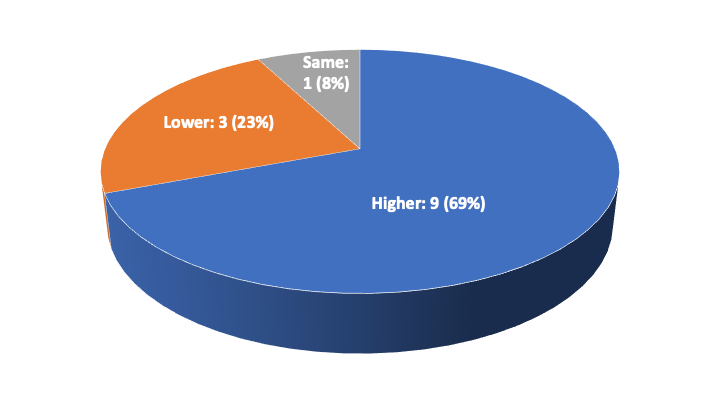 Profits Per Partner: Bottom 13
What about size? No advantage arose from sheer size, whether measured by overall firm revenues or lawyer headcounts in 2019. Only five of 13 with the highest revenues saw gains in 2020; among smaller firms, eight of 13 did better than the year before. Revenues declined for eight of the 13 firms with the most lawyers, and it increased for eight of the 13 with smaller headcounts.
National firms fared slightly better than Texas-based firms. The arrival en masse of large national law firms roiled the Texas market in the past decade. The survey's 12 Texas-based firms split evenly between higher and lower revenues in 2020. The 14 national firms tilted toward increasing revenues – seven up and three the same with only three down.
National Firms in Texas: 2020 Revenues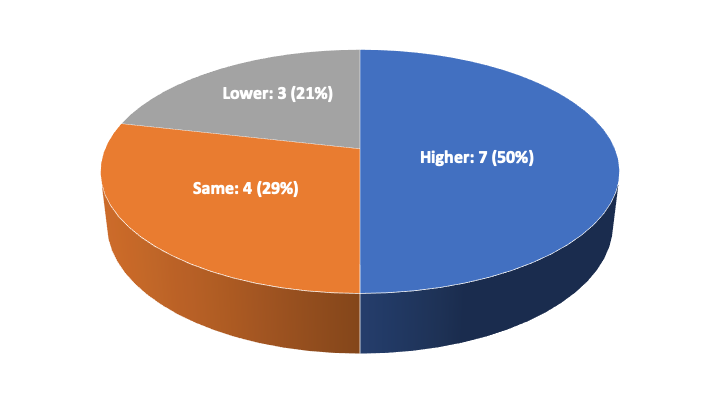 Texas-Based Firms: 2020 Revenues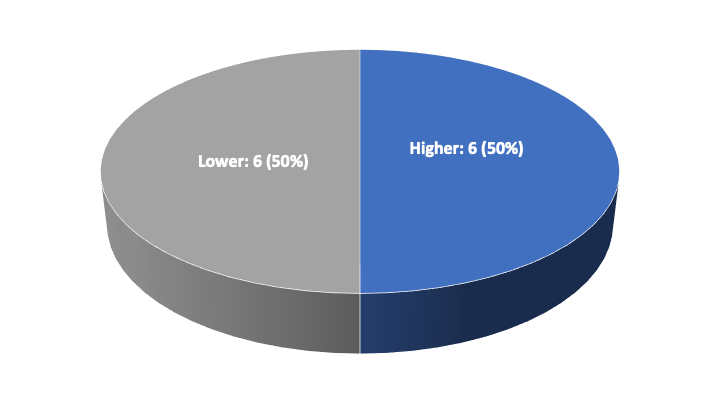 Confidence reigns looking ahead. Looking ahead into 2021, most firms anticipate a return to stability and normalcy. One indication is planning for summer associates, with nearly two-thirds of firms expecting to invite the same number of aspiring lawyers as they did in 2020. Only six firms intend to bring in fewer summer associates.
2021 Summer Associates v. 2020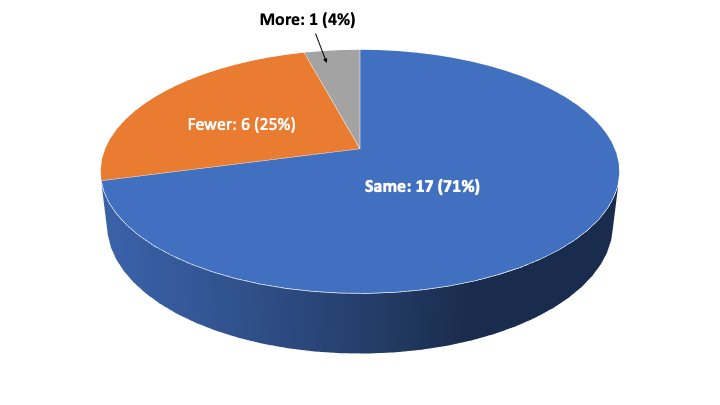 Hiring summer associates will be nearly normal. Job offers to new law-school graduates will follow last year's pattern at 18 firms, with just four firms expecting to make fewer job offers to summer associates in 2021. One firm anticipates extending more offers.
2021 Job Offers to New Graduates v. 2020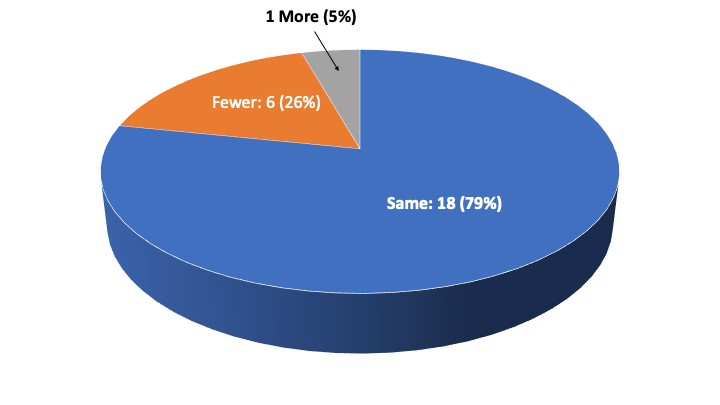 Savings bolster the bottom line. Hunkering down during the pandemic cut travel and entertainment spending at many firms, but the bottom-line impact was marginal at most firms because the biggest expenses still had to be paid – salaries and office space, most of it by and large underutilized in 2020.
Normal office life is still months away. Some law offices remain closed and others are open to workers, usually on a voluntary basis – but returning to the pre-pandemic's normalcy is still months away. Off-the-cuff estimates of typical daily office attendance in December ranged from 5% at Akin Gump to 10% at Weil, Gotshal & Manges, 20% at Latham & Watkins and 25% at Haynes and Boone and Winston & Strawn.
"I feel tremendous pride in being there for clients in times of need, and this year we have assisted some of them through some of their biggest challenges," said Jeff Cody, Norton Rose Fulbright's U.S. managing partner.
The pandemic, of course, put clients in uncharted territory, and law firms had to adjust. According to managing partner Greg Bopp, Bracewell's response included "a multidisciplinary COVID-19 Task Force across all practice areas and offices to advise our clients on the unique legal issues resulting from the pandemic as well as the extensive legislation and regulations that were implemented in response to the pandemic."
Scott Barnard, managing partner of Akin Gump's Dallas office, said COVID-19 made it a challenge to develop new clients but it "reinforced meaningful relationships" with existing clients.
"People held their collective breath last spring," Barnard said. "We've been through oil crises before, but we've never dealt with a pandemic. But client needs have not dropped. The demand is still there."
For most firms, business followed a pandemic-plagued arc in 2020 – strong in the first quarter, followed by an unnerving lull in the second quarter and rebounding sharply in the second half as clients dealt with the pandemic's economic ripples.
"As the pandemic has worn on, we've become busier," said Wally Martinez, managing partner of Hunton Andrews Kurth.
Firms reported robust business across a range of practices. Jackson Walker's bankruptcy practice "vaulted onto the national scene," Cooper said. At Vinson & Elkins, chairman Mark Kelly characterized the bankruptcy and restructuring practices as "white hot," with clean energy and capital markets also strong.
Hunton Andrews Kurth singled out real estate and finance among the firm's strong practices in Texas, plus labor and employment work and insurance recovery. Clients kept Sidley Austin lawyers busy on finance, litigation, bankruptcy and private equity. Mergermarket data show that the dollar value of Texas M&A was off 14.6% in 2020, sinking to its lowest level since 2011 – and few firms cited the practice as a strength in the pandemic year (see box for more details on practice areas).
Firms responded to the pandemic finance survey with a grant of anonymity, and on-the-record interviews followed with most of them. The Texas Lawbook's annual Law Firm Finance Report, which publishes in April, will present final 2020 data on revenue and other financial yardsticks for the top 50 law firms operating in Texas.
In Their Own Words: How Practices Fared in Pandemic
The Texas Lawbook asked firms which Texas practices did better or worse than expected as the COVID-19 pandemic roiled the economy in 2020. Answers differed from one firm to another, largely shaped by what clients need and where firms' strengths lie. Here's what seven firm leaders told The Texas Lawbook in December and January:
Baker Botts managing partner John Martin: "While the pandemic has caused capital markets and transactional activity to slow down for firms, we have found that our clients have been turning to us more for work that includes litigation, tax and environmental, safety and incident response matters, to name a few."
Bracewell managing partner Greg Bopp: "All of our practice areas were exceptionally busy in 2020 – most notably, our market-leading energy finance and public finance practices were busier than ever before – in addition many of our largest practice areas had an outstanding 2020, including bankruptcy, capital markets, power and renewables, litigation, technology, labor, environmental and, of course, our large energy regulatory and government practices."
Foley & Lardner Dallas office managing partner Michael Newman: "Our performance in Texas has been solid – our finance, bankruptcy and labor/employment teams have been very busy; litigation and IP have remained reasonably strong. Some of our transactional practices, such as real estate and M&A, were very slow in the first few months of the pandemic but have picked up as the year unfolded. We also have seen a significant uptick in demand for labor and employment work as a result of all of the issues that have surfaced because of the pandemic."
Locke Lord chair David Taylor: "M&A has done better than expected. We've seen an uptick in recent months. Our energy team has stayed busy. Public finance has been good. Bankruptcy has been active, and I think that is going to continue as businesses across several sectors face stress. Labor and employment has been extremely busy because literally every company has faced issues. There are going to be changes and challenges ahead for the real estate sector."
Norton Rose Fulbright U.S. managing partner Jeff Cody: "We have generally been busy across the board in Texas. We have seen a particular uptick in life sciences and healthcare with pandemic-related matters, financial restructuring due to the economic landscape and cybersecurity as that remains a hot topic worldwide."
Porter Hedges managing partner Robert G. Reedy: "While no practices performed better than expected, we have seen a continuation of strong activity from early in the year in our bankruptcy, construction and litigation practices. We also made lateral partner hires in our employment and IP groups, which bolstered our benches in those practices."
Sidley managing partner Yvette Ostolaza: "January and February were gangbusters. We reacted very quickly [to the pandemic]. [2020] was not the big negative that everyone thought it would be."
Thompson & Knight managing partner Mark Sloan: "Our bankruptcy practice, to no surprise, has been extremely busy the entire year. Our finance practice has seen strong activity across all industries, structuring both healthy deals and distressed deals, using alternative credit structures and alternative lenders (e.g., non-bank lenders). Real estate has remained extremely busy this year across the full spectrum of buying, selling, developing, operating, leasing, capitalizing, syndicating and financing real estate projects. Our energy, corporate and trial groups were slower this year due to the market and the courts being closing, but we are seeing promising movement with increased M&A activity."