Since Judge Alan Albright took the federal bench in September 2018, businesses and individuals have filed 2,622 lawsuits in Waco accusing others of stealing or using their inventions — sometimes devices, other times concoctions but mostly lines of code — without a license.
During the first six months of 2022, 501 patent infringement complaints were filed in the Waco Division of the Western District of Texas, where Judge Albright is the lone federal judge. That's a couple hundred more than any other federal district in the U.S. and about 25 percent of all the patent cases filed in the entire country.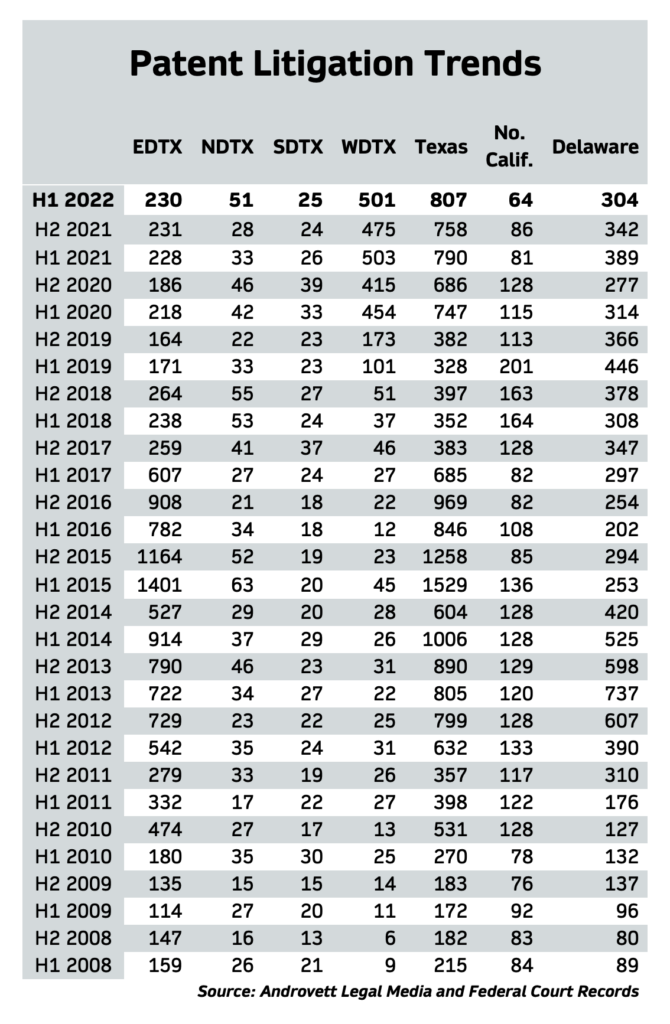 Data shows that patent cases — widely disliked by most judges as laboriously technical and time consuming — proceed quickly from filing to finish in Waco under Judge Albright and that plaintiffs and defendants each win about half of their trials. On motions for summary judgment, Judge Albright rules for defendants in patent cases more than 90 percent of the time.
On Monday, the powers-that-be in the federal judiciary decided to shut it all down.
Western District of Texas Chief Judge Orlando Garcia — reportedly under pressure from leaders on the U.S. Court of Appeals for the Fifth Circuit, the Administrative Office of the U.S. Courts and two U.S. senators — issued an order to "equitably distribute" all future patent cases filed in the Waco Division among the dozen judges in the district.
Chief Judge Garcia cited the "volume of new patent cases" as the reason for the order.
Since the order was issued Monday, three patent infringement cases have been filed in Waco. One was assigned to Judge Albright and the two others were given to U.S. District Judge David Counts and U.S. District Judge Alia Moses.
The complaints about Judge Albright and his patent docket stemmed from two sources: Northern California-based tech companies who say the judge is too friendly toward so-called patent trolls and political judicial leaders who say Judge Albright's use of Waco as a single-judge court division invited venue shopping.
Those tech companies point to March 2, 2021. That's the day that a Waco jury empaneled by Judge Albright awarded VLSI Technology $2.175 billion against Intel Corp for infringement of VLSI's technology which improved speed and power-saving designs for computer chips.
The problem with the arguments offered by Judge Albright's critics, according to patent law experts and even some judges, is that they distort facts and are hypocritical in placing allegations.
But 17 of 19 patent lawyers — two-thirds of them represent corporations as plaintiffs and defendants in patent litigation — interviewed Tuesday and Wednesday by The Texas Lawbook said that it is a mistake and miscarriage of justice to strip patent cases away from Judge Albright, who they say is efficient in his case management, evenhanded in dispensing justice and widely recognized as one of the nation's leading experts on patent law.
"Patent owners chose the Waco Division because Judge Albright embraces patent cases, capably manages his docket, has a long history of working in patent law and his standing orders and procedures provided a great deal of predictability for both plaintiffs and defendants," said Jackson Walker intellectual property law partner Arthur Gollwitzer, who is a former federal prosecutor.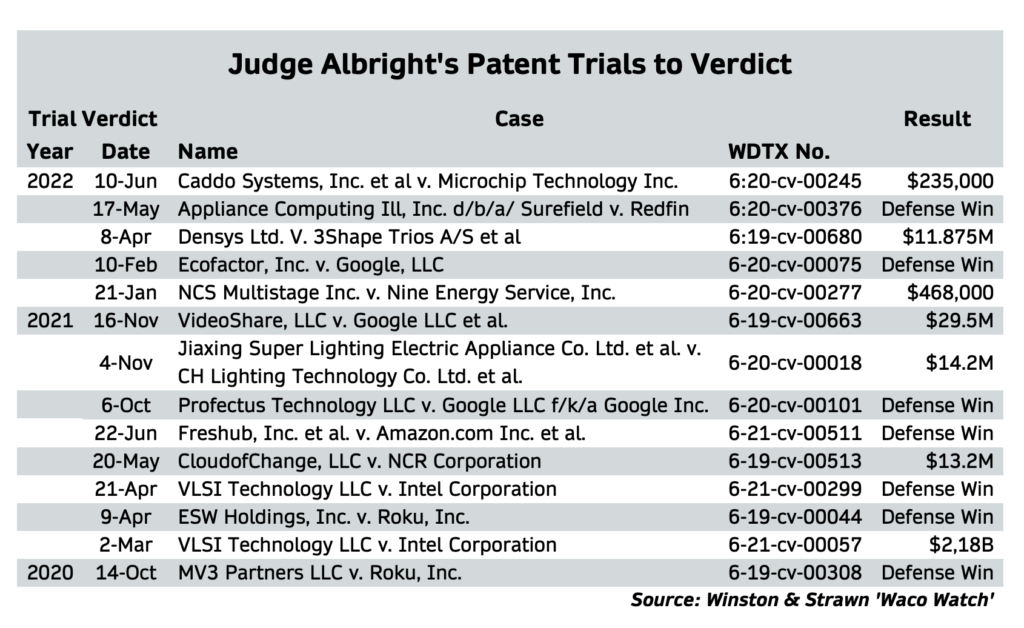 "Indeed, empirical data reveals that defendants in Judge Albright's courtroom fared just as well as plaintiffs," said Gollwitzer, an Austin lawyer who represents corporate defendants in patent disputes. "In the end, I suspect some patent owners will reconsider their venue options due to Judge Garcia's order, but others will continue to file their cases in the Western District of Texas. As a result, familiarity with all the excellent judges in our District and throughout Texas is more important than ever. Some of those judges may even adopt patent case procedures similar to those followed by Judge Albright or the experienced judges in the Eastern District of Texas."
Gollwitzer, citing data collected from Docket Navigator, said that Judge Albright ruled in favor of defendants at least 81 percent of the time when deciding patent cases on the merits, which is five percent higher than the national average for federal judges. When it comes to motions for summary judgment, Judge Alright rules in favor defendants by a 19-to-one ratio, according to Lex Machina.
The Western District of Texas became the most popular federal court in the U.S. for patent litigation during the first six months of 2020 when 454 infringement cases were filed, surpassing Delaware, the Eastern District of Texas and Northern California.
The most recent data, provided to The Texas Lawbook by Androvett Legal Media, shows that the Western District remained No. 1 during the first half of 2022 with 501 new patent lawsuits. Delaware ranked second with 304 and the Eastern District of Texas was third with 230 patent cases.
A major complaint against Judge Albright is that he refuses to transfer patent cases to other districts where venue may be better. Legal experts say that was the case during the first two years of Judge Albright's time on the bench, but not any longer.
Data research shows that Judge Albright has transferred at least 191 patent cases to other jurisdictions – more than any other federal judge in Texas. He has dismissed another 302 patent complaints under Rule 12.
Judge Albright, according to patent lawyers, became the target of a dozen or so technology companies that complain that he gives too much deference to plaintiffs and is not sufficiently aggressive in weeding out so-called patent trolls.
The problem, according to legal experts, is that the trade groups that advocate for high-tech corporations label all "nonpracticing entities" — companies, individuals and inventors that hold patents but do not manufacturer products — as so-called patent trolls.
"Not all NPEs are patent trolls," Winston & Strawn partner Tom Melsheimer said in an interview earlier this year. "Patent trolls usually don't have valid patents. They are suing just to achieve a fast settlement and have no intention of taking a case to trial.
"Most NPEs today are universities or professors turned inventors or private equity firms that have purchased legitimate patent portfolios, and they have a right to enforce those patent rights," Melsheimer said. "It is right in the U.S. Constitution that patents are property."
Nearly all patent lawyers agree that real patent trolls have been a problem, but they said the technology companies and their trade groups falsely use the patent troll issue to attack all NPEs. And the issue has become highly political.
"This issue likely arose based on the pressure from the Senate Judiciary Committee and the comments from the Supreme Court [critical of judge shopping and single judge divisions]," said Michael Heim, a partner at Heim, Payne & Chorush. "And these entities raised the issue because large corporate defendants did not want to be in Judge Albright's court."
"Some clarity" was needed regarding the issue of single judge divisions, Heim said, but Chief Judge Garcia's order "seems a bit counterproductive."
Austin and the surrounding regions, including Waco, have become a hotbed of technology and innovation.
"Given that these high-tech IP disputes are arising based on activity occurring in that region, it seems logical to have courts in that area handle IP matters arising from those disputes," Heim said. "The current order, however, will now randomly assign these high-tech IP cases to districts that have little experience with IP cases and with the technologies that are involved in these cases."
"While these other districts have highly skilled judges, they are going to be facing highly complex technical cases on issues that they have very little experience," he said.
The secret to Judge Albright's success, according to the judge and the lawyers who practice before him, is simple.
"I love patent law," Judge Albright told The Texas Lawbook in an interview in 2021. "I love lawyers who practice patent law. I enjoy learning about new the technologies, the history of the technology and the development of the technology."
Lawyers and even some fellow judges say Judge Albright did not help his cause by appearing to openly campaign for lawyers to file their patent infringement cases in his division. But he was astonishingly successful, as more patent cases have been filed in the Western District than any other district the past two years.
Judge Albright, a former partner at the Houston corporate law firm Bracewell who was nominated by President Donald Trump, chose Waco as his chambers because there were no other judges in the division and it had a light criminal and almost no civil docket. This allowed him to focus on patent litigation.
Waco was a single judge division, which essentially guaranteed that he would be assigned all cases filed there.
Kelly Kubasta, an IP partner at Ferguson Braswell Fraser Kubasta, said there "is merit to … having certain courts or judges that are known to enjoy handling patent cases."
"Benefits include familiarity with the law and procedures, uniformity of applying that law, and streamlined proceedings," Kubasta said. "Having said that, there has been growing public pushback to the Western District of Texas because of the perception that patent plaintiffs were judge-shopping. This pushback has come not only from frequent defendants such as tech companies but also the Federal Circuit, Congress and most recently Supreme Court Chief Justice Roberts.
"It seemed very clear that change was coming – one way or another," he said.
But lawyers and even two federal judges say that it would be extremely hypocritical if the judicial crackdown on Judge Albright is based on complaints regarding the possible abuse of single-judge divisions for so-called forum shopping.
"If the Supreme Court or the Fifth Circuit or the AOC (Admnistrative Office of the U.S. Courts] is taking this step under the guise of addressing potential administration of justice concerns regarding single-judge divisions but completely ignores those single-judge divisions that are home to all the lawsuits by the State of Texas and Ken Paxton against the Biden administration, then the people pushing these so-called administrative changes are a sham and the judicial leaders pushing these changes need to be identified for their hypocrisy," a federal judge in Texas told The Texas Lawbook Wednesday.
The judge, speaking on the condition that he not be identified, agreed that single-judge divisions need to be addressed and that Judge Albright should scale back promotion of his court as a place to file patent cases.
Judge Albright, in an email to The Texas Lawbook, declined to make a comment.
Still, the $2.175 billion jury verdict against Intel looms large. The case is on appeal. Intel claims the verdict is evidence for the need to reform patent litigation, but it fails to point out that Intel won a second trial against VLSI only six weeks later — a jury trial conducted in Waco by Judge Albright.
Court data shows that the Intel verdict of $2.175 billion accounts for 97 percent of all of the damage verdicts issued in patent cases in Judge Albright's court since 2019.
Overwhelmingly, patent lawyers on both sides of the docket say Chief Judge Garcia's order was unnecessary.
"In my view, the Federal Circuit [Court of Appeals] had struck a pretty good balance on the perceived venue issues in the Western District and that was starting to settle in, with more cases being transferred out," said AZA partner Jason McManis. "It was a very similar dynamic to what we saw in the Eastern District of Texas a few years back, and it worked itself out naturally.
"Any time you introduce uncertainty to the equation, whether a patent case or any case, I think that's a net negative for litigants on both sides," McManis said. "This does introduce uncertainty, but how much remains to be seen."