Paul Hastings said April 16 it hired back restructuring attorney James Grogan as a partner, the latest in the firm's expansion efforts.
Grogan left Paul Hastings two years ago after almost 10 years as an associate and later counsel to become a partner at Blank Rome's Houston office. His departure from that firm leaves only one attorney in the Houston office – associate Broocks "Mack" Wilson – who focuses on bankruptcy and restructuring work.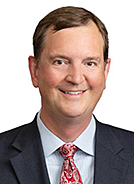 Paul Hastings has been rebuilding the office in the Bayou City after some key departures, including M&A partner Jimmy Vallee, who left last year for Winston & Strawn. Transaction-focused partners Ned Crady and David Peterman joined the firm from Baker Botts this past fall.
Grogan will be the only bankruptcy-focused attorney in the Houston office. Securities and M&A partner Doug Getten also has worked on Chapter 11 cases, including with Grogan.
The University of Kansas Law-educated Grogan counseled Vanguard Natural Resources on its bankruptcies in 2017 while at Paul Hastings and in 2019 while at Blank Rome, charging $1,020 per hour according to bankruptcy filings (then-associate Philip Guffy – who is now at Hunton Andrews Kurth – charged $450 per hour). The company was able to restructure more than $2 billion in debt in the second effort.
More recently, Grogan represented $75 million debtor-in-possession lender PNC Bank on Pioneer Energy Services Corp.'s bankruptcy last year – along with Wilson – and interested party Air Products and Chemicals on McDermott International's Chapter 11 case.
Paul Hastings chairman Seth Zachary in New York said in a press release that with the uncertainty and volatility facing its clients in today's marketplace, the firm is continuing to deepen its leading global finance and restructuring practice "by adding talented lawyers like James."
Over the past year, Paul Hastings has brought on more than two dozen partners, including in Los Angeles, Century City, New York, Chicago, Paris and Hong Kong/Shanghai.
Grogan said in the release he's excited to return to Paul Hastings and rejoin the firm's restructuring practice, which he called outstanding. "Paul Hastings' culture of collaboration offers valuable opportunities for me to further develop my practice," he said.
The attorney is co-founder of Jack Rabbit Gallery, an art space in the Houston Heights he owns with his wife Jodi that features contemporary artists from around the world.
Paul Hastings said its restructuring practice regularly advises on large, complex matters, including the official committee of unsecured creditors on the ongoing Puerto Rico bankruptcy cases and GT Advanced Technologies and Global Cloud Xchange on their Chapter 11 cases.