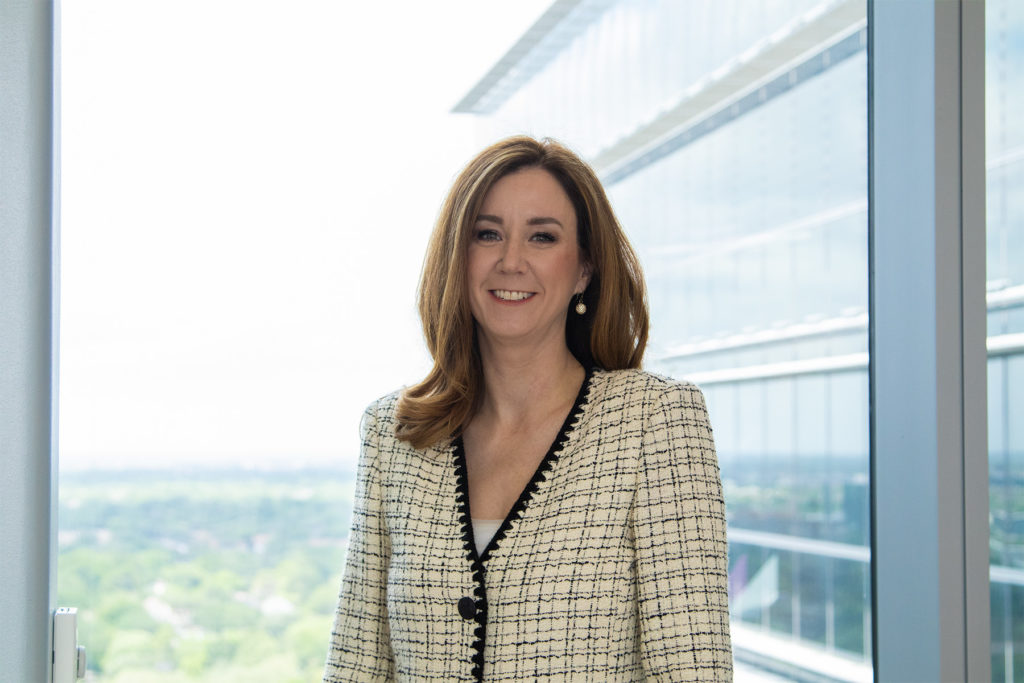 Six weeks ago, the doors at the international arrival terminal at Bush International Airport in Houston opened. A 15-year-old West African who had never been in an airplane before and who speaks very little English walked through the exit-only gate with three bags containing everything he owned.
The teen's mother, her body stricken with cancer and worn from years of being beaten by male relatives in her homeland, raced to hug her son after nearly four years and 6,000 miles of separation.
The reunion was the result of four long years of legal work by Phillips 66 Senior Counsel Kathleen Bertolatus, who represented the mother in a series of immigration proceedings that resulted in the mother obtaining asylum and being reunited with her teenaged daughter after both faced forced female genital mutilation by their family and certain death if they didn't comply. That was in 2019.
On March 30 of this year, the great pro bono legal work of Bertolatus allowed mother, son and daughter to be together and to be safe.
"Our client cried. I cried. My co-counsel cried," said Bertolatus, who joined the mother at the airport reunion. "As a lawyer, it was a reminder that we can truly change the lives of our clients for the better. As a mother, I was relieved that a family could be reunited after many long years apart. And as a daughter who lost her own mother a year and a half ago, it was hugely profound to be able to give a child more time with his mom."
"When my client saw her son walking up the hallway and she got to hug him for the first time since 2018, it was very emotional and very wonderful," she said.
The Association of Corporate Counsel's Houston Chapter and The Texas Lawbook present Bertolatus, an environmental and regulatory compliance expert at the downstream and midstream energy giant, with the 2022 Houston Corporate Counsel Award for Achievement in Pro Bono and Public Service.
Premium Subscribers: Click Here for a Q&A with Kathleen Bertolatus, where she offers advice for outside counsel and shares why she believes pro bono work helps make lawyers better.
"Kathleen is a straight-shooter," said Vinson & Elkins partner Patrick Traylor. "She wants to get the job done, and she sees that it's done with excellence and with integrity. She also has a tremendous capacity to keep complex project details in her mind."
Bracewell partner Sara Burgin said Bertolatus has developed extensive knowledge and experience in environmental law.
"These qualities and experiences allow her to spot issues and identify information she needs to assess best paths forward to work though questions and resolve problems for her company," Burgin said. "What makes her a good leader in my estimation is her good judgment, well-deserved self-confidence and good humor, [which] enables people to trust her and want to work as a team with her to solve problems."
ACC Houston and The Lawbook will honor Bertolatus and more than a dozen other 2022 Houston Corporate Counsel Award finalist May 19 at an event in downtown Houston.
"Kathleen weaves her compassion and sense of fairness into everything she does including her practice of law, her dealings with colleagues and clients and in her everyday life," said Phillips 66 senior counsel Linda Hester. "She is a remarkable lawyer, leader and person."
Bertolatus got her heart for giving back early in life from her parents.
"Growing up, my father would always remind us 'to whom much is given, much is expected.' My mom put those words into action and modeled for us how to be of service in her volunteer work with homeless shelters in St. Louis," she said. "I came of age immersed in the Jesuit ethos of being a person for others, both at St. Louis University and in the Jesuit Volunteer Corps."
After Bertolatus graduated from St. Louis University in 1999, she did a year of service with the Jesuit Volunteer Corps. She worked as a preschool teacher in Camden, New Jersey, which is one of the poorest cities in the U.S.
"The fence at the preschool was topped with barbed wire," she said. "When we would take the 2- and 3-year-olds up the block to use a neighborhood playground, we'd have to check for needles and broken glass before the kids could play. We lived simply – our monthly stipends were less than $100 – and tried to make the lives of the people we served better.
"It was a formative experience and one that has truly shaped how I understand poverty and the myriad structural problems in our society," she said.
Bertolatus was born and raised in St. Louis. She was the middle child of five. Her father owned and operated an electrical repair and contracting shop. Her mom stayed "occupied raising the five of us, but she always made time to do volunteer work with our church and in the community."
"I was both a bookworm and a performer from an early age," she said. "We lived within walking distance of a library, so I used my library card constantly."
The theater bug bit Bertolatus in second grade when she was cast as the pig in the school's Christmas play. She did theater from then through high school and even started out as a theater major in college.
"Before I had kids, I scratched the theater itch by performing for many years with Night Court to raise money for Houston-area legal charities," she said. "The rehearsal time commitment isn't compatible right now with my young kids' schedules, so I stay active with the troupe by serving on its board of directors."
The only lawyer in Bertolatus' family was her Aunt Rita, who earned her law degree later in life.
"At some point, she had left a Black's Law Dictionary in our house, and I picked it up, read it, and carried it around with me for a long time – those bookworm tendencies started early," she said. "When I finally decided to go to law school, Rita was super supportive. She gave me the best law school graduation present – a gift card to get a massage the night before the bar exam. And I absolutely used it – possibly the best gift I've ever received."
Bertolatus' interest in law started in third grade.
"I'd tell everyone who asked that I wanted to be a Supreme Court justice," she said. "I think it was a combination of Sandra Day O'Connor's confirmation to the court when I was really little and that copy of Black's that worked its way into my little brain."
The idea of law school resurfaced while she was in graduate school at the University of Texas at Austin working on a master's degree in communication studies. She did an inter-disciplinary certificate program in dispute resolution that allowed participants to take classes at the law school.
Bertolatus decided then that she would go to law school instead of seek a Ph.D.
After graduating from the University of Texas School of Law School in 2006, Bertolatus clerked one year for U.S. District Judge Lynn Hughes in Houston and then joined Baker Botts as an associate.
As a "baby lawyer," Bertolatus was "one of the legion of firm lawyers" who worked on the habeas corpus and ineffective assistance of counsel claims of a Texas death row inmate – a case that is still being appealed.
She also volunteered many times for Houston Bar Association Legal Lines and its Saturday law clinics and handled several uncontested divorce cases through the Houston Volunteer Lawyers Program.
In 2009, the Tahirih Justice Center opened its Houston office.
"I learned about its mission to help immigrant women and girls fleeing gender violence," she said. "That issue resonated so strongly with me. I signed up to take a case pretty much right away and have been honored to work with multiple Tahirih clients over the years.
"Baker Botts understood the value that pro bono legal work has for its associates and the impact it makes in the community," she said.
In 2014, Bertolatus married a fireman and started thinking about starting a family.
"I'd seen the struggles and heard the war stories that other women lawyers experienced when trying to start a family in Big Law," she said. "I was at a point of contemplating next steps in my career."
Phillips 66 was expanding its law department and looking for candidates. Baker Botts partner Travis Sales recommended Bertolatus to Phillips 66 Deputy General Counsel Ed Patterson.
"I'd known about Phillips 66's great reputation in the industry for being an outstanding operator, and through conversations with Ed I learned that the culture of the law department here was collaborative and that the clients view their lawyers as trusted advisors," she said. "I'm so very glad that I get to do interesting, challenging work while still being able to be present with my kids while they are little."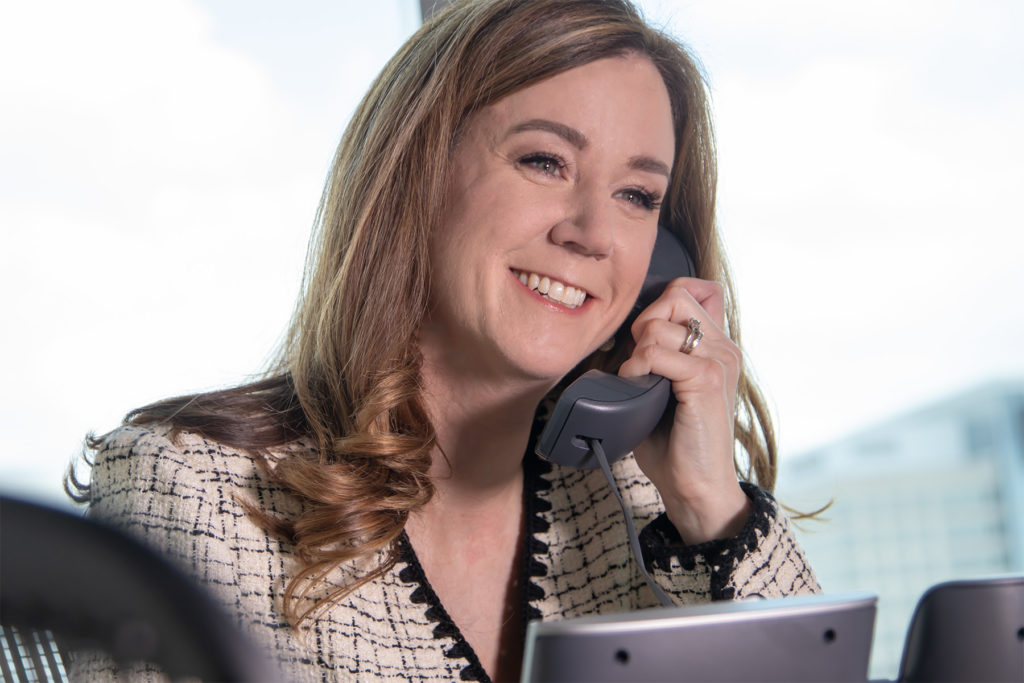 Bertolatus was the environmental lawyer who handled the legal issues involving the company's construction of the 850-mile Gray Oak Pipeline in 2018, which went into service in 2020. Gray Oak connects the Permian Basin in West Texas to the Eagle Ford Shale in South Texas and on to the Gulf Coast.
"It is the longest pipeline that Phillips 66 has constructed," she said. "From the HSE [health, safety and environmental] legal prospective, the construction project touched practically every environmental media and issue – air, water, waste, natural resources, endangered species and more."
Bertolatus worked on the permitting, construction and startup of the pipeline with multiple state and federal agencies.
"It was a lot of work and a great opportunity to build closer relationships with my clients in our midstream business unit," she said.
Baker Botts partner Tom Jackson, who first met Bertolatus when she was an associate at Baker Botts, said she is "unfailingly pleasant to work with" and remains calm "even in the midst of intense activity in responding to deadlines." He points to a recent matter.
"We had requested an extension of time to file a document with an agency, had been told that we would get one," he said. "But we went through a week in which we kept hearing conflicting things with no resolution as the deadline loomed — with the holidays also looming.
"Kathleen remained composed throughout, steering the project team through the shoals of uncertainty while weighing the potential risks and rewards of various options for addressing the uncertainty," Jackson said. "She maintained focus on issues that were priorities for the company, regularly asking outside counsel what was important and what was not so important."
In 2018, officials with the Tahirih Justice Center called Bertolatus and her Phillips 66 legal department colleague Linda Hester about an asylum case involving a mother from Western Africa who had just arrived in Houston with her teenaged daughter.
The woman's father-in-law, who was a traditional chief in their village, promised that the woman's first-born daughter would be given away in marriage to a friend of the chief when she became a teenager.
"Since the chief had decreed that the daughter was to be given in marriage, neither my client nor her daughter were supposed to have a say in that," she said. "My client was terrorized by her in-laws – her husband's brothers and cousins."
Bertolatus' client tried moving to another village, but the in-laws always tracked them down. Then came 2016 and 2017. The mother had been diagnosed with cancer.
"The in-laws announced that the time had come for the arranged marriage and that both my client and her daughter had to undergo female genital mutilation. My client sent her daughter to the United States," Bertolatus said. "For her defiance, she was repeatedly beaten and threatened with death unless she brought her daughter back. After one particularly brutal episode and in fear for her life, she made the agonizing decision to flee the country even though she had been unable to secure a visa for her son."
Working with Samantha Del Bosque, a supervising attorney at Tahirih, Bertolatus and Hester met with their new client about seeking asylum. They helped her formulate her statement of the case, and they researched the laws and traditions about the woman's homeland and "the power that traditional chiefs have in the country to establish that she satisfied the legal criteria for asylum."
"We prepped our client for the meeting with the asylum officer, and she did an amazing job explaining what she had endured," she said.
The client won asylum in 2019. Bertolatus promptly filed the derivative asylum application — the process allowing parents to obtain asylum for their children — to bring her son to the U.S. The immigration and asylum application process had a serious backlog prior to Covid-19, but the pandemic made it even worse.
In 2021, her client received the devastating news that her cancer had returned and that there was no further medical treatment available to her.
"I worked with her oncology team to understand the diagnosis and what it meant for the derivative asylum application," she said. "In the face of a foreshortened window for reunification, I requested expedited agency review of the derivative asylum application on the basis of urgent humanitarian grounds."
Despite the life-and-death urgency to the case, Bertolatus said the agency backlog meant she had to make "multiple entreaties through multiple different avenues again and again."
"I tried every which way to get someone to actually process the application," she said. "With the backlog as bad as it is now, it is nearly impossible to get to even have a phone conversation with a live person. The automated phone systems point you to the website and disconnect you if you try to get an agency staff person to talk with you. It should not have been multiple months of additional delay to have the file reviewed, especially in light of the compelling circumstances."
Finally, just before Christmas 2021, USCIS granted the derivative asylum to the son.
On Wednesday, March 30, Bertolatus picked up her client late in the afternoon and drove her to Bush Intercontinental Airport. They waited at the international arrivals area.
"My client hugged and held her son and cried. Neither said anything for a bit. It was very emotional," she said. "The son was a bit shellshocked from traveling across three continents in just over 24 hours, but he was relieved to finally be back with his mother."
Bertolatus, who said the son has already started school, wants lawyers to realize how much of an impact they can have on people's lives just by agreeing to take on one pro bono case.
"Research has shown that asylum seekers' odds of success are five times higher when represented by a lawyer," she said. "The system is arcane and complicated. Add to that the difficulty of typically having to operate in a foreign language, and the need for representation becomes even greater."
Bertolatus also thanked the support she received from her employer.
"It's in keeping with Phillips 66's overall corporate commitment to community service," she said. "Each employee gets community service days every year, and the company will make monetary service grants to match employees' volunteer time, as well as matching employee charitable contributions. I love this aspect of the Phillips 66 corporate culture."