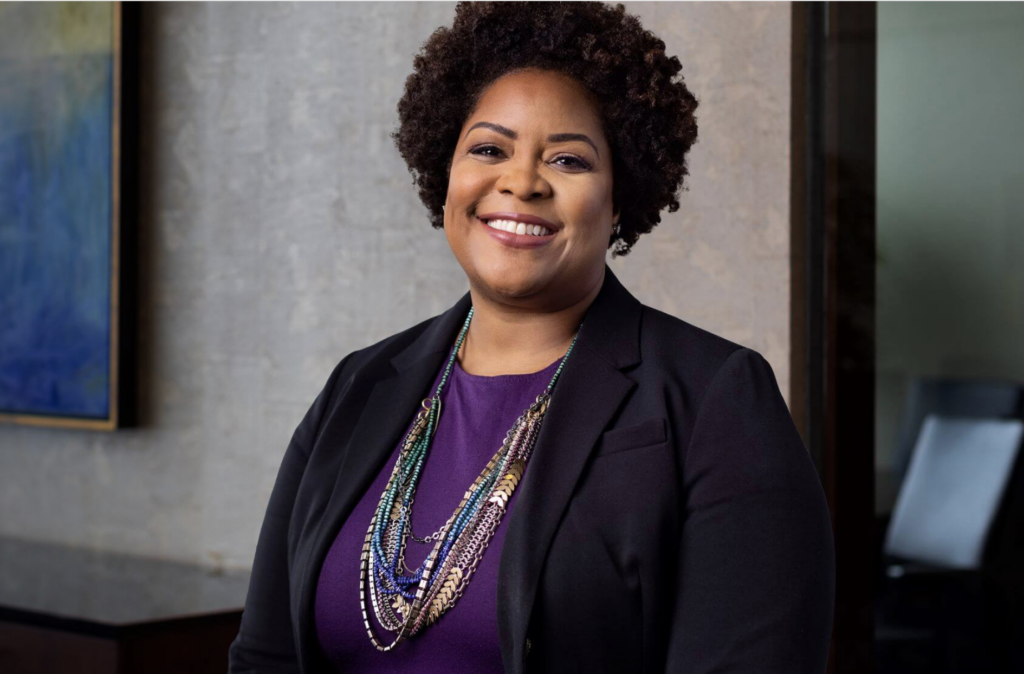 Demetra Liggins
Demetra Liggins learned a long time ago that when you are winning in court, stop arguing. It has served her well as a bankruptcy attorney, first at Winstead, then at Thompson & Knight and now at McGuireWoods, which she joined in July 2021.
Among her most recent cases: She represented Fort Worth oil and gas explorer Approach Resources Inc. when it filed for bankruptcy in 2019 due in part by sinking commodity prices and volatility (Approach later agreed to be sold to Alpine Energy for $192.5 million but that deal fell apart and the company was sold in September 2020 to Zavona Energy for $115.5 million).
Liggins also represented Senior Living Center at Corpus Christi Inc., doing business as Mirador, in the U.S. Bankruptcy Court for the Southern District of Texas in 2019. For that case, she was responsible for formulating a pre-negotiated plan resulting in sale approval and confirmation within 65 days of case filing (Mirador was sold to a Methodist Retirement Communities affiliate based in the Woodlands for $20 million).
The Lawbook: Where were you born and raised?
Liggins: I was born in Memphis, Tennessee, but I was raised all around the world. My father served in the U.S. Air Force and while he was on active duty, we lived in nine different states and outside the country.
The Lawbook: What were your parents' professions?
Liggins: My father started off as an Air Force navigator for KC-135s and had to medically quit flying. So he then worked for a time as a pharmaceutical sales representative before he was called to the ministry. After he finished seminary, he returned to active duty as an Air Force chaplain and retired as a deputy chief of chaplains in the Air Force. My mother had a career as a social worker and a counselor.
The Lawbook: Where did you go to college and law school?
Liggins: I attended Christian Brothers University in Memphis on a volleyball scholarship. I went on to law school at Cumberland School of Law at Samford University in Birmingham, Ala., on scholarship, too, and received my JD in 2000.
The Lawbook: How did you begin your legal career?
Liggins: I served as a judicial law clerk for the Hon. U.W. Clemon, the first Black federal judge appointed in the state of Alabama, and I was incredibly fortunate to have that experience. One of the valuable lessons was to know when you are winning. I saw cases when I could tell the judge was leaning in one side's direction, but the attorney would not stop talking. By the time the attorney finished, the judge may have moved away from their position. When you're winning, stop arguing.
I joined the litigation practice at Winstead in the fall of 2001. This was right around the time when the Enron and WorldCom bankruptcies were being filed, which at the time were some of the biggest cases ever filed. So it was great time to be a young bankruptcy lawyer.
The Lawbook: How did you first get involved in bankruptcy/restructuring?
Liggins: I first became interested in bankruptcy and restructuring as a summer associate at Winstead. Because I didn't know exactly what kind of law I wanted to practice, I rotated through different groups and learn about various practices. Along the way, I got a project in restructuring and was fascinated by it. I found that it was a hybrid between my undergraduate business major and litigation, which I was strongly interested in pursuing. I thought it was the best of both worlds. When I went back to school, I took bankruptcy courses and I did an externship with Judge Tamara Mitchell, who was the chief judge of the bankruptcy court in the Northern District of Alabama.
The Lawbook: How was it leaving Thompson & Knight after 14 years? What experiences did you take away from it?
Liggins: One of the things that I loved about working at Thompson & Knight was that they prided themselves on being great technical practitioners working in a collegial atmosphere. I found the same to be true at McGuireWoods. I saw this as a great opportunity to join a nationally respected practice and to be part of the firm's growth in Texas.
The Lawbook: How are you trying to build a bankruptcy/restructuring practice at McGuireWoods?
Liggins: I have over 20 years of experience in bankruptcy and restructuring matters and have built strong relationships with companies in major industries. McGuireWoods has a national platform and I felt this was a perfect fit for my practice. I have considerable experience in the Southern District of Texas and I believe that adds value to McGuireWoods' practice. I'm also excited about the firm's growth in Texas. We just moved our Houston office into the new Texas Tower, a beautiful building in the heart of downtown, and we have a lot to look forward to.
The Lawbook: What do you consider your biggest/most important/most tricky restructuring cases you've worked on –– and what did you learn from them?
Liggins: Both of the cases that I worked on involving senior living communities were tricky because so much communication is required. Making sure that that the residents and the families of former residents understood the process was imperative. It reinforced my belief in the importance of being understood not just how your convey a message.
The Lawbook: Does the prospect of an economic contraction make likely bankruptcies inevitable?
Liggins: Yes. I think any time you see a contraction you are likely to see more restructurings, but not all restructurings have to take place in Chapter 11 or inside a courtroom in a bankruptcy case. Some restructurings take place out of court.
The Lawbook: How has the restructuring practice changed during your career?
Liggins: When I started practicing, the majority of large Chapter 11 cases were filed in New York and Delaware. Now the Southern District of Texas, which is based in Houston, has nearly as many cases. Our venue has become a major. That was another reason I was excited to join McGuireWoods, to help with that robust market that exists here.
The Lawbook: Did you have any mentors, and if so, who? What did you learn from them?
Liggins: I've been fortunate to have many mentors who have taken an interest in my career and helped me develop. Mechele Dickerson, a distinguished bankruptcy lawyer and now a professor at the University of Texas Law School, has been lifetime mentor. We are essentially family because she is the daughter of my grandmother's best friend. She was the first lawyer I ever knew and has helped my since I decided to go to law school. Today, she is a trusted friend.
When I was at Winstead, I worked with Berry Spears [now at Keller Benvenutti Kim] and he told me that I had great people skills that would assist in recruiting and marketing. But he also told me none of that would matter if I didn't know how to practice law. He was instrumental in helping me set goals in connection the technical aspects of our practice.
Clifton Jessup, who is now a bankruptcy judge in the Northern District of Alabama, has been and continues to be an important mentor. He was the first Black Chapter 11 practitioner I met and really took me under his wing. He helped me think about the trajectory of my career. He's still a trusted adviser. I don't think I've made a career move without talking to him.
I also have benefitted from the guidance of Rhett Campbell, who recruited me from Winstead to Thompson & Knight [he retired in 2017]. He was known as the godfather of oil and gas bankruptcies and helped me develop that part of my practice. Like Judge Jessup, I still rely on his advice and counsel.
The Lawbook: What are your proudest achievements? Your most profound disappointments?
Liggins: I'm very proud of my resilience. Many things have been thrown my way and I've balanced or bounced back from them. I'm disappointed that the practice is still as homogenous as it was when I started 20 years ago. I had hoped it would have become more diverse by now. We are still working to make change, but statistically I don't think we have moved the needle very far.
The Lawbook: Why did you found Corporate Homie in 2016? Are you still involved/posting/podcasting?
Liggins: My twin sister Bemetra and I started Corporate Homie as a passion project. We really did not intend to have a business venture, but I am delighted that we have one now. We are both Black women working in corporate America and we found through our own experiences that there are strategies for success that apply beyond the legal profession and the business world. We were passionate about not being information hoarders, and if we knew, we were going to tell everybody. We both are still podcasting, but both of us have started new jobs recently. My sister is the new CEO of the Tampa Bay Partnership. So our day jobs have kept us from devoting as much time to the podcasts, but we are still recording them.