New Houstonian and Jackson Walker bankruptcy partner Rebecca Blake Chaikin is excited to bring her "mega case training" to the middle market.
The former Kirkland & Ellis lawyer from New York worked on her first matter in the U.S. Bankruptcy Court for the Southern District of Texas in 2019. In the ensuing years she worked closely with Jackson Walker attorneys Matt Cavenaugh, Liz Freeman, Jennifer Wertz and Veronica Polnick. She joined forces with them last week.
The Texas Lawbook reached out to Chaikin to learn more about how she was "primed for Texas," the Chapter 11s she has participated in recently and the prospects of a coming recession.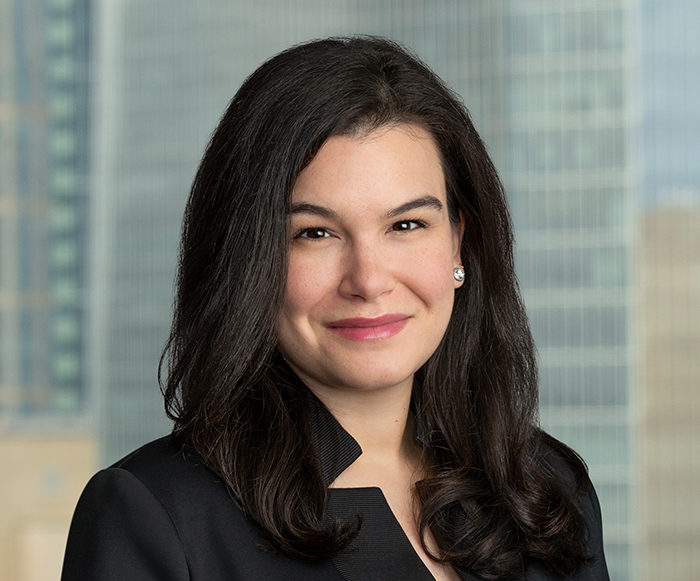 The Texas Lawbook: Why did you make the move to Jackson Walker?
Rebecca Chaikin: After being a lifelong New Yorker, I was ready for a change of scenery – and to experience a few things you miss out on growing up in midtown Manhattan. I also wanted to broaden and diversify my restructuring practice, and bring my "mega" case training to middle-market companies. Jackson Walker is the perfect place to continue a top-notch restructuring practice, while focusing on developing my skills in the litigation aspect of my practice.
The Lawbook: How much did your work in the U.S. Bankruptcy Court in Houston over the last few years influence your decision to move?
Chaikin: My experience partnering with the incredible Jackson Walker team is directly responsible for my move. Matt Cavenaugh and Liz Freeman became trusted friends as we tackled some great cases together over the last few years, and when I was starting to think about a change I called them to brainstorm. I was already primed for Texas because I have long particularly loved the clients down here and practicing in the Southern District of Texas. When Matt and Liz floated joining their team, it felt like a perfect fit.
The Lawbook: What are one or two of the most interesting matters you have handled and why?
Chaikin: During the beginning of the pandemic, I worked on Denbury Resources and JCPenney, and it was a fascinating juxtaposition. Two very different companies in very different situations, but in both I loved getting to know the businesses, finding the right strategies to fit each company's unique needs and hurdles, and working closely with management to keep the businesses operating smoothly with the least disruption, while simultaneously leveraging the Chapter 11 toolbox to set the companies up for future success.
The Lawbook: What are the key developments or emerging trends in your bankruptcy and restructuring practice?
Chaikin: Increased uncertainty and recession-planning. The world in which companies are now operating is more and more unpredictable and the smart companies in every sector are sharpening their pencils to figure out how to be resilient in the face of the "known unknowns" and the "unknown unknowns" that are coming in the next years and decades. One clear is example is the auto industry's apparent pivot to electric vehicles and away from combustion engine dominance, which is a reaction to a variety of anticipated pressures, from changing consumer demands to anticipated fuel prices and reliability. The general consensus in the industry also seems to be that a recession is coming, the only questions being timing and magnitude. As such, the industry and many companies are planning now to be ready when it hits.