Raymond Chang
In the spring 2022, DistributionNOW and its general counsel noticed that a wave of key workers, including a senior executive, with its Odessa Pumps business, were involved in a sudden and "coordinated mass exodus."
"We had suspicions that some wrongdoing was potentially committed by some of our former employees," DNOW GC Raymond Chang told The Texas Lawbook. "After doing internal investigation into the matter, which confirmed our suspicions, we realized that theft had been committed by various former Odessa Pumps employees."
"Given the importance of this case to DNOW, we wanted to move quickly with the legal process," Chang said.
In June, only weeks after Chang conducted the internal investigation, the Houston-based global supplier of oil and gas drilling equipment and parts filed a lawsuit alleging theft of confidential information and trade secrets by Odessa businessman Toby Eoff, whose family had sold Odessa Pumps to DNOW in 2015 for $170 million. Eoff joined DNOW after the sale and was even promoted within the company. Another 13 defendants were later added to the litigation.
The case went to trial in November. After three months of testimony, presentation of 32 boxes of evidence and arguments, a jury unanimously in favor of DNOW and awarded $9 million in damages.
"There is risk bringing a high-profile case like this, and one that includes a former executive who has a public profile outside of DNOW," Chang said. "Many of the defendants had left for one competitor — so it was important from a business standpoint that DNOW not allow that competitor use of its stolen confidential and proprietary information. Had we lost the lawsuit, that would have emboldened this competitor to better effectively compete against us."
The Association of Corporate Counsel's Houston Chapter and The Texas Lawbook have named Chang as the 2023 Houston Corporate Counsel Award for General Counsel of the Year for a Midsized Legal Department.
ACC Houston and The Lawbook will honor Chang and other finalists for the 2023 Houston Corporate Counsel awards on May 4.
"Mr. Chang's dedication to DNOW knows no ends, and he is not shy to pursue novel and complicated legal strategies to best support the company," said Jason McManis, a partner at Ahmad, Zavitsanos & Mensing who nominated Chang for the award. "Rather than wait to see what unfolded, Mr. Chang authorized an investigation that revealed a number of key individuals had stolen DNOW confidential information and trade secrets on their way out the door."
Premium Subscribers: Click here for an exclusive Q&A with Raymond Chang on his in house experiences as well as his expectations when hiring outside counsel.
"DNOW successfully obtained a novel, first-of-its-kind temporary restraining order that prohibited eight individuals from working at their new employer [Permian Pump & Valve] because they were in possession of stolen information," said McManis, who represented DNOW in the litigation.
DNOW Deputy GC Jordan B. Chester said Chang understands that "his most important job is the success of the company he represents.
"As a leader, Raymond takes extreme ownership of everything within his kingdom — the good, the bad and the ugly," Chester said. "He takes accountability for the mistakes of others and pushes off his own successes to others on his team. He acts with kindness, humility and reason every day in his role and with a human touch that lawyers aren't often acknowledged for.
"Raymond leads in a variety of ways: He provides support on matters where he carries more knowledge, he provides influence with others within the business when legal is facing an obstacle or tasked with making a difficult decision, and he listens and steps aside for other members of his team when they are more knowledgeable about a matter," Chester said. "He has taught me a team mentality [and] support above all things — regardless of whether we have opposing views or different stances on a matter."
Winston & Strawn partner Eric Johnson, who has handled several deals for DNOW, said Chang is a "solutions-oriented" general counsel.
"Raymond understands the business and what the business is trying to accomplish," Johnson said. "The executives [at DNOW] see Raymond as a business partner and seek his input on many matters — not just a box to check. But he makes sure his executives have eyes wide open on risks."
"Had we lost the lawsuit, that would have emboldened this competitor to better effectively compete against us."
Photo: Sharon Ferranti
Chang is a first-generation Taiwanese American who was born and raised in Houston. His parents were born in Taiwan and came to the U.S. for graduate studies. His father holds masters and PhD degrees in chemical engineering. His mother has a master's degree in physics. Later in life, Chang's dad started a commercial real estate business in Houston.
"Given the heavy science background my parents had, there was a gentle push towards the sciences, specifically being a doctor," Chang said. "I loaded up on science courses in high school and figured out that was not my calling in life."
Chang was a finance major at the University of Texas.
"I thought I would go the 'business route' like my dad eventually did, which I still find appealing," he said. "But once I took a business law course in college and loved it, I found my calling in life — the law."
While in college, Chang did a summer internship at Vinson & Elkins, where he was able "to see what it was like to work at a law firm."
"It was not at all a glamorous experience," he said. "I was actually responsible for helping enter lawyer and summer associate time entries into their system, so I got a flavor for what lawyers do based on their time entries."
Chang earned his law degree from the University of Texas in 1996. After one year as an associate in the corporate department at Baker Botts, Chang moved with a group to Baker McKenzie in 1997.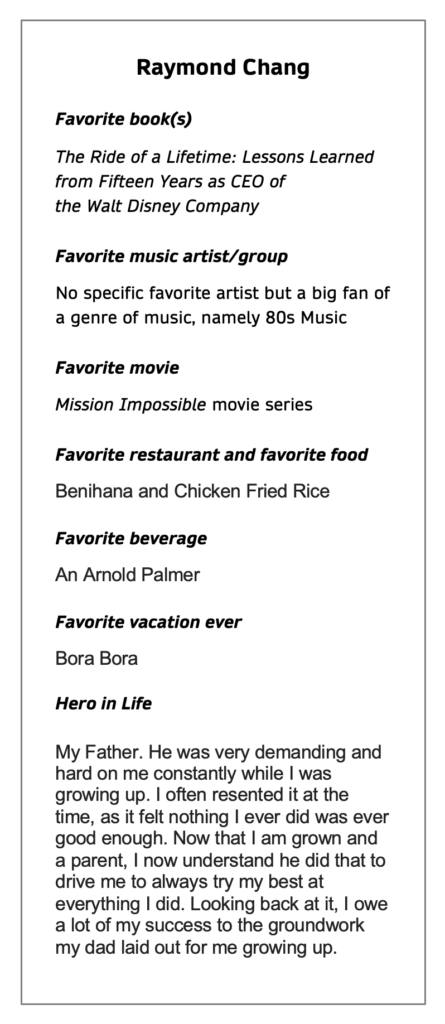 "Raymond was a total star early on," said Baker McKenzie principal Amar Budarapu, who served as a mentor to Chang. "He was my go-to trusted associate. He's a deep thinker. Raymond could have accomplished anything — partner in Big Law, corporate general counsel, leader of a private equity firm."
In 2001, Chang went in-house, joining the legal department at National Oilwell Varco as senior counsel handling commercial contracts and supply agreements. After four years, he was promoted to assistant general counsel and assistant corporate secretary.
"The one main reason I made a move in-house was the hours and seeking a better quality of life," he said. "During my five years at Baker Botts and Baker McKenzie, I was a high biller — usually in the 2500 billing hours a year range, upwards to 2700-2800 in some years. I just wanted a better work life-personal life balance.
In 2014, Chang played a prominent role in NOV's spinoff of DistributionNOW. As the transaction progressed, Chang was offered the GC position at the new company.
"The opportunity to lead a legal team as the head legal officer, as well as the opportunity to form the entire legal team for DNOW from scratch, was very compelling," he said. "The chance to actually pick and choose each member of your legal team is rare, as opposed to inheriting the members of a legal team when you get promoted into such a role."
"I was involved in various aspects of helping form DNOW, not just the legal side of things," Chang said. "I was also involved in other parts of the company as we prepared to spin off from NOV."
In his eight years at DNOW, Chang has completed 19 acquisitions. One of those was Odessa Pumps in 2015 for $170 million. DNOW has a market cap of $1.57 billion.
Chang has built a legal team that includes seven lawyers, including Chester.
"The guy will go to bat for you any day of the week without an umbrella in a hurricane if he believes in you and you show him you are supportive and loyal to him," Chester said. "Outside of my family, he has taught me more life lessons than anyone else in my life in my nine years of working for him."
Eoff stayed with Odessa Pumps until April 2022, when he joined a new competitor, Permian Pump & Value. More than two-dozen other DNOW employees quit to join PPV.
Chang decided to hire McManis and John Zavitsanos of AZA to lead the litigation against Eoff and 13 others.
"This trial was definitely a marathon, not a sprint. The end result was thankfully worth waiting for."
Photo: Sharon Ferranti
"As we realized the gravity of the case — and serious nature of the claims we had and the number of defendants initially involved, which continued to grow as we discovered more and more wrongdoing — we realized we needed more legal resources to handle this growing case," he said.
Zavitsanos' history with Chang and NOV dates back to 2009 when AZA represented A&B Bolt Supply, which had been sued by NOV for $33 million in a trade secrets theft case. Zavitsanos won the case.
NOV's general counsel, Dwight Rettig, was so impressed with Zavitsanos that he hired AZA to represent the company in future litigation because he never wanted to face off against Zavitsanos in court ever again.
"Because of that, in the back of my mind, I knew if I ever had to win a court case, I would call AZA," Chang said. "John is like the glass case with the hammer that says, 'Break in case of an emergency.'"
"This case had the attention of our top executives — including our CEO — as well as our board of directors," Chang said. "There was added importance to winning this case so as not to lose the confidence and trust of the executive team on how I handle legal matters and disputes like this one."
Chang and AZA decided to file the lawsuit in Fort Bend, which allowed them to seek an expediated trial date because it has a less congested court docket. That meant discovery in the case was very compressed.
"With that many defendants to depose prior to trial, we needed enough legal resources to properly conduct discovery and all these depositions," Chang said. "Given the importance of this case, I attended nearly all of the depositions conducted in this case. I wanted to personally keep tabs of everything going on in this case."
Chang was in the courtroom nearly every day of the trial.
"This lawsuit was very grueling," he said.
The jury deliberated for two and a half days before returning a verdict that Eoff and a half-dozen others willfully and maliciously conspired to steal DNOW's secrets.
"This trial was definitely a marathon, not a sprint," Chang said. "The end result was thankfully worth waiting for."