© 2015 The Texas Lawbook.
By Mark Curriden
(Feb. 24) – Robert Hart received a frantic call in 2002 from his 78-year-old mother in Rhode Island.
"Are you okay? Do you still have a job?" she inquired.
Confused, Hart asked his mom what she was talking about.
"I just saw on the news that Mark is now working at Dairy Queen," she said. "What happened?"
Hart assured his mom that his boss, billionaire entrepreneur Mark Cuban, was working at Dairy Queen – not because he had lost all his money – but for publicity reasons.
"My job is safe, mom," he said. "And Mark is doing okay, too."
Hart has one of the coolest – and most challenging – jobs in the legal profession. For the past 15 years, he has been the general counsel and executive vice president of Mark Cuban Companies, which encompasses nine separate operations comprising of more than 100 business entities.
One day, he's handling the legal paperwork from Cuban's $41 million purchase of an airplane on the Internet – still believed to be the largest single business transaction ever made over the Web – and negotiating contract terms with Mavericks coach Rick Carlisle. The next day, he's doing transactional work to help Cuban buy a movie theater chain, acquire an oil and gas services company or start a cable TV network.
On the litigation side, Hart hired and managed the outside legal teams that successfully beat back allegations of mismanagement of the Mavericks by Ross Perot, Jr. and defended Cuban from charges brought by the U.S. Securities and Exchange Commission that he committed insider trading.
And don't forget Shark Tank.
"Yes, there is Shark Tank," Hart says, revealing his New England accent with the silent "r."
"There was a time when I would tell people I work for Mark Cuban and they would think Mavericks basketball right away," he says. "Not anymore. It's all Shark Tank. Even little old ladies and young kids love Mark on Shark Tank."
Hart says the TV series generates so much legal work that he had to hire a full-time lawyer just to supervise the transactions and investments.
"Robert has just about every business lawyer's dream job," says Tom Melsheimer, a partner at Fish & Richardson. "He is Mark's right hand man and one of his most trusted advisers. Robert is in the middle of so many of Mark's fascinating ventures in sports, entertainment, technology and venture capital investments."
A graduate of the SMU Dedman School of Law, Hart says he learns something new just about every day working with Cuban because the billionaire is always venturing into something new and different.
"Mark goes at a very fast pace," he says. "He's out there everywhere. He's very active in many of his businesses. Mark is always evolving, always thinking.
"When I was a little kid, my parents complained I took on too many tasks and had too many irons in the fire," he says. "I've always been a multi-tasker, and that has been a great strength in working for Mark."
Hart says his job is part lawyer, part businessman and part adviser.
"My job is to be his backstop," Hart says. "I fill in the holes behind him. I'm here to help Mark do what he does best, but to make sure that he avoids legal pitfalls. I'm there to provide caution but also solutions. My job is not always just saying no."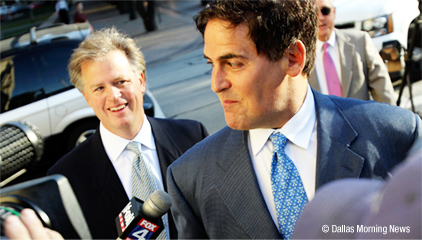 Cuban, in an interview with The Texas Lawbook, laughs.
"It sure as hell feels sometimes like all Robert does is tell me no," Cuban says. "Robert does a great job. We've been good friends forever. We've come to learn each other. He's at my house as much as I am, maybe more.
"His job is to be super conservative and to piss me off a lot of times, but also to protect me," he says. "That's his job and he's great at it. A lot of things would be a lot more difficult for me if not for Robert. Here's the thing: When I don't follow Robert's advice, it usually bites me in the ass."
Melsheimer says Hart is the perfect GC for Cuban.
"Because Mark is so smart and aggressive, he could be a true headache for most lawyers," Melsheimer says. "But Robert is also very smart and he has the perfect temperament to understand and advise Mark. Robert is very understated and Mark Cuban knows Robert is always thinking and acting in Mark's best interest."
Cuban admits that he doesn't always make it easy for Hart.
"Do I like dealing with lawyers? No. I hate it," Cuban says. "I absolutely hate it. We've become such a litigious society that it is a huge drain on productivity.
"Lawyers may be Satan," he continues, "but Robert is my Satan and I trust him completely. He's not only a trusted adviser, he's a good friend."
Hart says Cuban particularly hates patent litigation because he believes it infringes on technological advancements and entrepreneurialism.
"Patent trolls really piss Mark off," Hart says. "But the great thing about Mark is that he is willing to stand on principle and fight, even though taking a stand is often very expensive with legal fees."
Hart's relationship with Cuban actually goes back three decades. He was an associate at Bracewell & Giuliani when he met Cuban at a party in 1987. The future billionaire said he needed legal assistance.
"Mark wanted to buy a house, but he wanted to rent first with the right to purchase later at a predetermined price," Hart says. "Mark was already learning to hedge in his finances back then.
"I realized then that Mark was a thinker," he says. "He was clearly very smart."
Hart next saw Cuban in 1995. The Internet entrepreneur told Hart his plan to put sporting events on the radio from across the country on the Internet.
"Mark talked about clicks and eyeballs, which I had never heard before," he says. "I didn't think the concept had much merit, but I had complete faith Mark would turn it into something successful."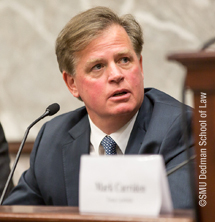 Cuban did. He ended up selling Broadcast.com to Yahoo for more than $5 billion.
Over the next few years, Hart helped Cuban invest in real estate and worked on a few other transactions, basically becoming Cuban's personal outside counsel.
Hart's first major business assignment from Cuban came in 1999 when the Mavericks owner called to say that he had just purchased a Gulfstream V (G5) private jet over the Internet for $41 million.
"There was no hand-signed contract. It was a transaction done completely over the Internet," Hart says. "Mark had already wired the money and I was trying to catch up. It was very scary buying the plane over the Internet because that big of a financial transaction had never happened before."
In fact, the $41 million purchase is still the largest Internet transaction ever, according to the Guinness Book of World Records.
"None of Mark's early deals were simple," Hart says. "I had to learn a lot very quickly."
A year later, in 2000, Hart attended a Dallas Cowboys game in Cuban's personal suite at Texas Stadium. When Hart entered the room, Cuban bellowed out, "Here's our new general counsel."
"I was more surprised by the announcement than anyone," he says. "We didn't talk compensation or anything. Everyone just clapped."
Hart's duties have gradually expanded over the years. He now oversees all tax, insurance, investment, finance and human resource matters for Cuban Companies. He is Cuban's representative on the American Airlines Center board.
He also oversees the aviation division. Yes, Cuban Companies has an aviation division.
Hart handled the acquisition of four airplanes for Cuban during the past 15 years. In 2001, he worked on the purchase of a Boeing 757 that transports the Mavericks and the Oakland A's baseball team. In 2007, he led the acquisition of a Boeing 767 that flies the Dallas Stars and Texas Rangers around the country.
"My position is very entrepreneurial," he says. "Mark gave me a long rope and I didn't hang myself."
Hart and Cuban joined together in 2012 to co-invest in Oilfield Water Lines, a water hauling and disposal system associated with hydraulic fracturing. The acquisition price was $45 million. They sold the company 11 months later for $239.2 million to Oklahoma-based NGL Partners.
"I enjoy working on large transactions, especially acquisitions," he says. "Each one is different and provides business nuances. Unlike the M&A lawyer at a firm, I get to guide the business decision."
Hart now has two lawyers and two paralegals working for him full-time. He spends several million dollars a year on outside legal fees and uses a plethora of lawyers at different firms. He uses Thompson & Knight for tax, real estate, labor and oil and gas law matters. He turns to Fish & Richardson for litigation, Akin Gump for securities and corporate governance, Jackson Walker for media law, Winstead for sports law and Klemchuk Kubasta for intellectual property matters. On large corporate transactional matters, he relies on Hughes Hubbard in New York.
"We are very loyal," he says. "Once we are comfortable and like a lawyer, we don't change. Our loyalty is to the lawyer, not the law firm."
"I use a lot of law firms, but I get very few solicitations," he says. "Even when I meet a lawyer and throw them a line to pick up, they frequently don't follow up. They never stay in touch. The problem with so many lawyers is that they want immediate financial payoff without making an investment. I like developing a personal relationship."
Paul Wageman, a partner at Winstead, says Hart's experience crossing various practice areas has proven beneficial.
"Mark has the vision and Robert figures out the details," says Wageman, who specializes in sports law.
Hart is not a fan of alternative fees and sticks to the billable hour.
"The lawyers are always the house and they are always going to win," he says. "I talk with outside lawyers at the start of a matter to develop a budget. I'm not looking at fee guarantees, but I want to know how they think and how they plan to manage my matter.
"Law firms have lots of different rates. Law firms like to say their hourly rates are fixed, but I know that they are not," he says. "Of course I want the best rate, but what I really want is the best value."
© 2015 The Texas Lawbook. Content of The Texas Lawbook is controlled and protected by specific licensing agreements with our subscribers and under federal copyright laws. Any distribution of this content without the consent of The Texas Lawbook is prohibited.
If you see any inaccuracy in any article in The Texas Lawbook, please contact us. Our goal is content that is 100% true and accurate. Thank you.