The Pitch/Paid Content.
9th Annual Savor Dallas Celebration – March 14th through 17th
By Jim White
No lawyer joke coming. We're serious. The event that everybody calls the most delicious food and wine festival in Texas was put together in hopes that all my wife's lawyer friends would come and tell their friends, who would tell their friends, and so on.
When my wife Vicki and I met, she was chairing the big wine auction event for the American Heart Association, Côtes du Coeur. They really catered to barristers, and doctors of course, but my wife's best friend's husband was (is) a very prominent attorney.
That, combined with the charity event she worked on, meant that Vicki had scads of attorney friends.
Since almost all of my friends were disc jockeys, news people, and various ink stained wretches, who mostly preferred beer, it made more sense to use the attorney profile as the ideal attendee for our event.
And, what might that profile be? I'm glad you asked, Counselor.
Vicki knew their M.O.: They work hard. They party hardy (at least her friends did). They LOVE wine; mostly, big, red, juicy, expensive Bordeaux, Burgundy, and hard to get California Cabs. They enjoy great food.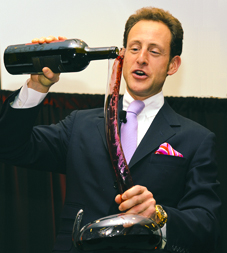 Savor Dallas
would feature big, beautiful red wines and some amazing Champagnes. We'd be choosy about our Chardonnays—no wines under $15 (retail). No bulk wines either ("Hell no!"). Sprinkled in, would be some outstanding Single Malt Scotches, and good sippin' Bourbon.
What really sealed the deal was debuting Stella Artois Beer in the Dallas-Fort Worth Market at the first Savor Dallas in 2005. It was served ice cold, on draught, in a chalice, which people could take home with them free.
I recall our previously mentioned attorney friend liked the glasses so much, that he tucked a couple inside his suit jacket, and two more in his side vent pockets for good measure! Did I mention that attorneys are not immune to freebie fever?
We made sure they got to taste great cuisine from scores of Dallas-Fort Worth's finest chefs. Events were staged in beautiful locations, including the Nasher Sculpture Center, the Meyerson Symphony Center, and the Dallas Museum of Art.
And thus, our name and our mission statement were born: "Savor Dallas, A Celebration of Wine, Food, Spirits and the Arts".
Savor Dallas has become the largest premium wine and food event in Texas with cuisine from over 60 of the area's top chefs and more than 400 premium wines, spirits and beers at its events throughout the weekend.
In 2013, the weekend expands to 4 days, with events in 7 different venues around Dallas.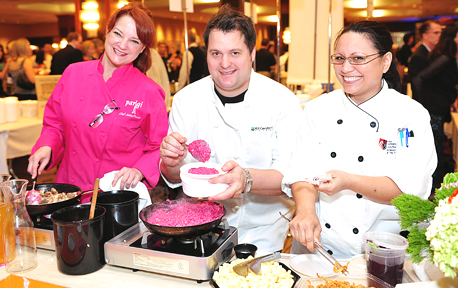 We succeeded in attracting lots of our attorney friends, who told a friend, etc. We've even worked on special ticket promotions with the Dallas Bar Association the last two years.
The good-looking, well-dressed audience at Savor Dallas (unmitigated flattery) is also comprised of numerous doctors, business owners, and other professionals.
Singles enjoy Savor Dallas—date or no. It's a comfortable place to go with the flow and enjoy the movable feast.
It's a great place for couples, too, because there's something for every palate.
The common objective is the enjoyment of wine and food pairing, a quest to taste great wines, and the opportunity to discover new restaurants.
We're pleased to have the chance to tell you a little bit about Savor Dallas between now and March 14th.
First we'll set the stage with highlights from our schedule. Next time we appear in The Texas Lawbook, we'll give you an overview of some of the fine wines featured this year. In our final installment, we'll discuss some of the great spirits that will be poured at our events.
So, join us, and savor the flavor during our 9th Annual Savor Dallas!
It's an honor for us to showcase the new Perot Museum of Nature and Science on Friday March 15th, with our traditional "Wine Stroll" benefiting the museum. People who attend will have the chance to tour and taste premium wines, craft beers, and select spirits, on all five, amazing, interactive levels of downtown Dallas' new cultural and educational treasure!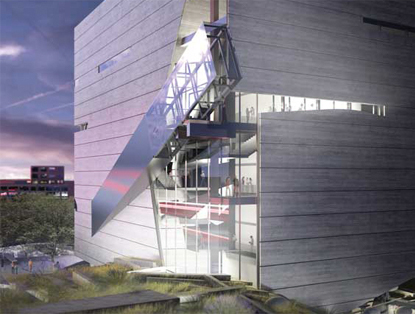 The Perot Museum is a place where kids get turned-on about nature and science, and where adults get to be kids again!
THURSDAY NIGHT SNEAK PEEK OF TRINITY GROVES
An added attraction this year is a preview taste of the exciting new restaurant and retail incubator Trinity Groves. Cross over the beautiful Margaret Hunt Hill Bridge and join the party featuring food, fun, music and libations. Be among the first who'll get to sample the cuisine from many of the dozen planned restaurants that will be opening at Trinity Groves this spring and summer.
SATURDAY MARCH 16TH EVENTS
The Rosewood Mansion on Turtle Creek hosts a "Global Pairing of Wine and Cheese" to benefit the Dallas-Fort Worth Chapter of the American Institute of Wine and Food.
Another Saturday afternoon highlight is the "Modern Lifestyle Wines Panel Discussion and Tasting" at the Warwick Melrose Hotel featuring winemakers attending Savor Dallas.
The wine lover/expert favorite is the "Reserve Tasting" featuring ultra-premium wines and spirits. This limited attendance event features only ultra premium pours, and a nice selection of hors d'oeuvres.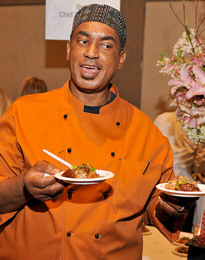 INTERNATONAL GRAND TASTING
The gourmet highlight of the
Savor Dallas
weekend—the
"International Grand Tasting"
showcases a sampling of signature cuisine from over 60 top Dallas/Fort Worth top chefs and hundreds of premium wines, spirits, and beers.
Both The Reserve Tasting and the International Grand Tasting will be staged in the Irving Convention Center at Las Colinas. Now, for our legal disclaimer: Responsible consumption options are available including a "designated driver ticket" and there will be an ample supply of Yellow Cabs standing by to ferry excessive revelers home.
Savor Dallas has some outstanding hotel arrangements featuring special event rates at the Four Seasons, the Omni Mandalay, and Marriott Las Colinas. Check out our website www.SavorDallas.com for details on these rates.
BUT WAIT! THERE'S MORE!

ST. PATRICK'S DAY CELEBRATION AT THE DALLAS ARBORETUM



Those with a passion for food, wine, and all things green will delight in a Sunday, March 17th "Upscale St. Patrick's Day Party" presented by Savor Dallas and the Dallas Arboretum and Botanical Garden. Enjoy wine, food, beer and spirits amidst "Dallas Blooms." Proceeds go to support the Education Department at the Arboretum.
Ticket prices for Savor Dallas events range from $35 to $150. Weekend passes also are available at an overall cost saving.
For a complete schedule and all details, including a list of all participants, and to purchase tickets, go to www.SavorDallas.com or call 888-728-6747.
Cheers! À votre santé!
Jim White is known as Dallas-Fort Worth's "Wining and Dining Guy" thanks to his long-running "KRLD Restaurant Show". The award winning broadcaster and inductee to the Texas Radio Hall of Fame is the co-founder of Savor Dallas along with his wife Vicki Briley-White—who still has many lawyer friends, and now so does he! Contact: [email protected].
The Pitch/Paid Content.