Seven years ago, leaders at Birmingham-based Bradley Arant Boult Cummings and several other national law firms called prominent Dallas trial lawyer Dick Sayles about merging his highly successful litigation boutique into their much larger, full service law firms.
Sayles listened politely, but always said no.
Last August, Bradley Arant approached Sayles again about opening the firm's office in North Texas. This time, the answer was different.
The 11-lawyer boutique Sayles Werbner officially ceased to exist Tuesday, Jan.1 – the day after the firm technically celebrated its 25th year of operation. On Jan. 2, nearly all the firm's attorneys became part of the Dallas operation of Bradley Arant, a southern-based full service firm that has more than 500 lawyers in 10 offices, including 18 lawyers in Houston.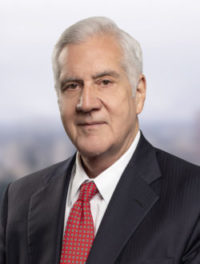 "Same office, same phone number, same address, but we are now flying a new flag," Sayles said in an exclusive interview with The Texas Lawbook. "This is the most significant milestone in my 44-year legal career."
One key lawyer is not joining Bradley Arant: Sayles Werbner co-founder Mark Werbner, who is reportedly in negotiations with Chicago-based Winston & Strawn to join its Dallas office as a partner.
Lawyers close to the discussions say that Winston is eagerly pursuing Werbner and that firm leaders feel confident that they will get the deal done, which will allow Werbner to join the Chicago-based firm within a few weeks or sooner. The glitch is apparently a potential conflict with an existing client.
"I have essentially become Mark's exclusive head hunter trying to get him on board at Winston," says Tom Melsheimer, who is co-managing partner of Winston's Dallas office. "Mark is a perfect fit for our firm's brand as a great trial and litigation firm. We have an affection for great trial lawyers and Mark is definitely that."
Sayles says he wished his long-time partner was joining Bradley Arant, too, but he fully supports Werbner's decision to go in another direction.
Sayles and Werbner met in the late 1970s when both men were young lawyers at Carrington Coleman. They grew up under the mentoring of the great Jim Coleman and worked with other trial lawyer giants including Bill Dawson, Rod Phelan, George Kryder and, of course, Barbara Lynn, who is now the chief judge of the U.S. District Court for the Northern District of Texas.
Sayles practiced at Carrington Coleman for 19 years before he and Werbner started their own firm.
"It was Jan. 1, 1994, and we didn't know if we would have any clients or generate any revenues or have any successes," Sayles says. "We've had 25 financially successful years and we are coming off one of our best years ever."
Sayles says he has fielded dozens of phone calls from large national law firms seeking to discuss a possible merger or acquisition.
"Our answer was always that it was flattering to be considered, but that we played in the same big leagues despite being a small law firm, so we were not interested," he says. "But it became increasingly challenging for small law firms to have the resources needed for the litigation we were handling.
"Boutique law firms were in vogue for a couple decades, but the pendulum is swinging back in the other direction," he says.
Sayles says his firm was more open to discussions when Bradley Arant leaders called again late last summer.
"I saw the depth and the prestige of the Bradley law firm," he says.
Bradley managing partner and board chairman Jonathan Skeeters told The Texas Lawbook that the firm has been eyeing an expansion into Dallas for a couple years and that the opportunity to have Sayles and his team open the office was "an absolute no-brainer."
"The legend of Dick Sayles is widespread," Skeeters says. "Rarely does a firm get to enter Dallas – an A market – with such an A level player as Dick."
Six of the nine Sayles Werbner lawyers are joining Bradley Arant as partners. Sayles says he foresees adding a few more lawyers to the office over the next few months.
"I'm telling our clients that they need to wait to see what we can do for them next at Bradley," he says. "I'm in good health and I still love practicing law. I just saw that my friend Steve Susman increased the firm's mandatory retirement age to 100. I want to see if we can do the same at Bradley."
The Sayles Werbner partners joining Bradley include Dick Sayles, Will Snyder, Mark Torian, Rob Sayles, Shawn Long and Sawyer Neely.