Dianne Ralston
Dianne Ralston had no lawyers in her immediate family – no one encouraging her to go to law school.
"In fact, my father had to be deposed a few times in his career and did not have a fondness for the profession after that," she said. "But I was always fascinated by it. So, after I earned two business degrees from Texas A&M and spent several years working for Shell Oil in a global procurement role, I decided to return to get my law degree."
Ralston and some of the largest energy companies in the world are glad she did.
Now the chief legal officer at Schlumberger NV, Ralston oversees a team of 400 lawyers and compliance professionals operating in 60 countries who handle all regulatory, litigation and transactional matters for the oil field services giant.
Ralston, who previously served as the general counsel of two other energy companies – Weatherford International and TechnipFMC – took over the top lawyer job at Schlumberger in December 2020, as the Covid pandemic raged and the energy industry faced some of its most turbulent times in decades, resulting in some severe staffing reductions.
Within months of taking the job, she onboarded four new corporate directors, revamped and updated the global corporation's enterprise risk management processes (known as ERM) and dramatically reorganized her legal and compliance teams.
"At this stage in my career, I have the opportunity to be intentional about providing our legal function with an environment that inspires belonging and purpose – an environment where people can succeed," she told The Texas Lawbook in an exclusive interview. "Considering what makes a great team or the attributes of an organization that inspires loyalty and great achievement – and sustaining those qualities – takes time and effort. However, there is a lot of value in rising to that challenge, both to the organization and to me personally."
For Premium Subscribers: Click Here to read Mark Curriden's Q&A with Dianne Ralston regarding her mentors in life, the advisors she leans on and her expectations of outside counsel.
Earlier this month, the Association of Corporate Counsel's Houston Chapter and The Texas Lawbook named Ralston as the 2022 Houston General Counsel of the Year.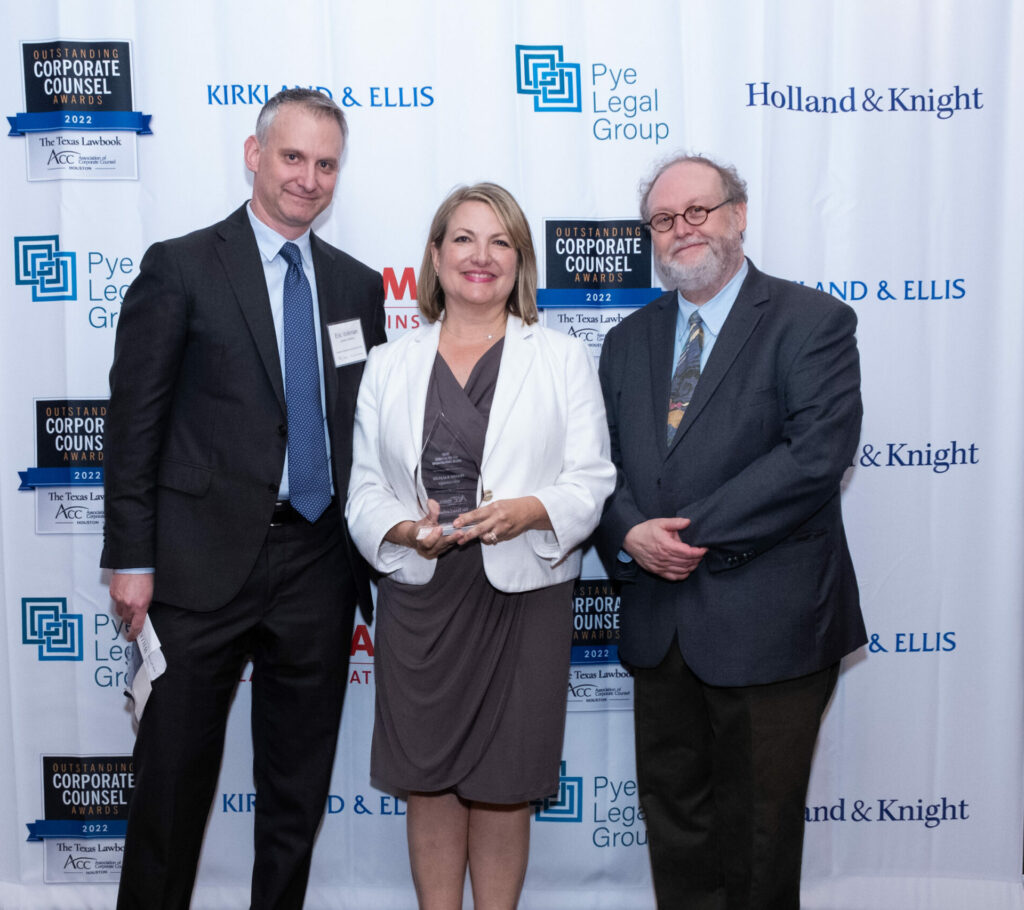 Dianne Ralston accepting the award, pictured with Latham & Watkins partner Eric Volkman and Mark Curriden of The Texas Lawbook
"Ms. Ralston innovated the traditional in-house legal organizational structures to create better alignment for emerging focuses as well as for greater synergies in spend/project management," said Willkie Farr senior counsel Jay Martin, who nominated Ralston for the honor.
Ralston combined traditional compliance and securities departments into a single group focused on governance and integrity "to ensure that important emerging regulatory and disclosure areas in enterprise risk management and environmental, sustainability and governance were integrated to prepared for coming regulatory focus on topics such as cybersecurity and emissions tracking and disclosure," Martin said.
Ralston combined litigation, government investigations and M&A into one department called "Transactions and Oversight."
Martin said the restructuring allows Schlumberger to "cross-train legal resources that have similar skill sets of managing large legal projects that are supported by external counsel and legal data processing vendors.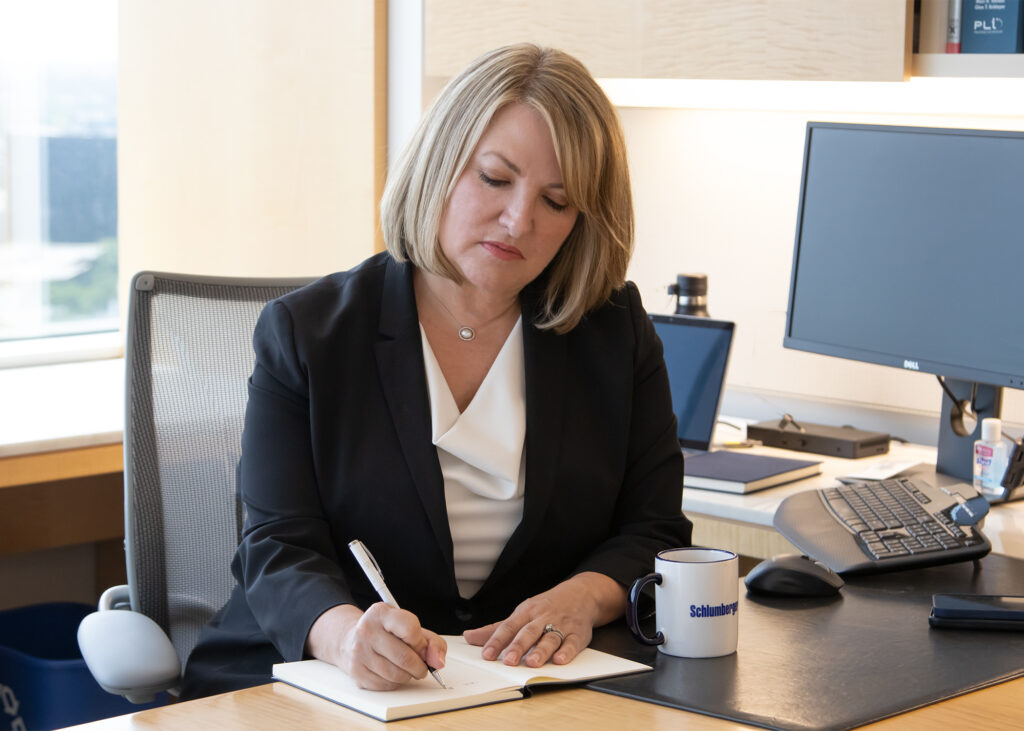 "This structure will not only create diverse career opportunities for legal talent but will also allow the department to create greater efficiencies in legal project management and has already resulted in cost savings for the company," he said.
Martin said that Ralston recognized that the pandemic, the resulting isolation and significant budget cuts due to the economic downturn had impacted the morale of the legal department.
From the start, Ralston focused on building identity and purpose for her almost 400-person legal team.
"She sponsored a logo contest to create a brand for the legal function," Martin said. "She enabled a 'hackathon' to create simple digital tools that could bring added efficiency to legal operations. She sponsored a video contest to introduce newly created teams to the rest of the department and began mentoring programs for the department."
"All of these efforts were focused on building morale and addressing retention in a period were the market for legal talent is increasingly competitive," he said.
Ralston reviewed and updated the Schlumberger's ERM efforts to ensure that the oversight of key risks were mapped to appropriate board committees and that risks were quantified and remediated or mitigated where possible.
Born in Jackson, Mississippi, Ralston grew up along the Gulf Coast of Louisiana. Her father was a petroleum engineer who specialized in offshore drilling.
"We moved several times, including internationally," she said. "As a result, I attended four different high schools in three different cities. That formed my perspective on teams and adaptability."
Her mother was "a tireless volunteer" for community and church efforts, which Ralston said, "planted the concept of servant leadership with me early on."
Ralston earned her bachelor's degree in marketing and operations management from Texas A&M University in 1988. She spent several years working for Shell Oil in a global procurement role.
In 1991, she went to law school at the University of Houston Law Center.
With a law degree in hand, Ralston joined the litigation practice at Fulbright & Jaworski – now Norton Rose Fulbright – in 1994.
Three years later, she went in-house at Schlumberger where she served in several positions over 17 years, including lead lawyer for the company's information solutions unit, director of compliance and deputy GC of governmental affairs and intellectual property enforcement.
Ralston said private practice caused her to recognize that "some of the administrative aspects of a litigation practice did not add value for my clients nor help resolve a dispute – in fact, they might have entrenched litigants."
Going in-house allowed her to combine her business and litigation experience to "help prevent issues from devolving into litigation or to more quickly find an appropriate resolution."
"The variety of work and the complexity of issues that have been the hallmark of my in-house practice has pushed me as a lawyer and a leader," she said. "There were always new things to learn and new problems to solve."
Ralston's roots in litigation paid off for Schlumberger in 2013 when she led the company's patent infringement lawsuit against rival ION Geophysical Corp for use of Schlumberger's technology that helps find oil and gas beneath the ocean's floor.
During a 2013 trial, a Houston jury found for Schlumberger and awarded $105.9 million in damages – an award upheld by the U.S. Supreme Court in 2018.
A major life decision came in July 2014 when she agreed to be the general counsel at Weatherford, which is one of the world's largest oil field services operations. The next year, she jumped to FMC Technologies, a maker of oil and gas production equipment, as its general counsel.
During her five and a half years at the Houston-based company, Ralston led the $13 billion merger with Technip in 2017.
"In both cases, I was able to ask myself – and answer honestly – what impact did I want to make, and then identify opportunities with organizations that put me in position to make that impact," she said. "Those are decisions that, when we find them, we need the courage to say 'yes' to something that is unknown or difficult over what is comfortable."
In both cases, Ralston said she said yes to "the harder choice" and thus was able to make a bigger impact.
"The role at Weatherford taught me a great deal and gave me a wider platform to advocate for greater diversity and inclusion in the profession, while the creation of TechnipFMC was very rewarding when we were able to create a new company with a unified culture, drive and purpose," she said. "It is important to embrace opportunities to grow when they present themselves and to always focus on learning mindset because each new opportunity, new challenge and new colleague can teach us something important."
In December 2020, Ralston "went home" — as she put it — to Schlumberger as chief legal officer.
"In Schlumberger, I saw an innovator that can industrialize and deliver technology on a global scale to enable energy transition," she said. "It is also a truly diverse, global company – our current executive leadership team of nine represents eight different nationalities."
Ralston also pointed to Schlumberger CEO Olivier Le Peuch, whom she worked with earlier in her career.
"Olivier is an inclusive leader with a vision for company's next chapter and with an understanding of what the wider industry must to do to address the important priorities of energy security and climate change," she said.
A member of the University of Houston Energy Advisory Board and the University of Houston Law Center Women of the Law Steering Committee, Ralston is active in several public service causes. She serves on the United Way of Greater Houston Law Initiative Committee and is a member of the board of the Memorial High School Field Hockey Association.