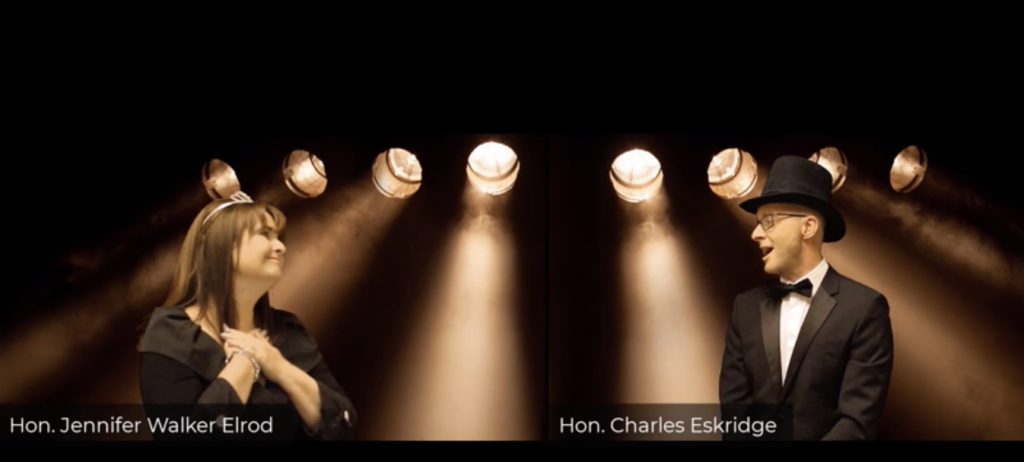 There are two sure-fired ways for singers to receive high praise and reviews for their music:
No. 1 – Have the voice of Norah Jones or Don Henley;
No. 2 – Be a federal judge.
A new video featuring Judge Jennifer Elrod of the U.S. Court of Appeals for the Fifth Circuit and U.S. District Judge Charles Eskridge singing about the coronavirus' impact on the federal courts in the Southern District of Texas is spreading across Facebook and other social media sites.
The three-minute, fifty-second video, adapted from the original lyrics of Lin-Manuel Miranda called "You'll be back" and performed by Jonathan Groff in the musical Hamilton, features Judge Elrod and Judge Eskridge telling lawyers in Houston and Galveston concerned about the COVID-19 pandemic's impact on trials and appeals that they should not worry.
Judge Jennifer Walker Elrod and Judge Charles Eskridge and a chorus of Southern District of Texas Judges Assure Lawyers Everywhere "We'll Be Back!"
Judge Elrod and Judge Eskridge start their song by recognizing the lack of jury trials and in-person court hearings.
"Why so sad? We'll be back soon, you'll see," sings Judge Elrod, wearing a black evening gown and a crown. "Pandemics rise, then they fall. We will see each other through it all. Despite all that's changed, litigation will be here to stay."
"No need to be mad," Judge Eskridge, standing six-feet away and wearing a tux and a top hat, belts out. "When push comes to shove, it's your bench bar colleagues you'll remember that you love."
"We'll be back, soon you'll see," Judge Elrod continues. "You be glad when you appear before me. We'll be back like before, all those judges you know and adore."
And there is a surprise ending. Judge Eskridge shouts out, "Everybody."
Suddenly, nine other federal judges – including Judge George Hanks, Judge Edith Jones, Judge Gregg Costa and Judge Lee Rosenthal – appear on the screen and join in the singing.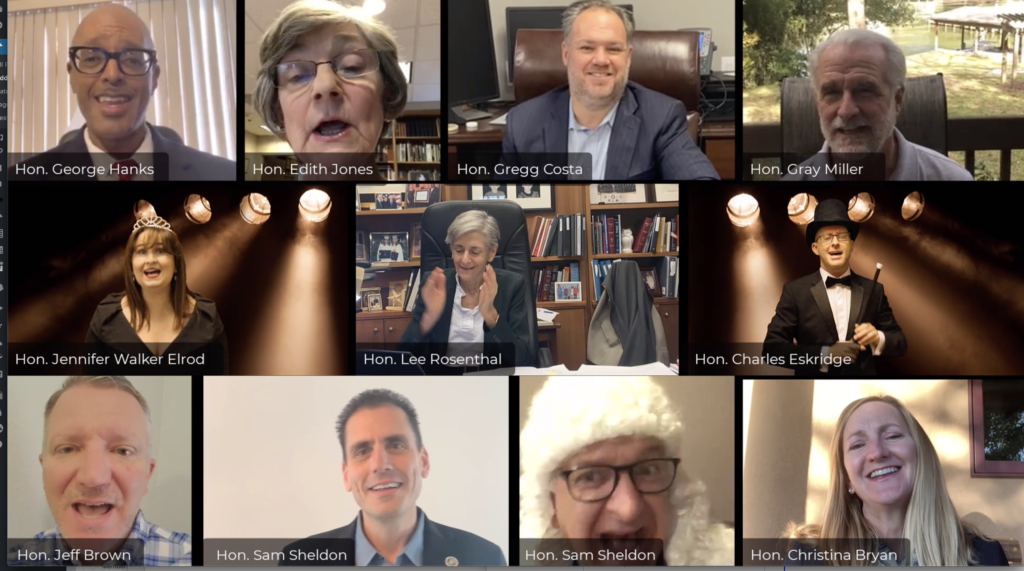 Multiple lawyers and judges posted the video on Facebook Friday and Saturday.
Without any dissenting opinions, the comments on social media were favorable, praising the judges for their creativity, performance and willingness to try to lift spirits during such difficult times.
"We'll be back, time will tell," Judge Eskridge sings. "You'll remember that we serve you well."