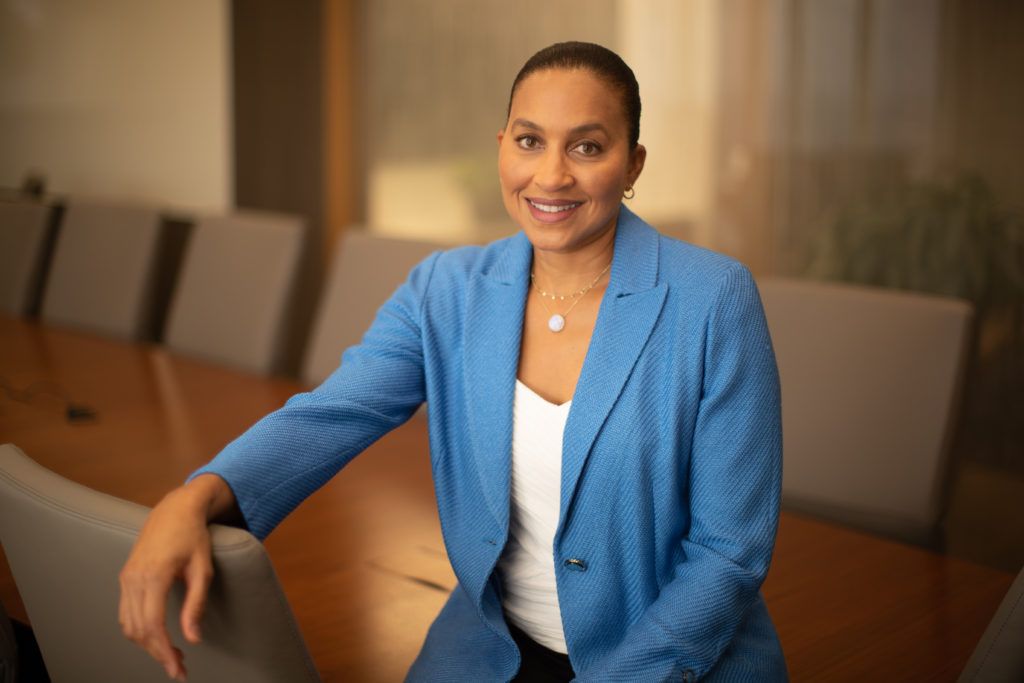 Siva Barnwell was working a part-time job at Arby's in summer 1985 just before her junior year at Clear Lake High School when her track-and-field coach came storming through the front door.
"You are out of shape and you will not be ready to compete in the fall," coach Anid de la Garza yelled in front of Adam's colleagues and customers. "You are quitting. Now."
"People were staring. It was both funny and embarrassing. I mean, what nerve," said Siva Barnwell Adams, who is now married and is managing counsel for major transactions at Chevron in Houston.
"But I quit my job. Today, when I think of giving 100%, I think of her," said Adams, who considers Garza one of her life mentors.
Thirty-five years later, Adams needed all 100% in the spring and summer of 2020 as the senior in-house lawyer representing Chevron in its $13 billion acquisition of Noble Energy, which was the largest oil and gas transaction during the first year of the Covid-19 pandemic.
For Premium Subscribers: Click Here for a special Q&A with Siva Barnwell Adams on the changing job of in-house counsel, what she looks for in outside counsel and why, when you're on her company's dime, you should probably keep your stories short.
"The biggest hurdle in the Noble deal was the Covid pandemic," she said. "It was in the beginning of the crisis, and we were all working from home. Just about everything had to be done remotely: due diligence, management presentations, negotiating the merger agreement and the ancillary documents.
"All this was uncomfortable, and we were constantly thinking, 'When is the other shoe going to drop?' But the upfront screening and due diligence to assess the business and cultural fit was rigorous, the Noble management team was transparent, and we had fantastic deal counsel," she said. "And upon reflection, doing a public M&A deal remotely without a bunch of face-to-face meetings may have had one significant advantage: It helped minimize leak risk."
The Association of Corporate Counsel's Houston Chapter and The Texas Lawbook honor Adams as a finalist for the 2021 Houston Corporate Counsel Award for Senior Counsel of the Year.
ACC Houston and The Lawbook will honor the finalists and announce the winners at the annual ceremony Jan. 13 at the Four Seasons in Houston.
Corporate executives and lawyers say Chevron's smooth and successful purchase of Noble during a crisis demonstrates Adams's skills and dedication.
"Siva is a great colleague with a great sense of humor that shines through in all conversations," said Kyle Seifried, a partner at Paul Weiss in New York who nominated Adams for the award. "She's an excellent communicator, able to pivot quickly in fast-changing negotiations while staying laser-focused on achieving Chevron's goals."
"It goes without saying that she has a tremendous breadth of legal knowledge and subject-matter expertise, and she has repeatedly demonstrated a profound grasp of all aspects of Chevron's business," Seifried said. "She's also a brilliant tactician and negotiator and excels at managing the most complex projects that cut across different parts of the business and understanding the needs and objectives of her internal clients."
To be sure, Adams is not all work.
For a decade, Adams and a group of high-powered women corporate lawyers in Houston that includes ConocoPhillips deputy general counsel Lauren Robertson, Skadden Arps partner Noelle Reed and Baker Hughes senior litigation counsel Amy Blumrosen, get together monthly to play Texas Hold 'em.
Adams and the group started playing poker at a Norton Rose Fulbright client event a decade ago. They now play together at the "All In for Adoption Texas Hold 'Em Tournament" held annually in November at the River Oaks Country Club.
"The first year, we were the only women at the charity event, but we made it to the champions table the first year and the second year," she said. "One year, the top three were all women. It is fun and for a great cause."
Adams was born and raised in Clear Lake City. Her parents moved to the southeast Houston suburb from Los Angeles in the late 1960s because her dad, who was an aerospace engineer, had been transferred as a part of the space program. Her mother was an elementary school teacher.
"Given what was going on in our country at that time, I think my mom was wary about moving to the South," she said. "But Clear Lake City, at that time, was predominantly a NASA community, so we moved into an educated and relatively diverse neighborhood. Even then, we were the only black family on our street. We were a tightknit crew that loved to compete."
Adams has three siblings. One of her older brothers, Richard Barnwell, played for the New York Yankees organization for six years. He later became a lawyer who did civil rights litigation in Los Angeles. Sadly, he died in a horrific motorcycle accident last year.
Adams was on the University of Texas track & field team and was the Southwest Conference champion in the discus. "My husband insisted that I throw in that last part, because he only recently discovered this when he cleaned out our garage and found my hardware," she said.
An English major at UT Austin, Adams said she had no lawyers in her family because "no one had even the foggiest idea of how to become one."
Her first thoughts about law school came during her junior year in college.
"One friend suggested that since I was so competitive, I should consider law," she said. "I started looking into entrance requirements and researching law schools, and I thought 'I could do that.'
"As I think back to those days, I laugh at how uninformed I was about the actual practice of law," she said. "I didn't know any lawyers, and my friends didn't know any lawyers. But ultimately, since I didn't have a fixed idea about a law career, I think that allowed me to be more flexible and open to opportunities when they arose."
Adams earned her law degree from the University of Texas in 1994.
Adams spent six years practicing commercial litigation in law firms – four years at Franklin, Cardwell & Jones and two years at Harrison, Bettis & Staff.
In early 2000, a legal recruiter contacted Adams, who is married to Teddy Adams, Crown Castle International's senior vice president for legal, about her interest in a commercial litigation position at Texaco.
"I was a tad skeptical because I didn't know what in-house practice was like, and I didn't have much oil & gas experience," she said. "The recruiter explained that Texaco was trying to bring more of its litigation work in-house and specifically wanted a commercial litigator."
"The idea of having only one client was very appealing, because it was an opportunity to develop in-depth knowledge of that client's business in a way that wasn't really practical in private practice," she said. "And most importantly, it presented an opportunity to be a real problem-solver. Outside litigators are often brought in when the house is on fire. Going in-house allowed me to see the pan smoking on the stove."
In October 2000 Chevron acquired Texaco for $36 billion. Adams made the transition to Chevron.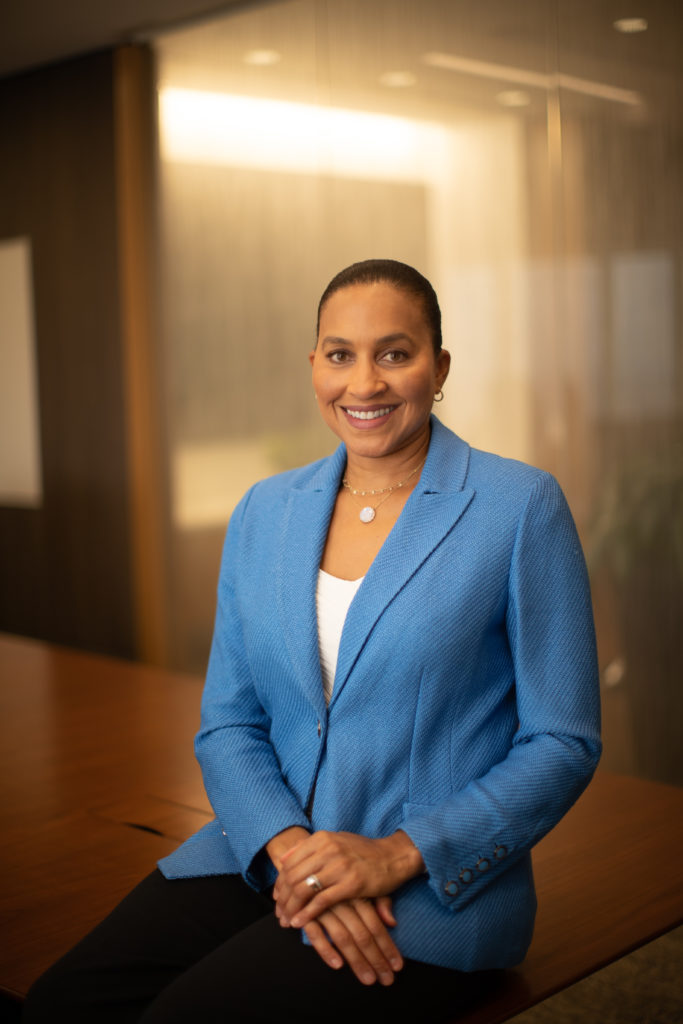 In 2006, a manager approached Adams about moving from litigation to serving as legal counsel for the oil giant's upstream business unit. They wanted her to learn about and handle acquisitions and divestitures.
"From management's perspective, the thought was that my experience handing contractual disputes on the back end of deals would translate into being a good negotiator on the front end," she said. "From my perspective, it was an opportunity to use the skills and understanding of the business I had already developed in a new way that would allow me to grow and continue to learn.
"I love that about in-house practice – the ability to pivot in your career," she said. "And it turned out that I really enjoy transactional work. Helping clients put deals together is creative, value-added work."
Adams played a key role in Chevron's $50 billion offer to acquire Anadarko Petroleum in February 2019 – a deal from which Chevron walked away after Occidental Petroleum countered with a $55 billion offer. Wall Street analysts applauded Chevron's decision.
When Covid hit in March 2020, Chevron switched to remote work. A month later, there was a historic collapse in oil demand due to Covid restrictions and a price war between Russia and Saudi Arabia.
Adams was a supervising counsel in Chevron's major transactions law group and her team were handling ongoing divestments at various stages.
"So not only did we have to adjust to working deals from home, but we also had to quickly adjust to a different way to transact," she said. "Banks, county recorders and regulatory agencies were closed or had limited hours, airline travel was shut down and buyer financing became shaky.
"Deals that were just kicking off or that were being marketed slowed down or ground to a halt," she said. "Deals that had been signed faced challenging closing logistics, especially on cross-border deals. There is not enough space to detail how the team managed the myriad of challenges, but one positive outcome of the Covid pandemic was that it forced everyone to rethink how they worked, which led to utilizing new digital tools that made the team more efficient and effective."
Shortly after Covid hit, the vice president of Chevron's corporate business development [CBD]unit called Adams.
"Siva, do you have your hunting hat on?" the VP asked.
Adams said Chevron's CBD "is always in the market, screening for opportunities."
"It was a good time for a company to be opportunistic, if it had the balance sheet," she said. "And Chevron had the balance sheet."
Seifried of Paul Weiss said Adams "was instrumental in Chevron's success in executing a uniquely challenging deal."
Chevron's all-stock acquisition of Noble Energy had a total enterprise value of $13 billion, which included the assumption of debt. The transaction made Chevron the No. 2 U.S. shale oil producer and obtained international natural gas reserves close to growing markets.
"With due diligence and negotiations proceeding mostly remotely in the spring and early summer, Siva provided the leadership, judgment and guidance to help Chevron's in-house and external counsel navigate a series of challenging issues while helping translate the for Chevron," Seifried said.
Wall Street and energy industry analysts praised Chevron for the transaction, noting that Noble Energy offered low-capital, cash-generating offshore assets, including Leviathan, one of the world's biggest offshore gas discoveries in the last decade, which began pumping gas late in 2019. "With her deep knowledge of the industry and Chevron's culture and dedication to the matter at hand, Siva was uniquely suited to drive negotiations to a positive outcome," Seifried said. "Siva also oversaw all aspects of the regulatory work, which was incredibly complex. Worldwide approvals were required across Africa, the Eastern Mediterranean and Israel, as well as U.S. antitrust approvals."
Adams said Covid prevented the legal and financial teams behind the Noble deal from having a closing party.
"That was unfortunate because the team worked tirelessly on this deal, and those parties or dinners are nice ways to recognize teams for their efforts," she said.
David Higbee, a partner in the Washington, D.C. office of Shearman & Sterling, said the success of Chevron's acquisition of Noble Energy can be traced to two of Adams' specific skills.
"[Siva has] the ability to effectively manage, guide and work alongside outside counsel in a way that truly adds value to their work," Higbee said. "[She also has] the ability to serve her in-house client in a strategic way through anticipating their needs, ensuring that the work product and counsel she delivers is practical and efficient yet comprehensive, and is actionable from a business decision-making perspective."
Higbee said that Adams possesses a "business mind and intuition" and superior technical legal skills.
"Siva shapes and provides legal counsel that is pragmatic, delivered in context, and designed to solve the business challenge at hand and anticipates issues that may arise around the corner," he said. "She elevates the performance of others."