When Winter Storm Uri hit Texas in February 2021 with record low temperatures and heavy snow and ice, hundreds of contracts valued at billions and billions of dollars between oil and natural gas companies, power producers and retailer electric providers went unmet.
CenterPoint Energy was on the short end of some of those hefty agreements.
The Houston utility made an early strategic decision: Seek to negotiate a settlement with its business partners in those unmet contracts but hire big gun trial lawyers to start pursuing a case — just in case.
"We hired Susman Godfrey, a law firm with a great reputation for fighting hard and winning big cases in court," CenterPoint Executive Vice President Jason Ryan told The Texas Lawbook. "The goal was to send a message that we were serious. The message was received, and we achieved excellent results without having to go to court."
Forty years ago, Steve Susman and Lee Godfrey — both veterans of Big Law in Texas — started a commercial litigation boutique with the idea of taking on big cases, many times on a contingency fee or alternative fee arrangement basis.
Susman's creation of the litigation boutique was groundbreaking in 1983. The firm grew quickly by employing young aggressive trial lawyers and an "eat-what-you-kill" financial reward strategy. Susman, who was one of the first lawyers in the U.S. to publicly announce he charged clients $1,000 an hour, opened offices in New York and then Los Angeles and Seattle.
The firm, though small in lawyer headcount, regularly ranked in American Lawyer's top 20 for profits per partner.
When Susman died unexpectedly in 2020, legal industry insiders wondered what would become of the firm.
The verdict is in.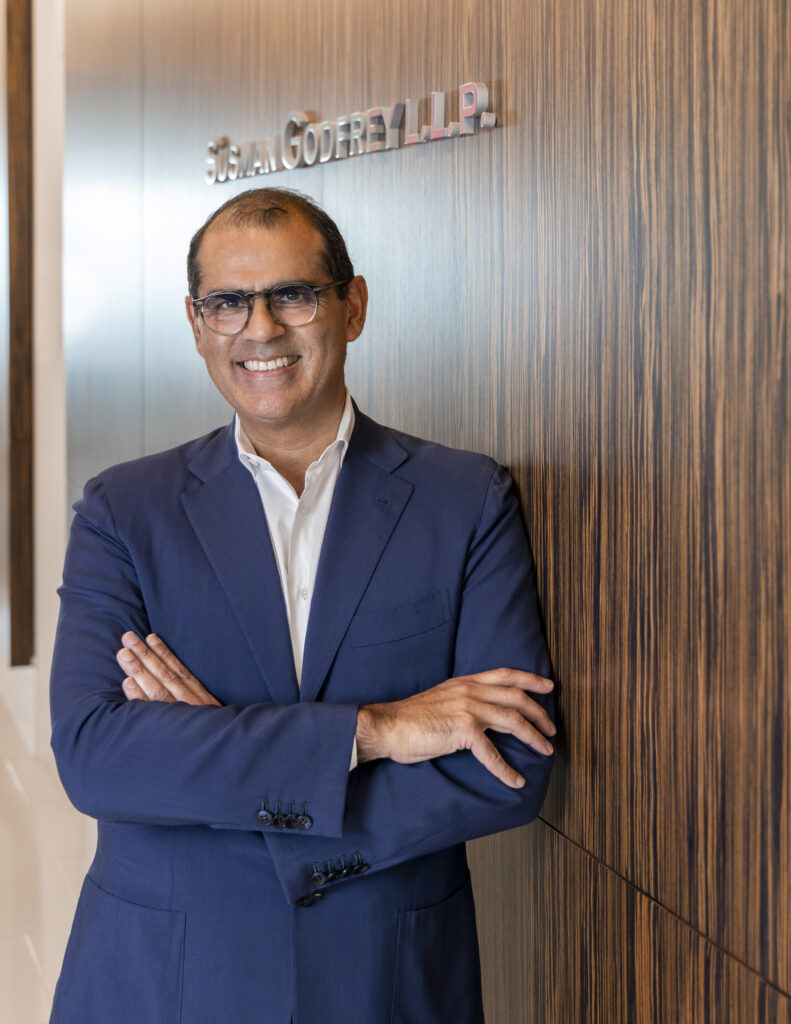 "We had a record year in revenues and profits in 2022," Susman Godfrey co-managing partner Vineet Bhatia (pictured right) told The Texas Lawbook in an exclusive interview. "2022 was far and away our best year ever."
Susman Godfrey does not release annual law firm financials. An analysis by The Texas Lawbook shows, however, that the firm has nearly 200 lawyers firmwide – 105 of them in Texas. The Lawbook estimates that the litigation boutique generated a record $360 million in revenue, which is about 25 percent more than the firm's total revenues in 2021. Susman lawyers in Texas generated an estimated $190 million.
Revenues per lawyer in 2022 were about $1.85 million and profits per partner exceeded $4 million, The Lawbook estimates. Susman Godfrey does not follow the normal leverage ratios of partner-to-associate that most corporate firms do. Susman Godfrey has 85 partners, 72 associates, 11 of counsel and a few dozen staff attorneys. Most corporate firms in Texas have close to a three-to-one ratio.
Susman Godfrey's revenue numbers in Texas put the law firm in the top 30 in the upcoming Texas Lawbook 50 firm finance report and its profits per partner rank in the top 10. The Texas Lawbook 50 will publish in April.
"I inherited a well-oiled machine," said Bhatia, who replaced Neal Manne in 2022 as the firm's co-managing partner. "We had so many cases set for trial in 2022 that had been delayed for two years because of the Covid pandemic."
Susman Godfrey's lawyers were involved in 18 cases that went to trial and resulted in a verdict in 2022 and another 18 cases that settled on the eve of trial.
Lawyers at Susman Godfrey are heavily involved in some of the most contentious, complex and high-profile cases in Texas and across the U.S.
Susman Godfrey partner Justin Nelson in Houston is one of the lead lawyers representing Dominion Voting Systems in the defamation lawsuit against Fox News. Live Nation hired Susman partner Neal Manne to defend the entertainment and ticketing giant in lawsuits in the 2021 Astroworld tragedy. Match Group turned to Susman Godfrey in its litigation against Tinder employees. Walmart hired Susman in a tuna price-fixing case. And the firm is now representing CenterPoint in new Winter Storm Uri disputes.
"Many litigation boutiques risk failure after the founders are gone," Kent Zimmermann, a law firm consultant at Zeughauser Group, told The Texas Lawbook in an interview in 2022. "Susman is not one of those. The firm has built a national reputation as having some of the best trial lawyers in the country. Susman Godfrey is one of a handful of national litigation-focused firms that are known for winning when the stakes are highest."
Even so, Bhatia agrees that Susman's legacy continues to guide the firm's leaders.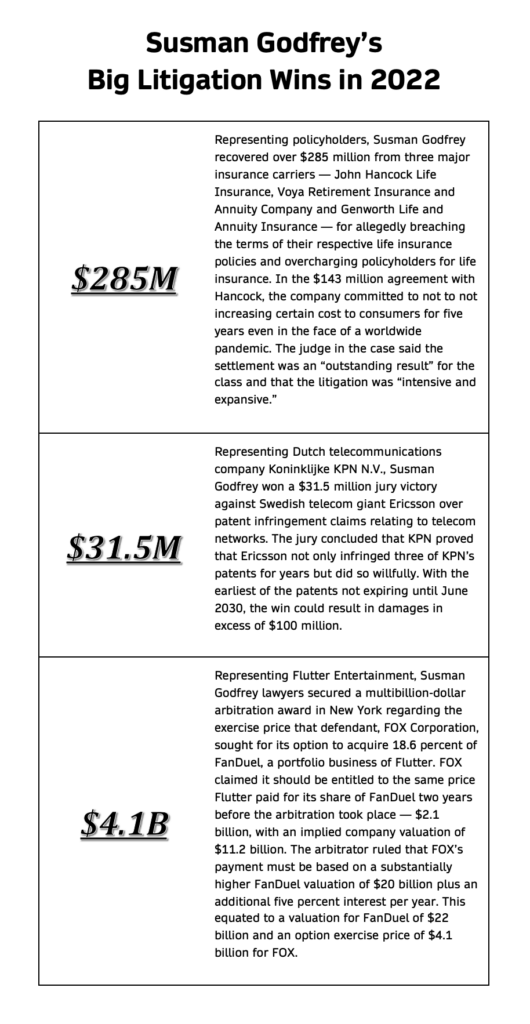 "Steve was a larger-than-life lawyer and a tremendous influence on everyone at the firm," he said. "We have shown that we have been able to thrive since Steve's passing."
Under Susman's leadership the firm hired young, aggressive trial lawyers — many graduates of Yale Law School and UT Law School — and kept them through an "eat-what-you-kill" compensation strategy.
"We are still 'eat-what-you-kill," but so much has been killed that everyone eats very well," Bhatia said.
Susman Godfrey leaders stopped releasing their annual firm financial information several years ago because the firm's revenues fluctuate significantly because the lawyers rely heavily on alternative fee arrangements. For example, only 20 percent of Susman Godfrey's revenues are the result of hourly billing, according to Bhatia, and the firm has more than 100 active contingency fee cases which can means thousands of hours of work produce no revenues for a few years and then many large fee payments in a single year.
Bhatia said Susman Godfrey is definitely in hiring mode but that the legal lateral hiring market remains tight and expensive.
The first three months of 2023 have been just as hot as last year, Bhatia said, pointing to two huge courtroom victories in January.
In a patent infringement case on behalf of Finesse Wireless, Susman Godfrey obtained a $166.3 million jury verdict Jan. 13 in the Eastern District of Texas against AT&T Mobility LLC and Nokia Corporation of America over patents related to wireless networks. At trial, Finesse asserted that AT&T infringed its patents by using Finesse's IP in its cell towers. Susman Godfrey lawyers presented evidence that Finesse Wireless owner, Francis Smith, invented the first truly effective technique for cancelling passive intermodulation products. According to the verdict, the jury found that AT&T infringed the patents. The litigation was led by Susman Godfrey Houston partners Joseph Grinstein, Meng Xi and Shawn Blackburn.
Two weeks later, Susman Godfrey lawyers —led by Houston partner John Lahad – obtained a $42 million jury verdict in Delaware federal court when it represented the Board of Regents of the University of Texas System and TissueGen in a patent infringement case against Boston Scientific Corporation. The intellectual property dispute related to a patented biodegradable polymer fiber drug delivery system incorporated into Boston Scientific's "Synergy" coronary stents.
"We do not see a slowdown in 2023," Bhatia said. "We are growing in every office, and our plan is to continue to grow in all of our offices."
Publisher's Note: This is part one of the 2023 Texas Lawbook 50, a series of articles about the economics of corporate law firms in Texas.