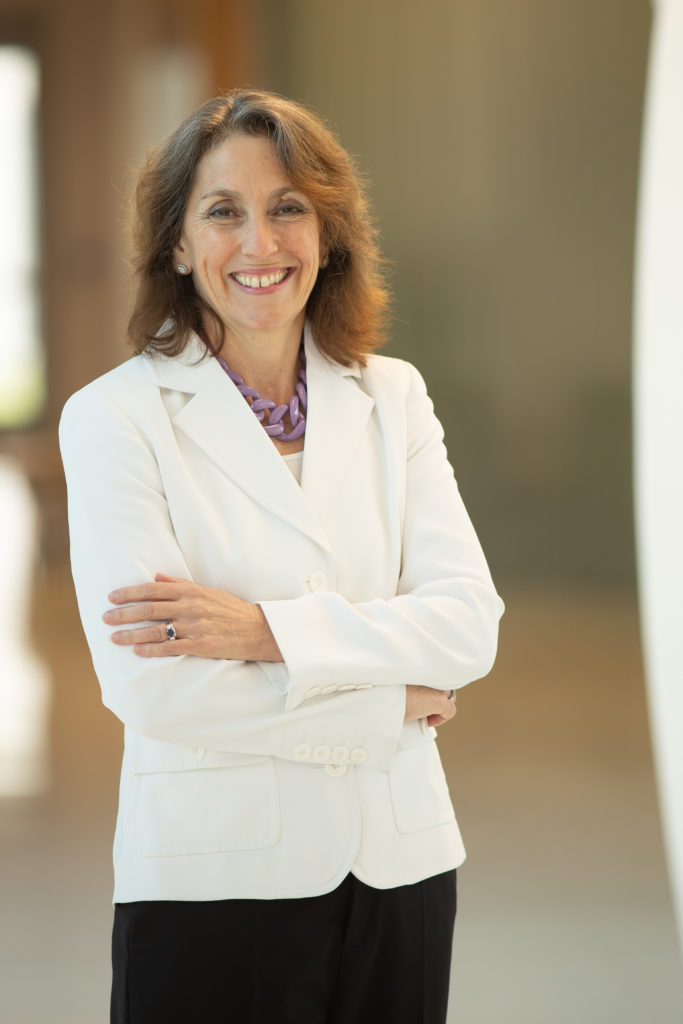 Victoria Lazar
Victoria Lazar has designed, negotiated and closed numerous multibillion-dollar, high-profile M&A deals for corporate giants such as Electronic Data Systems and General Electric during her three decades practicing law. As a young lawyer, she worked on EDS's separation from General Motors in what was at the time the largest IPO in history.
Lazar worked in Russia for Baker Botts representing the Azerbaijan International Oil Company in the largest major upstream infrastructure project in that part of the world. She became an energy industry expert on evaluating the risks of offshore, deep-water drilling equipment in the months following the 2010 Deepwater Horizon disaster. She guided Bristow Helicopter Group out of a multibillion-dollar bankruptcy. And she recently completed a billion-dollar corporate spinoff.
Now the chief legal officer of international energy and technology services provider TechnipFMC, which has its operational headquarters in Houston and boasts a market cap of $3 billion, Lazar still thrives on the thrills and adrenaline of fast-paced, high stakes dealmaking.
"I admit, I'm a deal junkie," she said. "They are brutal on the work hours. I have a very patient, understanding and forgiving family."
But it was a pro bono divorce case Lazar handled when she was a young corporate transactional associate at Baker Botts in Houston that she considers her first memorable moment practicing law.
Her client was Terry, a 30-year-old mother of an 18-month-old, who was trying to escape her marriage to a man who was in and out of jail, who threatened her and contributed nothing toward raising their child. The husband refused to cooperate with the divorce proceedings.
"I knew nothing about family law, but we legally figured out how to get a default divorce judgment through the courts," she said. "I called her to tell her the divorce was done and final. She was silent on the phone for a couple minutes, and then she just started crying and saying, 'Thank you.'"
For Premium Subscribers: Click Here for a special Q&A with Victoria Lazar on challenges facing in-house counsel, her pet peeves about outside counsel and what lawyers need to know about her if they want her business.
"That was the first time I remember feeling really good about being a lawyer," she said.
She is a champion of diversity and pro bono, a fierce competitor on the tennis court, a world traveler and an avid Astros fan.
On Jan. 13, the Association of Corporate Counsel's Houston Chapter and The Texas Lawbook will present Lazar with the 2021 Houston Corporate Counsel Award for Lifetime Achievement.
During the past six years, for example, Lazar has:
Played a leading role in GE's $32 billion merger with Baker Hughes on Halloween in 2016;
Worked internally at GE to reposition its portfolio, including its $19 billion healthcare unit;
Became the GC at Houston-based Bristow Helicopter in 2019, guided it out of a $1.5 billion corporate restructuring in 2020, on boarded a new CEO and successfully completed a major merger – all within one year;
Took over as TechnipFMC's CLO in the fall of 2020 during the Covid-19 pandemic and immediately went into deal mode, raising capital to successfully spinoff a now-publicly traded subsidiary called Technip Energies.
"It was very challenging to start a new job during Covid," Lazar said. "It is hard to get to know the team. We had to work extra hard because we needed to spot risk and support the local teams navigating through all the issues.
"Because we are a global company, each jurisdiction is different and they can change very quickly," she said. "Lawyers are key to managing these issues across the company."
Kirkland & Ellis partner Rachael Lichman said Lazar's "great strength is managing very complex transactions with multiple moving parts with a steady perspective."
"Victoria joined Bristow just after it entered a complicated, fast-paced Chapter 11, and shortly thereafter we worked together on the Bristow-Era merger, which ultimately closed during some of the most tumultuous time of the Covid pandemic," Lichman said. "Both had significant multijurisdictional, finance and stakeholder consideration.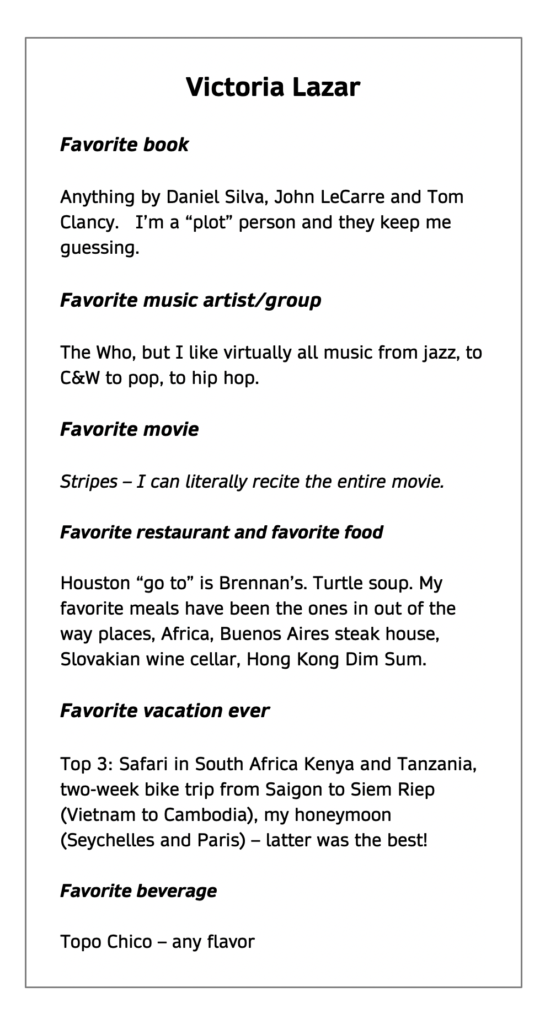 "And she joined TechnipFMC as it was moving to the final stages of a spin-off with multiple finance transactions and other complicated aspects," she said. "She digs in from the first moment, doesn't miss a beat and guides the companies to successful completions."
Lawyers who work with Lazar say she zealously represents the best interests of her clients but also has an extraordinary sense of fairness and justice.
"Victoria really is the total package: book smart, street smart, strategic and a huge work ethic," said Hogan Lovells partner Cristina Rodriguez. "And she is genuinely kind and thoughtful. Victoria is able to meld the smarts and savvy that her clients require, without losing empathy and a sense of fun."
Lazar said practicing law is a "perfect fit" for her.
"I have always enjoyed solving problems, helping people and coming up with logical answers," she said.
Lazar was born in Montreal. Her parents were Jews from Romania who survived Hitler and Communism. Her father was a civil engineer who spoke nine languages. Her mother, who is now 95, has a degree in chemistry and speaks five languages.
"My father needed a job, and he went to Communist leaders and told them that he could help them translate Russian documents for them, so they hired him right away," Lazar told The Texas Lawbook in an interview in 2018. "The thing was, my dad didn't know any Russian, but he taught himself Russian very quickly. That says a lot about my dad."
In the 1950s, the Romanian government reached an economic agreement with an independent organization that allowed Romanian Jews to move to Israel. Lazar's parents were part of this program and relocated in 1960. The couple lived in Israel for about 18 months and then obtained visas to go to Toronto. They stopped in Montreal to see friends and ended up staying.
Lazar lived in Montreal until her parents moved to Houston in 1971. The University of Houston offered her father a position teaching civil engineering. Her mother worked in a biology laboratory at Baylor, where she was a member of an early research team looking into the AIDS virus.
High school debate, according to Lazar, is where her first thoughts of being a lawyer surfaced.
"I was painfully, brutally shy," she said. "My debate coach deserves the credit. Debate gave me confidence to speak up in public."
Lazar majored in political science at Cornell University and majored in political science, and she worked at the U.S. Commerce Department's Office of Soviet Affairs during her junior year.
"It gave me an excellent education on how government works," she said.
Even then, Lazar said, she had no idea what she wanted to do with her life.
"My parents wanted me to be a doctor because lawyers were not well thought of in communist countries," she said. "When I fainted at one of my checkups after giving blood, they reconsidered. I've never been someone who has a five-year plan. Many things in my life and career have just happened because they were the right fit."
Lazar scored high on the LSAT and was accepted at the University of Chicago Law School. She did summer clerkships at Baker Botts and Gibson, Dunn & Crutcher. Baker Botts made her an offer in its Houston office in 1990.
At first, Lazar tried tax law – "too isolating" she said – and then litigation.
In 1993, she learned that Baker Botts was opening an office in Moscow, and she approached the partner who was head of litigation, about moving to Moscow because she knows Russian. After lunch that same day, the partner started making calls for her to be transferred.
"It showed me the importance of relationships," she said.
Lazar spent a considerable amount of time over the next two years in Baker Botts' Moscow office doing dealmaking.
"I realized that I always wanted to be a transactional lawyer working internationally, and I was finally headed in that direction," she said.
While Lazar loved her time working in the former Soviet Union, there were also some pretty intense times.
Victoria Lazar with Steve Ryan (left) and Stevan Verkin (right)
"Just after I arrived in Moscow on one of my early trips there, the 'Russian White House' was invaded and we were a week shy of seeing tanks in the streets," she said. "It was the Wild West. One of our clients almost got kidnapped. The law there was in its infancy."
During the same time period, firm leaders assigned Lazar to work for one of its biggest clients, EDS. She was involved in nearly every cross-border merger or acquisition involving EDS over a two-year period, including the purchase of a consulting firm that spanned 25 countries and EDS's split off from General Motors in what was the largest IPO in corporate history.
Lazar turned 30 in 1996 and started thinking about a change – something that would give her more responsibility faster.
A few months later, EDS hired her to be the lead lawyer for its M&A group.
For 11 years, Lazar was involved in some of the biggest and most important legal and business decisions at EDS. She led nearly a dozen major M&A deals in Russia, Israel, Brazil, Canada, Germany, Belgium and France. She led key domestic transactions that helped the company as it experienced financial difficulties.
In the process, she became an expert on governance issues for the EDS board of directors.
In 2006, EDS entered a joint venture with Towers Perrin to create a global outsourcing business called ExcellerateHRO, which provided its customers a single technological platform for HR solutions and pension and employee onboarding. Lazar was named the new venture's chief legal officer and tasked with setting up its board of directors, handling all compliance issues and all legal matters.
When Hewlett-Packard bought EDS for $13.9 billion in 2008, an executive recruiter called Lazar in 2008 to see if she would be interested in working in the legal department at General Electric as senior counsel for the company's drilling and production systems.
"It's GE, one of the largest and most important companies in the world," she responded. "Of course I am interested."
"I thought EDS was a large company, but I had no idea what it really meant to work in a large legal department until I joined GE," she said.
In 2010, GE asked Lazar to become the company's expert on evaluating and managing enterprise risks involving GE's sale and servicing of offshore, deep-water drilling equipment, including blowout preventers.
The precipitating factor was the Deepwater Horizon disaster on April 20, 2010, at the BP-operated Macondo Prospect.
Lazar developed a deep expertise on some highly technical products, including the five-story-tall, megaton pieces of equipment that can close a well underground.
"Everyone, including GE, gained new appreciation for the risks inherent in these activities, and it was up to us to work through them," she said. "It was a scary time for everyone in this sector because we saw what was happening to BP. GE is big, but BP was big, too."
Lazar says the lack of regulation was an important element to face. She and GE worked with federal regulators to understand the drilling process and how the equipment worked.
Then came the summer of 2016. Halliburton and Baker Hughes announced that they were ending their efforts to merge amid Justice Department challenges that it violated federal antitrust laws.
Victoria Lazar (right) with Cristina Aalders
Within days, GE executives and lawyers started working on a plan for its subsidiary, GE Oil and Gas, to purchase Baker Hughes. Lazar was right in the thick of it all. The agreement was reached after only four months of negotiations, and the $32 billion deal was made public on Halloween.
In many respects, the legal work making the transaction a reality was only the beginning, especially for Lazar, who was put in charge of leading the legal integration of the two massive operations.
"We went from signing to closing in eight months," she said. "We needed to carve the oil and gas operation out of big GE and set up combined businesses to work together Day One with no disruptions. We needed to close while learning to work together, retaining people and not losing any ground to competitors."
Lazar and GE's legal team restructured GE Oil and Gas into an arms-length corporate structure that allowed GE to continue to provide services to the new operation during the transition but also permitted it to combine with the various legal entities for Baker Hughes and fulfill its requirements as a new public company.
One of the highlights, she said, was ringing the opening bell at the NYSE.
"Integration goal No. 1 was establishing a positive rapport with our counterparts at Baker Hughes and developing a protocol for sharing and exchanging information," she said.
Lazar says it was strategically important to "build in as much optionality as possible" into the new entity's structure.
"We prepared for integration but also for separation, if that's how things went," she said.
The optionality proved necessary. GE announced in November 2018 that it reached an agreement to start selling its 62.5% ownership stake in the publicly traded Baker Hughes over the next six months.
"The goal was to make it as seamless as possible for the business-side folks," she says. "My best days on the job are when I help the client solve a problem that helps them be more successful."
In summer 2019, the spouse of a senior executive at Bristow Helicopters, which was going thru a corporate bankruptcy restructuring and was looking for a new general counsel, read an article about Lazar in The Texas Lawbook.
"You need to hire this lawyer," the spouse said.
The executive agreed and Lazar became Bristow's GC in July 2019 and played an instrumental role in leading the company out of bankruptcy. Bristow eliminated more than $900 million in debt.
"[The b]iggest hurdle was having to jump right in without knowing anyone and make bet-the-company decisions," she said. "We were in and out of Chapter 11 in six months and successfully attracted new investors in a very short period of time."
Lazar helped install a new board chair and CEO and then conducted a major merger with ERA Group in an all-stock deal – all in 12 months.
By the end of June 2020, Lazar had successfully worked herself out of a job and planned to take time off to consider career options.
The wait was not long.
In November 2020, executives at TechnipFMC, a French-American company that specializes in sophisticated technology solutions for traditional and new sources of energy production, called.
Despite the Covid-19 pandemic, Lazar jumped right in and played a key role in the closing of the corporation's separation into two independent, publicly traded companies: TechnipFMC, the technology and services provider; and Technip Energies, an engineering and technology firm.
The transaction was structured as a spin-off of a majority stake in TechnipFMC's Technip Energies segment in the form of a share dividend which gave holders of TechnipFMC shares of Technip Energies. The separation was completed in February 2021.
"It has only been a year but it has been a whirlwind," Lazar said. "At TechnipFMC, after the spin, I worked on successive sales of approximately $900m worth of Technip Energies shares. TFMC retained 49% of the spun company after the spin and we have now sold down to 12% through a combination of two accelerated book builds, which are rapid sales processes used only in Europe that take place over a 24 to 36 hour period, and a direct sale."
Lazar said the company also has retendered successfully for about $300 million of its existing debt obligations.
"Victoria has worked on numerous high-profile transactions throughout her career and brings a wealth of valuable knowledge and experience in the oil and gas industry that is truly unique and inspiring," said Latham & Watkins partner Christopher Drewry. "It is this accumulated knowledge that allowed Victoria to step into TechnipFMC's extraordinarily complicated spin transaction midcycle and guide the team to execute efficiently and on tight deadlines.
"She epitomizes a culture of excellence and collaboration," Drewry said.