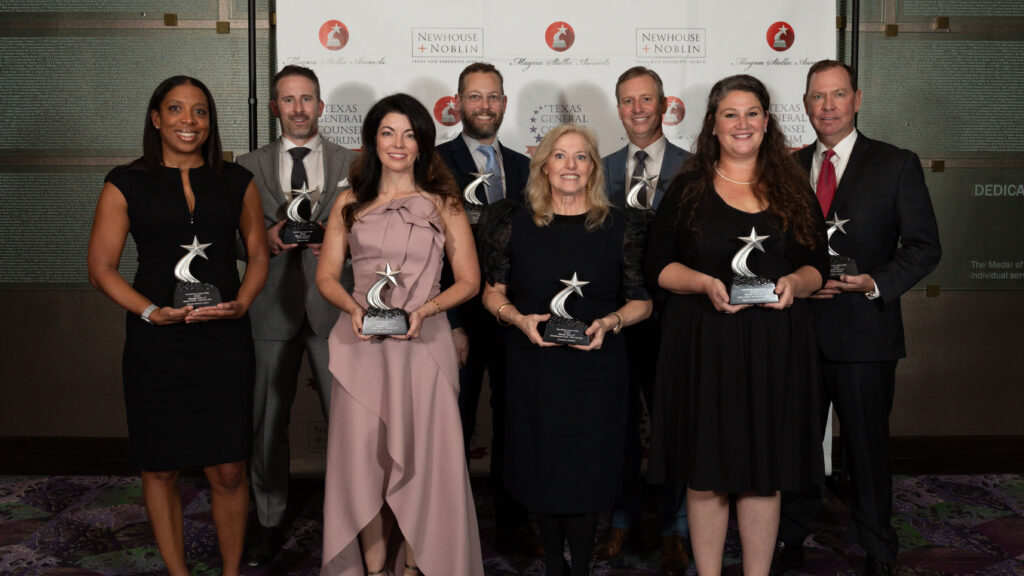 Front Row (L to R): Regina Bynote Jones, Mehgan Wichuk, Elizabeth Ganiere, Megan Suarez Mahan. Back Row (L to R): David Rost, Gregg Goldstein, Daniel Ro-Trock, Richard Kroger
Eight general counsel and senior counsel from Baker Hughes, Beneficient, Cart.com, city of Grand Prairie, McDermott, Transocean, Trillium Flow Technologies and Westlake Chemical were honored Thursday night in Austin by the Texas General Counsel Forum for their accomplishments and leadership in 2022 and 2023.
The 17th annual Magna Stella Awards went to four women and four men on topics ranging from major transaction and major litigation of the year to general counsel for large and small corporate legal departments.
"I asked ChatGPT what to say in my acceptance speech and it said I should be myself, which was no help at all," Grand Prairie City Attorney Megan Suarez Mahan said in accepting the General Counsel of the Year Award for a Non-Profit/Governmental Entity. "Grand Prairie is open for business. If you are considering relocating, we are corporate friendly. Please consider us."
The most laughs of the night came during Westlake Chemical Corporation Assistant General Counsel Richard Kroger's acceptance remarks for Major Litigation of the Year.
"I was up for a Magna Stella Award in 2006, but I didn't win. I was up again in 2010, but nada. 2015 and 2016. Nope," Kroger said. "Tonight is special. Now I hope my family will stop calling me the Susan Lucci of corporate counsel."
The most sentimental moment of the night came when former Baker Hughes Chief Legal Officer Regina Bynote Jones, who recently became the general counsel at ADM, accepted her award for General Counsel of the Year for a Large Legal Department, which followed Trillium Flow Technologies GC Mehgan Wichuk being awarded the General Counsel of the Year for a Small Legal Department.
"I am so proud tonight because Mehgan was the first lawyer I ever hired," Jones said. "I am so proud of the great lawyer and leader you have become."
Here are the recipients of the Texas General Counsel Forum's 2023 Magna Stella Awards:
Major Transaction: Beneficient General Counsel David Rost
David Rost joined Beneficient, a publicly traded financial services company that provides liquidity, custody and trust administration services to participants in the alternative assets marketplace, in 2020 as associate general counsel. He was promoted to GC in 2022.
A 2016 graduate of the SMU Dedman School of Law and associate at Haynes Boone, Rost was integral to Beneficient's successful launch of its first-of-its-kind trust company and broker-dealer, the development and distribution of its financial products and services, and its public listing on Nasdaq in June 2023.
"There are few challenges for a corporate general counsel like those around the company going public or merging into another company," Haynes Boone partner Matt Fry wrote in nominating Rose for the award. "David Rost has managed both in the past year. Beneficient took the unusual approach of purchasing a Special Purpose Acquisition Company (SPAC) and then listed Ben's Class A common stock and warrants on Nasdaq. The deal, which entered negotiation in early 2022, concluded when the company closed the merger and listed on Nasdaq under the symbol 'BENF' in June with an implied equity value of over $3.3 billion."
Fry wrote that Beneficial was "forced to go public during an extremely difficult time and faced significant headwinds." He pointed out that the IPO market "screeched to a halt due to the Fed's efforts to combat rampant inflation" in 2022. At the same time, the company's largest shareholder and former corporate parent GWG Holdings filed for bankruptcy in early 2022.
"The uncertainties involved with the bankruptcy compounded the IPO market timing issue, which made it difficult for Ben to go public through the traditional route of an underwritten public offering, and also offered complexity as Ben negotiated the merger with the SPAC," Fry wrote. "That Ben was able to go public in the face of such headwinds is a testament to Rost's talent and work ethic."
Rost oversees a legal department that includes four lawyers and six support staff.
Major Litigation: Westlake Chemical Corporation Assistant General Counsel Richard Kroger
Houston-based Westlake hired Richard Kroger, a graduate of the Baylor University School of Law and a former trial and appellate lawyer at Bracewell, in 2007 for an in-house litigation role. He now holds the position of assistant general counsel. Westlake reported $16 billion in annual revenues in 2022 and employs 16,000 people with 30 lawyers in the legal department. Kroger oversees more than 300 litigation matters.
Kroger served as a noncommissioned officer in the U.S. Army, including acting as communications chief with a top-secret security clearance for the 485th Combat Support Battalion stationed in Darmstadt, Germany.
"Imagine that you are defending a legacy chemical contamination suit based on the long-discontinued practices of predecessor entities with a plaintiff's damage model ranging in the hundreds of millions of dollars together with the prospect of multiplying that liability with punitive damages," Hicks Thomas founding partner John B. Thomas wrote in nominating Kroger for the Magna Stella award for Major Litigation. "What if I told you that in the fall of 2022, you would be challenged with not one, but two jury trials — one on the West Coast and one in the East ­— with just that sort of fact pattern?"
Hicks said that scenario faced Westlake and Kroger in October 2022.
Two jury trials against significant foes, in difficult jurisdictions, with more than a billion dollars at stake.
"For well over two months, Richard kept two hotel rooms — one in San Francisco and one just outside of Wheeling, West Virginia — so that he could shuttle back and forth to monitor the progress real time and in person," Thomas wrote.
In the San Francisco case, Westlake inherited the legacy litigation in 2016 when it acquired Axiall Corporation for $3.8 billion. The plaintiffs filed suit in 1998 seeking $162 million for alleged property damage caused to city property by numerous dry-cleaning sites because of a solvent used called perchloroethylene, or perc for short. The case had already seen two jury trials, three bench trials and multiple rounds of appeals.
Opening statements in the sixth and most recent trial were Oct. 4, 2022.
"Case management was further complicated by the fact that the new trial judge decided to try each of the remaining dozen or so sites seriatim — with separate juries — until either the parties settled or all issues for all sites had jury verdicts," Thomas wrote.
The jury rendered its verdict Oct. 20 and found Westlake was liable but awarded only $4 million in damages — far less than the amount asked for by plaintiff's counsel and less than the settlement credits available to offset the award due to prior settlements. In addition, the jury found that Axiall was not responsible for any punitive damages but hit a co-defendant in the litigation with $56 million in punitive damages.
As the California trial was underway, a judge in West Virginia started another environmental trial against Westlake on Oct. 11 involving a chemical plant sitting on the West Virginia side of the Ohio River, which Westlake had inherited from an acquisition of another company. The Natrium plant mined salt from deep underground salt deposits using a technique called solution mining. The plaintiff, another corporation, claimed that the plant's operations resulted in the underground caverns encroaching on the plaintiff's property that collapsed and impacted the plaintiff's natural gas production operations.
The jury returned with a $70 million verdict against Westlake, which was less than one-third of the amount the plaintiffs sought. In addition, the court awarded no punitive damages.
"Richard hand-picked the trial team and personally oversaw trial strategy," Thomas wrote. "Richard was the force behind the victory."
Senior Managing Counsel for a Small Legal Department: McDermott Legal Director & Compliance Counsel Elizabeth Ganiere
The former general counsel at Gulf Stream Coach, Elizabeth Ganiere was hired by the global engineering firm McDermott International in 2019 to be lead in-house counsel for Western Hemisphere Onshore and Energy Transition.
"Liz successfully handles an impressive docket of litigation and dispute resolution matters," Jones Walker partner Cindy Muller wrote in nominating Ganiere for the Magna Stella Award. "She manages to thread a very small needle: she is able to win major victories while preserving positive, ongoing relationships with vendors, customers, regulators and law enforcement officials. This is a critical skill in an industry that, although large in terms of overall revenues, is somewhat tightly knit and insular."
Muller pointed to two recent examples of Ganiere's work for McDermott. The first was a dispute the company faced with U.S. Customs and Border Protection involving alleged noncompliance concerning the import and sale of raw goods. The agency sought penalties and liquidated damages in excess of $2 million. But thanks to Ganiere's quick and thoughtful work and negotiations with CBP, an original charge of "no response" was changed to an accepted "late response."
"All charges, penalties and liquidated damages against the company were dismissed — not only saving the company a significant amount of money but also eliminating the possibility that it would lose its much-needed import license," Muller wrote.
During the same period, Ganiere successfully resolved, within budget, an aggressive U.S. Department of Justice claim and a related subcontractor request for equitable adjustment claim, both of which were the subject of a terminated, federally funded project managed by the Department of Energy. Ganiere faced numerous obstacles, including the fact that many of the critical documents were located on "an obsolete computer system owned by the government on a terminated project," all of which were located at a DOE facility that required security clearance.
"Working with experienced outside counsel, expert consultants, and former employees, she was able to establish viable defenses sufficient to secure favorable settlements in both matters," Muller wrote. "These examples merely touch the surface of the work that Liz performs on behalf of McDermott. Drawing on her high analytical and emotional IQs, her broad industry and legal experience and insights, her keen business knowledge, her creativity — I could go on — McDermott is a more successful company than it would have been without her."
Ganiere recently left McDermott to become the associate GC of energy solutions at Williams Industrial.
Senior Managing Counsel for a Large Legal Department: Transocean Senior Associate GC Daniel Ro-Trock
Daniel Ro-Trock, a 2004 graduate of the University of Houston Law Center, has two roles at global offshore oil drilling company Transocean: He is the senior associate general counsel handling strategic transactions such as mergers, acquisitions and capital markets, and he is the director of government relations advocates policy positions with lawmakers and regulators.
Ro-Trock started his legal career as a corporate securities associate at Winstead in Houston and then spent five years at Baker McKenzie, including a stint in the firm's Geneva office.
Since Ro-Trock joined Transocean in 2014, he has managed $11.6 billion in debt capital markets transactions, $13.2 billion in liability management transactions and the acquisition of three publicly traded companies.
Transocean General Counsel Brady Long, in nominating Ro-Trock for the Magna Stella Award, said he is "an excellent leader — everything a general counsel would want in a senior associate general counsel."
"All of the great work Daniel has done over the last three years was handled against incredibly long odds presented by COVID and, in one case, intense opposition from a bondholder who challenged one of our financings," Brady wrote. "Attorneys of lesser character would have been no match for that adversity. Daniel approached that period with optimism and resolve — he was confident that we would come out ahead, and we did, including a summary judgment victory over the bondholder in federal court."
Brady said that Ro-Trock is known at Transocean as someone with integrity.
"He keeps his word. He speaks his mind. He's a straight shooter," Brady wrote. "He's up front with his team when they experience a setback, knowing that, as the adage goes, bad news ages poorly. When he sees something that doesn't sit right with him, he lets me know, and he shows a commitment to solving the problem."
In accepting the award, Ro-Trock said the oil industry has "experienced some challenges" over the past few years.
"But the tide is turning thankfully," he said. "Successes are the result of mentorship and leadership. We've had many wins and successes and there are more to come. We will continue to do the hard work."
General Counsel of the Year for a Non-profit/Government Agency: Grand Prairie GC Megan Suarez Mahan
"Start With Yes."
Those three words are on a sign in the office of Grand Prairie City Attorney Megan Saurez Mahan, who said her job is to help clients solve legal problems blocking their goals.
"Mahan and the eight lawyers she oversees defy the unfortunate stereotype of in-house counsel as fussbudgets who let legal issues quash clients' plans," Haynes Boone partner Jennifer Wisinski wrote in nominating Mahan for the Magna Stella Award. "This attitude leads clients to seek the attorneys' advice early in their planning processes, smoothing their ultimate development. The results are impressive."
Mahan led Grand Prairie's EpicCentral project, which is a $150 million mixed-use tourist destination with six restaurants, two hotels, a convention center, a Bellagio-style water show and an adventure park. She is also leading the city's two annexation proposals that would add 50,000 residents, 7,000 acres and $6.5 billion in value to the city over the next 20 to 30 years.
A graduate of Trinity University with a bachelor's degree in political science and a minor in Spanish, Mahan earned her law degree from the Texas Tech University. Her first job was as the county attorney in Knox County, which sits between Dallas and Lubbock.
"Mahan appreciated her knowledge of Spanish, as she could see the 'physical relief' of migrant defendants in court as they encountered someone who spoke their language," Wisinski wrote. "Moreover, Mahan found her niche in municipal law."
In 2011, Grand Prairie hired Mahan to prosecute cases in municipal court. She was promoted to the position of city attorney in 2017 and added the title deputy city manager in 2023.
Wisinski wrote that Mahan likes advising local governments "because the matters result in real change that she and others can experience in the community."
But Mahan isn't afraid to tackle a new challenge on her own. In 2020, a coalition of police and municipal groups wanted to weigh in on a Texas qualified immunity case at the U.S. Supreme Court but needed a lawyer to author the amicus brief. Despite having never written an appellate brief, Mahan raised her hand, did the research and was lead counsel on the document, which was quoted by USA TODAY in an article on the issue.
General Counsel of a Solo Legal Department: Cart.com GC Gregg Goldstein
With a master's degree in anthropology from the University of Kentucky and a law degree from the University of Texas, Gregg Goldstein's path to the C-suite and the general counsel's office was certainly unique.
True, he started his career at a strong Texas-based corporate law firm, Bracewell, where he spent more than five years. He went in-house in 2012, including stints as head of litigation at TPC Group and general counsel at aviation software company Houston-based ForeFlight, which he helped sell to Boeing in 2021.
In 2016, Goldstein co-founded and operated Golden Bagels and Coffee in the Houston Heights community. The store was known for curing and smoking its own lox and nova. It closed its doors in 2021.
In May 2021, Goldstein joined startup Cart.com, an e-commerce operation. As general counsel, he has handled six acquisitions totaling more than $180 million and four equity raises of $270 million. These M&A transactions fueled Cart.com's explosive growth with revenue jumping from $5 million to more than $250 million.
"As Cart.com's solo general counsel, Gregg has also worked in partnership with the human resource organization at a time when the company has grown from 50 to 900-plus employees globally ensuring seamless onboarding of new Cart.com employees from frontline workers to the CEOs of acquired companies," Todd Mensing, a partner at Ahmad Zavitsanos Mensing, wrote in nominating Goldstein for the Magna Stella Award. "Gregg's experience, legal expertise, work ethic and mentorship has contributed greatly to the company's growth, access to capital and culture of innovation. Collectively, Gregg's skills and leadership have enabled Cart to integrate this diversity of people, technologies and customers into the company's business processes and has positioned Cart to become one of the leading players in its space."
Cart.com Chief People Officer Sara Patterson, who also nominated Goldstein for the award, wrote that the GC showcased his expertise in the acquisitions.
"Several of the deals had significant complexities that were discovered, evaluated and resolved through Gregg's experience and expertise for the benefit of Cart.com and all parties," Patterson wrote. "During one acquisition, Gregg's due diligence uncovered a range of issues that led to his significantly changing the transaction structure from stock to an asset deal in the final week. This was an invaluable gain for the company and accepted on good terms with the acquired company's founder."
Patterson also pointed to the purchase of a channel management company headquartered in Poland with several international subsidiaries and employees across Europe.
"This was a very complex deal that was made more complicated when Russia invaded Ukraine the week before our anticipated close," she wrote. "Given Gregg's expertise, the deal closed on time and to the benefit of all parties involved."
General Counsel of the Year for a Small Legal Department: Trillium Flow Technologies GC Mehgan Wichuk
Mehgan Wichuk earned law and business degrees from the University of Houston. After two years as an associate at a Houston litigation boutique, she went in-house as a lawyer at Schlumberger Oilfield Services for four years and then two years at Global Geophysical Services. In 2016, offshore drilling company Seadrill named Wichuk general counsel for its operations in the Americas. The private equity fund First Reserve hired Wichuk in 2019 to become general counsel and chief compliance officer of Trillium, a designer and maker of engineered valves and pumps used in critical industrial infrastructure and energy operations.
"Mehgan faced the challenge of building a legal function and compliance program from the ground up," wrote Debevoise partner Andrew Levine, one of two lawyers who nominated Wichuk for the Magna Stella Award. "While most would [find] this task daunting, Meghan approached it with genuine enthusiasm and thoughtful precision, recognizing the value of developing a robust compliance program appropriately calibrated to the business's risk profile."
Levine wrote that Wichuk and her team did more than just draft compliance policies.
"Mehgan led the development of a full suite of training, supporting procedures and internal controls," he wrote. "In doing so, she collaborated effectively with other members of management and relevant personnel to ensure that the program would mesh seamlessly with the business, mitigating risks and sensitizing employees to compliance needs without unreasonably burdening day-to-day operations or imposing undue costs. In other words, Meghan demonstrated an uncanny combination of vision and practicality, contributing greatly to the company's ongoing success."
Morgan Lewis partner Sameer Mohan, who also nominated Wichuk, wrote that she has "steadily amassed both a keen understanding of the law, as well as extensive knowledge of the energy services and manufacturing sectors. These traits have propelled her up the ranks as in-house counsel for some of the most well-known companies in the field."
Mohan wrote that Wichuk "initially spent a significant amount of time establishing Trillium as a standalone company." The Covid-19 pandemic hit in 2020, which forced the GC to focus on the effects it would have on Trillium's business and customers including trying to anticipate issues and assess risks.
"Mehgan 'looked around the corner' to understand the surrounding legal and regulatory environment and how Trillium could position itself in the Covid environment to deliver the best results for its customers," Mohan wrote. "Part of the strategic vision was to expand through acquisitive growth and to identify ways that the company could be more efficient."
In 2021, Wichuk led Trillium's acquisition of Dutch-based Red Point Alloys BV, which designed and manufactured exotic material isolation valves for applications in petrochemical, LNG and other industrial processes. Later that year, she oversaw Trillium's acquisition of Termomeccanica Pompe, an Italian-based manufacturer and seller of industrial centrifugal pumps and supplier of related spare parts that had operating subsidiaries in Saudi Arabia, the UAE and Romania. In 2022, she managed Trillium's acquisition of Coulter Valve Service, a specialty valve field services provider.
Levine said he saw Wichuk's work up close during one of the recent acquisitions.
"This work included a rigorous examination of the potential compliance risks of the target business and development of strategies to mitigate those risks, both within the transaction's structure and post-closing," he wrote. "At each turn, Mehgan asked probing questions, anticipated potential issues and demonstrated an expert understanding of the competing commercial and legal considerations that the team navigated in the course of the acquisition."
At the same time, Wichuk led Trillium's environmental and social responsibility changes.
"Mehgan serves as the executive lead for the internal employee-led 'Green Team' and leads the publication of Trillium's annual Sustainability Report," Mohan wrote. "The Green Team initiatives empower Trillium's facilities worldwide to put Trillium's sustainability commitment into action. The team challenged each facility to reduce their single-use plastics as an environmental project, to incentivize their employees to volunteer in local communities, bring local students to our facilities to educate about STEM (science, technology, engineering and mathematics) in the workplace and to self-assess Trillium's environmental activities."
General Counsel of the Year for a Large Legal Department: Former Baker Hughes CLO Regina Jones
A 1999 graduate of the South Texas College of Law Houston, Regina Bynote Jones was in the energy industry before she became a lawyer.
Jones worked as a senior analyst at El Paso Energy and as a global development manager at Shell Oil but then joined the legal department at Dynegy handling corporate compliance issues. In 2005, Schlumberger hired her to first work on compliance matters, but she was promoted multiple times to roles including general counsel of research and engineering based in Paris, GC for Asia operations based in Malaysia and then GC for land rigs in Houston.
After two years as GC at Delek U.S. Holdings in Tennessee, Jones returned home to Houston April 2020 just as the Covid-19 pandemic hit to become the chief legal officer at Baker Hughes.
During her three and a half years at the oilfield services giant, Jones led the 240-attorney legal department and its operations in 120 countries through a period of risk and transformation.
"Regina immediately developed a rigorous enterprise risk management program that garnered significant engagement from executive leadership and the board," according to a nomination submitted to the Texas GC Forum. "She created an innovative new legal sustainability department that focuses on the environmental, social and governance (ESG) risks and opportunities associated with sustainability and a new 'Digital Trust Compliance' department that oversees risks related to data privacy and cybersecurity."
"Further transforming her department, Regina also implemented discipline-specific legal practice groups to horizontally align the global legal team in critical and emerging specialty areas such as digital and artificial intelligence, energy transition and legal skills and career development," the Texas GC Forum reported. "Not only has she achieved professional excellence in her field, but she has empowered her team to do the same. She has also gone above and beyond to promote diversity within the company, with positive and measurable results."
Jones implemented unconscious bias training, which was hosted in partnership with one of Baker Hughes' key external counsel and achieved an extraordinarily high completion rate of higher than 90 percent. Nearly 60 percent of Baker Hughes' legal and compliance team members are women. In the U.S., more than 35 percent of Baker Hughes' legal and compliance team members are people of color. And under Jones' leadership, Baker Hughes' legal and compliance team has an attrition rate of only 9.5 percent, compared to the legal industry standard of 26.9 percent.
In September, Jones left Baker Hughes to become the general counsel of Chicago-based ADM, which operates over 400 crop procurement facilities and 270 food processing plants across the globe. The food and commodities giant has a revenue of $102 billion and more than 42,000 employees.