Legendary Dallas lawyer Jim Coleman was hailed Wednesday night as a gentleman; an honest, genuine and passionate lawyer; and a leader with integrity.
The Texas Lawbook and the Association of Corporate Counsel's Dallas-Fort Worth Chapter hosted a tribute to the 94-year-old lawyer, which brought together many lawyers he mentored and impacted – many of whom are now among the most prominent and successful lawyers and judges in Texas.
For 90 minutes, lawyers and judges—most of them "Lions of the Texas Bar" in their own right—told stories and reminisced about the time they spent with Coleman and the impact he had on their lives. The panel included U.S. District Chief Judge Barbara Lynn; Judge Patrick Higginbotham of the U.S. Court of Appeals for the Fifth Circuit; Gibson Dunn partner Bill Dawson; Baker Botts partner Rod Phelan; Sayles Werbner partner Dick Sayles; Carrington Coleman managing partner Bruce Collins, and Mike Lynn of Lynn Pinker Cox & Hurst.
About 120 lawyers, judges and corporate in-house counsel attended the tribute at the UNT Dallas College of Law.
"This is an all-star panel – some of the best trial lawyers and judges that Texas has ever witnessed on one stage – and they are here to pay tribute to one of the great leaders that the legal profession has ever seen, Jim Coleman," retired U.S. District Judge Royal Furgeson, who is now dean of the UNTD law school, said in opening remarks.
This article includes more than two-dozen photos of the event, as well as insight provided by many of those who attended. The Texas Lawbook hopes you enjoy this presentation.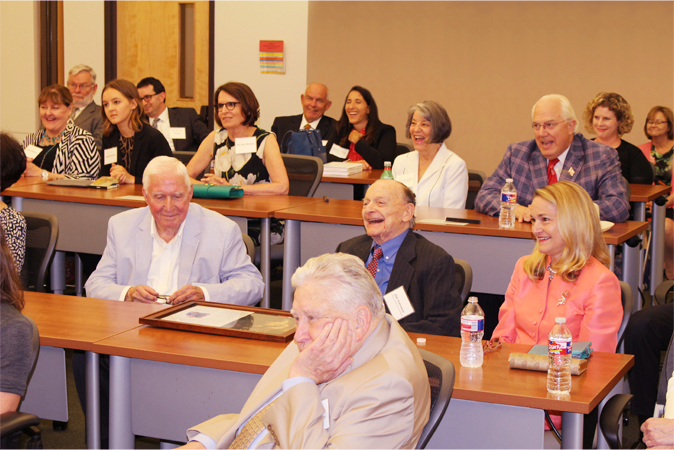 Coleman sitting between his daughter, Judge Margaret Keliher, and Carrington Coleman co-founder Jack Johnson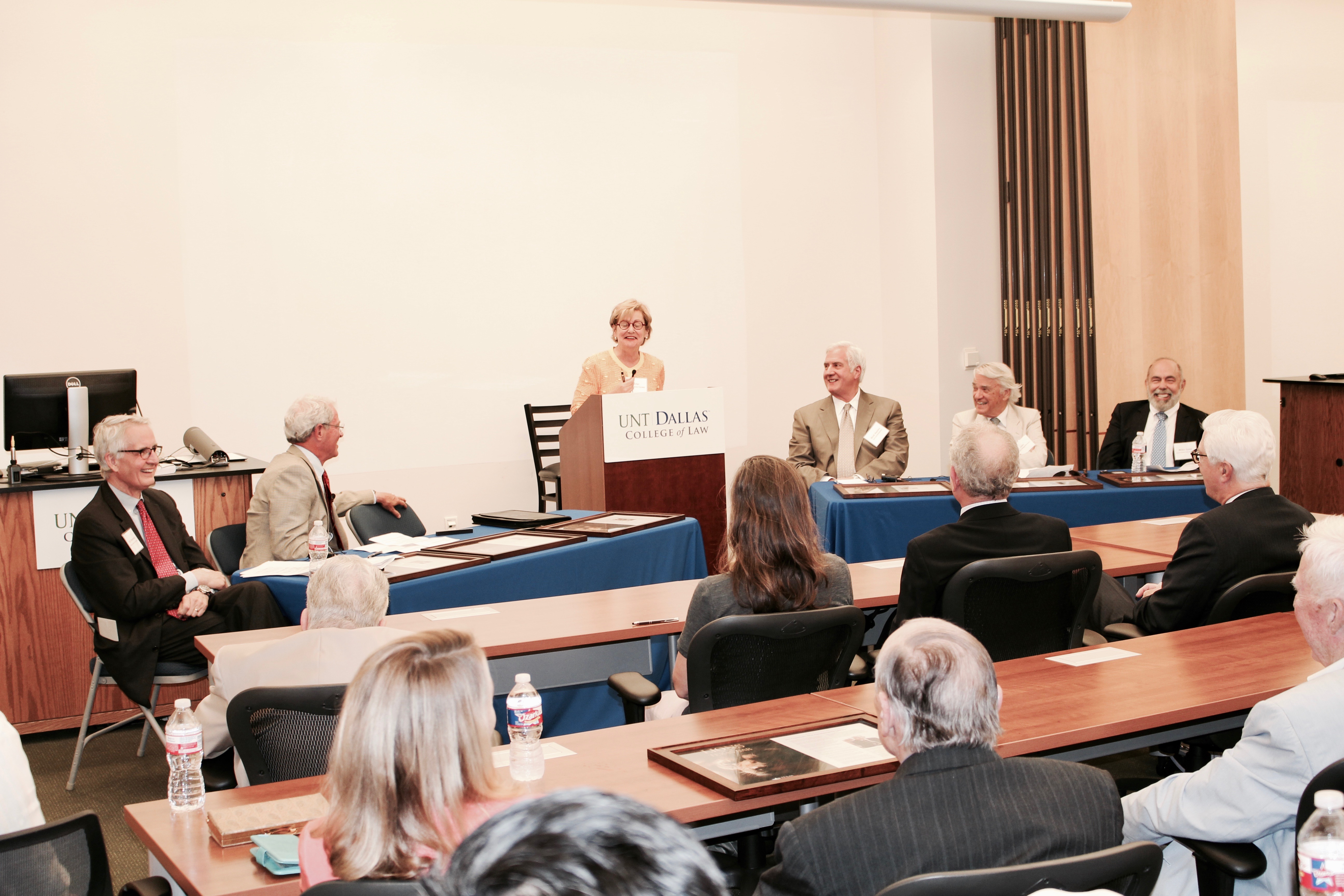 Moderated by Chief Judge Barbara Lynn, the group provided a brief history about Coleman's life. He was in the first grade in Atlanta when the stock market crashed. His father, who was a real estate agent, refused to file for bankruptcy protection and instead used his entire personal savings to pay his debts. The family lived in a small house that sometimes went without electricity because they couldn't afford it.
On Dec. 7, 1941, Coleman was exiting a movie theater when he heard a newspaper boy with the Atlanta Constitution on the street corner scream out, "Extra, Extra. Japan Attacks Pearl Harbor." A few weeks later, he enlisted in the Army, where he served as a platoon leader and Second Lieutenant and marched through Europe with Patton's Third Army. He later received the Silver Star.
After serving in the CIA for two years, Coleman and his family moved to Dallas, where he went to work for Paul Carrington, who had an 18-lawyer firm. Coleman initially worked in the firm's real estate contracts practice earning $200 a month.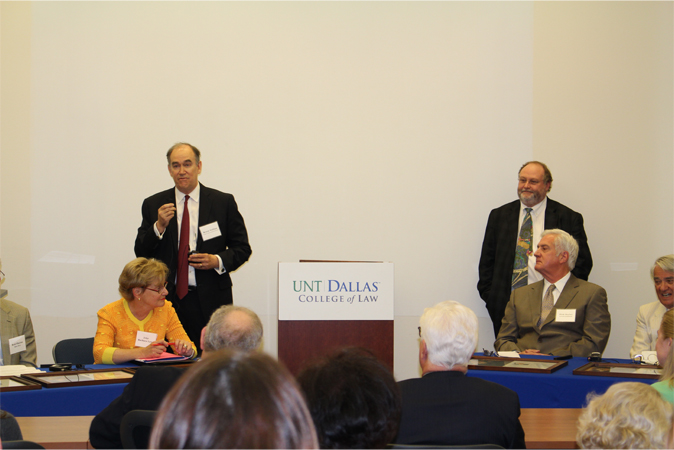 Fifty years ago, Coleman and Carrington started the firm that today boasts their names. Carrington Coleman managing partner Bruce Collins started the program by sharing information about Coleman's commitment to the firm and his impact on the lawyers who have worked there.
"I don't think any lawyer has meant as much to his or her law firm as Jim has meant to Carrington Coleman," Collins says.
Collins officially presented Coleman with his "Lions of the Texas Bar" award from Texas Lawbook. Carrington Coleman was a key sponsor of the event.
Chief Judge Lynn, who was hired by Coleman in 1976 as the firm's first woman lawyer and became the firm's first woman partner seven years later, guided the panel of legal all-stars through a series of questions that required them to share their favorite stories about Coleman.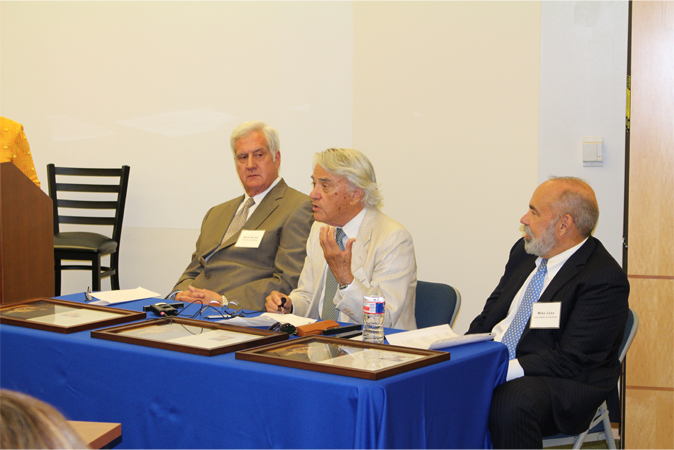 Judge Higginbotham told about his first and only trial against Coleman, which took place in 1969. The case involved a dispute between two businesses. When Higginbotham, who was then a young lawyer, stood to object that Coleman's position was not supported by the law, the trial judge turned to Coleman:
"What should I do, Jim?" the judge asked.
"Overrule it, judge," Coleman responded.
"Overruled," the judge declared.
"It was clear to me and every other lawyer who was ever in court with Jim Coleman that Jim Coleman was the best and smartest lawyer in the courtroom, and the judges all knew it, too," says Higginbotham.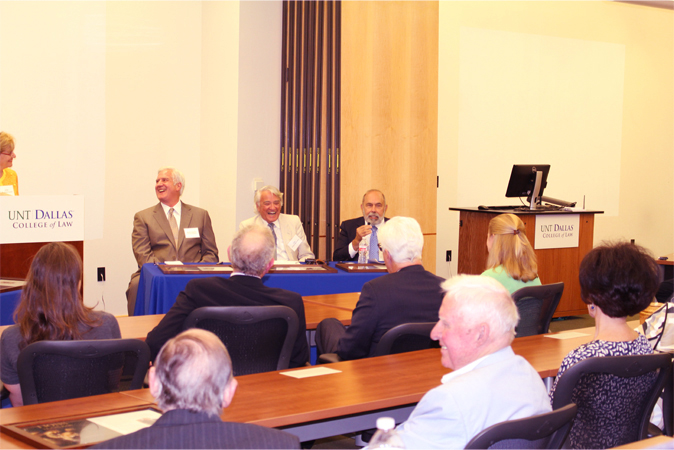 Mike Lynn said that Coleman was responsible for him starting his litigation boutique two decades ago. He said Coleman sent him clients during the first couple years that allowed him and his young law firm to survive.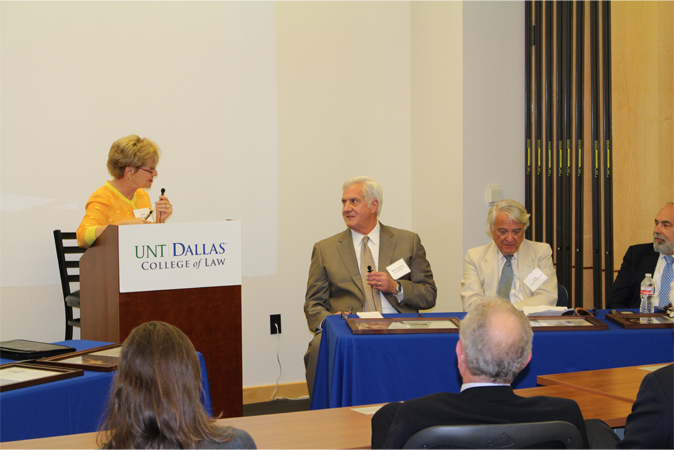 Dick Sayles, who was hired by Coleman in 1974, worked with Coleman for more than two decades and tried dozens of cases with him. Sayles said that Coleman would take a case file to young lawyers. "I want you to go to the courthouse to get your water-wings," Sayles said Coleman told him and others.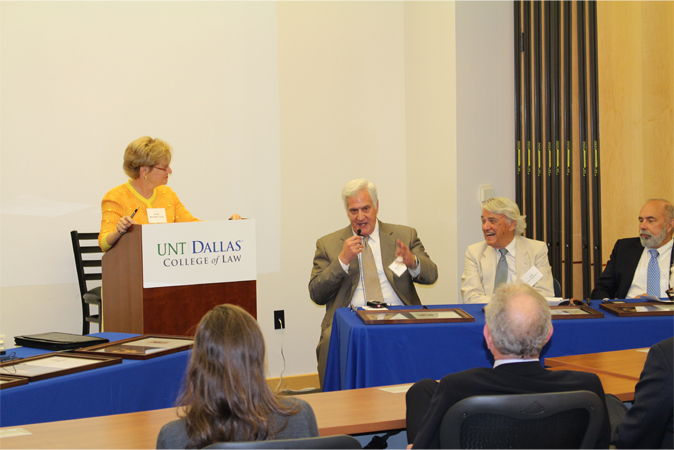 "It was not unusual for Jim Coleman, in the middle of a trial, to call a witness to testify and then turn and hand me the file and say, 'You take him," Sayles said.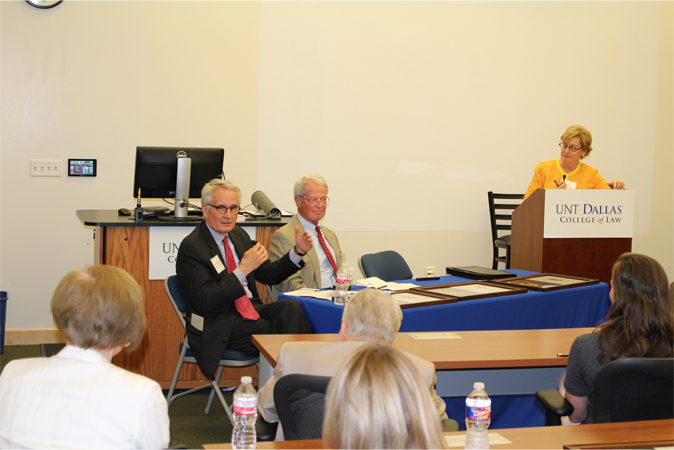 Coleman hired Bill Dawson in 1975 when Dawson graduated from the Texas Tech School of Law.
"Jim mentored more successful trial lawyers than any other lawyer ever," said Dawson, who is now a partner at Gibson Dunn in Dallas.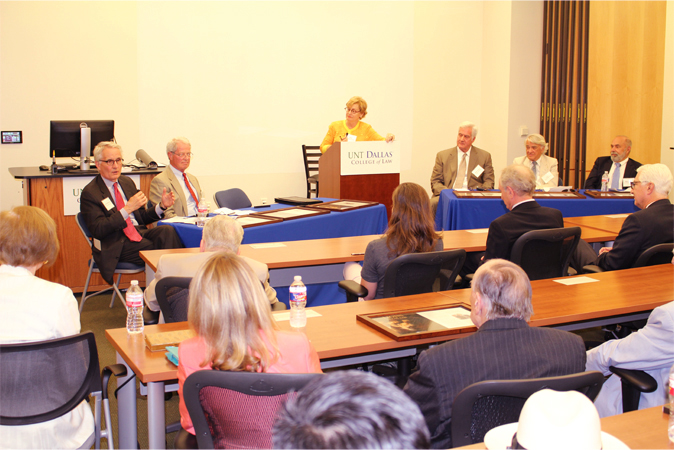 "Success was not enough for Jim Coleman," Dawson said. "Jim did not feel like he had done a good job if he did not make every lawyer around him more successful."
Coleman hired Rod Phelan straight out of Duke University School of Law in 1973.
"I wanted to be like Jim," said Phelan, who is now a partner at Baker Botts in Dallas. "I've now practiced for 40 years, but no one has ever told me yet that I am like Jim Coleman. No one will ever be like Jim."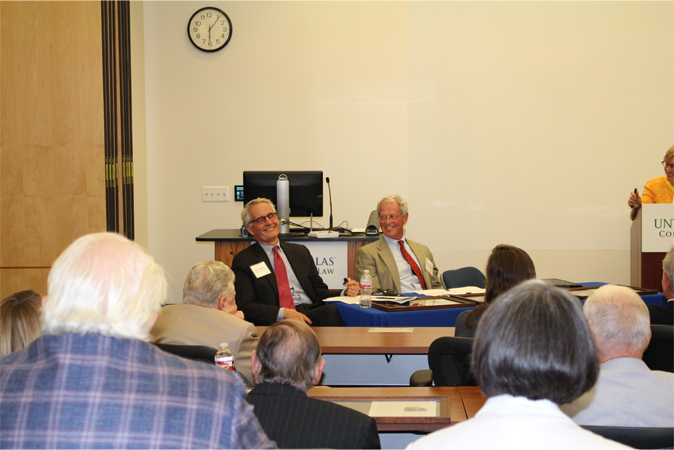 "Jim said that what we want in a law partner is someone who, when you have a client who is in trouble, you can turn it over to the partner and know that they will take care of it and that it will be handled," said Phelan, who was voted by the Dallas Bar Association as Trial Lawyer of the Year in 2015.
Chief Judge Lynn told about a client who said he didn't want women working on his case.
"Jim looked at the client and said, 'Then, we don't want your business.'"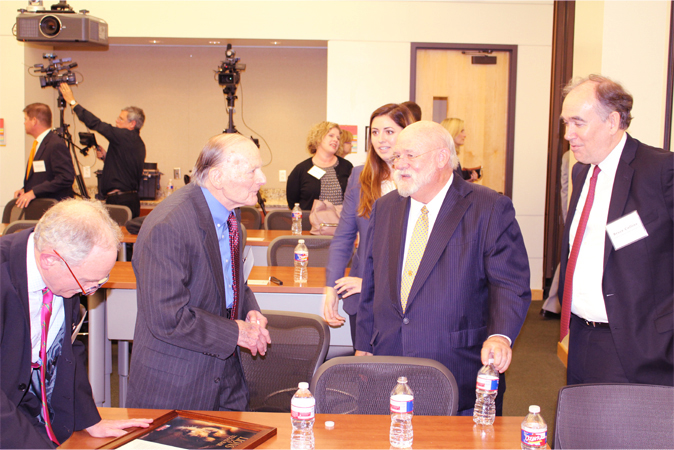 Coleman has been great friends with prominent Dallas plaintiff's lawyer Frank Branson for many decades.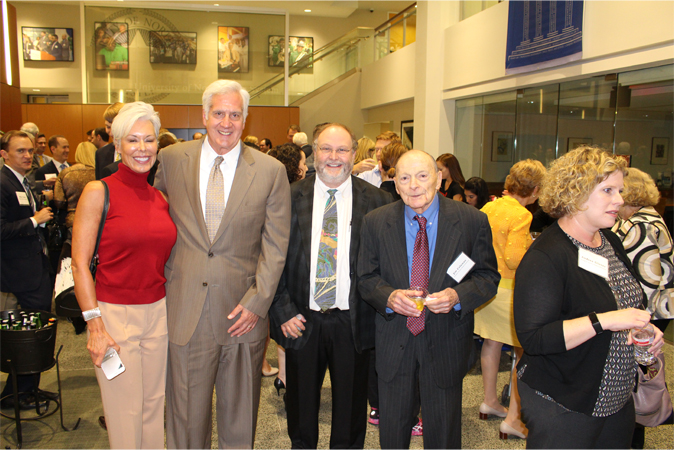 Dick Sayles, photographed here with his wife, Mr. Coleman and Texas Lawbook writer/founder Mark Curriden, said that informing Mr. Coleman that he planned to leave Carrington Coleman to start his own law firm was one of the hardest decisions of his life.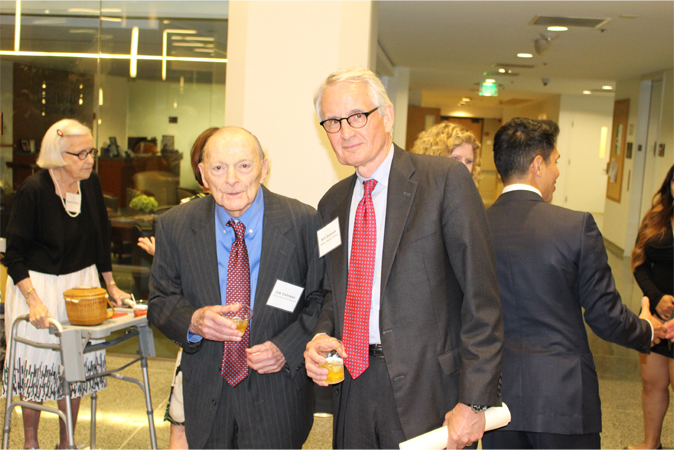 Bill Dawson said working with Jim Coleman was one of the greatest experiences of his life. "He had a passion for the law and he made sure you had a passion for the law, too," Dawson said.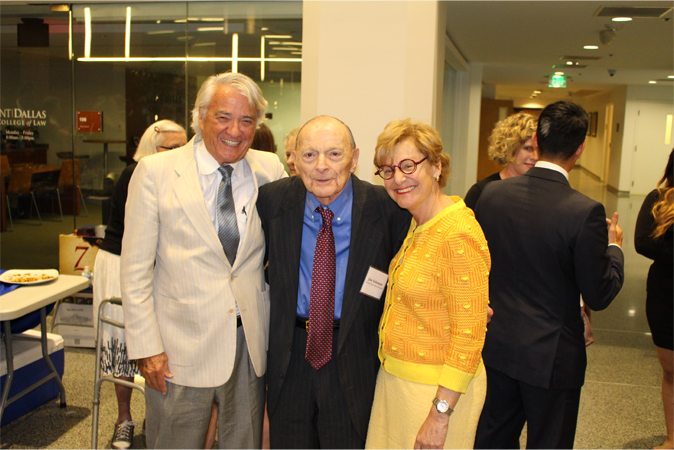 Judge Higginbotham said he and Coleman "shared a brotherhood as lawyers who loved to go to court and try cases."
Judge Lynn asked, "Did you ask Jim to ever tell you if he thought you developed judgitis?"
"No," Judge Higginbotham replied, "He just volunteered it."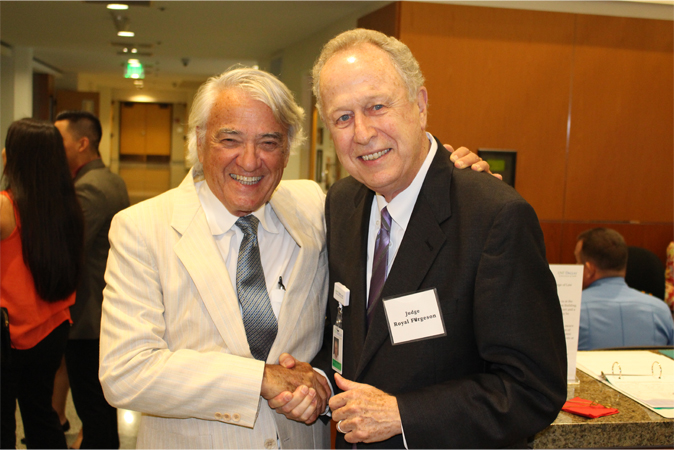 Judge Furgeson and the folks at UNTD College of Law were extraordinary hosts.
Two Lions of the Texas Bar also attended Wednesday's event: Darrell Jordan and Frank Branson.
At the end of the night, it was time for a standing ovation for Jim Coleman. Photo credit: Martha Barrios of Carrington Coleman.