Corporate law firms operating in Texas added more lawyers in 2021 than they did in any of the past 12 years, but many expect to do more hiring this year to keep up with the state's rapidly growing demand for legal services.
According to the new Texas Lawbook 50: Lawyer Headcount, the firms employed 7,486 lawyers in Texas at the end of December 2021, a gain of 331 or 4.6 percent, from the previous year's total.
In net hiring, Texas outpaced the nation as a whole. Michael McKenney, managing director of Citi Private Banking's Law Firm Group, said lawyer headcounts rose an average of two percent across his 11 U.S. regions.
The Texas Lawbook began tracking key metrics of firm business performance in 2014. Only one other year came close to matching 2021. The Top 50 added 250 lawyers in 2019, an increase of 3.5 percent (see Chart 1). In between, headcount growth slumped below one percent in 2020, the year the Covid-19 pandemic struck.
Chart 1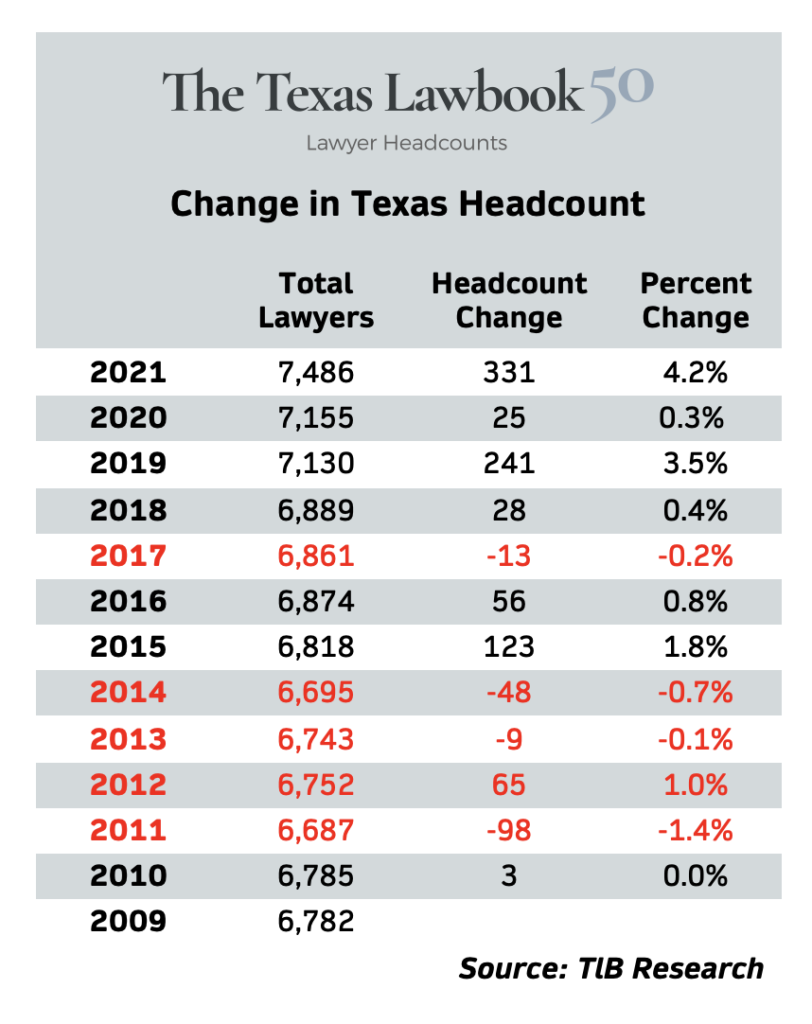 From 2009 to 2018, headcounts grew at a snail's pace through up and down years – with an average net gain of just under 10. No single year's gain topped 123 lawyers.
"It's one thing to hire people," said Jay Cuclis, Houston office executive partner for White & Case, which nearly doubled its Texas footprint by adding 35 lawyers in 2021. "The challenge is to keep them busy."
For Cuclis' firm and others, staying busy wasn't a problem in 2021, a record-breaking year for Texas corporate law. Litigation activity picked up as courts reopened after the previous year's pandemic disruptions. The M&A market remained hot. Energy, intellectual property, bankruptcy, technology – all were trending positive last year, the firms say.
"It was just a great year for law firms," said Keith Fullenweider, who took the helm as chairman of Vinson & Elkins in January. "2021 was an amazing year in demand growth."
With business booming, firms went on a Texas hiring spree in 2021 (see Chart 2). The Lawbook 50's record-setting 2021 was built on five firms with truly big net gains, another nine with double-digit increases and just four firms with net losses of more than 10 lawyers.
At Kirkland & Ellis, the firm had another big haul of new lawyers. Sidley Austin had its biggest net increase ever. It was a bounce-back year at V&E. After an August merger, Holland & Knight vaulted into the Top 10. Gray Reed stood out among the middle-market stalwarts with solid headcount growth.
Longer-term trends continued – most notably, the Lawbook 50's 33 out-of-state corporate law firms added more than five lawyers for every additional net hire at the 17 Texas-based firms.
War for Talent to Continue
In Texas Lawbook interviews and surveys, most firm leaders foresee another robust year for corporate law in 2022 – despite potential headwinds from high inflation, rising interest rates and business spillovers from the ground war in Europe.
"I'm extremely bullish," Baker Botts managing partner John Martin said. "We're seeing quite an uptick so far over last year. I'm expecting a big year."
If the legal business stays hot, the demand for lawyers will keep growing this year, and the war for Texas talent will rumble onward. Responding to a confidential Texas Lawbook survey in March, 36 firms said they expected their Texas lawyer headcounts to increase in 2022. Not one single firm anticipated a decline.
"We will try to end the year with a higher headcount," V&E's Fullenweider said. "We have opportunities and client demand that will support a higher headcount."
The hiring began in the year's first few months. Fort Worth's Kelly Hart, for example, was down nine lawyers at year's end, but the firm has already brought on five new lateral-hire associates in 2022, with more on the way. "We've got a lot going on, and we're always looking for strong, young talent that fits in," managing partner Marianne Auld said.
After adding 11 lawyers in 2021, Akin Gump will be looking for strategic hires across a broad range of practice areas and experience. "We will continue to interview and hire more associates," said John Goodgame, partner in charge of the Houston office. "We are also looking for opportunities to bring in partners on a selective basis."
Not all the firms will likely get all the lawyers they want in 2022. For years competition for corporate legal talent has been fierce in Texas, forcing firms to be aggressive and creative in hiring and retention. On top of higher pay, some firms sweeten their offers with compensation guarantees, signing bonuses and forgivable loans.
Firms don't just want more lawyers, they want the right lawyers. Many tell The Texas Lawbook they don't target headcounts the way they do revenues per lawyer and profits per partner. Even in a tight market, they'll pass on prospective hires who don't fit well with the firm's needs and its culture and finances.
"Size is relatively unimportant to us," said Rob Walters, a partner at Gibson Dunn, a Los Angeles firm that broke out of its single-digit growth with net hiring of 32 lawyers in 2021. "I have yet to have a client ask how big our offices were."
A Deeper Dive into the Data
In 2021 as in years past, Texas' top talent has been drawn to the biggest national firms – for the financial rewards just cited. The 2021 leaders in net hiring, for example, were two firms founded in Chicago – Kirkland & Ellis at 81 lawyers and Sidley Austin at 53 lawyers.
They were two of the five firms with net gains of 30 or more lawyers last year. New York's White & Case came next at 35, followed by Gibson Dunn at 32.
Chart 2

Houston-based V&E roared back from a down year. Its headcount rose by 30 lawyers to 454 in 2021, nearly wiping out the decline from 457 in 2019 to 424 in 2020. "We did fight very hard to get our headcount up," Fullenweider said.
By growing headcount, V&E solidified its spot at the top of the Lawbook 50. Jackson Walker (387) and Haynes and Boone (373) held onto the next two places. Fast-rising Kirkland moved up from sixth to fourth – the highest ranking by a firm based outside Texas. Both Norton Rose Fulbright and Baker Botts each slid down a spot.
The Chicago firm's rise has been remarkable. Kirkland entered the Texas market in April 2014 and grew to 45 lawyers by the end of 2015. In 2021, it had 371 attorneys, just two behind Haynes and Boone. Average net hiring in Kirkland's Texas operations has been 54 lawyers a year.
Headcounts were the same or higher at nearly two-thirds of Lawbook 50 firms in 2021. Fourteen of them were up by at least 10 lawyers (see Chart 3). Among the 18 firms with fewer lawyers, only four had net losses of 10 or more lawyers.
Chart 3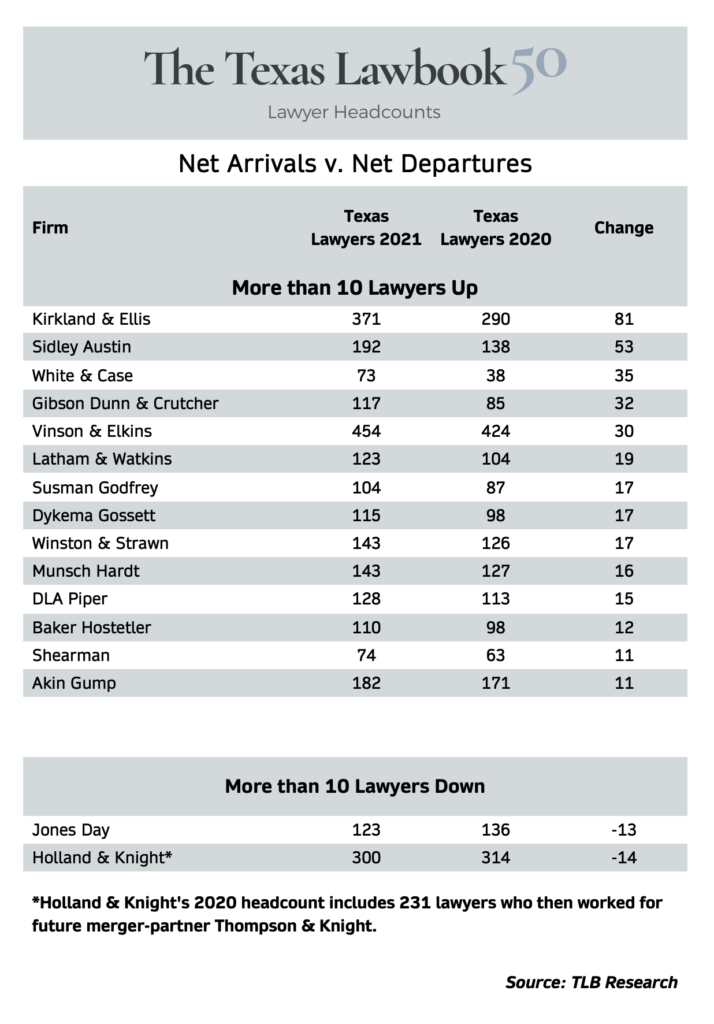 One was Holland & Knight, which merged with Thompson & Knight last year. In 2020, the Lawbook 50 reported 83 lawyers for the Florida-based firm. In August of that year, it merged with much larger Thompson & Knight, a Dallas firm since 1887. For 2021, Holland & Knight reported 300 Texas lawyers, down from 314 for the combined firms in 2020.
With the merger, Holland & Knight vaulted to seventh among firms ranked by headcount – the same spot Thompson & Knight held in 2020.
(Editor's note: The Lawbook is planning an article looking at the impact of the Thompson & Knight and Holland & Knight combination and other law firm mergers.)
Over the past decade, the biggest change in Texas corporate law has been the arrival en masse of deep-pocketed national firms and the resulting squeeze on Texas-based firms. As they grew, the out-of-staters steadily increased their share of Texas-based lawyers – from 50.2 percent in 2019 to 52.1 percent in 2020 to 55.6 percent last year.
In 2021 non-Texas firms accounted for two-thirds of the Lawbook's headcount Top 50. The gain from the previous year was just one firm, reflecting Thompson & Knight's merger with Holland & Knight. The 33 non-Texas firms employed 4,164 lawyers in 2021, a gain of 253, or 6.5 percent, from the previous year.
Texas-based firms make up the rest of the Lawbook 50. These 17 firms – down one after the Thompson & Knight merger – totaled 3,322 lawyers in 2021, a one-year increase of 39, a relatively anemic 1.5 percent. Holland & Knight was one of only two firms with double-digit headcount declines in 2021. Baker Botts fell by nine – well below its Lawbook 50-leading decline of 51 lawyers a year earlier. Taken together, Baker Botts, Bracewell and Thompson & Knight saw a loss of 79 lawyers in 2020.
Four Lawbook 50 firms have Texas roots that extend to the time before their mergers – Norton Rose Fulbright, Holland & Knight, Hunton AK and Foley & Lardner. They had a combined 1,011 lawyers in 2021, a decrease of 29 from the previous year. Their headcounts fell by 64 in 2020.
Chart 4
Other noteworthy tidbits from Lawbook 50 headcount data for 2021:
In percentage terms, White & Case led the way by raising headcount 92 percent (see Chart 4, upper table). Sidley Austin and Gibson Dunn were above 35 percent. All told, 15 firms managed double-digit increases in their lawyer ranks.
No firm had a headcount decline of 10 percent. Jones Day came closest – its net loss of 13 lawyers translated into a decline of 9.6 percent (see Chart 4, lower table).
On net, firms in the upper half of the Top 10 added lawyers in 2021 and those in the bottom half lost lawyers. The dichotomy left the Top 10 with an overall gain of 56 lawyers, or just 1.7 percent.
The next three groups of 10 did better in increasing headcount – 95 lawyers (8.8 percent) for 21-30; 87 lawyers (11.6 percent) for 31-40; and 66 lawyers (4.4 percent) for 11-20. The bottom 10 had a paltry gain of three lawyers, or 0.5 percent.
New names on the Lawbook 50 were White & Case, Glast Phillips & Murray and, from the Texas contingent, McKool Smith and Carrington Coleman. Making the list last year but just falling short this year were Alston & Bird, Coats Rose, AZA and Fish & Richardson.
The four firms dropping out might rejoin the Lawbook 50 next year. A few others in growth mode were just below the cutoff – Simpson Thacher (56 lawyers, up 8), Katten (51, up 12) and Willkie Farr (49, up 10). O'Melveny & Myers, a Los Angeles firm that arrived in Texas last year, has ambitious plans for expansion. It may pop up on the Lawbook 50 soon.
The COVID-19 pandemic made 2020 an abnormal year to say the least. For corporate law's Texas labor market, the fallouts included Interrupted recruiting and accelerated retirements. Comparing 2021 with 2019 shows the Top 5 in net hiring were Kirkland (135 lawyers), Sidley (51), Susman (42), Gibson Dunn (39) and Baker Hostetler (39). The five firms seeing the largest headcount declines: Baker Botts (-60), Locke Lord (-37), Clark Hill (-27), Norton Rose Fulbright (-25) and Hunton AK (-22).
The headcount ranking kicks off The Texas Lawbook's annual review of the business side of the top corporate law firms operating in the state. In coming weeks and months, we will write about the dog-eat-dog laterals market, a boom year's off-the-charts financial metrics and the trends in key Lawbook 50 segments. We'll also feature some firms with interesting stories to tell.