© 2018 The Texas Lawbook.
By Mark Curriden
(April 30) — Amid all the fuss and flurry of national corporate law firms opening new offices in Texas and spate of major mergers, some simple facts are frequently overlooked:
Large Texas legacy law firms still generate billions of dollars in revenues, employ thousands of lawyers and still do a huge majority of the legal work for businesses in Texas. Many of them are experiencing tremendous financial success.
New research of legal industry financial data by The Texas Lawbook shows that eight full service law firms headquartered or founded in Texas posted record revenues in 2017. Four firms had double-digit increases last year.
The 20 largest corporate law firms based in Texas employed 5,700 attorneys in 2017 – down 2 percent from a year earlier. Those same firms, however, increased the revenues they generated from clients by 5 percent – from $4.09 billion in 2016 to $4.29 billion last year.
Only one Texas-based firm – Gray Reed – had double-digit percentage increases in revenues and lawyer head count. In 2017, Gray Reed had revenues of $65.7 million – a 14 percent jump from a year earlier and a 30 percent increase over 2015.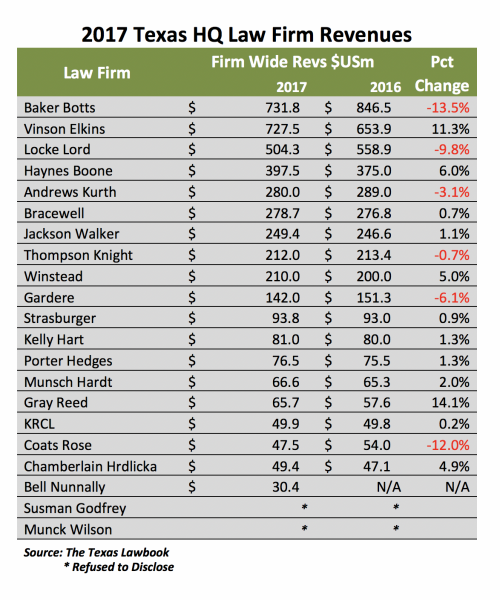 An analysis of the data by
The Texas Lawbook
find that the 20 legacy Texas firms generated 72 percent of their revenues in 2017 from lawyers operating in Texas. The Texas firms brought in an estimated $1.19 billion in revenues from their non-Texas offices last year.
None of those statistics include Norton Rose Fulbright or Akin Gump, which are truly in a category of their own. These two mega-law firms were founded in Texas and still have deep roots in the state but are no longer headquartered here. Norton Rose Fulbright and Akin Gump combined have more than 4,000 lawyers worldwide and reported $3 billion in revenues. Both firms grew considerably in head count and revenues in 2017.
Yet three glaring truths also are exposed by the data.
Three of the 11 largest corporate law firms on this year's top 20 list – Andrews Kurth Kenyon, Gardere and Strasburger – will disappear from the 2018 list because they have been swallowed up by larger out-of-state legal operations. These three firms employed 689 attorneys in 2017 and generated $514 million in revenues.
About $2 billion in legal work for businesses that would have gone to Texas-based law firms only a few years ago went to national law firms with Texas offices in 2017.
During the first four months of 2018, more than 100 partners at Texas-based corporate law firms have moved their practices to out-of-state law firms.
"The amount of competition that continues to come into the Texas market has put a strain on just about every law firm," said Thompson & Knight managing partner Mark Sloan. "We simply cannot get into a bidding war with the law firms that are willing to pay so much more for lawyers or groups.
"At the same time, we realize that we need to keep the folks that are generating business for the firm," Sloan said.
The Texas Lawbook surveyed the 50 largest law firms operating in Texas about their head count and revenue numbers. Most law firms submitted their data fully. Others declined to provide written financial details, but gave the information in interviews. The data for others was obtained through interviews with recently departed law partners or estimates from legal industry analysts.
Two Texas law firms – Susman Godfrey in Houston and Munck Wilson in Dallas – declined to disclose their financial data for 2017. Munck Wilson provided most other details, including lawyer head count.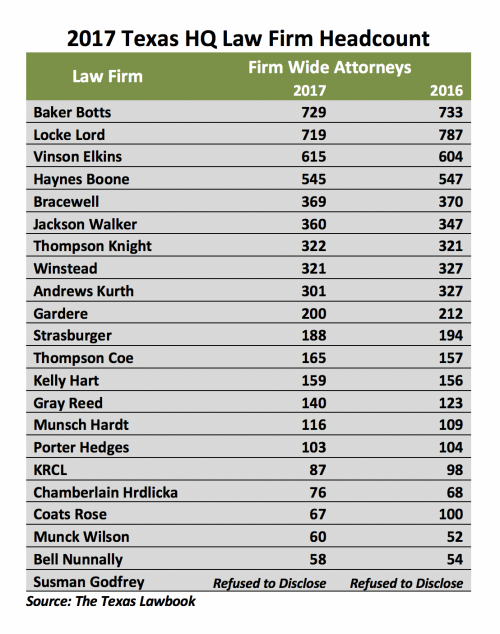 Multiple legal industry analysts say that the key component for Texas-based law firms to survive the invasion of larger, wealthier national firms is to develop a niche where they are perceived as superior.
"It is nearly impossible for the Texas legacy firms to compete against the large deep pockets of the national practices," said Kent Zimmerman, a consultant at Zeughauser in Chicago. "But if the Texas firms have the reputation as being among the best in certain areas – maybe in a specific practice or a unique business sector – then they can compete.
"Firms that have the reputations for high quality and depth in specific practices are able to charge more for the services of those lawyers," he said.
Firm Specifics
Baker Botts is the largest Texas-based firm by revenues and attorney head count – albeit by a nose in both categories. The Houston-based firm had 729 lawyers in 2017 and revenues of $731.8 million. Those revenues are down 13.5 percent from 2016.
On revenues, Vinson & Elkins came in second with $727.5 million in 2017 – an 11.3 percent increase from the year before. The Texas Lawbook estimates that V&E's non-Texas offices contributed 59 percent of the firm's $73.6 million in new revenues last year.
The Texas Lawbook analysis shows that V&E generated two-thirds of its revenue from its lawyers based in Texas, while Baker Botts made nearly half of its revenue from its lawyers outside of the state.
Dallas-based Locke Lord ranked second in lawyer head count and third in revenues – though both declined significantly in 2017. The firm had 719 attorneys worldwide last year – down 8.6 percent from 2016. Its revenues declined 9.8 percent – from $558.9 million in 2016 to $504.3 million last year.
Haynes and Boone actually employed two fewer lawyers in 2017 – 545 compared to 547 in 2016 – but increased its firm-wide revenues from $375 million in 2016 to $397.5 million last year. Interestingly, Haynes and Boone revenues from lawyers based outside of Texas hit $125.5 million and now comprises nearly 31 percent of the collections.
Bracewell and Thompson & Knight showed no substantial increases or declines in head count or revenues in 2017.
Revenues for Andrews Kurth Kenyon, which merged in March with Hunton & Williams, were $280 million in 2017 – down 3 percent from a year earlier. The firm's head count also declined 8 percent.
Gardere, which merged with Foley & Lardner in April, also had a drop in 2017 revenues – from an estimated $151.3 million in 2016 to $142 million last year.
Fort-Worth-based Kelly Hart & Hallman and Houston-based Porter Hedges each reported a 1.3 percent growth in revenues in 2017.
Coming This Week: The Texas Lawbook examines the strategic paths of a handful of law firms in Texas, including: The battle of three Chicago-based firms for dominance in Texas; The leaders of three Texas-based law firms told about their need for survival and their fears for the legal profession; and the story of two giant law firms that were founded in Texas but have gone global.
© 2018 The Texas Lawbook. Content of The Texas Lawbook is controlled and protected by specific licensing agreements with our subscribers and under federal copyright laws. Any distribution of this content without the consent of The Texas Lawbook is prohibited.
If you see any inaccuracy in any article in The Texas Lawbook, please contact us. Our goal is content that is 100% true and accurate. Thank you.