© 2012 The Texas Lawbook.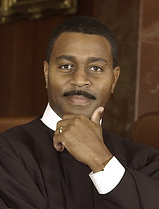 By Janet Elliott
Staff Writer for The Texas Lawbook
AUSTIN – Texas Supreme Court Justice Dale Wainwright is returning to private practice in October but don't expect the jurist, known for his strong political skills, to remain out of the limelight long.
In an interview with The Texas Lawbook, Wainwright said he is thinking about running for attorney general in 2014 if Greg Abbott decides to run for lieutenant governor or governor.
"It's an office that has a great impact on Texas and Texans," said Wainwright. "It provides an opportunity to continue to do, although in a broader way, good things for all Texans in the arena of the law."
The third-longest serving justice on the high court announced this week that he is resigning Sept. 30 to become an Austin-based partner in Bracewell & Giuliani. He will primarily do appeals.
Wainwright's term, which ends in 2014, will be filled by Gov. Rick Perry through an appointment that will be subject to confirmation by the Texas Senate next year.
The Republican jurist won election in November 2002, one of only three current justices to initially join the court through election instead of appointment. He previously served almost four years as a Harris County district court judge, and practiced law in Houston with Haynes and Boone and Andrews Kurth.
Wainwright is known for being equally comfortable questioning lawyers during arguments or speaking to a group of Republican women.
"One of his strengths is personality," said Scott Brister, who served on the court from 2003 to 2009. "He likes meeting people, likes going to political events.
"He was a very positive face of the court to be out there telling people what's going on. He was very gifted in that regard and I think the court will miss that."
Wainwright said he began thinking about leaving the court last year when he turned 50.
"I love the work on the court and had accomplished a number of goals," he said. "I'm excited about getting back to private practice. I'm in a blessed position of being able to decide without financial pressures."
Wainwright and his wife, Debbie, live in Austin with their 15-year-old son. Their adult sons live in Austin and California.
Wainwright's productivity on the court has at times been called into question. In fiscal year 2009, he wrote just three majority opinions, and only two in 2010 – the lowest number of any justice those years. However, in 2011 he was one of the most productive, authoring 10 majority opinions, and in the 2012 term that ended Aug. 31 he was the most prolific with nine deciding opinions.
Wainwright said he wrote about 115 deciding opinions during his decade on the court. He mentioned several notable cases, including 2004's Texas Department of Parks and Wildlife v. Miranda. The 5-4 ruling dismissed a lawsuit that had been filed by a woman who was injured when a tree limb fell on her at Garner State Park.
The opinion explained that trial judges must decide early in a lawsuit whether sovereign immunity voids their jurisdiction, and may consider evidence to make that decision. That decision has been cited in published opinions 1,268 times, Wainwright said.
Another of Wainwright's favorite cases was decided earlier this year, a controversial ruling that denied public access to beachfront property where the vegetation line had been altered by a hurricane. That ruling was blasted by the losing party, Land Commissioner Jerry Patterson, who said it changed 200 years of public beach access.
Wainwright isn't fazed by newspaper editorials against the ruling, saying it was an important victory for property rights.
"It said the government can't take your land after a hurricane. It can prove that there's an easement or purchase it, or establish the house as a nuisance. But you can't just take it because you want to without paying just compensation," he said.
Wainwright and Chief Justice Wallace Jefferson are the only two African Americans on the nine-member court.
"We are losing a great friend," Jefferson said. "Dale's scholarship, his attention to the administration of justice and his dedication to the court are all part of a legacy that will long outlive his years of service.
Brister, a partner who heads the appellate section for Andrews Kurth, recalled getting frustrated because Wainwright took a couple of months to comment on a pending opinion.
"He came back with nine comments and all of them were great," Brister said. "It's hard to get mad at somebody for delaying an opinion if they make it better."
Tom Leatherbury, a Dallas Vinson & Elkins partner who regularly appears before the court, said Wainwright's seniority and experience will be missed. "He was always engaged at oral argument," said Leatherbury.
Texas Watch, a citizen advocacy group that follows the court, called on Perry to use the appointment to moderate the court.
"It's no secret that the Supreme Court has been staunchly pro-defendant for a very long time. With every vacancy is an opportunity for the governor to start to remedy that and put people on the court who bring diversity in terms of background and experience," said Alex Winslow, the group's executive director.
Wainwright is a graduate of the University of Chicago School of Law and earned his bachelor's degree summa cum laude in economics from Howard University. He serves as trustee of the Center for American and International Law board and as an elected member of the American Law Institute.
© 2012 The Texas Lawbook. Content of The Texas Lawbook is controlled and protected by specific licensing agreements with our subscribers and under federal copyright laws. Any distribution of this content without the consent of The Texas Lawbook is prohibited.