© 2014 The Texas Lawbook.
By Natalie Posgate
Staff Writer for The Texas Lawbook
(March 7) – As Tom Melsheimer gave his closing argument to the jury last October, his client slipped him a piece a paper.
"He wanted me to tell something to the jury," Melsheimer said. "He's Mark Cuban, so I told it to the jury."
Melsheimer's comments were part of a 90-minute CLE program hosted Thursday evening by The Texas Lawbook, SMU Dedman School of Law and the General Counsel Forum.
The program, which also featured Cuban Companies General Counsel Robert Hart, litigation consultant Jason Barnes, Bell Nunnally white-collar defense expert Jeff Ansley and SMU Dedman law professor Linda Eads, focused on behind-the-scenes moments involving the U.S. Securities and Exchange Commission's insider trading trial against Cuban.
On Oct. 16, 2013, a federal jury cleared Cuban of insider trading charges, ending a seven-year legal battle. The SEC has chosen to not appeal the verdict.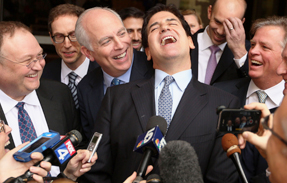 A panel that included Cuban's lawyers for the highly publicized insider trading trial told a 300-person audience the whole story last night at the SMU Dedman School of Law.
Hart, who has been Mark Cuban's general counsel for more than two decades, set the scene for the nearly 200 lawyers, general counsel, SMU faculty and students in attendance.
After selling his six percent stake in Canadian Web search company Mamma.com in June 2004, Cuban received a call from the SEC regarding an infamous stock swindler's potential involvement with the company. Hart said Cuban refused to let anyone but himself speak to the SEC. Cuban handed over every trading document, filing and email he had related to Mamma.com to facilitate the SEC with its investigation.
Hart said he and Cuban were surprised when SEC officials contacted Cuban a couple of years later to say they were investigating him for insider trading related to his Mamma.com shares. The SEC claimed Cuban used insider information he received from Mamma.com CEO Guy Fauré to avoid a $750,000 loss by selling all of his shares in the company one day before it announced a private stock offering, which diluted the value of the shares.
Cuban, who joined the panel discussion via pre-recorded video, said he assumes the SEC came after him because it was still during the pre-Madoff days, and the agency needed someone to point a finger at.
"My guess is they needed somebody, something to point to," Cuban said in an interview last week from the American Airlines Center. "I think I made a nice target. It certainly was obvious that it wasn't well thought out. It certainly was obvious that it wasn't well researched. That's not what you're supposed to do when you're looking for a PR hit."
Cuban said he made a "huge mistake" because he didn't "take it seriously upfront." He said he believed that he would be able to satisfy the SEC with "one sit-down."
"I didn't realize how big a dumbass the SEC was," Cuban said. "So, I was the dumbass."
One highly discussed issue at the CLE was whether the SEC had much of a case against Cuban when it decided to investigate him. Even those speaking from the government standpoint believed the agency didn't.
"Someone with that much intelligence is not going to knowingly walk into a line of fire," said Ansley, pointing out that those who are liable of insider trading are usually not as cooperative with the SEC as Cuban was.
Ansley, a former enforcement lawyer with the SEC, disagreed about the SEC targeting Cuban because of his wealth and prominence. Rather, it had to do with the frequency of cases the SEC is expected to prosecute. The right way to look at it, Ansley added, would be for prosecutors to ask whether the case has enough legitimacy to be brought to a grand jury – an approach he said the SEC often does not take.
Eads, a former prosecutor, agreed that the SEC has flaws in its system.
"In terms of hierarchy of trial competency, the SEC isn't high on that list," she said.
When Cuban found out about his lawsuit with the SEC, Hart said he and several others encouraged him to settle. But no matter how many times Cuban was told the stress and cost of litigation was not worth his time, guilty or not, Hart said he refused to settle.
Hart said the main reason he wouldn't settle had to do with his three young kids.
"He told me, 'This is my legacy. I don't want them to look me up one day on Wikipedia and say, 'Daddy scammed,'" Hart said.
In the video interview, Cuban said he cannot give advice to others on whether to settle with the SEC, but encouraged those with the resources to fight to do so.
"If you've got resources, fight 'em, because they're not that smart," he said.
When Eads was a prosecutor, she said she loved trying people with attitudes like Cuban's because jurors often interpret over confidence for guilt.
"Jurors are amazingly perceptive," she said.
That was not Cuban's experience, Melsheimer said, since for the most part, the jury ended up having a neutral or favorable attitude toward Cuban.
"We just didn't find that many folks who were negative of Cuban," he said.
Melsheimer and the rest of Cuban's team went through tremendous preparation for the trial, which included a mock trial. During the mock, Melsheimer said the jury was mostly favorable of Cuban and anti-government. He said the jury pool for the real trial was "pretty consistent."
Though the jury selection stayed the same, other aspects of the trial differed from what was originally planned.
One example was the stress the defense ended up putting on the argument that the information about the private placement investment was widely public in the marketplace before Cuban even sold his Mamma.com shares. In the beginning, Melsheimer said his legal team focused its main argument on the credibility of Cuban's word versus Mamma.com's Fauré's word – who, he pointed out, neither side could subpoena for live testimony since he is Canadian.
Melsheimer himself was another component that made the trial much different from originally planned. Cuban already had some top-notch lawyers from Washington, D.C. and New York to defend him, but he and Hart decided to bring in Melsheimer, Dallas managing principal of Fish & Richardson who had represented Cuban on various matters since 2000, to lead the trial. The reason was simple: Melsheimer, a Dallas native, could best connect to the jury with his Texas roots.
"When you have all the facts, and you have a lot of smart legal minds, and you have someone like Tom who can communicate those issues… it was just an expensive slam dunk," Cuban said.
Cuban, in the exclusive interview, said that the SEC shamefully attacked his long-time friend and financial advisor, Charlie McKinney of Credit Suisse.
"They put a friend of mine on the witness stand and did everything they possibly could to make him look like a liar and a thief," said Cuban, who added that McKinney held his own and stuck to the truth.
At the end of the trial, Cuban says one of the SEC lawyers told him, "Tell your friend Charlie, it's just business, nothing personal."
"It's as personal as it gets," Cuban said.
Cuban said he was mostly confident that he would win the case, but when the jury walked back into the courtroom with the verdict, he said he was "scared shitless."
Many dignitaries attended the CLE, including Judge Catharina Haynes of the U.S. Court of Appeals for the Fifth Circuit, U.S. District Judge Joe Fish, Lennox International General Counsel John Torres, Blue Cross Blue Shield Executive Ron Taylor, Interstate Battery General Counsel Chris Willis and retired American Airlines General Counsel Gary Kennedy.
The CLE sponsors were Pye Legal Group, Bell Nunnally, Barnes & Roberts (a highly respected litigation support services business) and Erickson Partners.
© 2014 The Texas Lawbook. Content of The Texas Lawbook is controlled and protected by specific licensing agreements with our subscribers and under federal copyright laws. Any distribution of this content without the consent of The Texas Lawbook is prohibited.
If you see any inaccuracy in any article in The Texas Lawbook, please contact us. Our goal is content that is 100% true and accurate. Thank you.