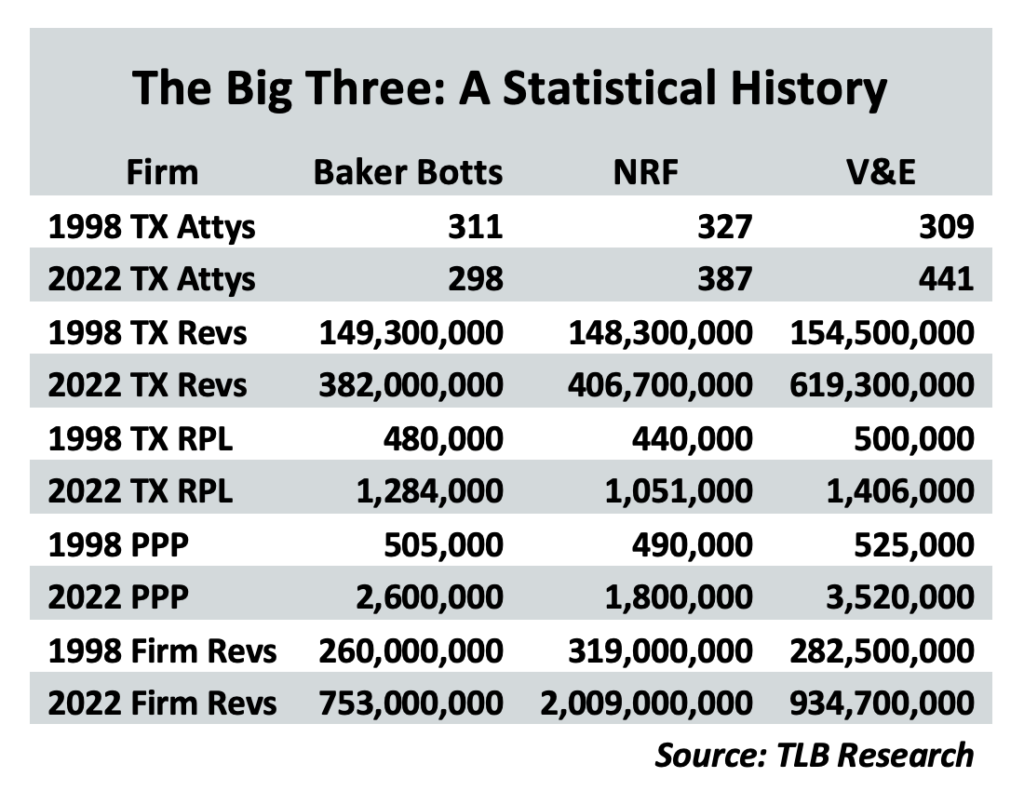 For half of a century, the Big Three dominated corporate law in Texas like GM, Ford and Chrysler ruled Detroit.
Every Texas law school graduate wanted to work at Baker Botts, Fulbright & Jaworski or Vinson & Elkins. Rookie lawyers hired by the Big Three retired there. Along the way, they served on the boards of nonprofits and chaired election campaigns of judges, mayors and governors.
Lawyers at the Big Three didn't need business development training. Corporate clients just showed up begging to pay them. Nearly all New York and Los Angeles law firms that attempted to invade Texas were quickly snuffed out.
In 1998, the Big Three had more than 940 lawyers in Texas — more than the next seven large law firms combined. Their Texas revenues exceeded $450 million — more than the total for the next eight firms. A mere $6 million separated the three firms in Texas revenues.
"The lawyers at Baker Botts, Fulbright and V&E had a certain prestige and presence and were definitely envied by the rest of the legal profession," said former U.S. Secretary of State James Baker III, who worked as a lawyer at Andrews Kurth when he graduated from the University of Texas School of Law in 1957 because Baker Botts had an anti-nepotism policy. "These were law firm giants that had the best lawyers and the best clients."
The Big Three ranked first, second and third in total revenues in Texas for more than 25 consecutive years.
"For many, many years, these three law firms were the dominant players in the Texas legal market," said Kent Zimmermann, a law firm consultant at Zeughauser Group. "They were dominant in their brand and dominant in financial performance. Because they were the Big Three for so long, it causes a level of confidence that they were the best to absorb into the DNA of the firms."
The Big Three were invincible.
Until they were not.
Between 2010 and 2022, the Big Three's share of the Texas legal market was chopped in half and then chopped in half again due to increased competition from dozens of out-of-state law firms that opened outposts in Austin, Dallas and Houston, according to legal industry analysts.
In 2020, the year of the Covid-19 pandemic, Chicago-founded Kirkland & Ellis became the first out-of-state law firm to become No. 1 in the Texas Lawbook 50, jumping over V&E, Norton Rose Fulbright and Baker Botts.
None of the Big Three did well during the Covid pandemic. They saw their revenues in Texas decline by more than 9.5 percent, according to the Texas Lawbook 50.
The good news: The amount of legal spend by corporate clients in Texas more than tripled during the past decade.
More good news: The Big Three still rank in the top five in total Texas revenues, according to the Texas Lawbook 50.
In fact, Baker Botts and Fulbright — now Norton Rose Fulbright — have way more than doubled the revenues generated by their Texas lawyers during the past two-dozen years. V&E has quadrupled its Texas revenues during that period. And the Big Three actually employ 220 more lawyers in 2022 than they did in 1998.
A quarter of a century has brought changes to corporate law in Texas and the Big Three.

Fulbright merged with a global law firm and now has more than 3,100 attorneys around the world. Houston-based Baker Botts now has more lawyers outside the state than it does within Texas' borders, and the firm's attorneys focus just as much on intellectual property and technology as they do oil and gas.
No lawyers at the Big Three in 1998 could have imagined what they would be making today. First-year lawyers earn triple today what their counterparts made 24 years ago. Partner compensation today is four to eight times higher than in 1998.
All three have more partners and even many associates billing above $1,000 an hour, and a few key partners at V&E are approaching $2,000.
Notably, each firm has faced existential threats.
"All three firms have had some very good times, and we've all had some challenges," Norton Rose Fulbright U.S. managing partner Jeff Cody told The Texas Lawbook.
For V&E, it was the Enron scandal in 2001 and 2002 – the corrupt and bankrupted energy trader was the firm's largest and most profitable client. Tort reform enacted by the Texas Legislature and enforced by the Texas Supreme Court dealt a significant blow to a litigation-heavy Fulbright in the early 2000s.
While all three firms have been victimized during the past decade by national law firms raiding their ranks, Baker Botts was clearly hit the hardest, losing scores and scores of rainmaking partners to richer elite firms. In fact, multiple sources confirmed to The Texas Lawbook that Baker Botts' leaders were actively engaged in merger discussions with the global law firm DLA Piper during the first half of 2022.
"I'm always looking at how we can strategically grow the firm," Baker Botts managing partner John Martin said in an interview. "We get a lot of interest from law firms because we have something special here. It should not be surprising that we get attention from other firms."
Nevertheless, prediction after prediction that one or more of the Big Three would fail or disappear have proven false. The firms have demonstrated their resilience. Even so, the financial success of one of the three has spectacularly exceeded the other two.
The story of the Big Three over the past two-dozen years can be told best through their firm finances.
Baker Botts
A Houston-headquartered law firm that traces its roots to 1840, Baker Botts had 311 lawyers in its Texas offices in 1998. Those lawyers generated an estimated $149.3 million with revenues per lawyer of $480,000.
The new Texas Lawbook 50 report shows that Baker Botts has 298 Texas lawyers in 2022. Despite the decline of 13 attorneys, Baker Botts' revenues in Texas hit $382.5 million last year — an increase of 160 percent.
Baker Botts' revenues per Texas lawyer jumped from $480,000 in 1998 to $1.284 million in 2022. Profits per equity partner increased from $505,000 24 years ago to $2.6 million last year. Both RPL and PPP were record highs for Baker Botts.
Firmwide revenues at Baker Botts nearly tripled — from $260 million in 1998 to $753 million in 2022.
"We had strong, broad-based performances across the firm's many offices and many practices," Martin said. "We are on a wonderful trajectory — record RPL and PPP does a lot to help retention, and it shows that our strategy is successful. People are recognizing our progress over the past four years."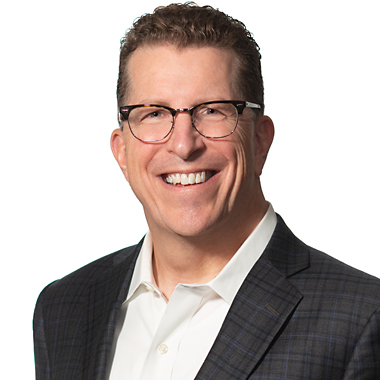 Baker Botts was involved in some of the biggest litigation disputes of 2022.
For example, Houston appellate partner Macey Reasoner Stokes represents energy companies Calpine Corporation and Talen Energy in the multibillion-dollar dispute over electricity pricing during Winter Storm Uri in 2021. That litigation is likely to continue throughout 2023.
The firm also scored several major successes in 2022 and early 2023 representing the court-appointed receiver in the R. Allen Stanford Ponzi scheme litigation. The lead partner in the litigation, Kevin Sadler, offices in the firm's Palo Alto office, but a majority of the Baker Botts lawyers who worked on the case trying to recover money for the victims of the scheme were from Texas. Sadler and his team achieved settlement agreements with five banks for a combined $1.6 billion.
Martin, who is the firm's first managing partner to office outside of Texas (he's in Palo Alto, too), said that Baker Botts' investment in lawyers who specialize in intellectual property and technology is paying dividends.
Baker Botts lawyers have 90 active patent disputes on its docket, 16 of which are scheduled to go to trial in 2023.
The firm's Texas lawyers were involved in 40 M&A transactions during 2022 that had a combined deal value of $17.3 billion, according to The Texas Lawbook's exclusive Corporate Deal Tracker, which documents transactions handled by Texas-based lawyers.
The CDT shows that Baker Botts Houston partner Clint Rancher advised investment bank Tudor, Pickering, Holt in Oasis Petroleum's $6 billion acquisition of Whiting Oil. Houston partner Joshua Davidson represented longtime Baker Botts client Shell USA in a $1.96 billion transaction. And Houston partners Dan Mark and Chuck Campbell advised the Stroller Group in its $1.2 billion divestiture to Corteva Inc. in one of the largest agriculture transactions of 2022.
"We have some solid work in the pipeline," Martin said. "We are seeing better demand and higher utilization. Demand has been up for the first three months of 2023."
Baker Botts, like all the major Texas-based corporate law firms, battles to retain its highest-revenue-generating partners from aggressive recruiting by national elite law firms opening offices.
Last year, the firm lost a dozen IP lawyers in Austin, including several partners, to McDermott Will & Emery. Earlier in 2022, Tim Durst, who was a former managing partner for Baker Botts' Dallas office, left the firm to help O'Melveny & Myers start a North Texas office.
Baker Botts ended 2022 with a significant honor. The Association of Corporate Counsel's DFW Chapter and The Texas Lawbook awarded its 2022 DFW M&A Transaction of the Year honor to Celanese Corporation's $11 billion acquisition of a majority ownership in DuPont's mobility and materials business – a deal that closed in November.
While Kirkland was lead M&A counsel for Celanese, the company's general counsel, Lynne Puckett, hired Baker Botts to handle the highly complex antitrust issues that stood in the way of the deal being closed.
Puckett worked with Baker Botts partner Catriona Hatton at Hogan Lovells prior to Puckett going in-house. Hatton co-chairs Baker Botts' global antitrust and competition law practice.
"Catriona and her team not only have extensive expertise but were also a pleasure for our internal legal and business team to work with during what proved to be a tight timeline to secure antitrust approval by our target close date," Puckett told The Texas Lawbook. "Deal after deal, Catriona and her team deliver results and have a wonderful way of working with the business leaders to minimize the pain of data collection while helping understand the true market competitive drivers. They also have a transparent and clear communication style with both the client and the commission, which I value greatly."
Norton Rose Fulbright
In 1919, Rufus Clarence Fulbright and John H. Crooker started a Houston law firm to represent businesses. A dozen years later, the firm hired Leon Jaworski, who would soon be heralded as one of the nation's greatest trial lawyers and a Watergate prosecutor. The firm later added Jaworski's name to the front door.
By 1998, Fulbright & Jaworski had grown to 641 attorneys, including 327 lawyers in Texas, and developed the reputation as one of the nation's great trial law firms.
The same year, the firm reported its total revenues of $319 million — $148.3 million from its Texas lawyers. Revenue per lawyer was $440,000 in 1998, while profits per partner stood at $490,000.
In 2007, Fulbright had grown to 936 lawyers firmwide but was losing ground to its two biggest competitors on the financial side of the ledger. The firm's profits per partner stood at $775,000, compared to $1.2 million at V&E and $1.3 million at Baker Botts.
When the elite national law firms, such as Latham & Watkins, Gibson Dunn, Simpson Thacher and Sidley Austin started opening and expanding offices in Texas in 2010, 2011 and 2012, Fulbright saw several of its corporate transactional lawyers jump to other higher compensating law firms.
The firm decided that it needed to grow and grow faster than simply hiring individual lateral hiring would provide. In 2013, Fulbright leaders stunned the Texas legal community by announcing it was combining with London-based Norton Rose, which had more than 2,000 attorneys throughout Europe and Asia.
After a few years of struggles, the U.S. operations of Norton Rose Fulbright, which has a Swiss verein business structure, hit record revenues in Texas in 2022.
Texas lawyers for Norton Rose Fulbright generated $406.7 million in 2022 — up from $383 million in 2021, according to Texas Lawbook 50 data.
The revenue gains are the result of the firm adding 21 attorneys — for a total of 387 — in its Texas offices and a slight $4,000 increase in revenues per lawyer, which stood at $1.051 million in 2022.
Norton Rose Fulbright doesn't provide profits per partner data, but two sources at the firm said it was between $1.5 million and $1.7 million.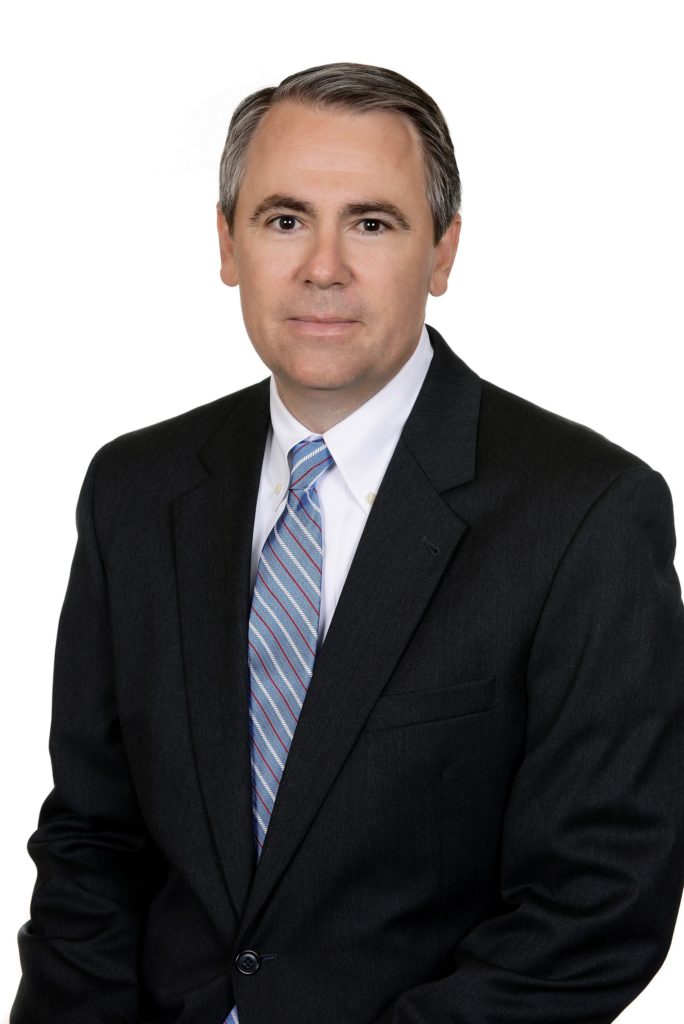 "Our growth in headcount was intentional," Cody said. "In 2021, we did our five-year roadmap and part of it was growing the firm.
Cody said the first half of 2022 was slower but legal demand started increasing in September in practices such as project finance, renewable energy transactions, complex commercial litigation and cybersecurity.
The Corporate Deal Tracker database shows that Norton Rose Fulbright lawyers in Texas were involved in 35 transactions in 2022 with a combined value of $4.37 billion. Houston partner Brian Fenske represented Canada-based Enerflex Ltd. in a $735 million acquisition of assets from Exterran Corp. Houston partner Craig Vogelsang was the lead advisor for BP in the $464 million sale of assets to Cenovus Energy.
Norton Rose Fulbright Austin partner Becky Diffen is a star in the energy renewable transaction space. Last year, she led four significant transactions, including two for Madrid-based Matrix Renewables.
The firm also has key clients in the multidistrict litigations involving Winter Storm Uri and Astroworld, the 2021 tragedy at a Travis Scott concert in Houston in which 10 people died.
Cody said that 2023 has started strong.
"The demand has increased each month over month, and March has been the best," he said.
The merger with Norton Rose in 2013 has paid dividends, according to Cody.
Texas Lawbook 50 data shows that Norton Rose Fulbright's revenues in Texas jumped from $311 million in 2015 to $397 million in 2019. The firm's Texas revenues dropped 12 percent to $348.7 million in 2020 during the Covid pandemic, as nearly all courthouses were closed.
"Groups of our partners benefited right away because it changed the types of matters we were asked to do," Cody said. "I expect all three firms will continue to compete aggressively."
Vinson & Elkins
Two years after Fulbright started his law firm, two Houston lawyers — William A. Vinson and Judge James Elkins — started their own practice that is now Vinson & Elkins.
V&E grew steadily throughout the 1980s and 1990s based on its deep roots in the oil patch and garnered the title "the world's leading energy law firm" from Petroleum Economist magazine. But the firm also sported a strong complex commercial litigation practice that featured stars Harry Reasoner, Paul Stallings, John Murchison and Knox Nunnally.
In 1998, V&E had 309 lawyers in its Dallas, Austin and Houston offices who generated $154.5 million in revenues. Firmwide, V&E was growing in London, New York and Hong Kong, with 561 lawyers in all and revenues of $282 million. That year, the firm's revenues per lawyer were $500,000 and profits per partner were $525,000.
Then V&E's largest and most profitable client, Enron, went bankrupt in 2001 amid a financial fraud scheme that sent its CEO, CFO and president to federal prison.
Many legal analysts predicted V&E's demise.
They were wrong.
Major companies, such as Shell Oil, Pioneer Natural Resources, Dell and Southwest Airlines, stuck with the firm's lawyers.
In fact, Texas Lawbook 50 data shows that V&E has thrived during the past several years and has separated itself — at least on the financial spreadsheets — from its two long-time Texas competitors.
V&E had 440 lawyers in its Texas offices in 2022 — down from 454 a year earlier. Even so, the firm's lawyers in Texas generated a record $619.3 million last year – up from $601.3 million in 2021.
Firmwide, V&E's 729 attorneys garnered $934.7 million in revenues in 2022.
Most impressively, revenues per lawyer in Texas grew from $1.325 million in 2021 to a record $1.406 million in 2022, according to Texas Lawbook 50 data.
V&E's profits per partner also hit a record high in 2022 at $3.52 million.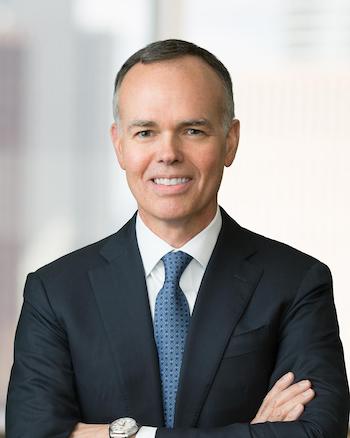 "In the beginning of 2022, it seemed like everything slowed or stopped because of inflation, rising interest rates and the war in Ukraine," V&E chair Keith Fullenweider said in an interview. "Given all the macro headwinds, we just wanted to maintain our tremendous gains from 2021."
"But energy transition and infrastructure work really kicked it up in the second half of 2022 as a result of the IRA [Inflation Reduction Act]," he said. "Demand started going up in September. January and February of this year were well above last year."
The Corporate Deal Tracker shows that V&E lawyers in Texas worked in 102 transactions with a combined deal value of $76.9 billion.
For example, V&E Houston partners Kaam Sahely and Alan Alexander were the lead lawyers representing Chevron Phillips Chemical in its $8.5 billion acquisition of Golden Triangle Polymers. And Houston partners David Oelman and Steve Gill were the lead advisors for Oasis Petroleum in its $6 billion acquisition of Whiting Petroleum. Oelman also represented Oklahoma oilman Harold Hamm in the $4.8 billion take private transaction of his company, Continental Resources.
V&E Houston partner James Thompson also scored a huge $94 million courtroom victory in 2022 for client Huntsman Corp. in a long-running contract dispute against Praxair and Linde involving Huntsman's chemical plant in Geismar, Louisiana. In addition, several V&E partners, including Pat Mizell, Stacy Vu, Quentin Smith and John Wander, represent Oncor Electric in the Winter Storm Uri litigation.
Fullenweider pointed out that V&E added a group of nine energy regulatory lawyers from Gibson Dunn.
"They will be in our Washington, D.C., office but having them onboard will result in a lot of work for our existing Texas clients and bring us new clients with them," he said.
Conclusion
The financial fortunes of the Big Three have changed since 1998.
Profits per partner that year stood at $490,000 for Fulbright. Baker Botts' PPP was $505,000. V&E reported $525,000. A mere $35,000 separated them.
Since then, Norton Rose Fulbright has tripled its PPP. Baker Botts' has quintupled. V&E's has septupled.
But all three law firm leaders need to remember the words of former V&E partner and trial lawyer John Murchison, who upon being congratulated after V&E officially survived the Enron scare said: "The news of our survival is greatly exaggerated."
Publisher's Note: This is part two in the Texas Lawbook 50, a series of articles about law firm finance. Part one focused on the Houston litigation boutique Susman Godfrey. Upcoming articles will focus on lawyer headcount, lateral recruiting and the Top 50 Texas firms by revenue.