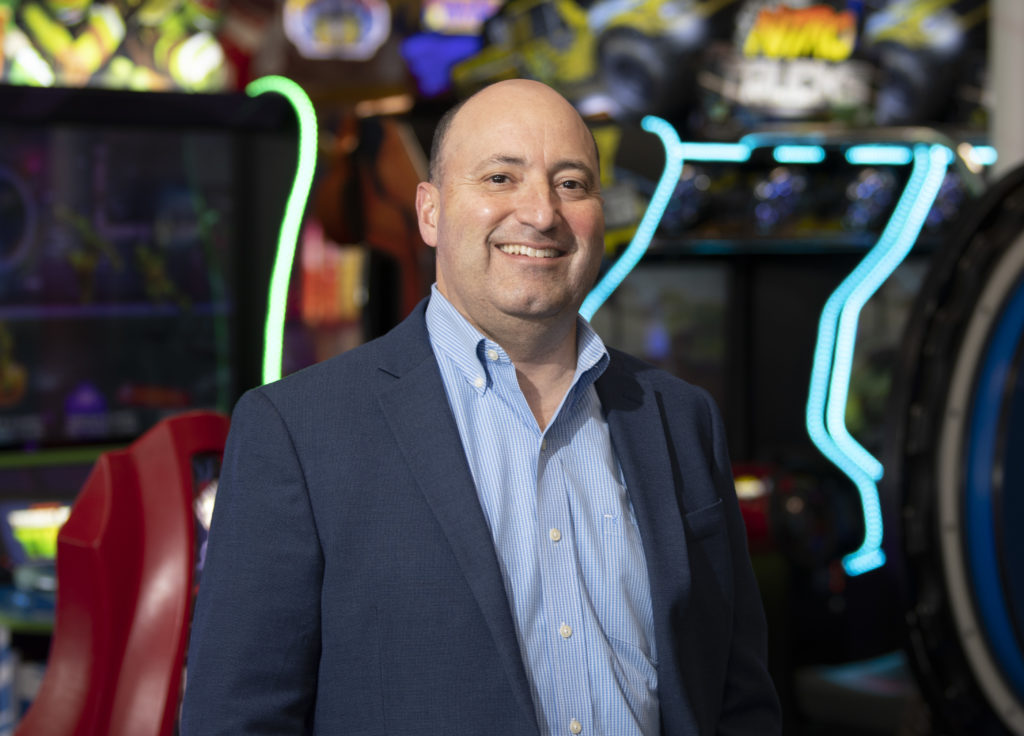 Rudy Rodriguez
CEC Entertainment entered 2020 riding record revenues and profits by selling pizzas and wholesome family fun at the company's 741 Chuck E. Cheese and Peter Piper restaurants operating in 47 states.
The business seemed recession-proof. In good economic times and bad, Chuck E. Cheese was an affordable escape for entertainment for parents and their children. Outside of World War III or some kind of crazy global disease or virus that would cause people to fear leaving their homes, nothing could knock CEC off its strategic growth plan.
"Seriously? A pandemic?" CEC Entertainment Chief Legal Officer and Chief Human Relations Officer Rudy Rodríguez, Jr. said. "At least it wasn't a war."
No corporate in-house counsel saw her or his world turned upside down any faster or more severely than Rodriguez did last year.
First, CEC restaurants in the Northwest were closed. Within days, New York shutdown all indoor dining. By March 15, all of the company's restaurants were shuttered except for takeout orders. Emergency corporate board meetings were held. Thousands of workers were furloughed, and those in the support centers were sent home to work remotely. Then came the layoffs.
Finally, there was bankruptcy.
"Like other viruses and the flu, it seemed like it would be something that we would need to be careful about, but we had no idea it would shut us down," Rodriguez told The Texas Lawbook. "Revenues dropped to pennies on the dollar. We had no money coming in."
Rodriguez personally called scores of CEC employees to keep them updated on everything from possible store reopenings to benefits the workers could get under the CARES Act.
PREMIUM SUBSCRIBERS: For a special Q&A with Rudy Rodriguez CLICK HERE.
"I know these people and I know their family situations," he said. "I had to tell them they were going to stop getting paychecks. More than once, my employees expressed their sympathy to me for having to make those calls. That was heartbreaking to me, and reinforced just how cruel last year was. How can these folks apologize to me when they are the ones suffering? That's how amazing they are."
"I would hang up from the calls, hug my wife and just cry," he said. "It was just horrible. It was the most heartbreaking situation I have faced in my life."
CEC survived bankruptcy and successfully restructured. Chuck E. Cheese stores are reopening, and Rodriguez has now experienced the joy of calling people back to work.
The Association of Corporate Counsel's DFW Chapter and The Texas Lawbook, citing Rodriguez's extraordinary legal work last year under such extreme pressures, have named him a finalist for the 2020 DFW Outstanding Corporate Counsel Award for General Counsel of the Year for a Small Legal Department.
"The circumstances that Rudy has navigated to lead CEC through the past year have been extraordinary, and he has been fiercely effective through it all," said Paul Genender, a partner at Weil, Gotshal & Manges, who nominated Rodriguez for the honor.
"Rudy has an amazing ability to be nimble and reorient both himself and his team as needed to meet critical challenges," said Genender, who was part of the Weil bankruptcy team that represented CEC. "Perhaps even more importantly, Rudy is simply a great people-person."
As the crisis commanded 12-to-15-hour workdays for Rodriguez and his team, CEC added a new project to their plate: The creation of a new entity called Pasqually's Pizza & Wings, a delivery service that offers more adult flavors. Beyond the legal formation documents, the CEC legal team negotiated agreements with vendors and delivery services and navigated the tricky regulatory framework needed to launch the initiative.
Akin Gump partner Michelle Reed describes Rodriguez as "a Renaissance lawyer."
"Rudy develops creative solutions to solve complex legal problems," Reed said. "As Covid-19 emerged as a threat to businesses everywhere, Rudy worked incredibly hard to innovate ways to protect the company. He has a keen legal mind and is always willing to dig in on challenging topics and emerging legal issues, asking the right questions and not shying away from the hard decisions."
Reed, Genender and others who work with Rodriguez regularly say his success is a combination of his legal and business acumen.
"Rudy sees the whole board. He understands not just the legal issues but the personal dynamics in which those issues are wrapped," said Ron Chapman, a shareholder at Ogletree Deakins. "Rudy actively encourages input from others and then actually listens. Despite all his success, Rudy wants to know what others think, ensuring that an issue is fully analyzed before a decision is made."
Rodriguez said he could never have achieved success last year without the help of his paralegal, Vernell Mobley. And he heaps praise on David Deck, who is vice president of legal and compliance at CEC.
"The enormous task of keeping up with the regulations was handled by David, who in my opinion has done this better than any person in the country," Rodriguez said.
Deck is a finalist for the 2020 DFW Senior Counsel of the Year Award.
'Education is Everything'
Rodriguez was born in Sinton, which is about 30 miles north of Corpus Christi. His father was a high school history teacher. The Rodriguez family spent much of the 1960s "following my dad around the country getting degrees."
The family moved to Flint, Michigan, where his father, Rudy Rodriguez Sr., enrolled at Central Michigan University and earned a master's degree. His father was the first in the family to go to college.
"To my parents, a great education is everything," he said. "They preached it and lived it."
In 1970, the Rodriguezes moved to Fort Worth, where his father became the first director of the bilingual education program at the Fort Worth Independent School District. Three years later, they relocated to Albuquerque so his dad could get a doctoral degree at the University of New Mexico. In 1975, the family moved to Denton, where Dr. Rodriguez began a 25-year career at Texas Woman's University specializing in training future bilingual education teachers. He later became chair of the Curriculum & Instruction Department within the College of Education at TWU. He finished his career at the University of North Texas.
Rodriguez said "the pinnacle of his [dad's] service" came in 2008 when he became the first Hispanic elected to the Denton ISD board of trustees – a position he held for two terms.
Rudy Rodriguez with David Deck
But Rodriguez's father was not the only educator in the family. His mother, Rosemary Rodriguez, spent the first 15 years of his parents' marriage supporting his father and working secretarial jobs until they moved to Denton, where she "began her own career journey," he said.
"She resumed her education at a furious pace, earning both a bachelor's and master's degree in education, specializing in counseling and guidance at TWU in two short years between 1981 and 1983," he said.
Rosemary Rodriguez worked as a school social worker within the Denton public schools and earned a master's degree in social work at the University of Texas at Arlington in 1992. She retired as head social worker for Denton schools in 2007, though she is regularly appointed by family court judges as an expert witness in child custody disputes.
In 2017, the Denton Independent School District honored his parents' contributions to education and Denton by putting their name on a new school – the Rudy and Rosemary Rodriguez Middle School. (For more on the Rodriguezes, click here.)
"My sisters and I are incredibly proud of my parents, and their shoes are quite difficult to fill," Rodriguez Jr. said. "Their passion for education and commitment to their profession and community have been qualities I've emulated and attempted to instill in my own children."
'Change Your Major' and 'Apply for Me'
Rodriguez enrolled at Texas A&M in 1984 to study bioengineering.
"Having participated in a summer internship with a neurobiologist at the University of Texas at Dallas in high school and a program to introduce minorities to engineering at Texas A&M as I was considering my college options, I thought that I might enjoy a career in science, engineering or medicine," he said. "As it turned out, I was very wrong – the bioengineering curriculum at A&M was well outside my comfort zone."
Rodriguez admits he struggled his first semesters at Texas A&M.
"Rudy was majoring in biomedical engineering, [but] he didn't like physics, didn't like math, and didn't like chemistry. He hated all his classes," Dr. Derrick Robinson, his college roommate at the time, told The Texas Lawbook. "He loved reading and politics and following world events.
"Why don't you just switch majors," Robinson asked Rodriguez.
"What I think is that he wanted to impress his family by being a physician," said Robinson who is now a nephrologist in North Carolina. "He never actually wanted to be a physician in my opinion. Me saying that kind of unburdened him and he switched quickly. Next thing I know he gets into Harvard.
"Still waiting on my finder's fee," Dr. Robinson said.
Rodriguez said that conversation "changed my life forever."
"For some reason, that thought had never occurred to me, but the instant he said those words, it was as though a veil was lifted from my eyes, and for the first time I began to consider another path," Rodriguez said.
Rodriguez had no lawyers in the family, but his interest in law grew out of his fascination with politics and political leaders, "whom I considered noble, brilliant and great speakers."
"My father had an album of some of JFK's speeches that I would play over and over after school when we lived in Albuquerque, and I would try to parrot his speaking style," he said. "My early heroes were Lincoln, Kennedy, Martin Luther King and Jesse Jackson, and I dreamed of someday entering the political arena and becoming the next great orator.
"When I looked at the early careers of presidents and congressmen I admired, I noticed that most were lawyers," he said. "I decided I was going to change my major to political science and apply to law school.
"Mind you, I had no idea what lawyers actually did, other than that many of them became great speakers and political legends, but that was good enough for me at that time," he said.
A prelaw college counselor encouraged Rodriguez to go to law school in Texas.
"When I told my father where I was thinking of applying and that most of my applications were going to Texas schools, he asked me why I was not applying to Harvard," he said. "The thought of applying to Harvard, much less the possibility of actually getting in, had never even occurred to me. I told him I thought my chances of getting in would be slim to none.
"Just apply for me," Dr. Rodriguez pushed back. "Do it for me."
"As it turned out, this conversation with my father was another life-changing moment for me," he said. "I will never forget the day I received the letter of acceptance from Harvard, and I'll never stop thanking Derrick and my father for changing my life with just a couple of simple sentences. 'Change your major.' 'Apply for me.'"
Rodriguez graduated from Harvard University Law School in 1990 and spent part of a year as briefing attorney to then-Texas Supreme Court Justice Lloyd Doggett.
In 1991, he joined Locke Purnell Rain Harrell as an associate in the firm's commercial and employment law practice.
"I learned about integrity, patience and attention to detail from lawyers like Harriet Miers, Liz Lang-Miers, Mike Powell and Robert Beatty," he said. "And though I did not work with them directly, I also learned a great deal from Morris Harrell and John Estes – two legal giants with very different styles."
A headhunter called Rodriguez in 1997 about an opening in the in-house legal department at American Airlines. Three years later, he was promoted to general counsel of American Eagle Airlines.
Less than a year after taking on his new role, the Sept. 11, 2001, attacks occurred, which involved two American Airlines jets.
"It was awful," he said. "There was a palpable feeling among my colleagues that we had lost members of our family in those planes. We were heartbroken. The stories that were told later made it clear that they all died as heroes. I will forever be proud to have been part of the American Airlines family."
Dinner a Decade Earlier
In 2003, Rodriguez went back to private practice, spending nine years at Godwin Gruber and then Gruber Hurst.
But he had a desire to return in-house.
In 2004, Rodriguez and his wife Stacy Jordan Rodriguez, daughter of Darrell Jordan, had dinner with then CEC president Roger Cardinale and his wife at Terilli's on Greenville Avenue.
"Our wives grew up together here in Dallas and are very good friends," he said. "I mentioned to him that I would love to talk to the company if they were ever looking for a general counsel."
Nearly a decade later, CEC's new CEO, Tom Leverton, asked Cardinale if he knew of anyone in Dallas whom he should talk to about the position.
Rodriguez, who joined the legal department at J.C. Penney in 2012, was the perfect person for the job because he had experience handling several employment class action lawsuits. CEC faced a handful of similar cases at the time.
He became CEC general counsel in November 2014. A year later, the company added risk management to Rodriguez's duties. In 2016, he took over licensing and internal auditing duties. Finally, the company named Rodriguez chief human resources officer and chief legal officer in 2018.
"I was most proud of the team I had built," he said. "Starting with a team of two lawyers and one paralegal when I joined the company, by the end of 2019 my team had grown to 33 employees. From top to bottom, the team was very diverse, creative and talented. They worked very hard to help the company succeed, and it was my honor to lead them."
CEC started 2020 with a leadership change when the company's board selected David McKillips, who spent a decade leading the Six Flags organization, to be its new CEO.
Just as the new leadership team was planning to implement some new strategies, Covid-19 hit.
McKillips put Rodriguez in charge of a cross-functional crisis task force with the mission of understanding the virus and implementing measures the company would take in response.
In most respects, the decisions were made by state and local officials. By March 15, nearly all Chuck E. Cheese and Peter Piper restaurants were closed.
"For a couple of months, I convened regular calls with general counsel at other restaurant and family entertainment brands in the DFW area, including Dave & Busters, Main Event, Urban Air, Corner Bakery, Pizza Hut and others," he said. "We compared notes and shared any information that we thought might be helpful to each other as we began navigating through the crisis."
As revenues plummeted, Rodriguez and his legal and HR teams were asked to plan and lead furloughs, which soon turned into layoffs of thousands of employees nationwide. His own team was decimated – cut from 33 people to 14.
Rodriguez studied the CARES Act, which expanded the availability and amount of unemployment insurance available to the company's furloughed employees. He and his team became "experts in the patchwork of state unemployment rules and regulations and helped our employees obtain all the relief that they possibly could.
"For months after the shutdown I issued regular email communications to all our furloughed employees to keep them apprised of developments in the company and providing information on financial and other relief available through governmental and nonprofit sources," he said.
"Having to call so many people week after week and tell them that we could not predict when the furlough would end, when I knew that they were growing increasingly desperate, were frightened and had unimaginable stress, was the hardest thing I've ever done," he said.
CEC officials certainly tried to be creative. In April, the company quietly started a "ghost kitchen concept" called Pasqually's Pizza & Wings, which is a more "adult version" of food and flavors from Chuck E. Cheese.
"Again, Rudy and his team sprang into action to help create the new entity, forge agreements with delivery services and navigate the numerous regulatory and operational challenges associated with launching a new platform to help provide a much needed revenue stream," Genender said.
Pasqually's was a brainchild of the CEO and CEC's marketing team.
"Covid didn't complicate [the creation of Pasqually's] – Covid made it necessary," Rodriguez said. "The complete shutdown of our in-store experience left us with no choice but to improve our delivery and carryout offerings if we were to earn any revenue at all."
By late April, it was clear the pandemic's impact put CEC on a doomed course.
Rodriguez interviewed two law firms, Kirkland & Ellis and Weil Gotshal, to represent CEC in preparing for and filing for bankruptcy. He recommended Weil and the CEC board agreed. New York partner Matt Barr and Houston partner Alfredo Perez played lead roles in the restructuring.
On June 24, CEC Entertainment filed for protection under Chapter 11 of the U.S. Bankruptcy Code in the Southern District of Texas.
"Looming payments on our credit facilities, monthly rent obligations that we knew we could not put off forever and the plunge in our revenues all soon led the board to conclude that we had to file for Chapter 11 to protect the entity and ensure its long-term survival," he said. "We decided to file in the Southern District due to its proximity to our home office and because of the bankruptcy expertise and excellent reputations of its two sitting judges."
CEC reported $874 million in debt.
"The company filed to continue discussions with financial stakeholders, as well as critical conversations with its landlords, in order to achieve a comprehensive balance sheet restructuring that would support its reopening and longer-term strategic plans," Genender said.
"Rudy helped CEC navigate a vast array of extraordinarily complex issues," Genender said. "He participated in meetings and calls virtually every day with the advisors, the company's executive team, board and restructuring committee to overcome those challenges."
Rodriguez said the bankruptcy process was monumental in its effort, identifying every single contract and lease agreement.
"David and I were doing everything – taking recommendations from Weil, preparing and providing documents, keeping the board and CEO fully informed," he said. "The number of people and departments touched by the restructuring was immense."
U.S. Bankruptcy Judge Marvin Isgur, during the first day hearings on the bankruptcy, said Chuck E. Cheese "is part of the fabric of America" and that he was "not going to let this company go away."
On Oct. 13, Judge Isgur approved $200 million in debtor-in-possession financing, which provided CEC the funding it needed to continue operations.
CEC announced Oct. 29 that it reached an agreement with the unsecured creditors that eliminated $489 million in debt – a deal that was approved by the court Dec. 15.
"The restructuring went as well as we could have possibly hoped, thanks to the incredible and tireless work of my colleagues, the Weil team, and the teams at our outstanding consultants at FTI Consulting, PJT Partners and Hilco," Rodriguez said.
Court records show that the legal and financial advisors have been paid about $25 million for their work on the restructuring.
"Yes, this has been an incredibly expensive process, but we are in a lot better situation today than we were a year ago," Rodriguez said. "It was definitely worth it."
Lawyers who know Rodriguez the best say he continues to impress them.
"Rudy is fiercely smart and detail oriented," said Polsinelli shareholder Michael Pegues, who has known the Rodriguezes for more than two decades. "Rudy is compassionate about both his work and about the people he works with. He's the kind of person who just reaches out to you if he hasn't heard from you in while."
Akin Gump partner Michelle Reed agrees.
"Rudy is a fierce lawyer with a H-U-G-E heart," Reed said.
She points to a situation several years ago when she was working with Rodriguez on a project when she received a call from the hospital about her son undergoing a complex spinal surgery. Rodriguez, she said, immediately rescheduled the meeting to allow her to focus on her son.
"When we returned from the hospital, we were greeted with a personalized note and certificate from Chuck E. Cheese himself and a Chuck E. Cheese stuffed animal that still graces my teenage son's room," Reed said. "I was so humbled that he took the time to care for my family and over time, I have realized that this is core to who he is. People come first with Rudy and because of that, he has a devoted team that solves incredibly complex problems."