Debbie Bartlett was in her senior year of college at University of South Florida when she made her first visit to the campus counselor.
Born and raised in a rural Alabama town about an hour north of Birmingham, Bartlett had no plans for her future other than to make sure she had one.
"I never dreamed about being a lawyer," she said. "I was struggling to make a life and get an education and never really thought much about what would come next."
The counselor gave Bartlett a psychological profile exam to gauge her career interests.
"I had a tie for the top career – either a lawyer or a movie director," she said. "Easy to see that I wasn't a great movie director candidate – although I sometimes regret not having tried this path – but the only lawyers I was familiar with were ambulance chasers and PI litigators."
"The counselor had to explain to me that there were such things as corporate lawyers," she said.
Barlett agreed to take the LSAT.
"Miracles upon miracles, I scored in the top two percent," she said.
Three-decades later, Bartlett is retiring as the senior counsel for mergers and acquisitions at Texas Instruments, where she led or played a critical role in 208 domestic and international transactions.
In all, Bartlett was involved in 54 acquisitions at TI with a combined deal value of more than $15 billion.
In January, the Association of Corporate Counsel's DFW Chapter and The Texas Lawbook honored Bartlett with the 2022 DFW Corporate Counsel Award for Lifetime Achievement.
Premium Subscribers: For an exclusive Q&A with Debbie Bartlett regarding her in-house experiences and standards for hiring outside counsel, Click Here.
"Debbie is a wealth of information within TI due to her knowledge base regarding these acquisitions and unique perspective in handling them," said Shearman & Sterling partner Alain Dermarkar, who nominated Bartlett for the award. "Her dedication to TI has been second to none, including requiring extensive international travel on numerous occasions to places such as Germany, Israel and Japan.
"Debbie is tremendously detail-oriented and a tenacious negotiator who has always made every effort to protect and promote TI's interests in every transaction," Dermarkar said.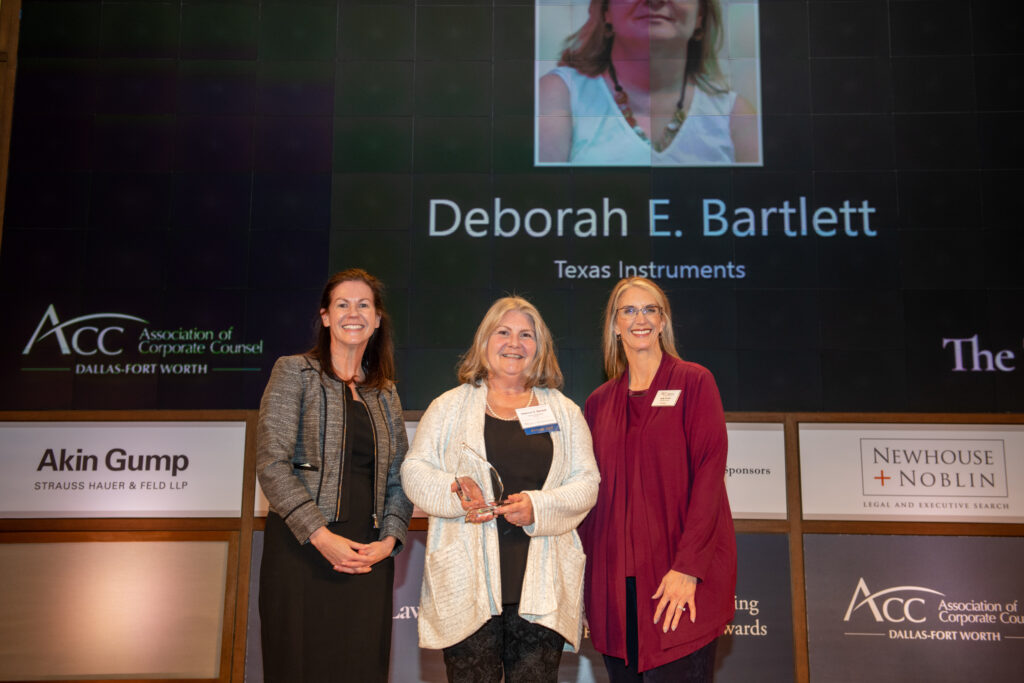 Bartlett's colleagues in TI's legal department say that she excels at clearing any hurdle to getting a win for the company.
"She always knows, or takes care to find out, what the most important business win of a deal is, then fights for it aggressively," said TI Assistant General Counsel Katie Kane. "If TI needs a deal done, Debbie will stop at nothing to bring it across the finish line. Debbie's a fighter, and one you'd always want on your side."
Robert Cardone, a partner at Shearman who has worked with Bartlett for many years, said she is "tenacious in protecting TI's interests."
"She chases down every loose end and any loophole where TI could be vulnerable and she never takes shortcuts," Cardone said. "She has lots of experience and knows where to look to find problems and issues that need to be resolved.
"For instance, she will always ask detailed questions from the other side and will not put up with evasive answers, and she is known for keeping her own checklist of every detail down to the defined terms, checking every item off of her list.," he said.
Bartlett said the practice of law changed significantly during her career.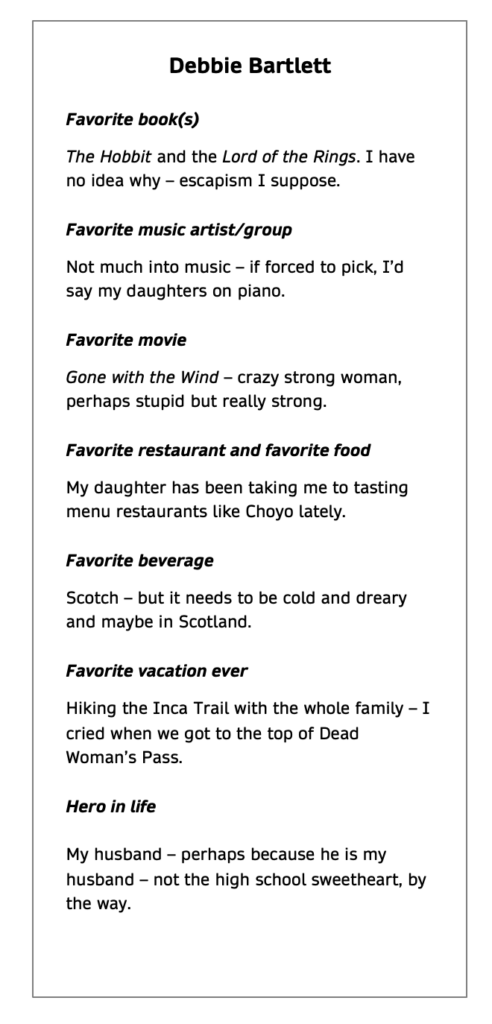 "Technology has made things easier and where you can concentrate on what is important but has also reduced the time frame in which things are expected to happen," she said. "Glad to no longer have to manually red-line documents with a ruffled ruler."
Bartlett describes her childhood as "a bit unusual."
Bartlett grew up in Cullman, an Alabama town of about 12,000 people just off I-65 – an interstate that runs through the middle of her grandfather's farm.
Her parents built a store near the highway exit called Jack's Truck Stop – a business that was successful for more than 50 years. Bartlett's brother continues a portion of the business called Jack's Western Wear, which is one of the largest western wear stores in the Southeast.
"Odd as this childhood seems, it taught me the intricacies of business from the inside, and it also gave me broader horizons than otherwise would have been available to a young woman growing up in such a rural part of the world at that time," she said.
"All was not rosy," she said. "My father was a violent alcoholic, and consequently I left home as soon after high school as possible – marrying my high school sweetheart just five days after graduation."
Soon after high school, Bartlett became an air force bride and struggling to find ways to get the college education she desired. She earned an associate degree from Georgia Military Academy – an institution that provided on-base college classes to military personnel and their families.
Bartlett worked for a few years at a bank doing data processing. The bank paid for her tuition and books as long as her degree related to the banking profession.
"My plan was to enter the bank's management training program after graduation," she said. "Then, in my last semester, a very fortunate thing happened. My chain of banks was acquired by another chain of banks, and the buyer refused to take any of my bank's employees into the management training program."
That's when she visited the university counselor and took the LSAT. She went on to attend Duke University School of Law, where she graduated in 1986.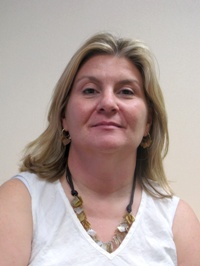 Bartlett said the only lawyers in her family were distant cousins, whom she describes as "small-town, do-everything kind of lawyers."
Like many first-year law students, she questioned her career choice, but she hit her stride in year two when she took more business-related courses.
"I knew I had found my path," she said. "I was even asked to drop corporate finance because I clearly knew the subject matter and was intimidating the other students. I was once asked in an interview if I really wanted to be a lawyer or whether I would prefer being a businessman. I think this was a dig, but I take pride in having been asked such a question."
"I think I have always had a very strong business sense and that guides my legal work, especially as in-house counsel for TI where I've been long able to wear a business hat as well as my lawyer hat," she said.
After practicing for eight years at Jones Day, Bartlett joined TI's legal team in 1995 – a time when she said the company was a not very profitable conglomeration of diverse, unrelated businesses. But through M&A activity, it became the number one analog semiconductor company in the world.
During those 27 years, Bartlett's team did more than 75 acquisitions, an equal number of divestitures, more than 80 investments or other equity-related transactions and nearly a dozen joint ventures and venture capital investments.
"These deals happened in all parts of the world," she said. "To be a part of that, as you might imagine, was absolutely a wild ride, and one that had — and continues to have — real world consequences."
In 2021, Bartlett led TI's acquisition of a wafer manufacturing facility in Lehi, Utah, from Micron for $900 million.
The deal enables TI to continue to expand its manufacturing capacity at a time when demand for semiconductors is exploding.
"It was a complex transaction using a new structure that enabled TI to get production started much more quickly than had historically been possible," she said.
Bartlett served as second chair for TI's $6.5 billion cash acquisition of National Semiconductor in 2011. Her primary responsibility was getting antitrust clearance in China — something all M&A dealmakers involved in semiconductor-related transactions understand can be quite complicated.
The most complex transaction — and "most rememberable" one — Bartlett handled in her career, she said, was "the first substantively real tender offer for a public company in Germany."
TI was heavily invested in an early cell phone technology called Global System for Mobile Communications, or GSM, which more popularly went by "2G."
About 80 percent of the world used GSM cell phones, and TI's technology was in every one of those," Bartlett said.
"This relatively small software company in Berlin provided an essential link for that technology, and TI had partnered with it for several years since before it became a public company," she said. "Around 2002, TI decided we had to own the company, and I headed out to Germany to do the acquisition, only to learn that Germany had only recently enacted laws making tender offers possible.
"We wound up creating the law as we went along — often having to persuade government officials to adopt a more U.S.-versus-U.K. approach to the law," she said. "Unfortunately, we became the target of German lawyers also seeking to develop the law."
Bartlett said several activist shareholders brought various lawsuits to test the new law, but TI was eventually successful in all the litigation.
"Alas, not so successful with the business, as the GSM technology was overcome by Qualcomm's TDMA technology," she said. "The business was shut down before the litigation ended eight years later."
Bartlett said her best day in 27 years at TI was when the Chinese government gave clearance "in record time with no concessions" for the National Semiconductor acquisition.
Her worst day?
"Probably when our newly appointed CEO resigned during the 'MeToo' era," she said. "TI is an incredibly ethical company and absolutely great place to work. To suddenly hear that we had promoted someone who did not adhere to those same principles to the CEO position was a huge disappointment. Kudos to TI for taking immediate action to replace him."
Cardone said younger lawyers should look to Bartlett and her career as a model.
"There are a lot of different approaches to being an in-house lawyer," he said. "Debbie is one of the few that combines being a hard worker and digging into the details of the transaction documents and negotiations with also being respected within her internal organization such that people listen to her views and take her advice."
TI's Katie Kane said that most impressive thing about Bartlett is "her fierceness."
"Debbie brings it to everything she does, from getting the best deal for TI to raising her family with love and care to advocating for anyone in need," Kane said. "I strive to emulate this about her."