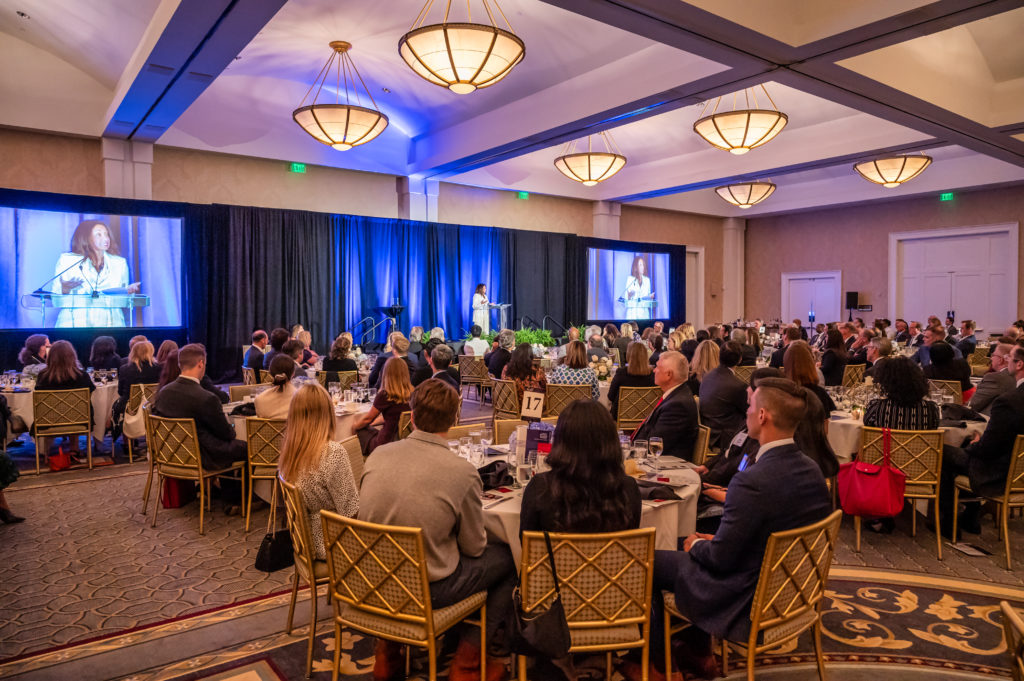 Scene from the Texas General Counsel Forum Dedman Award Dinner
Shonn Brown remembers the first deposition she ever attended as a rookie lawyer at Locke Lord. A fellow associate, Julia Simon, was examining a witness.
"It was an experience to behold," Brown recalls. "It wasn't just her skill in examining the witness ― it was her preparation. It was her diligence. It was her zeal in representing her client and, most memorably for me, how she engaged with outside counsel who, let's just say, didn't know who Julia Simon was or wasn't prepared for what he would be in store for that afternoon. But he quickly learned."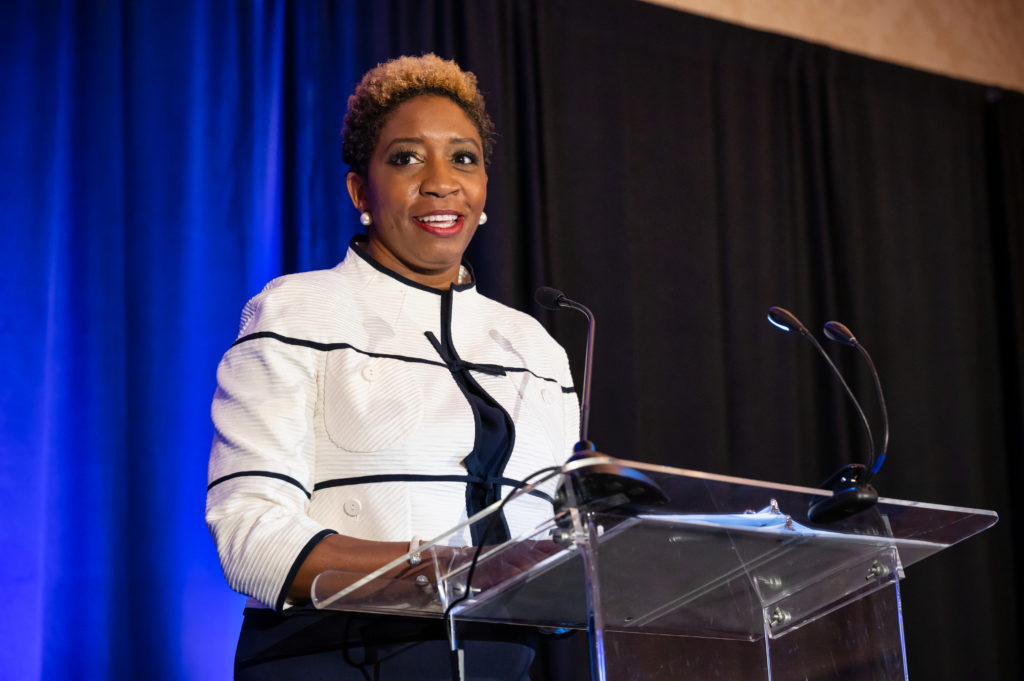 Twenty-five years later, Brown (pictured right) is the deputy general counsel over litigation at Kimberly-Clark Corp., a global personal care-products manufacturer with a market cap of $47 billion. Simon is the chief legal officer at Mary Kay, a multibillion-dollar, privately owned manufacturer and direct seller of skin care, cosmetic, fragrance and related products.
Last Wednesday night, Brown presented her longtime best friend with the Texas General Counsel Forum's annual Robert H. Dedman Award for Ethics and Law. More than 250 corporate general counsel and business lawyers from across Texas attended the event.
"Julia Simon is a fierce advocate for justice and equity," Brown said. "She is an out-of-the-box thinker, and she is guided by the compass of what is the right thing to do ― always."
Past Dedman Award recipients include Lennox International Chief Legal Officer John Torres, retired AT&T General Counsel Wayne Watts, retired Fluor Chief Legal Officer Carlos Hernandez and former American Airlines General Counsel Anne McNamara.
"To receive an award that celebrates the demonstration of business ethics, communication and management practices is just about the highest honor I could receive," Simon said when she accepted the award. "It's important for me to acknowledge the examples of ethics and integrity that were demonstrated right before my eyes starting with my parents, siblings, grandparents and extended family."
Simon also praised the lawyers at Locke Lord, where she began her practice after graduating in 1991 from the University of Texas School of Law.
"When you begin your legal career under the tutelage of legends," she said, "like Morris Harrell, Harriet Miers, Don Glendenning, Andy Barr, John McElhaney, Jennifer Altabef, Mike Powell, Mike Collins, Carlyle Chapman and too many other lawyers to name, you were going to be trained to be a smart, strong advocate for your clients, while always demonstrating the highest standards of ethics and integrity."
The lessons, she said, "didn't end there."
"They also encouraged me and my peers to use our talents and skills to help build up and inspire the best in the people and communities around us," she said. "A servant's heart was instilled in me from the beginning, and I am very thankful for that."
Julia Simon giving her acceptance remarks
Simon also serves as Mary Kay's corporate secretary, senior privacy officer and the organization's first chief diversity officer.
Simon, who has been a lawyer at Mary Kay for 22 years, praised Mary Kay CEO David Holl and company North American President Nathan Moore.
"They have supported and constantly demonstrated their commitment to business ethics," she said, "which remain at the heart of the company Mary Kay Ash founded in 1963."
Simon said she and Moore, who previously served as the company's top lawyer, often tell a story they each heard when they were first hired at Mary Kay about a meeting a young lawyer had with the founder in the early years of the business.
"As the story goes, he walked into her office and she has him sit next to her on her pink couch," said Simon, noting this was when Mary Kay was still in the Gold Building off I-35. "She looks at him and says, 'I assume that if you made it this far, you have the skills to be a good lawyer. What I want is for you to promise me that if we hire you, you won't just tell us what the law says we can do, you will always tell us the right thing to do.'
"I love that story and it has been a part of my guiding light ― not just at Mary Kay ― but for how I hope to live my life," she said.
One of Simon's mentors, Locke Lord senior partner and former White House Counsel Harriet Miers, called Simon "an original champion of diversity, equity and inclusion."
"She serves as a role model, ensuring systemic issues are addressed and barriers are removed," Miers said. "She truly showcases the ethical obligation in our profession to guarantee our justice system is representative of our diverse society."
Paul Genender, a partner at Weil, Gotshal & Manges, was one of two lawyers who nominated Simon for the award. "In all avenues of her life, both professionally and personally, she embodies the true meaning of an ethical leader, speaking up for what's right and putting her words into action," Genender said. "She is not only an extraordinary advisor in the legal profession but also a trailblazer, encouraging everyone around her to get out there and make a difference."
Simon and her legal team implemented a global data privacy-compliance program and a global anti-corruption-compliance program, he said.
"With these guidelines in place and by employing systems that allow employees and independent beauty consultants to report violations, Julia ensures that Mary Kay is morally and legally compliant everywhere in the world, even in countries with differing opinions on business operations," Genender said. "These pioneering efforts prevent Mary Kay and all of its employees from falling into ethical traps that tend to follow multilevel marketing and are a testament to the professional and person Julia consistently strives to be."
Michael Hurst, a partner at Lynn Pinker Hurst & Schwegmann, who also nominated Simon for the honor, said she "has a presence that commands attention and respect."
"If she doesn't like the direction something is going, she is unafraid to change that course on a dime," Hurst said. "Julia never let corporate America and the legal profession cage her with some glass ceiling because she was a woman, and developed into one of our profession's greatest assets has always made me have the greatest admiration I could have … and even though I've admired her for as long as I can remember, I must admit I used to find her quite intimidating."
Genender, in his written nomination, said Simon "fought for clearance as an 'essential' business," during the start of the Covid-19 pandemic that allowed Mary Kay to continue making and distributing its personal-care products during the shutdowns' duration.
"Although the corporate side of the company and the independent beauty consultants were working from home worldwide," Genender said, "Julia stayed physically present in the office, ensuring each essential worker received appropriate documentation and taking calls from any entities that needed confirmation of Mary Kay's status as an essential business."
Simon, in accepting the award, said the question to ask is, what's the right thing to do?
"It seems like a simple enough question on the surface, but the truth is many of us in this room would not have a job if the answers were that clear," she said. "Just turn on a couple of different cable news stations and watch how they take very different approaches to exactly the same story, and you can quickly see that there is not always the same perspective on what is right and what is wrong. And this group, you could walk into a boardroom or a courtroom or a conference room and see the same thing."
Simon said she recently reread John F. Kennedy's Profiles in Courage.
"If you haven't read it lately it is full of nuggets of wisdom that are as applicable today as they were when the book was first published in 1956," she said. "An enhanced focus on ethics and understanding feels necessary at this time ― in politics, in business and in society as a whole.
"I accept this award, knowing it's my job to strive to live up to standards this award represents every day. I accept it knowing it's not just for what I have done in the past but what I intend to do, now and in the future," Simon said. "I promise to continue to do my best to live up to standards set by those who came before me and to demonstrate the highest ethics for those who are watching me."