The U.S. trustee filed noticed Friday that he believes that at least 26 corporate bankruptcy cases — and possibly as many as 30 — in the Southern District of Texas are tainted and that $13 million in legal fees awarded to Jackson Walker should be revisited or declared invalid because of the undisclosed romantic relationship between U.S. Bankruptcy Judge David Jones and former Jackson Walker law partner Elizabeth Freeman.
The U.S. trustee, Kevin Epstein, filed multiple documents in multiple cases Friday in the bankruptcy matter of San Antonio-based hand sanitizer maker 4E Brands asking that all pending fee payments to Jackson Walker and Freeman be halted and instead should be reviewed by a federal judge in a separate jurisdiction — U.S. Chief Judge Alia Moses of the Western District of Texas.
Epstein, in the court documents, said that the lack of disclosure of the secret relationship between Judge Jones and Freeman with the knowledge of lawyers at Jackson Walker "have injured the Court and cast a cloud on dozens of bankruptcy proceedings."
"The bankruptcy system was significantly compromised in this and other bankruptcy cases by an undisclosed intimate relationship between Judge David R. Jones and Elizabeth Freeman — a now former partner at Jackson Walker," Epstein wrote in a 52-page filing in the 4E Brands case, which is pending in Laredo. "Judge Jones's secret relationship with Ms. Freeman created an unlevel 'playing field' for every party in interest in every case Jackson Walker had before Judge Jones, including this one, and in Jackson Walker cases mediated by Judge Jones."
"Because of Judge Jones's failure to recuse himself from presiding over cases where Jackson Walker was counsel for the debtor-in-possession while Ms. Freeman was both living with him and a partner at Jackson Walker, all orders awarding fees and expenses are tainted and should be set aside under Rule 60(b)(6) because this new information revealing a compromised process is a 'reason that justifies relief,'" the U.S. trustee stated.
Jackson Walker filed to be paid $859,425.50 in legal fees in the 4E Brands restructuring.
Epstein argues that "vacating all orders granting fees and expenses in this case" would allow his office and other interested parties to possibly object to the fees awarded to Jackson Walker under what he called "a tainted process."
"Judge Jones presided over at least 26 cases, and perhaps more, where he awarded Jackson Walker approximately $13 million in compensation and expenses while Ms. Freeman was both a Jackson Walker partner and living with him in an intimate relationship," Epstein wrote. "This includes approximately $1 million in fees billed by Ms. Freeman herself in 17 of those cases."
The 26 cases cited by the trustee that need a new judge to review the legal fees paid to Jackson Walker and Freeman include J.C. Penney, Neiman Marcus, Whiting Petroleum, Chesapeake Energy, Seadrill Partners and Basic Energy.
Judge Jones resigned two weeks ago after the U.S. Court of Appeals for the Fifth Circuit announced publicly that it was investigating the Houston bankruptcy judge for possible misconduct for not publicly disclosing that he had a live-in relationship for several years with Freeman, who clerked for Judge Jones for six years and was a partner in the bankruptcy practice at Jackson Walker from 2018 to 2022. During those years, Judge Jones handled more large-dollar and complex business bankruptcies than any other judge in the U.S. Jackson Walker represented debtors or creditors in dozens of those cases in his court.
Judge Jones, in an interview with The Texas Lawbook, admitted that he had a relationship with Freeman but said that Freeman never appeared before him in a case in which he was the judge, that he never approved any of her legal fees, and that they kept their finances completely separate and never discussed cases in which she was involved.
U.S. Trustee Identifies Jackson Walker/Elizabeth Freeman
Bankruptcy Cases To Be Examined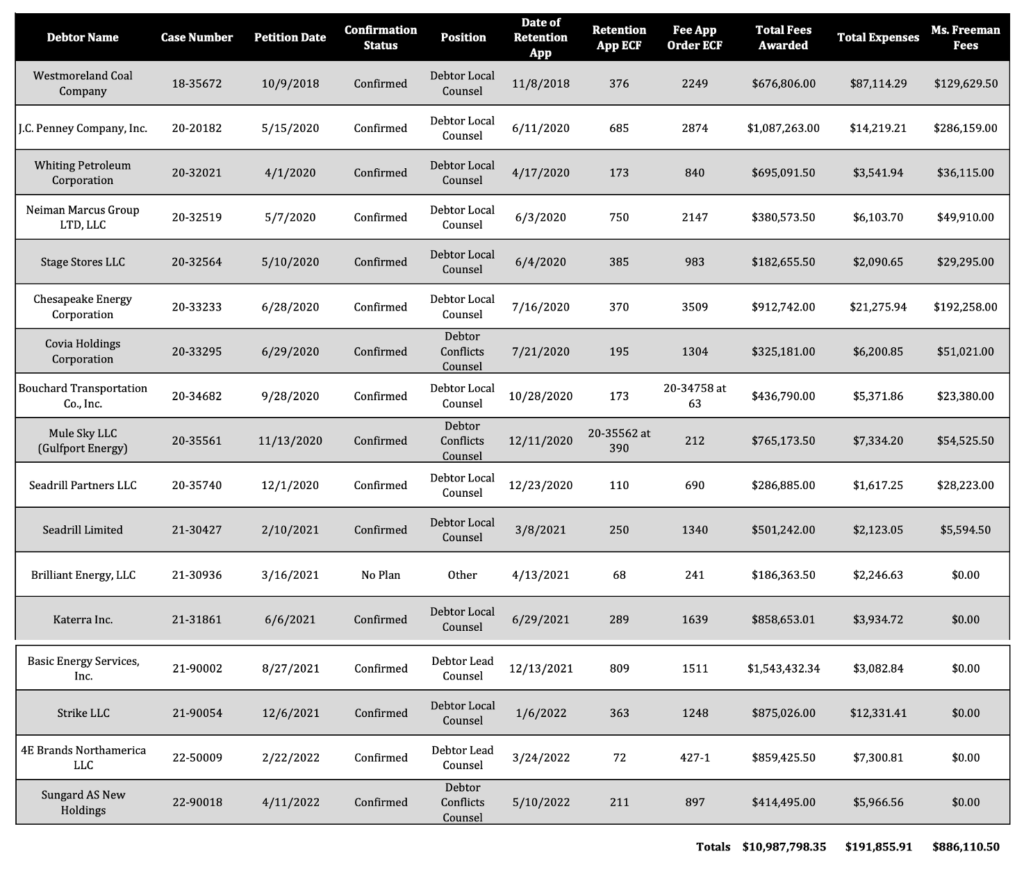 Source: U.S. Trustee, Houston
Jackson Walker officials told The Lawbook that the firm did not know about the relationship between Freeman and Judge Jones until March 2021 and then it walled her off from cases assigned to Judge Jones. Sources say that the firm also took steps to make sure that Freeman did not benefit financially as an equity partner from legal fees awarded by Judge Jones.
In a separate bankruptcy case, new court filings show that Jackson Walker has hired Norton Rose Fulbright partners Jason Boland and William Greendyke to represent the firm in its request for legal fees. Jackson Walker represents the debtor, GWG Holdings.
The same document shows that Houston bankruptcy lawyer Tom Kirkendall now represents Freeman.
The U.S. trustee asked Judge Marvin Isgur to postpone any legal fee requests by Jackson Walker and Freeman in the GWG Holdings bankruptcy.
On Friday, Boland and Kirkendall asked Judge Isgur to set a schedule for considering the legal fees for Jackson Walker and Freeman until January or February.
According to court documents, Jackson Walker has also retained and billed for Freeman as a contract attorney after she resigned as a Jackson Walker partner. The firm's lawyers asked Judge Igsur in the GWG Holdings case to have Judge Jones appointed as mediator the month before Ms. Freeman resigned Jackson Walker. As a result of the mediation, Freeman was appointed as the trustee for the post-confirmation GWG Wind Down Trust.
"In an abundance of caution, the United States Trustee seeks to vacate and set aside all orders awarding fees and expenses to Jackson Walker, both interim and final, in this case to avoid any doubt," Epstein wrote in documents filed Friday in the GWG Holdings case.
Epstein pointed out in court documents that Jackson Walker has admitted learning about Freeman's relationship with Judge Jones in March 2021. Despite the insider knowledge, Jackson Walker "never disclosed that relationship in any pending or subsequently filed case during the following 21 months while Ms. Freeman was a partner — or thereafter when she was working as a Jackson Walker contract attorney on bankruptcy cases after leaving Jackson Walker," the U.S. trustee wrote.
"Due to the intimate, cohabiting relationship … Ms. Freeman and Jackson Walker were so connected to Judge Jones 'as to render it improper' for Judge Jones to have presided over or approved any Jackson Walker fee application, including those with fees billed by Ms. Freeman herself," Epstein wrote. "Ms. Freeman and Jackson Walker had an independent duty — both fiduciary and otherwise — to abide by the law governing the proper conduct of bankruptcy cases."
"Jackson Walker's failure to disclose or to seek recusal of Judge Jones is a breach of Jackson Walker's fiduciary duty to the estate and to the creditor body at large and a less than faithful execution of its duties as counsel to the debtor-in-possession," Epstein continued.
Epstein wrote that "disclosure and transparency are critical to the integrity of every bankruptcy proceeding, where creditors are required to sacrifice significant rights to rehabilitate debtors and where confidence in the fairness of the proceeding is of paramount public importance."
"Jackson Walker's misconduct in this and other bankruptcy cases risks the public's confidence in the integrity that is vital to the very legitimacy of the bankruptcy process," the trustee wrote.