For most corporate law firms operating in Texas, 2021 will go down as the greatest year ever.
Just look at the numbers.
Among The Texas Lawbook 50, our exclusive annual review of Texas corporate law's key business metrics, four of five firms scored record revenues in 2021. An unprecedented 49 of the 50 firms brought in more money in 2021 than in the previous year. That's a ratio of 49-to-1. In 2020, the up-to-down tally was 3-to-1.
No law firm had ever come close to generating $600 million in revenue from their Texas operations. In 2021, two surpassed that mark. One skipped right over it and went straight to $725 million.
Seventeen law firms grew their Texas revenues by 20 percent of more. Six firms increased their Texas business by 40 percent or more.

"It was a fabulous year – we were still in the middle of a pandemic and had no right to expect this level of success," said Jackson Walker managing partner Wade Cooper, whose firm saw revenues jump 13.2 percent in 2021. "We've been busier on an hours-per-day basis than at any time since 2014."
"It is not that complicated," Cooper said. "The number of timekeepers times the number of hours worked times the bill rates. All went up on all levels."
All told, the firms comprising the Texas Lawbook 50 raked in more than $7.8 billion of Texas revenues in 2021, up from $6.7 billion in the previous year (chart 1).
That $1.1 billion in new business is yet another eye-popping number. It translated into a one-year gain of 17.3 percent – more than four times larger than the 4.3 percent achieved in Covid-19-challenged 2020. Even more significant, the $1.1 billion was nearly double the $630 million revenue gain (10.5 percent) achieved by Texas Lawbook 50 firms in pre-Covid 2019, which had been the state's recent standard for a blockbuster year.
"Texas was hitting on all cylinders in 2021 – our private equity, M&A, emerging markets, litigation practice – a great year," said David Beveridge, a senior partner at Shearman & Sterling. New York-headquartered Shearman, which opened a Houston office in 2018 and a Dallas office in 2020, saw its revenues jump from $65.1 million in 2020 to $102.9 million in 2021 — a 58 percent spike.
"There's a deep pool of lawyers in Texas and we picked up the right team to work with our strategy," said Beveridge, noting the key to success has been integration of the Texas lawyers into the firm's global platform. "Across the firm, more than half of our matters have involved a Texas lawyer. Demand has been stupid high."
The View from the Top
Nearly all firms grabbed a share of the boom, but several law firms simply posted stunning financial highlights that capture 2021's effervescent spirit.
Let's start at the top.
Kirkland & Ellis vaulted into the top spot in The Lawbook 50 revenue ranking in 2020, capping a rapid rise since entering the Texas market just eight years ago. The firm retained its No.1 position in 2021 and even expanded the divide between it and No. 2 Vinson & Elkins.
Chicago-founded Kirkland grew its Texas lawyer headcount by nearly 28 percent in 2021, but it grew revenues even more — by 37.4 percent. Kirkland's billings from its Texas offices hit $725 million last year, a one-year increase of $197 million.
Texas-based V&E had been the perennial No. 1 on the Lawbook 50 revenue charts, but it dropped to second place in 2020 because of a revenue decline of $40 million during the pandemic. Plus Kirkland's surge, of course.
But in 2021, V&E rebounded strongly, posting gross income in Texas 17.4 percent to a record-setting $601.3 million, which is $213 million more than the next firm. [For more on Kirkland and V&E, click here.]
Norton Rose Fulbright, a global law firm headquartered in London with U.S. operations centered in Houston, jumped from No. 4 in 2020 to the third spot last year. The firm reported 2021 revenues of $383.2 million — a nearly 10 percent jump.
"In 2021, we had a really great year," said Norton Rose Fulbright U.S. managing partner Jeff Cody. "Revenue was up. Expenses were down. I've been practicing 32 years and 2021 was one of the top years of my career."
Baker Botts dropped from third to fourth on the Lawbook 50 ranking, even though it grew revenues by nearly five percent in 2021. The Houston-based firm reported Texas revenues at $378.9 million last year — up from $361.9 million in 2020.
Baker Botts managing partner John Martin said he was "pleased where the firm landed" in 2021 and with the firm's "improved financial performance." He said the growth was "quite broad based" across practice groups.
Two-thirds of Baker Botts 2021 revenue, he said, came from the energy and technology sectors.
"Those are two extremely robust business sectors," Martin said. "Texas remains extremely profitable. In terms of 2022, I am extremely bullish. Our activity levels in January and February were above last year's."
Farther down the Lawbook 50 ranking, another firm deserves a shout-out for its 2021 performance. White & Case won't be found among the leaders in Texas-based revenue — at least not yet. In 2021, the firm increased its headcount from 38 to 73 lawyers.
After growing from 38 to 73 lawyers in Texas, New York-based White & Case marked itself as a firm that will bear watching. It vaulted up the Lawbook 50 rankings by nearly doubling Texas revenues, going from $44.3 million in 2020 to $85 million in 2021. White & Case's big year was reminiscent of Kirkland's fast rise after its arrival in Texas in 2014.
"Texas is a very attractive legal market, and we're willing to invest resources here," said Jay Cuclis, the firm's point man in Texas. "White & Case came to Houston to compete in every practice area."
A Deeper Dive into the Numbers
Good times weren't a surprise in 2021. Sizing up the year's prospects in its early months, firm leaders told The Lawbook they anticipated Texas legal revenues would build on a growth trend that took hold in the second half of 2020. None of these industry insiders – a cautiously optimistic lot at best – predicted the kind of revenue gains 2021 eventually produced.
Why did an anticipated upturn turn into a boom?
A recovering but still-shaken economy meant clients sought more legal work, with greater sophistication, and they were willing to pay more for it. The firms reported being busy across the full range of practice groups — M&A, real estate, capital markets, litigation (with courts reopening), intellectual property, technology, greener energy. Even traditional energy got a boost in activity as rising oil and gas prices altered the industry's outlook.
Michael McKenney, managing director of Citi Private Banking's Law Firm Group, said Texas followed national trends in 2021. His data for the year showed revenues rising strongly, particularly among the largest firms. Overall, McKenney said, revenues rose 14.5 percent nationwide — less than 3 percentage points below the Lawbook 50's 17.3 percent.
The Lawbook 50 focuses on corporate law in Texas, not the locale of firm origin. It intermingles firms with deep Texas roots and the national firms operating in Texas, many of them new entrants in the past decade.
Rob Walters, a partner at Gibson Dunn, says firms are continuing to benefit from the state's vibrant business sector. "This economy has grown disproportionately to the rest of the country for the past 36 months," he said.
Robert Rabalais, a partner at Simpson Thacher in Houston, saw the prestigious New York corporate firm's Texas revenues go from $90 million in 2020 to $108 million last year — a 20 percent jump. That followed a more than 60 percent spike in revenues in 2020.
"We had a great year — client demand for legal services outstripped capacity," Rabalais said. "The biggest challenge for us was finding the lawyers to do all the work."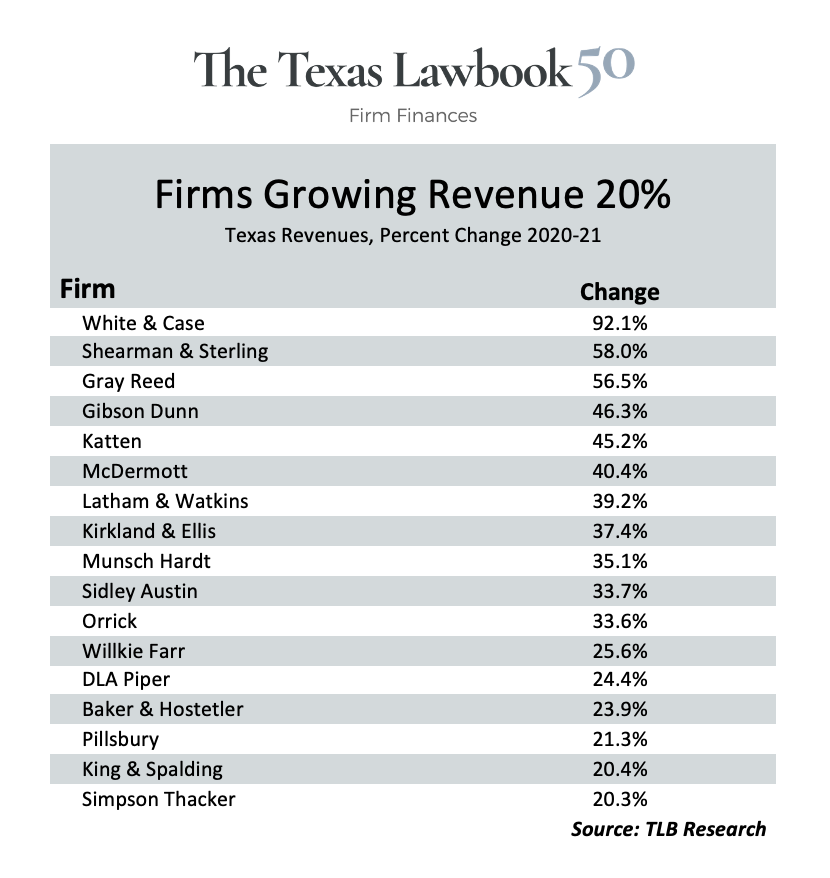 The impressive element regarding the Texas Lawbook 50 revenue data, according to legal industry analysts, is that the bounty was widespread and not just reaped by the elite firms.
A great example is the Dykema law firm, which was founded in Detroit, has its largest office in Chicago, but merged in 2015 with San Antonio-based Cox Smith. The firm, which has five offices in Texas, had grown revenues at an average rate of less than two percent during the past four years. But in 2021, Dykema's revenues in Texas jumped 8.1 percent to top the $60 million mark for the first time.
"Dykema is a 98-year-old firm and 2021 was the best year in our firm's history and Texas and the thriving economy here was a critical reason," said Christopher Kratovil of Dykema, which also grew Texas lawyer headcount by 17 percent last year. "Texas may be the hottest market for our entire firm."
"We are still in growth mode with a new office we just opened in Houston," Kratovil said. "We just hired lawyer number six in Houston and we plan to be in double digits there by the end of the year."
Kratovil points to the firm's dental services practice as a perfect example of its success.
"The changes in the dental industry have gone from Dr. Jones on the corner office to DSOs [dental service organizations] that brought in the economy of scale," he said. "It is a heavily-regulated environment."
Kratovil said there are 20 Dykema lawyers focused on the dental industry but that the firm had more than 100 timekeepers from M&A, litigation and restructuring that worked on dental client matters last year.
"The practice grew at a very rapid pace in 2021," he said.
Key Texas Lawbook 50 Findings:
In 2021, The Lawbook 50 increased lawyer employment by 331, the largest gain in at least a decade. Growth was 4.6 percent in the most recent year — another record. Revenue grew much faster at 17.3 percent, suggesting that higher billing rates contributed more than net hiring to the improving corporate firms' receipts.
White & Case was by far the Lawbook 50 leader in percentage revenues gains (chart 2). Two other notable 2021 revenue increases were Shearman & Sterling at 58 percent and Gray Reed at 56.5 percent.
Six firms grew their billings by 40 percent or more in 2021. Eleven were above 30 percent, 17 exceeded 20 percent and 32 made it into double-digits.
The Texas Lawbook reported Monday that two firms saw revenue declines in 2021: Texas-based Bracewell and Cleveland's Jones Day. Jones Day's revenue decline was 1.5 percent. But Bracewell reported new data Tuesday showing that the firm actually increased its Texas revenue in 2021 to $174.7 million, which was nearly one percent higher than 2020.
In addition to Norton Rose Fulbright leap-frogging over Baker Botts, the Top 10 had two other changes in the bottom half of the top 10.
One came at the No. 7 entry, where the August merger of Holland & Knight and Thompson & Knight yielded combined revenues of more than $302 million in 2021, $23 million (7.6 percent) more than the separate firms in 2020.
The other change involved Sidley Austin jumping into the Top 10 on the strength of a 33.7 revenue gain. Locke Lord fell to No. 11 – even though it increased revenues from $210 million in 2020 to $231 million in 2021 (9.7 percent).
The combined gains of just two firms — Kirkland and V&E — represented just over a quarter of the Lawbook 50's $1.1 billion gain in new Texas-based revenue.
Revenue gains were big beyond Kirkland and V&E. Three other firms upped Texas revenues by around $60 million in 2021. An additional seven increased in-state billings by $30 to $40 million, led by the fast-growing White & Case.
V&E finds itself in West Texas-like wide-open spaces. It trailed Kirkland by almost $124 million, but it led third-place Norton Rose Fulbright by $218 million. The rankings tighten from there, all the way down to Sheppard Mullin at No. 50.
The big Kirkland and V&E gains bolstered the Top 10, which saw its collective revenue rise by $544 million, with gains just one percentage point shy of the overall Lawbook 50 average (17.7 percent).
The Top 10 firms produced nearly half of the $1.1 billion in increased revenues, providing some Texas support to McKenney's observation that national data show "top firms are pulling away from the rest of the industry."
The Bottom 10 added just $79 million — but the group's growth rate of nearly 20 percent eclipsed the Top 10's rate.
The middle market — loosely, firms ranked 20 to 30 — increased revenues by over $190 million, or more than 22 percent. Gray Reed grew revenues 56.5 percent, and Munsch Hardt was up 35 percent.
Firms landing a slot in the 2021 Lawbook 50 that weren't on last year's list: Bell Nunnally, K&L Gates, Pillsbury and Sheppard Mullin. They replaced AZA, McGuireWoods, Morgan Lewis, Polsinelli and Thompson & Knight.
Several prominent firms probably could have earned a spot in the Lawbook 50. Susman Godfrey and Munck Wilson, both successful in Texas, decline to release financial data. Polsinelli and Littler Mendelson were in last year's Lawbook 50 but only submitted headcount data this year.
Upcoming Texas Lawbook 50 articles:
Sidley Austin has made big moves in Texas. The firm has nearly 200 attorneys in the state. And this Friday, Dallas litigation partner Yvette Ostolaza becomes the more than 2,000 lawyer global firm's top boss.
The battle between Texas-based law firms and the "carpetbaggers" continued in 2021. Seven of the top 11 Texas Lawbook 50 law firms are still headquartered in Texas. But that statistic is very deceiving.
Corporate law firm leaders make predictions for 2022.
Texas headquartered law firms had a great year in 2021 – inside and outside of Texas.