The Waco patent rocket docket days may be over.
The chief judge of the Western District of Texas issued an order late Monday requiring all new patent infringement lawsuits filed after July 24 in the Waco Division be "equitably distribute(d)" to the district's 12 federal judges.
Chief Judge Orlando Garcia's order seems designed to end U.S. District Judge Alan Albright's three-year run as the federal judge handling the most patent cases in the U.S. The order does not impact the estimated 1,500 patent cases that Judge Albright is already handling.
Several large, non-Texas-based technology companies have complained that Judge Albright runs a patent docket that is too friendly to plaintiffs and encourages so-called patent trolls to file frivolous lawsuits in the Waco Division, where he is the lone federal judge.
While recent data show that nearly one-fourth of all patent infringement lawsuits are filed in the Waco Division of the Western District, the data also reveal that defendants in patent infringement cases win as often or more often than plaintiffs.
Appointed in 2018 by President Donald Trump, Judge Albright spent two decades representing businesses and inventors as a patent lawyer at the corporate law firm Bracewell. As a federal judge, he made his love for patent law known and created rules – with the advice of lawyers on both sides of lawsuits – designed to resolve infringement cases faster.
Last year, U.S. senators Patrick Leahy and Thom Tillis wrote to Chief Justice John Roberts complaining about venue shopping by plaintiffs' attorneys in patent litigation. Multiple sources say that Chief Judge Garcia was pressured by the U.S. Court of Appeals for the Fifth Circuit to take action.
Judge Albright told The Texas Lawbook Tuesday that he "will not be commenting on the order."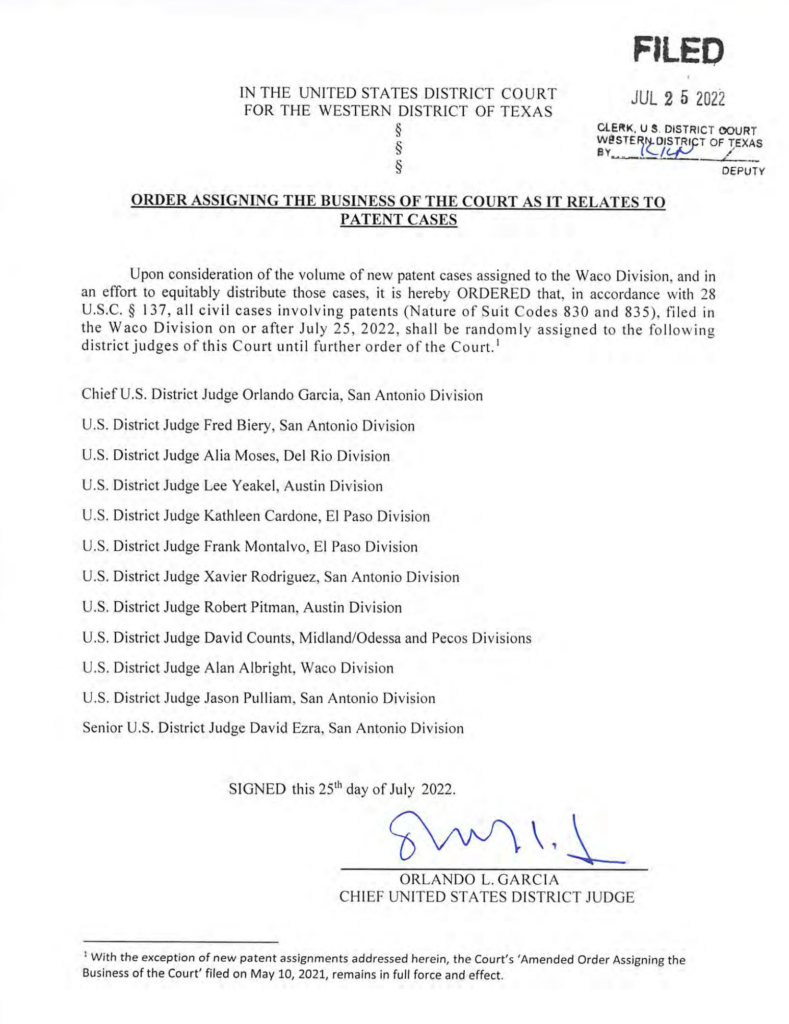 But lawyers representing companies and inventors overwhelmingly reacted negatively to Chief Judge Garcia's order, calling it unnecessary, misguided and an overreaction.
"I don't think it will stop cases from being filed there, but it will drastically reduce the number of new cases," said Jason McManis, a partner at Ahmad, Zavitsanos & Mensing in Houston. "There is an active docket already pending that this order will not affect. It will be a sea change, but it will take time to see the full effect of the order on the overall docket."
Winston & Strawn partner Tom Melsheimer said Tuesday that statistics show that Judge Albright's handling of the extraordinarily large patent docket in Waco should be "held up as a nationwide model of judicial efficiency and case management."
"The patent dockets of the district courts throughout the country are one of most widely misunderstood circumstances by those who don't litigate patent cases regularly," Melsheimer said. "There are very few judges with the keen interest in patent cases it takes to manage a patent docket effectively."
"When there are judges that are willing to do so, that interest should be applauded, not critiqued," Melsheimer said. "You don't hear many federal district judges saying, 'I wish I had more patent cases.' I've never heard one say that."
"I hesitate to predict the future of Waco or anyplace else," he said. "The alleged 'death' of many attractive patent venues has been exaggerated on more than one occasion."
Amir Alavi, partner at Houston's Alavi Anaipakos, said some of the patent cases "will now get filed in other divisions or other districts in Texas."
"The order appears to be a reaction, or even an overreaction, to the loud complaints about a single judge handling the bulk of new patent filings," Alavi said. "There is nothing inherently wrong with patent owners choosing Waco over other venues in order to take advantage of the fact that the judge is an experienced patent lawyer who gets his cases to trial faster than other venues – in many cases by years."
"Losing the certainty of having Judge Albright – and therefore some of the predictability around the schedule and his trial practices – will make patent owners consider other districts and divisions," Alavi said.
Bill Munck, founder of Munck Wilson in Dallas, said high tech's move from California to Texas led to the initial explosion in patent litigation in the Eastern District of Texas and then to Waco.
"Judge Albright in Waco developed a love for and expertise in patent litigation," Munck said. "It was inevitable, with the continued migration and home-grown development of high tech throughout Texas, that patent litigation would have to be spread throughout Texas' four federal districts."
"In a perfect world, because of the resource intensiveness of patent litigation, each of Texas' four districts would divide the 'real' patent disputes from the 'troll' disputes – those that demand $25 million and settle for less than $25,000," Munck said. "The real patent disputes could be assigned to judges that wanted to hear those cases, like Judge Albright in the Western District, and the troll or non-practice entity disputes could be assigned to the other judges to dispose of and not prioritized on otherwise crowded dockets."