Last Wednesday, a team of lawyers from Weil, Gotshal & Manges, the Innocence Project and the conviction integrity division of Dallas' District Attorney Office obtained the exoneration and actual innocence finding of a man after he served 26 years in prison and, upon his parole, was required to register as a sex offender.
The DA's office officially dismissed all charges against Tyrone Day after a hearing Wednesday in a Dallas County criminal court. Day was originally convicted of sexual assault in 1990 and sentenced to 40 years in prison. Fearing life in prison, Day pleaded guilty before trial — despite maintaining his innocence — in an attempt to be able to reunite with his two young daughters as soon as possible. He was 19 at the time of his arrest.
In 2000, Day sought DNA testing of the evidence and materials collected, but this request and a subsequent request were denied. He tried again in 2008, this time with the help of the Innocence Project, and the Dallas District Attorney's Office Conviction Integrity Unit (CIU), which renews cases involving actual innocence and reviews cases involving wrongful conviction when related to an innocence claim, agreed to conduct one. The results of the DNA testing excluded Day as a contributor, instead identifying two other men as the contributors.
In 2015, Day was released on parole but required to register for life as a sex offender, which limited many of his freedoms. He was not even allowed to live in the same house as his wife, according to a press release by the Innocence Project.
Weil got involved on a pro bono basis after lead partner Paul Genender met with Day in a conference room in the Dallas County DA's office during the early days of the pandemic. In January 2023, the firm filed a habeas petition under Texas law that sought to vacate Day's guilty plea due to new scientific evidence and on due process grounds.
The Dallas County Criminal Court issued a ruling in March, finding that Day's due process rights were violated and that his guilty plea should have been vacated. The Texas Court of Criminal Appeals affirmed the findings April 26. The matter returned to the lower court for final exoneration proceedings, and after Wednesday's hearing the DA's office officially dismissed all charges in the case.
Along with Genender, Day's legal team included Weil associate Jenae Ward, former Weil counsel Nathan White (who is now assistant general counsel of SRS Distribution), Vanessa Potkin of the Innocence Project and criminal appellate specialist Gary Udashen of Udashen Anton.
"This exoneration has been a long time coming for Mr. Day, who first wrote to the Innocence Project in 2000 and has relentlessly fought for his innocence over the last 33 years," Potkin, the director of special litigation at the Innocence Project, said in a statement.
"Like so many people accused of crimes, Mr. Day had no real choice," she said. "If he did not plead guilty to a crime he did not do, he would have faced a trial in a system stacked against him and risked spending the rest of his life in prison. He pleaded guilty because it appeared to offer the most compelling chance to reunite with his daughters, who were just 2 and 3 years old, sooner. But that was tragically not the case, and he spent 26 years locked away from them. Since his release on parole, Mr. Day has worked to build a beautiful life with his family and given so much to the Dallas community through his work as a food justice advocate and horticulturist at Restorative Farms."

The Texas Lawbook talked with Genender about the case. In the following Q&A, Genender discusses how Weil got involved, details of his first meeting with Day and why it was important to the team to take on this case.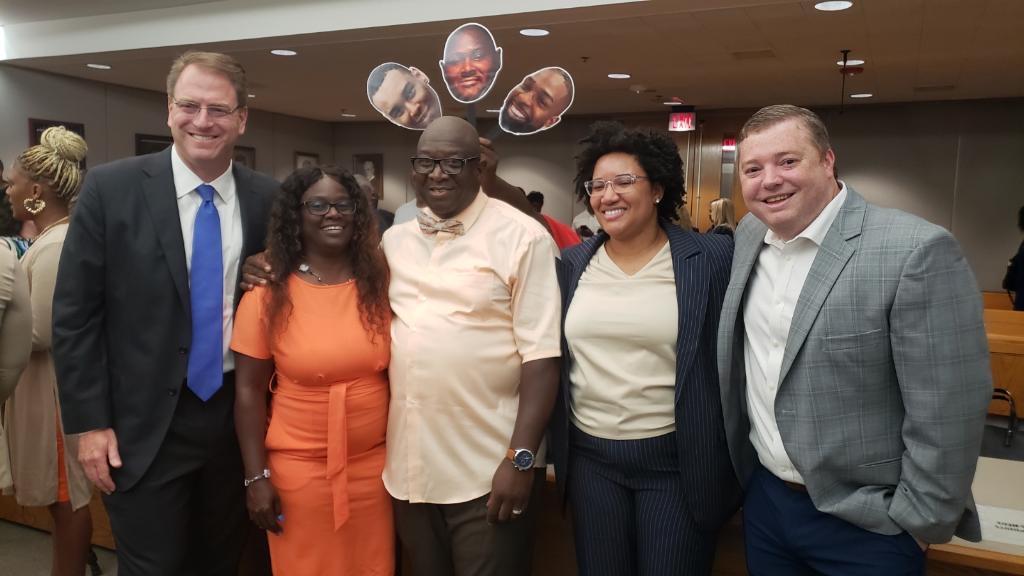 Texas Lawbook: How did Weil decide to take on this case and join Day's legal team?
Paul Genender: Weil has a longstanding working relationship with the Innocence Project, and we were asked in Spring 2020 to get involved in this case where a Dallas man was seeking to have his conviction overturned. We quickly assembled a team of associates and counsel, and I supervised the team over the last three years.
Lawbook: Why was it important that the firm take this case?
Genender: At first blush, this case presented unimaginable injustice. As we got further into our work, including with the Conviction Integrity Unit of the Dallas County DA's office, we became even more convinced that a truly innocent man was convicted of a crime and spent 26 years in prison when he should not have been prosecuted in the first place. I went to law school to pursue and serve justice. There has been no better opportunity in my career to serve justice than this case.
Lawbook: How many pro bono hours did Weil pour into this case?
Genender: Over the last three years, 11 different timekeepers at Weil worked on this case and more than 800 hours were invested.
Lawbook: Did you meet Mr. Day in person?
Genender: [Yes.] I first met Tyrone Day in person on Oct. 28, 2020, in a conference room in the Dallas County DA's office. Mr. Day and I met with Cynthia Garza and Brittany Dunn of the CIU so they could interview Mr. Day and go over all details of his case. I remember the day like it was yesterday. Mr. Day was so gracious and poised. He knew his truth. Ms. Garza and Ms. Dunn were equally impressive in their thoroughness and professionalism. That meeting occurred when we were only seven months into the pandemic and in-person meetings were rare. It was a productive meeting. It was also memorable because it was my birthday, and I realized that day that it was the most impactful one I will ever have.
Lawbook: Would you like to add anything else?
Genender: We all may become lawyers for different reasons. And there are many different reasons to practice law. I love trying cases and enjoy achieving a client's ultimate goal, whether that be by trial or otherwise. In this case, the ultimate goal for Mr. Day was as fundamental as it gets and rooted in basic due process that we all learn in our first year of law school. Securing an innocence finding for Mr. Day is as satisfying a result as I have ever been a part of. I would also add that I was fortunate to work with great colleagues at Weil, including Dallas litigation associate Jenae Ward, former Dallas counsel Nathan White and our senior paralegal extraordinaire Sharron Morris. Partnering with Vanessa Potkin of the Innocence Project and Gary Udashen of the Innocence Project of Texas was a privilege. They are truly exemplary. As mentioned, none of this happens without the commitment to justice shown by the Dallas County District Attorney's Office, and specifically DA John Creuzot and his CIU team.