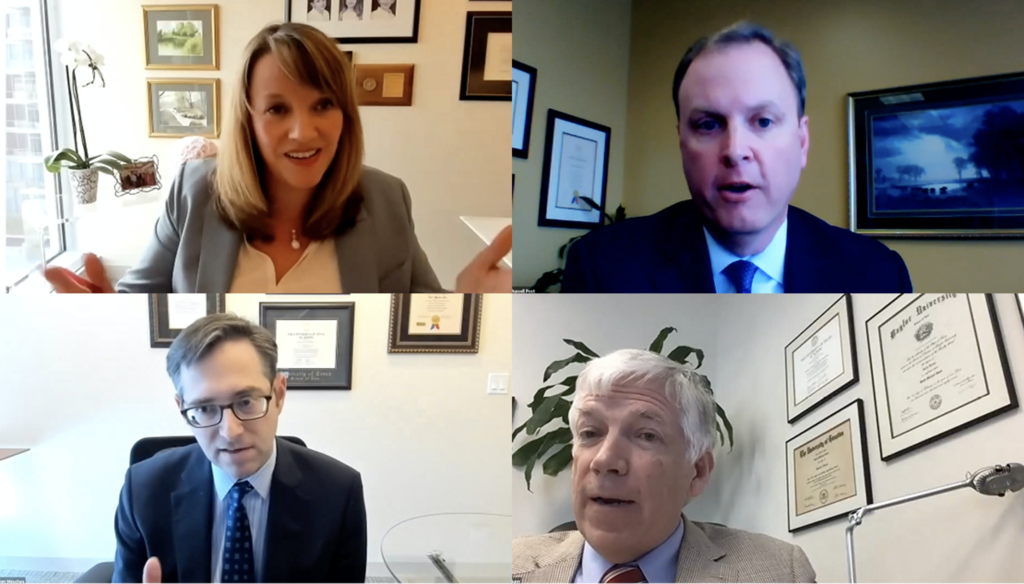 The Panel: (Clockwise from Upper Left) Anne Johnson, Russell Post, David Gunn and Ben Mesches
Dallas appellate attorney Anne Johnson offers a succinct headline to sum up the Texas Supreme Court term that ended in June: "Well, that was unexpected."
Johnson, a partner at Haynes and Boone in Dallas, referenced the unprecedented nature of the term to kick off a discussion with three other appellate lawyers about trends in the high court during a Friday webcast hosted by The Texas Lawbook.
It was indeed a term like no other, dominated by pandemic-induced disruptions to the court system and pandemic-related disputes on issues ranging from pretrial bail to quarantine rules. Aside from COVID-19, there was also a Russian cyber attack that took down the Supreme Court and many courts of appeals' websites. Still, the high court was able to complete its slate of arguments using Zoom and clear its opinion docket on time.
Highlights of the term included cases in which the court reaffirmed the importance of written contracts in forming binding partnerships and, in a pair of cases, rejected email exchanges as constituting enforceable contracts.
Russell Post, an appellate partner at Beck Redden in Houston, said it was the first full term for Justices Jane Bland and Brett Busby, two experienced appellate jurists from Houston. The justices they replaced, Jeff Brown and Phil Johnson, approached cases from a pragmatic, real-world sensibility, Post said.
"It will be interesting to see how Justice Bland and Justice Busby bring their own personality, each I think having a very doctrinal and scholarly approach to appellate law, and how will they will change the character of the court" along with a justice expected to be named soon to replace Paul Green, said Post.
Both new justices have hit the ground running, with Busby writing 11 majority opinions and Bland writing 10.
Ben Mesches, a Dallas partner at Haynes and Boone, said the court last term heard fewer procedural cases, although they remain a large part of its docket, and tort cases. He said there were more property and oil and gas cases. Other types of cases involving governmental immunity, health care, and commercial disputes remained fairly constant.
Freedom of parties to contract has been and will continue to be something the court takes to heart, said David Gunn, a Houston partner at Beck Redden.
"We saw big-dollar cases because freedom of contract is essential to business in Texas," said Gunn.
Studying those cases can help lawyers advise their clients but they also may need to educate the court about standard practices in a particular industry.
"The court may not know your industry at all," he said. "It may require a friend-of-the court brief, it may require you to do some education, have some humility. What you know may not be shared by somebody else with a robe and a gavel."
Similary, said Mesches, two cases in which the court delved into emails to determine if they constituted a binding agreement show that lawyers need to establish a timeline for the context of the email exchanges to help the court determine if there was a definitive meeting of the minds.
Both law firms were involved in one of the term's major freedom of contract cases, Energy Transfer Partners v. Enterprise Products Partners. The Supreme Court affirmed a court of appeals ruling that overturned a $535 million jury verdict against Enterprise Products for allegedly violating a partnership agreement to build a pipeline. The court ruled that parties' contract precluded the unintentional formation of a partnership under the Texas Business Organizations Code.
The business community was closely watching the case, Post said, out of a desire to avoid accidental partnerships under the state law.
"This is an important protection for sophisticated businesses dealing with the kind of high-stakes commercial transactions that so much of Texas business represents these days," said Post.
The lawyers also discussed a case set for argument on Oct. 27, HouseCanary Inc. v. Title Source Inc. et al, which presents the court with the issue of whether the Texas Uniform Trade Secrets Act conflicts with Texas Rule of Civil Procedure 76a.
"Rule 76a is a very controversial rule in Texas and we may get some clarification," said Johnson.