In 2022, Denton Muse negotiated, drafted and closed more than 300 real estate acquisitions and commercial leasing transactions for City Electric Supply and its 642 locations in North America.
To give you a hint at how busy Muse was last year, the 350 attorneys in Texas for Kirkland & Ellis did 180 transactions and the more than 400 Texas lawyers for Vinson & Elkins did about 110 deals.
Muse signed off on more transitions than both those firms — combined.
"Denton has become the 'go to' attorney for real estate transactions and business mergers and acquisitions as well as expertly handling numerous multimillion-dollar commercial agreements," said City Electric Chief Legal Officer Meg Shockley.
"Denton significantly reduced leasing costs in 2022 as a result of his astute negotiation skill by incorporating into our leasing system favorable lease commencement and operating terms," she said. "These improvements not only reduced costs and expedited the lease review process but also increased our negotiation leverage throughout the term."
Shockley said Muse's extraordinary work in 2022 "provided the company with significant long-term value."
The Dallas/Fort Worth Chapter of the Association of Corporate Counsel and The Texas Lawbook have named Muse as a finalist for the 2022 DFW Corporate Counsel Award for Senior Counsel of the Year for a Small Legal Department (five lawyers or less).
ACC DFW and The Lawbook will honor Muse and all finalists — and announce the winners — at the 2022 DFW Corporate Counsel Awards ceremony on Thursday, Jan. 26, at the George Bush Institute.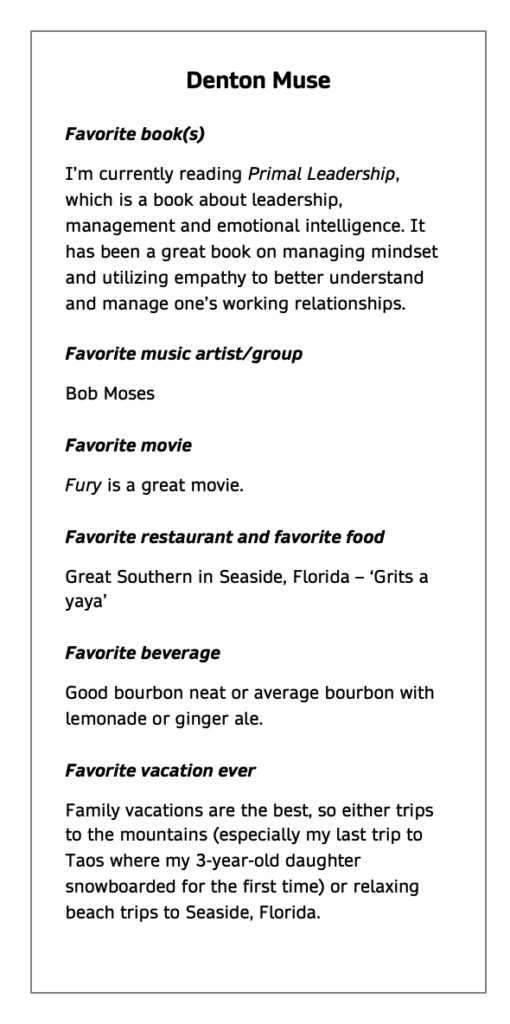 "Denton has developed his legal skills and professional reputation to the point where he is now indispensable," said Shockley, who nominated Muse for the award. "Everybody likes Denton and enjoys working with him. I do not know another attorney about whom I can unequivocally say this."
Muse said it has been amazing to be part of the growth of City Electric, which now has more than 9,000 employees. He said the biggest challenge has been prioritizing projects and managing workload.
"As a small legal department managing the legal review and addressing the legal concerns of a $3 billion company, the type of work is never consistent, is significant in volume and varies in priority," he said. "It can be challenging to stay organized and rank the priority of work, which is important to ensure my time is being effectively utilized and the flow of completed work is being performed efficiently and timely."
Muse said he had to be diligent at delegating work through teaching and training team members to help complete various projects.
"Delegation is challenging, because it requires trust in the individual performing the work and relying on someone else to perform up to a set expectation," he said. "It has been a new yet rewarding experience as it has given me the opportunity to teach new practices that team members may not have experience in."
The result of the need to delegate legal work, Muse said, has been the improvement of the knowledge and experience of City Electric's legal team.
"I've had to stay diligent in providing management and employees with realistic expectations and timelines," he said. "This open communication has helped our department to ensure that all legal work requested of our department is performed at the highest quality and returned timely to the respective individual."
Muse was born in Dallas and raised in Carrollton. His mother was a commercial real estate agent.
"My mom instilled in me the importance of manner, education and commitment," he said.
His father, who played college football at Southern Methodist University, was a serial entrepreneur, owning a commercial cleaning business, a construction contracting firm and a pool cleaning company.
Muse had no lawyers in his family growing up. He went to college at Texas Tech University, majoring in energy commerce. His favorite classes were business law and oil and gas law, which gave him the idea of going to law school.
When Muse graduated from Oklahoma City University School of Law in 2015, he said he had one objective.
"Find a job," he said.
For the first several months, he worked for Berry Appleman & Leiden, a law firm that specialized in corporate immigration.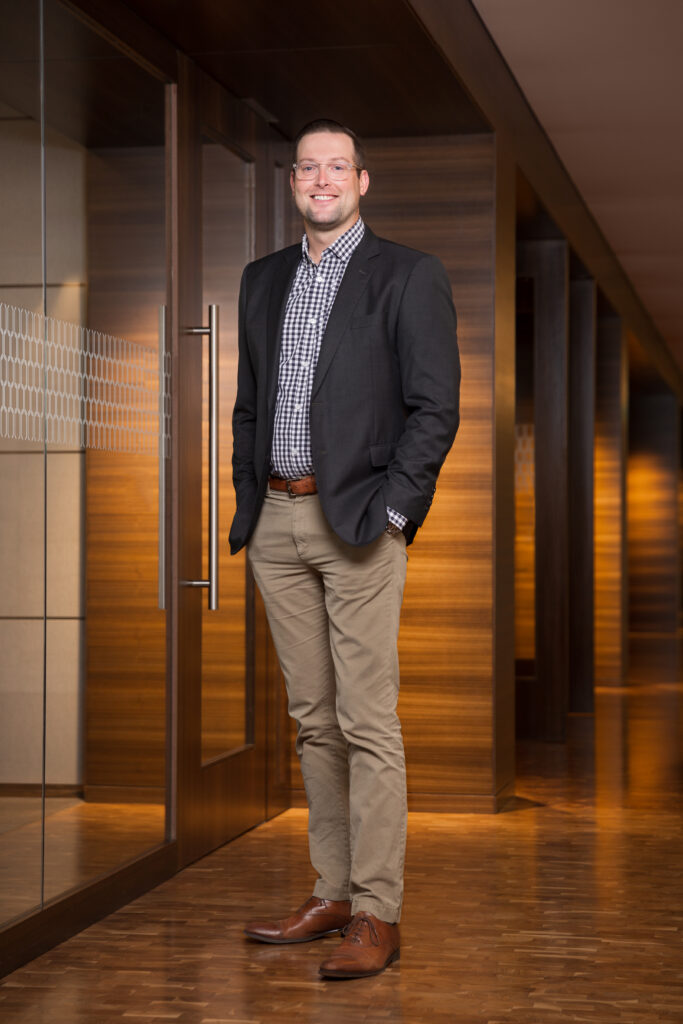 Muse said he learned three crucial elements that remain sound advice today.
"Figure out exactly what type of law you want to practice, and dedicate your energy in pursuing those specific opportunities," he said. "Next, network, network, network. Third, the path to the ideal job will not be a straight path, but likely a winding road of various opportunities and experiences that lead to the ideal job."
In the summer 2016, a family friend told Muse about City Electric Supply. That September, the company made him associate counsel.
In the six and a half years since, Muse has handled more than 5,000 leasing agreements, purchasing contracts, joint partnerships and acquisitions.
In November, he was promoted to associate general counsel.
"I usually wake up to several emails concerning new deals that are entering the pipeline," he said. "The initial objective being to prioritize the various projects and determine what stage each project is in. Then throughout the day, I'll help with answering questions and assisting CES's other attorneys and real estate paralegal on various projects, while at the same time working to complete or move the priority project for the day forward."
City Electric leases roughly 600 brick-and-mortar stores. Its objective is to increase the number of locations by 40-plus per year. The company also operates six distribution centers in the U.S. and Canada. In addition, the business has a real estate portfolio of 140 owned properties.
Besides the usual acquisitions, sale leasebacks, licensing, construction and financing agreements, Muse said another increasing source of transactions for him involve City Electric's solar, electric vehicle, national accounts and corporate services groups.
"These transactions typically involve complex distribution of large quantities of expensive and specialized material involving sophisticated owners, customers and vendors," he said. "These transactions can take several years to complete, depending on the complexity and value of the deal."
"Every day is different and presents its own challenges and rewards, but being able to connect the business and legal interest to accomplish a common goal is always the rewarding objective," he said.
Shockley said there is no limit to Muse's future accomplishments.
"Given Denton's curiosity and intelligence, I see him excelling in all areas of business and real estate in the future, especially in complex projects, which require not only legal knowledge but the ability to bring diverse groups together toward a common goal," she said.