Who run the world? According to Houston-born pop singer Beyoncé, girls. And that's exactly who topped the list of dealmaking lawyers in Texas this past year, according to data collected by The Texas Lawbook's Corporate Deal Tracker.
Sarah McLean, the midstream doyenne of the oil and gas world and, until recently, a partner at Thompson & Knight in Austin, was involved in the most deals in 2017, inking 18 with a value of $7.9 billion.
McLean recently jumped to Shearman & Sterling, which opened an office in Austin last month with eight former Andrews Kurth Kenyon lawyers. She previously spent almost 19 years at Thompson & Knight, where she specialized in representing energy-focused master limited partnerships on fund creation and M&A.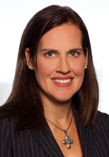 Her biggest client in recent years was probably EnCap Flatrock Midstream, an energy infrastructure investor owned by EnCap Investments and Flatrock Energy Advisors. The firm raised $3.5 billion for its fourth fund in January, surpassing its $3 billion target, and in March committed $250 million to Getka Energy, which is led by Enbridge Energy Partners executives.
McLean received her law degree from the University of Texas at Austin in 1999 and a bachelor of science degree in biochemistry and molecular biology from Oklahoma State in 1996.
Gibson Dunn partner Justin Stolte in Houston – the Latham and Baker Botts alum who joined the firm this past March from oil and gas company Apache – came in second with 12 deals valued at $2.1 billion.
Close behind Stolte ranking third was Andrews Kurth Kenyon partner Mike O'Leary in Houston, who handled 11 deals worth $33.6 billion (and was a key lure in Hunton & Williams wanting to buy the firm earlier this year).
Vinson & Elkins partner Bryan Loocke in Houston took the fourth spot with 9.5 deals valued at $4.9 billion while Simpson Thacher & Bartlett partner Chris May, also in Houston, came in fifth with 9 deals valued at $16.9 billion.
Rounding out the top 10 were Gibson Dunn partner Hillary Holmes (who lateraled from Baker Botts last year), Bracewell partner Will Anderson, Kirkland & Ellis partner Anthony Speier and Akin Gump partner John Goodgame, all of Houston. Weil Gotshal & Manges partner Glenn D. West in Dallas came in 10th.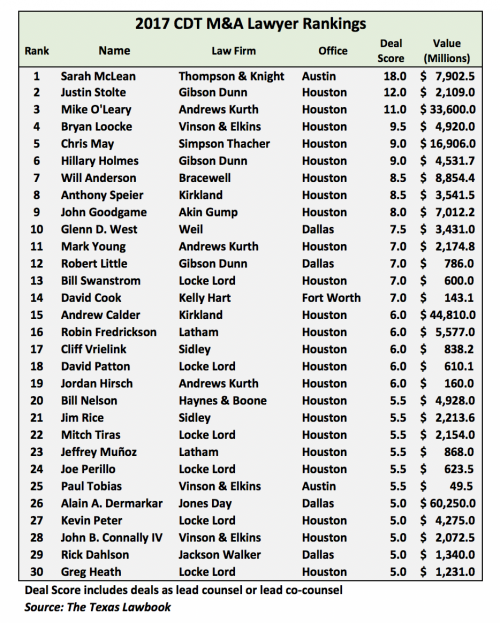 Last year's top 10 list had three of the same names as the 2016 ranking, with Speier coming in second, O'Leary taking third and Loocke placing fifth.
But Kirkland partner Andy Calder was displaced from the top spot he held in 2016, when he handled 15 transactions valued at $67 billion (including Energy Future Holdings' $18.4 billion sale of Oncor to NextEra Energy, which ended up not going through).
Calder came in 15th in terms of deal count last year but was second in terms of value for his advice on $44.8 billion worth of transactions, including EFH on its $11.2 billion sale of Oncor to billionaire Warren Buffett's Berkshire Hathaway (which also didn't go through) and the $18.8 billion sale to Sempra Energy (which did go through).
Jones Day partner Alain Dermarkar in Dallas came in first in terms of deal value last year handling $60.2 billion in transactions, including advising Reynolds American on its $49 billion sale to British American Tobacco. He only ranked 26th in deal count, however.
Last year Weil partner James Griffin in Dallas came in fourth while V&E partner John B. Connally was sixth, Baker Botts partner Mike Bengtson was seventh, Andrews Kurth partner Mark Solomon was ninth (he has since moved to Katten Muchin Rosenman to open its Dallas office) and former Thompson & Knight partner Larry Hall, now at Baker Botts, was 10th.
Seven other women made the top 100. They included Latham partner Robin Fredrickson in Houston (who ranked 16th); Jones Day associate Lindsay D. Murphy in Dallas (45th); and managing partner Christine LaFollette at Akin Gump Strauss Hauer & Feld in Houston (53rd).
The other four were Baker Botts partner Mollie Duckworth in Austin (63rd); Jackson Walker partner Stephanie Chandler in San Antonio (84th); Sidley partner Kelly Dybala in Dallas (98th); and Jones Day partner Susan C. Cox in Dallas (99th).
While a woman took the top spot on last year's ranking, the list was still mostly made up of white men, with females only representing around 12 percent of the 303 names on the list. Still, it's progress.