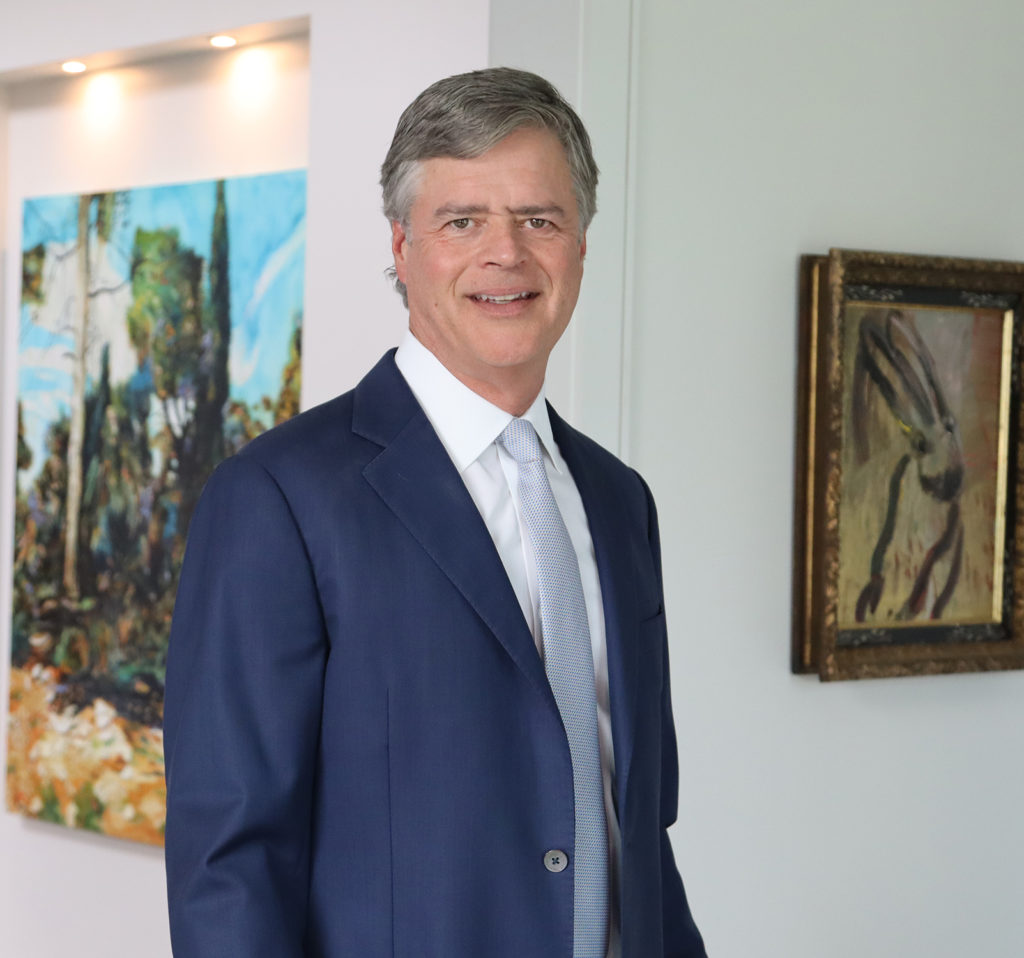 William Turcotte
Growing up the son of a South Texas rancher and educator, William Turcotte learned about facing tough times, long days of manual labor and the importance of a great education as the basis for making smart choices.
"We were raised to work hard, think for ourselves and learn to be self-sufficient," he said. "Growing up on a ranch was a different way of life than most experience, and I credit much of what makes me successful to my parents, both of whom instilled a work ethic, and my upbringing. I was always extremely impressed by the cowboys I grew up around – they had very little formal education, but most had a Ph.D. in common sense."
Turcotte needed those long-ago instilled principles during the past two years as the general counsel at Noble Corporation.
In a matter of months, Turcotte led Houston-based offshore drilling contractor in and through Chapter 11 bankruptcy, eliminating $3.4 billion in bond debt and restructuring with $600 million in liquidity and a $675 million revolving credit facility.
Only weeks after emerging from bankruptcy, Noble acquired Pacific Drilling in an all-stock purchase reportedly valued at more than $500 million. In November 2021, Turcotte and Noble were at it again, closing a $3.13 billion all-stock merger with Maersk Drilling.
Premium Subscribers: Click Here for a Q&A with William Turcotte, in which he offers advice for outside counsel and discusses what he looks for when hiring a firm.
"The joke was 'You can always sleep when you're dead,'" Turcotte told The Texas Lawbook. "To be honest, while pretty nutty most of the time, it was what we had planned for the previous two years. It was also fun to finally be through the restructuring and able to build, rather than reorganize.
"It was – and still is – a challenging period, and Covid added a new dimension to those challenges," he said. "Starting with a new board that you couldn't actually meet in person for quite some time, while taking on those types of projects was different to say the least."
In the middle of it all, Turcotte got married last June to Phillips 66 senior counsel Christine Marziotti.
"To say we had a busy household is an understatement," Turcotte said. "The biggest challenge was making sure nothing fell through the cracks and making sure we thought through everything that was happening in real-time, and really, really fast."
The Association of Corporate Counsel's Houston Chapter and The Texas Lawbook have named Turcotte as one of two finalists for the 2022 Houston Corporate Counsel Award for General Counsel of the Year for a Small Legal Department.
The ceremony honoring the finalists and announcing the winners is tonight (Thursday) at the Four Seasons Hotel.
"Over the past year, William has navigated Noble through its most challenging and transformative period in the company's 125-plus year history," said Kirkland & Ellis partner Sean Wheeler, who nominated Turcotte for the award. "William's leadership throughout its restructuring enabled Noble to emerge with a strong financial and operational foundation that positioned it to take advantage of growth opportunities."
Wheeler said Turcotte's handling of the Maersk Drilling merger was particularly special.
"Many pundits thought the transaction was not doable because of its complexity, the competing interests of different constituencies and the numerous jurisdictions involved," Wheeler said. "William masterfully navigated different geographies, cultures and legal regimes to bring the transaction to fruition."
Baker Botts partner Clint Rancher said Turcotte has a "comprehensive grasp of securities laws, labor issues and the significant international regulatory environment that governs the offshore industry."
"William's extensive experience in the energy industry has provided him with the sophistication to properly evaluate and weigh multiple inputs and impacts of any particular decision or course of action," Rancher said. "He is a trusted and integral part of the management team at Noble, and the board members rely on the wealth and breadth of his extensive experience and judgment."
And let there be no doubt, he has a passion for the oil and gas world.
"I absolutely love the current challenges we face, as well as the can-do attitude still prevalent in the industry," he said.
Turcotte was born in Sarita, Texas, which is due west of Padre Island. He describes his father as a "tough, but loving man.
His mother was a school teacher and then a principal of a Catholic school.
"My mom is a remarkable person and the matriarch of our family," he said. "She exemplifies positivity, resilience and self-reliance."
Turcotte had no lawyers in his family growing up, though his sister, Jeannie McDowell, has a family law practice in Houston and his brother-in-law, John McDowell, is a plaintiff's attorney.
"I was always intrigued with the idea of becoming a lawyer, although I had a pretty limited idea of what practicing law could entail," he said. "I have a finance degree, and in college I became more interested in practicing transactional or corporate law. I was also always interested in working overseas. Perhaps driven by my upbringing in a small town, I was attracted to the idea of experiencing other cultures."
After graduating from the University of Houston Law Center in 1989, Turcotte joined Baker, Brown, Sharman & Parker and then moved his practice to Thompson & Knight, which is now Holland & Knight. Then he moved to Mexico to do transactional work for the law firm Barrera, Siqueiros y Torres Landa, which is now a part of Hogan Lovells.
"That was an incredible experience from a legal perspective but also from a personal perspective," he said. "It further stoked my interest in an international transactional practice and living abroad. That was a time of great change in Mexico, as the economy was being opened for the first time in many, many years and NAFTA was being negotiated."
In 1992, Turcotte went in-house at Schlumberger, where he held numerous positions in its legal department over an eight-year span.
"I wanted the opportunity to work abroad, and there was no company that was more international at that time than Schlumberger," he said. "I worked in Houston, Caracas and Paris, and found each to be a great experience filled with significant responsibility."
Turcotte spent seven years as an assistant GC at Transocean.
In 2008, he joined Noble after being referred to the company's CEO by a friend.
"It was a great opportunity and fit," he said. "I also was able to live overseas one more time, as I spent four years in Geneva."
Then came 2020. Covid-19 shutdowns. The economy tanked. Oil and gas prices plummeted. Energy companies with significant amounts of debt that needed to be serviced faced severe financial stress.
Noble was one of them. The company and its 39 affiliates filed under Chapter 11 in the Southern District of Texas, where Chief Bankruptcy Judge David Jones oversaw the restructuring.
Turcotte said Judge Jones' "approach, demeanor and oversight" was extraordinary.
"We started the journey with a view to what we wanted for the company and tried always to be guided by that while being realistic about the process," Turcotte said. "Our CEO, CFO and I spent innumerable hours always playing our own form of chess, trying to think things through two or three moves ahead. And to be frank, we were fortunate to have supportive creditors, now shareholders, that believed in our platform and team. In that situation, you have to have a realistic plan and strategy and always keep the end in sight."
Noble emerged from bankruptcy in February 2021.
Within months, Turcotte turned to leading the Pacific Drilling acquisition, followed by the Maersk Drilling merger.
"We are a pretty lean organization, so we are diligent about communicating and trying to think a couple moves ahead," he said. "My best day as a GC was the announcement of the Maersk Drilling transaction. I have been lucky enough to work on a number of complicated cross-border transactions, but this one ranks up there and, more importantly, represents a major step in our strategy."
The combined entity, when the transaction closes later this summer, will be headquartered in Houston, but it will have significant operating presence in Stavanger, Norway.
"Over many years of working with William, his ability to identify issues before they become problems and find practical but appropriate solutions is a trait that stands out," Rancher said. "William can see around corners. He is seamlessly integrated into the management team at Noble and is viewed a business partner, trusted to accomplish results for the company."