© 2017 The Texas Lawbook.
By Natalie Posgate
(April 5) – Lawyers at Baker Botts and Bracewell said Tuesday that they advised on Tallgrass Energy Partners' $400 million purchase of a 24.99 ownership interest in the Rockies Express Pipeline from Tallgrass Development.
Tallgrass Energy Partners, a publicly-traded master limited partnership, turned to a Bracewell group led by Houston corporate partners Gary Orloff and Troy Harder to lead its end of the deal. They received assistance from Houston corporate associates Lytch Gutmann and Jared Berg. The team represented the independent conflicts committee for Tallgrass Energy Partners that approved the transaction.
"We are pleased to have represented the conflicts committee in all seven of Tallgrass Energy Partners' drop-down transactions since 2014," Harder said.
Baker Botts' Mollie Duckworth led the deal for Tallgrass Development, a privately-held affiliate of Tallgrass Energy Partners. The Austin-based Baker Botts deal team also included tax partner Jon Nelsen and corporate associate Rachel Ratcliffe.
The transaction, which was announced Monday, gives Tallgrass Energy Partners an approximate 50 percent stake in the Rockies Express Pipeline (REX for short), a natural gas system that stretches across eight states from the Rocky Mountains of Colorado to eastern Ohio. As of closing, the remaining interests are owned by Phillips 66 (25 percent) and Tallgrass Development, which still has an approximate 25 percent stake in the pipeline.
"The transaction gives Tallgrass Energy Partners a much more significant ownership stake in the Rocky Express Pipeline, which is currently one of its biggest assets," Duckworth said.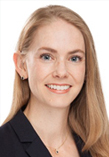 Last year, Duckworth worked on the transaction that ultimately gave Tallgrass Energy Partners its first 25 percent stake in the pipeline. In that deal, Tallgrass Development, who Duckworth represented, agreed to purchase Sempra U.S. Gas and Power's ownership in REX for $440 million. Prior to the closing, Tallgrass Development offered to assign its rights and obligations under the purchase agreement to Tallgrass Energy Partners and Tallgrass Energy Partners agreed to assume its contractual right to purchase that stake. As a result, Tallgrass Energy Partners acquired the interest directly from a unit of Sempra U.S. Gas and Power.
Duckworth has been representing the Tallgrass companies since Tallgrass Energy went public in 2013. But Baker Botts' connection to the company dates back to previous matters the firm has handled for the Energy & Minerals Group, one of the current owners of Tallgrass. Tallgrass Development was formed in 2012 to acquire various assets from Kinder Morgan, one of which was Kinder's 50 percent stake in REX. Tallgrass' CEO is David Dehaemers, a former Kinder Morgan executive.
© 2017 The Texas Lawbook. Content of The Texas Lawbook is controlled and protected by specific licensing agreements with our subscribers and under federal copyright laws. Any distribution of this content without the consent of The Texas Lawbook is prohibited.
If you see any inaccuracy in any article in The Texas Lawbook, please contact us. Our goal is content that is 100% true and accurate. Thank you.