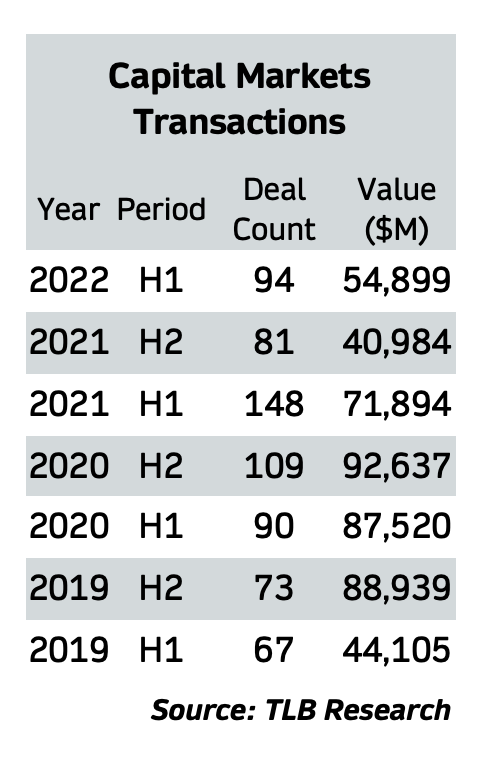 Capital markets activity bounced back slightly during the first six months of 2022, but remained significantly lower than the first half of 2021.
The second half of 2022 has not begun well either.
New data from The Texas Lawbook's exclusive Corporate Deal Tracker shows that lawyers in Texas led 94 securities offerings between Jan. 1 and June 30 that had a combined value of $54.9 billion.
The number of H1 2022 CapM transactions was up 16 percent over the final six months of 2021 but still down 36 percent from the first six months of 2021, when there were 148 securities offerings, according to the Corporate Deal Tracker.
Texas lawyers worked on 148 CapM transactions with a value of $71.9 billion during the first half of 2021.
"The equity markets have had their share of turbulence this year, which kept IPO activity subdued in comparison to previous years," said Baker Botts partner Carina Antweil. "I think that unless current headwinds subside, and that doesn't seem likely in the near term due to all of the macroeconomic factors at play, equities will remain under pressure."
Hillary Holmes, a corporate partner at Gibson, Dunn & Crutcher, said the first half of 2022 "was very challenging for companies to access the capital markets – both debt and equity."
"The U.S. stock market suffered the worst first half of a year since 1970," Holmes said. "Companies got creative with capital raising structures, balance sheet management and insider investments. Notwithstanding that challenging backdrop, we saw some clients successfully seize on opportunities, such as LNG transportation company Excelerate Energy providing energy security and executing on the first major IPO in the U.S. in April."
Latham & Watkins CapM partner David Miller agreed.
"Broadly speaking, first half was obviously quite slow, though there was quite a bit more activity in confidential submissions for energy IPOs than there had been in the prior 24 months, particularly on the services side," Miller said. "Additionally, while high yield activity was non-existent save a small handful, there continued to be strong interest in ABS [Asset Backed Securities] transactions by upstream companies, in particular ones with sustainability-linked features — either in full compliance with the ICMA [International Capital Market Association] guidelines, or not."
According to statistics compiled for the Corporate Deal Tracker Roundup, published weekly by Texas Lawbook M&A writer Claire Poole, lawyers in Texas reported 21 new CapM transactions during the first 10 weeks of H1 2022 – down from 44 during the same period in 2021.
"There continues to be prep work for several potential IPOs which may launch in 2022, and credit spreads seem to be tightening so there may be some increase in high yield activity," said Miller of Latham. "Meanwhile, I believe there will be several additional asset-backed securities offerings in the coming months as demand for that product continues."
Antweil said the "outlook for the debt markets is brighter as investors move away from equities and into debt instruments in search of returns."
"Debt is obviously becoming more expensive for issuers as interest rates rise, but the need for capital remains as companies continue to focus on growth projects and returning value to shareholders," she said.
Holmes said she expects to "see creativity and resourcefulness, particularly as inflationary pressures adversely impact market performance.
"We expect continued balance sheet management as interest rates rise and free cash flow increases," she said. "We also continue, quarter over quarter, to have increased interest in ESG-related debt products, including sustainability-linked bonds, green bonds and blue transition bonds. These products provide a double return on the investment — both a potential lower cost of capital and tangible support for the company's ESG strategy."