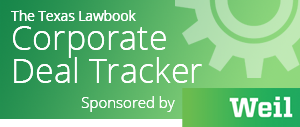 For corporate legal work among Texas-based lawyers, 2016 was neither the best nor the worst of times. Some law firms thrived, while others simply survived. The dramatic evolution of the Texas M&A legal market continued. But at the same time, this is Texas, where some things never change.
M&A experts predict 2017 is going to bring more of the same, including more deal activity than during the past two years.
New data from The Texas Lawbook's Corporate Deal Tracker, which collects all M&A deals handled by lawyers based in Texas, shows that 16 of the top 25 corporate legal practices in Texas witnessed a significant increase in the number of mergers, acquisitions, divestitures and joint ventures they handled in 2016 compared to the year before.
The Corporate Deal Tracker shows that about half of the top 25 law firms saw the number of deals handled by their Texas-based lawyers increase by 10 percent or more in 2016. One-fourth of the law firms worked on roughly the same number of transactions as they did in 2015.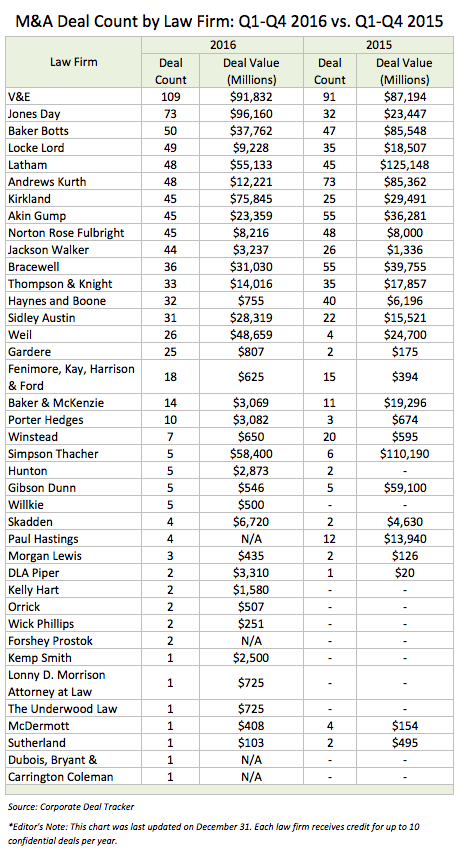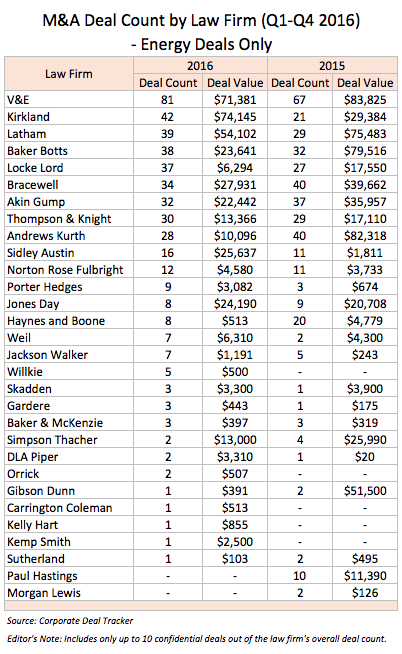 The remaining six law firms would not call 2016 a stellar deal year.
Fluctuations in the Texas legal market – including higher and more stabilized oil and gas prices, asset sales resulting from bankruptcy reorganizations, heated lateral movement among partners with books of business and generally improving economic conditions – helped determine what deals closed in 2016 and which firms handled them, according to Corporate Deal Tracker data and interviews with several leading M&A experts.
Sixteen corporate law firms with offices in Texas handled 556 transactions in 2016 – up 53.6 percent from the year before and just nine deals short of the total amount of deals all law firms reported to the Corporate Deal Tracker in 2015. Some of those firms – including Jones Day; Weil, Gotshal & Manges; Gardere Wynne Sewell; and Porter Hedges – doubled or even quadrupled their M&A work last year.
Weil's deal count increased six-fold in 2016 after Jim Griffin, a corporate partner who had worked in the firm's Silicon Valley office, moved his practice to Dallas last February. Griffin was the lead legal adviser in nine of the 26 M&A deals that Weil reported last year.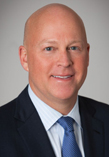 "The Texas M&A market is clearly more than just energy, but energy does make up a significant portion of the Texas M&A market," Griffin said in an interview earlier this year. "I believe 2017 will be a great year for M&A, particularly in the technology space. Technology is constantly changing, change requires companies to adapt and grow, and M&A is a logical path to facilitate that adaptation and growth."
Eight of the top 25 law firms – Andrews Kurth Kenyon, Bracewell, Haynes and Boone and Winstead, to name a few – witnessed a decline in M&A work in their Texas offices. These eight Texas law firms handled 332 transactions in 2015, but only 251 last year – a 24 percent decline in deals.
The Texas outposts of national law firms – among them Jones Day, Latham & Watkins, Kirkland & Ellis, Weil and Sidley Austin – continued to steal business from their Texas-based competition. Eleven of the top 25 firms are headquartered outside of Texas. Nine of those firms increased their deal count in 2016. In addition, the Texas-based lawyers for the national firms handled transactions with considerably larger deal values than their Texas counterparts.

"I think we saw a lot more healthy deal activity toward the end of the year [and] 2017 is just continuing the trend we saw in the last three or four months of 2016," said Anthony Speier, a partner at Kirkland, which increased by 80 percent the number of deals its Texas lawyers handled last year. "Buyers are paying higher prices, while sellers are selling at slightly lower prices than two years ago. There's a little bit more stability in the market."
A handful of Texas-based firms – including Locke Lord, Jackson Walker and Porter Hedges – advised in significantly more deals in 2016 than their lawyers did a year earlier.
"In 2016, we saw a real spike in the number of carve-out transactions where we would come in and not necessarily buy an entire business, but buy a portion of the business; which is good for us, because we can sort of strategically add to an existing company," said Kevin Jones, a partner at Jackson Walker, where deal activity jumped nearly 70 percent in 2016.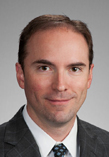 "[It is also] good for a seller, who can take advantage of the higher valuations we're seeing because of a frothy market, but not necessarily divest core assets," Jones said.
No law firm came close to toppling the undisputed M&A king of the oil patch: Vinson & Elkins.
Lawyers in the Texas offices of the Houston-based law firm led 109 deals in 2016 – a 21 percent jump from the year before and 50 percent more M&A transactions than its nearest competitor.
V&E clearly benefited the most from stronger oil prices, as three-fourths of all of its deals involved companies in the oil patch. In fact, V&E's 81 energy company deals in 2016 matched the combined total of its two closest competitors – Kirkland (42) and Latham (39).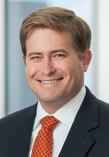 "During the second half of 2016 and particularly in the fourth quarter, we experienced a major increase in demand for M&A transactions, especially in energy," said V&E partner Matt Strock, who is co-head of the firm's mergers & acquisitions and capital markets practice group. "This heightened level of M&A activity has continued in 2017. We are seeing a great deal of interest from public and private energy companies as well as private equity firms looking to exit previous investments or invest capital in new companies or projects."
Kirkland, which came to Texas in April 2014, doubled the 21 energy sector deals it handled in 2015. Latham's Texas lawyers worked on 34 percent more oil and gas M&A in 2016 than they a year earlier.
The success of elite national firms in the Lone Star State, shown in the latest data, means something has to give in the food chain of the Texas legal market.
For example:
Bracewell saw the most dramatic ranking and deal count decrease, falling from third place for deal count in 2015 to eleventh place and handling 35 percent less deals;
Andrews Kurth Kenyon, Haynes and Boone and Akin Gump followed, handling 34 percent, 20 percent and 18 percent less work, respectively;
Three firms that were in the top 10 in 2015 – Bracewell, Haynes and Boone and Thompson & Knight – got booted out in 2016;
Only two firms, V&E and Andrews Kurth Kenyon, that were in the top five in 2015 stayed in the top five last year;
Three elite national firms in the top 20 – Latham & Watkins, Kirkland & Ellis and Sidley Austin – increased their 2016 deal count, in spite of a presence in Texas of seven years or less.
Texas-based lawyers for Jones Day, a global law firm that has had an office in Dallas for more than three decades, more than doubled the number of M&A transactions they led in 2016, allowing the firm to jump from 12th place to second in the Corporate Deal Tracker rankings in just the last year. In addition, Jones Day's Texas operations quadrupled the combined value of the deals it handled – from $23 billion in 2015 to $96 billion in 2016, more than any other law firm with an office in Texas.
While Jones Day lawyers led a handful of energy deals in 2016 – including advising Oncor in its $18.4 billion sale to NextEra Energy – 89 percent of the 73 transactions they led involved businesses outside of the energy sector.
Mike Considine, a corporate partner in Jones Day's Dallas office, said Jones Day's Texas lawyers "benefitted from a generally active global M&A market."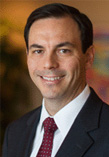 "Our local team is closely tied with our other offices, resulting in a diverse group of domestic and international clients, operating across multiple industries," Considine said. "As such, we were able to leverage the entire global M&A market."
The moves of some key dealmakers appeared to greatly affect other firms' deal counts. For example, Sargon Daniel, a former shareholder in Winstead's Dallas office, led nearly a third of Winstead's 2015 M&A deals. But after Daniel left the firm in early 2016, Winstead only reported about a third of the deal volume it had reported the year before.
Private Equity's Influence
Though seven Texas law firms dropped in deal count, two – Jackson Walker and Locke Lord – were among a group that did exceptionally better than they did in 2015. Jackson Walker worked on 69 percent more M&A deals in 2016. Locke Lord worked on 40 percent more.
Partners from both firms said they and their colleagues were incredibly active in deals tied to private equity firms, which played an aggressive role in last year's M&A market.
"Private equity has driven so many deals in the last couple of years, and record amounts of capital, which has to be invested and returned to investors in a certain period of time," said Jones of Jackson Walker. "[Private equity] just drives so much deal value that it really has changed the landscape of transactions."
A great chunk of both firms' work also comes from the mid-market space, deals that are anywhere between the $50 million and $250 million range.
"We've worked hard to focus on growing our mid-market M&A practice, particularly focusing on representing private equity firms and private equity-backed companies," said Bill Swanstrom, a partner at Locke Lord and co-chair of the firm's energy practice group.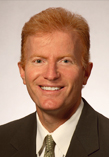 Some peer Texas firms' client base tends to comprise of more public companies, Swanstrom said, "and private equity funds were more active in the market than publically traded companies were" last year.
Though "historically mid-market-focused," Swanstrom said Locke Lord has also increased its workload by handling more billion-dollar deals in recent years. Earlier this month, the firm closed Houston-based American Midstream's $2 billion merger with JP Energy Partners.
"We made a concerted effort for the last two to three years to make sure the market and our clients knew we were working on bigger and bigger deals and that we'd love the opportunity to represent our clients in those larger deals," Swanstrom said.
Houston-based Porter Hedges, which also focuses heavily on mid-priced deals, more than tripled its deal count from 2015. Fenimore, Kay, Harrison & Ford, an Austin-based transactional boutique for community banks and financial institutions, saw a 20 percent jump in its deal count.
M&A experts say overall that all signs point toward 2017 being just as strong as 2016 for deal flow, if not stronger.
"Key drivers of M&A remain primed for an active year, which we are already seeing in the first quarter of 2017," said Jones Day's Considine.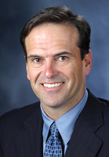 "We are expecting a very busy 2017," said Mark Solomon, managing partner of Andrews Kurth Kenyon's Dallas office. "Some people are predicting anticipated tax law changes will enhance M&A activity this year, however, it is too early to tell."
About two-thirds of law firms that provided feedback in a recent Texas Lawbook survey said they believe M&A activity will see an uptick – and some already have – due to the indication that the Trump administration will implement both corporate tax reform and a more relaxed regulatory environment.