The business of corporate law in Texas for 2017 can be best described in two statements: Rich law firms got much richer, and the rest of the law firms scrambled for survival.
For a handful of Texas-based corporate law firms – Vinson & Elkins, Haynes and Boone, Jackson Walker, Munsch Hardt, Gray Reed and Winstead – 2017 was the best year ever financially.
Several national law firms operating in Texas – Kirkland & Ellis, Simpson Thatcher, King & Spalding, Sidley Austin, Winston & Strawn, Polsinelli, Reed Smith and Gibson, Dunn & Crutcher – experienced phenomenal growth last year in either head count or revenues or both.
The Houston office of Kirkland, which only opened in 2014, generated $187 million last year, making it the 11th largest legal operation in Texas.
A handful of law firms – Baker Botts, Andrews Kurth, Locke Lord, Gardere, Fish & Richardson, Coats Rose and McDermott Will & Emery – witnessed significant declines in revenues generated by their Texas offices in 2017.
Over all, the 50 largest corporate law firms operating in Texas essentially employed about the same number of lawyers that they did in 2016, but they made much more money.
Exclusive research by The Texas Lawbook found that the 50 largest corporate legal practices in Texas generated $5.65 billion in revenues from their lawyers who office in the state – a 2.4 percent increase from 2016.
The data shows that the national law firms that moved into Texas during the past few years continue to steal lawyers and revenue from Texas legacy law firms.
The Texas Lawbook analysis of the exclusive data shows that:
There were 7,003 lawyers practicing in the Texas offices of the 50 largest corporate law firms on Dec. 31, 2017 – 36 more than worked at those same law firms one year earlier, which is a 0.5 percent increase;
Twenty-six of the 50 largest corporate law firms had lawyer head count decline in 2017;
The three law firms that showed the largest increase in head count in Texas in 2017 were Winston & Strawn, Kirkland & Ellis and Sidley Austin (Editor's Note: The Texas Lawbook will have a full article Monday on the battle in Texas between these three Chicago law firms);
Nearly 40 percent of those 7,003 corporate lawyers in Texas now work for law firms headquartered outside of the state;
Revenues in the Texas offices of 35 corporate law firms increased, while 12 declined;
A dozen law firms saw their Texas revenues increase by double-digits in 2017, while revenues at five law firms declined by 10 percent or more;
Thirty-three of the top 50 law firms by revenue generated from their Texas offices were based outside of the state;
The Texas offices of national law firms generated $2.57 billion in 2017 – a 38 percent increase from just two years ago;
Lawyers in the Texas offices of Texas-based law firms brought in $3.1 billion in revenue in 2017, which is the same amount as in 2016 and 2015;
Fourteen law firms saw their Texas operations hit the elite level of $1 million or more in revenues per lawyer;
Of the 14 law firms hitting this top-level status, only two – Baker Botts and V&E – are currently headquartered in Texas (Akin Gump, which was founded in Texas and now based in Washington, D.C., ranks seventh);
Two law firms – Kirkland and Simpson Thacher – battled for the top spot in revenues per lawyer;
Twenty-two of the 25 law firms operating in Texas with the highest revenues per lawyer are headquartered outside of Texas. By comparison, only two non-Texas-based law firms – Weil, Gotshal & Manges and Jones Day – would have been on such a list seven years ago.
The Texas Lawbook surveyed the 50 law firms with the largest operations in Texas. Nearly all of the firms provided their financial data. A handful did not, but The Lawbook obtained revenue estimates on those law firms from legal industry consultants or recently departed partners of those law firms.
Only one law firm – Houston-based Susman Godfrey – refused to cooperate completely.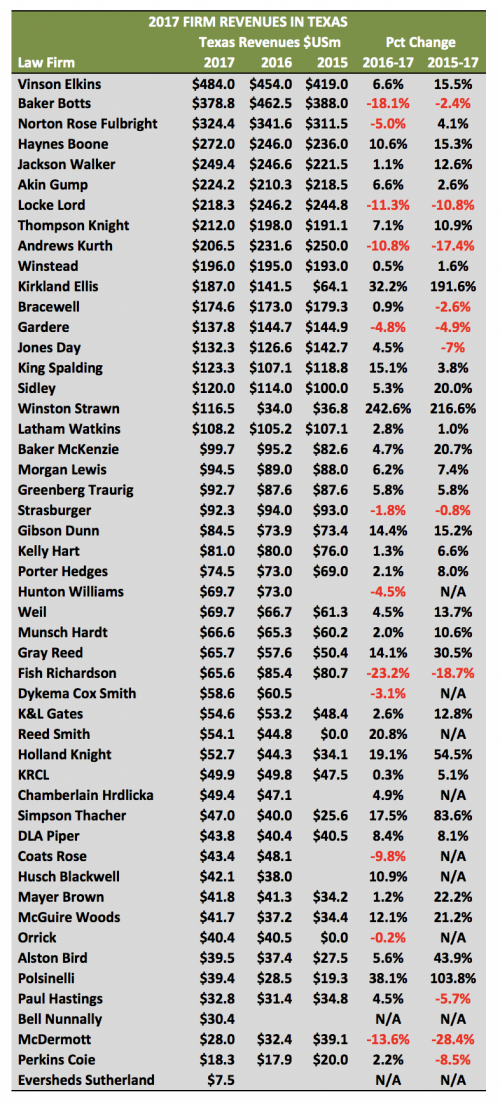 Battle for Talent and Treasure
For the past two years, there have been battles among three mostly Houston-centric law firms for the claim of being the largest law firm in Texas by head count and the largest law firm by revenues.
The 2017 data shows that V&E, which had been second in 2016 in lawyer head count and revenues, is now No. 1.
V&E lawyers in Austin, Dallas and Houston brought in $484 million – a 6.6 percent increase over 2016 and a 15.5 percent jump from 2015.
"We had a truly fabulous year – a record year," said V&E Chairman Mark Kelly. "Demand was up, which was good. We have 112 summer associates coming in. So, we are ramping up for another great year and for expansion."
While national law firms have raided V&E for scores of lawyers during the past seven years, legal industry analysts say that V&E has also benefited from the national invasion in one simple way: the elite national law firms with dramatically higher rates provided cover to V&E to significantly increase the rates it charges clients.
Most Texas-based law firms decided to use their lower hourly rates as a marketing tool to retain business. But V&E, according to legal consultants, took the opposite approach.
"The formula for success is simple," said Chicago law firm consultant Kent Zimmerman. "The law firms that pay the most get the best lawyers. The best lawyers get the best clients and the best work. The best clients pay the highest rates and generate the best revenues. And then you can use those revenues to pay the best lawyers and the cycle starts over again."
For the most part, Kelly agreed.
"The challenge for law firms is attracting and keeping the best legal talent," he said. "For law firms with revenues less than $1 million per lawyer, it will be tough for them to compete. We want the high-end work and that means top talent.
"In this competitive environment, you cannot be caught flat-footed or you will get run over," Kelly said.
Baker Botts, which claimed the No. 1 spot for revenue in 2016 on the back of a large contingency fee payment, had $378 million in 2017 revenues for its Texas offices – an 18.1 percent decline from a year earlier.
V&E's revenue per lawyer was $1.18 million in 2017, which is exactly $300,000 higher than it was in 2012. At Baker Botts, RPL was $1.02 million last year, which is exactly $200,000 more than five years ago.
V&E actually saw its lawyer head count decline from 419 in 2016 to 409 last year. But Norton Rose Fulbright, which was No. 1 in total lawyers in 2016 with 438 in Texas, dropped even more in 2017 – to 408, which is one fewer than V&E.
Haynes and Boone and Jackson Walker are two Texas-based law firms that increased their lawyer head count and their revenues at their Texas offices.
Haynes and Boone increased the number of lawyers it has in Texas by two in 2017, but it raised its revenue per lawyer by nearly 10 percent – from $705,000 in 2016 to $774,000 last year. As a result, the Dallas firm increased its Texas revenues to $272 million, which is 15.3 percent higher than in 2015.
"2017 was our best year ever," said Haynes and Boone managing partner Tim Powers. "We saw strong performances across the board and we benefited from our clients doing some really great things.
"We are cautiously optimistic about 2018," Powers said. "The tax reform law will hopefully drive significant investment in Texas and infrastructure legislation could mean good work in the next year. But a trade war could have a devastating impact."
(Editor's Note: The Texas Lawbook will publish an in-depth report this Friday detailing the financial data of the Texas-based law firms and two global powerhouses that have roots in Texas, Akin Gump and Norton Rose Fulbright.)
National Trend Continues
Thirteen law firms have seen their revenues in Texas grow by 20 percent or more from 2015 to 2017. All but one – Gray Reed – is headquartered outside the state.
New York-based Simpson Thacher & Barlett, for example, has seen its revenues generated in Texas grow 83.6 percent, from $25.6 million in 2015 to $47 million in 2017.
"Based on just about any metric, we are experiencing extraordinary success," said Robert Rabalais, who is managing partner of Simpson Thacher's Houston office. "Houston has been the most productive and most profitable office on a per-lawyer basis of any office at the firm.
"Firm leadership has directed me to grow the Houston office and is making a substantial investment here," Rabalais said. "We are beefing up our capital markets and fund formations practices. We are building out new office space to potentially double the practice here."
Baker McKenzie, Holland & Knight, Mayer Brown, McGuire Woods, Alston & Bird and Polsinelli have all increased revenues by 20 percent or more since 2015. Two other law firms – Orrick and Reed Smith – did not have Texas offices in 2015. Reed Smith had $54.1 million in revenues from its Texas operation in 2017 and Orrick had $40.4 million.
Coming Friday: Texas-based law firms are fighting for survival. Some are doubling down at home, while others are expanding beyond the Lone Star State. Some are looking for merger partners. Others are building walls, or at least fences.
Coming Monday: For decades, three Chicago law firms – Kirkland & Ellis, Sidley Austin and Winston & Strawn battled in their hometown for supremacy. Then, they duked it out in New York and Washington, D.C. Now, they have brought their fight to Texas. All three firms are paying big bucks, luring major talent and generating record profits in Dallas and Houston.