David Stryker was in his office in the Huntsman Corp.'s corporate headquarters in The Woodlands in August 2016 when he got the call. Huntsman had spent $1.1 billion nearly two years earlier to buy a company that had touted its wondrous pigments technology.

Huntsman considered that technology the "crown jewel" of the acquisition. It promised dependability.

It promised to save money.

It promised, essentially, to bring home to the United States, a means to escape China's hold on raw materials for pigments Huntsman needed. And to escape the high prices China could charge.

But the call to David Stryker in 2016 threatened all that.

The pigments process Huntsman was buying from Rockwood Holdings, and all its promised benefits for Huntsman's industrial products, did not work.

It never would.

Stryker, Huntsman's executive vice president, general counsel and secretary, hurried seven doors down the hall to break the news to his boss, Peter Huntsman. Then he called Kirkland partner Eugene Assaf, who was nearly 2,000 miles away vacationing on Nantucket Island.
Less than 24 hours later Assaf was flying to Houston.

Assaf and Stryker had a lawsuit to file.

Kirkland filed it for Huntsman in New York in February 2017.

For more than four intense years Huntsman's lawyers fought to prove their fraud allegations and finally won a $600 million-plus arbitration award in late October 2021.

Albemarle Corp., the loser, standing in for Rockwood after acquiring what was left of Rockwood following Huntsman's pigments-technology purchase, vowed to challenge the award. But days later Albemarle had a come-to-Jesus reckoning. Against the odds, against any expectation with so much money on the table, Albemarle retracted its vow to fight and agreed to settle for $665 million the week following the panel's ruling.

Albemarle paid the first of two $332.5 million installments in late 2021. It recently made the final payment May 2.

The Association of Corporate Counsel's Houston Chapter and The Texas Lawbook recognize Stryker and Kirkland as the recipients of the 2022 Houston Corporate Counsel Award for Business Litigation of the Year for their success in this litigation, which has followed Stryker for nearly his entire career at Huntsman. ACC Houston and The Lawbook will honor Stryker and Kirkland at the annual awards ceremony May 19 at the Four Seasons in downtown Houston. The finalists in the other categories will also be honored and winners announced.
Kirkland M&A partner Doug Bacon nominated Stryker for the award.
"Honesty, integrity and culture are hard-wired in David's and the company's DNA, and so it was a matter of honor and good business judgment to ensure that wrongdoers did not get a free pass on defrauding Huntsman," Bacon said.
As Huntsman and Kirkland waited on the arbitrators last fall, Stryker's next challenge crystallized in September when activist investor Starboard Value acquired an 8.4 percent stake in Huntsman. What followed was a contentious proxy battle in early 2022 in which Huntsman prevailed. Then, in April 2022, Stryker traveled to New Orleans with a trial team from Vinson & Elkins to take on industrial gas supplier Praxair. After a three-week trial, Huntsman won a $96 million jury verdict at the end of April.
Premium Subscribers: Click Here for a Q&A with David Stryker, where he elaborates on the keys to overcoming the challenges in the Starboard proxy battle and what's next for him.
"Huntsman's recent successes — with David at the helm — are monumental in scope and epitomize David's leadership, commitment and strategic vision," Bacon said in his nomination letter. "These feats are in a league of their own among general counsel in the United States and plainly set David apart."
"Albemarle and Rockwood tried to cheat us so we went to war and we won $665 million," Stryker said. "Praxair thought they could get away with going cheap on the investments required to keep their plant (and ours) running for years, and now we're making them pay more than $125 million for their failure to do the right thing.
"And finally, Starboard thought they could sneak into our stock and score a free ride on the wave of our strategic success, which was in the works long before they first bought our stock," he said. "We told them we didn't need their director candidates — even when 'smart money' was advising us to settle and give them a few board seats — and we beat every one of the nominees on their dissident slate."
From Napping through the LSAT to Being a Global GC
Stryker was born and reared in Indiana. His father was a professor at Indiana University and his mother ran the household. For the first six years of Stryker's life, he was the youngest of three.
"Then the 'martini twins' were born and my life was ruined," Stryker said of his two younger siblings.
Although Stryker became the first lawyer in the family, his upbringing primed him well for a legal career.
"Family dinner was always 'full contact' and my siblings were sharp, so you had to bring your 'A game' to the table," he said. "Substantive discussions interspersed with sports talk. Silence was not permitted. Weaknesses were exploited. No ad hominem arguments allowed, even if deserved. You had to play to win on the merits."
Stryker said he began to consider law school in the late 1970s, "after it became clear there would be no jobs for Ph.D.s in English literature." He dropped out of his doctorate program and followed a family friend's advice to take the LSAT.
"I took the LSATs and fell asleep during a section of the test — not recommended to aspiring students and it definitely impacts your score," he said. "I did ace the GMATs, which I then took out of desperation since I had even less desire to go to graduate school in business, and both U Michigan and Stanford offered me teaching assistantships to get my MBA."
He wrote the law schools at both universities, asking if they'd consider letting him into their joint JD/MBA programs.
"After looking at my LSAT score, they said absolutely not. Integrity matters, right?" Stryker said.
After scoring much higher on the LSAT the next time, Stryker attended law school at Indiana University, and stood at the top of his class after his first year ("Who knew? I was totally screwed," he quipped). He worked as a summer litigation associate at Kirkland & Ellis' Chicago office and did his second summer at Sullivan & Cromwell in New York, trying (and hating) corporate work.
After graduation, Stryker clerked for former U.S. Solicitor General Robert Bork, at the time a judge on the U.S. Court of Appeals for the D.C. Circuit. After an unsuccessful attempt to pivot his career to academia, Stryker decided to practice law at Kirkland.
"When I was working at Kirkland in my first summer I worked on an FTC challenge to a merger between two chemical companies (I guess that was a sign) and we beat the FTC's ass," Stryker said. "I knew the courtroom was where my heart was … even if it took my head a couple of years to catch up and rule out the other options."
Stryker spent 10 years at Kirkland trying more than a dozen cases — first in Chicago, then in New York when the firm opened an office there. In 1994, he went in-house at Siemens Corp. after a Kirkland colleague told Stryker Siemens was looking for a new head of litigation.
"Siemens had room for me to move up in the department and quickly grow out of the litigation management job," he said. "I really went in-house intending to go as far up in the in-house world as I was capable of going, and Siemens was a great stepping stone for the path I took."
He moved up, then joined BASF in 2005, where he eventually became senior vice president, general counsel, secretary and chief compliance officer of the company's Americas operations.
Once Stryker entered the in-house world, he knew his ultimate goal was to become the GC of a company's global operations.
"I very much wanted the GC job at BASF globally, but at the time they wanted a German-fluent, corporate and tax attorney and that wasn't me," Stryker said. "When my boss confirmed I wouldn't get the job, I told him I was going to start looking for another and when (and if) I found something I wanted, I'd leave."
In 2013 Huntsman needed a general counsel.
"While talent and experience is critical, everybody is talented and experienced at that level, and your chemistry with the CEO and board is far more important to your ultimate success," Stryker said. "I hit it off with Peter (Huntsman) the first time we met, and I knew that we'd have a great relationship.
"Peter is also a 'full contact' client, so working here still has a family feel to it, even though we've been public for a long time," Stryker added. "He's aggressive and smart and he's always directly and deeply engaged. He's also willing, like me, to defend the company and our stockholders to the end when we've been wronged."
Before his recent successes at Huntsman, Stryker's "biggest moment" as a trial lawyer came in 2007 at BASF, when the company won a jury trial in New Jersey state court against Lyondell Chemical Co. The jury found that Lyondell had breached a 1999 contract by overcharging BASF for its supply of propylene oxide, an ingredient used in products that include flooring adhesive and foam.
The jury awarded BASF almost $170 million (more than $200 million after interest). Stryker said Lyondell declared bankruptcy after the verdict was upheld on appeal and BASF got cash and stock in the "new" Lyondell when it emerged from restructuring — ultimately collecting "far more" than the judgment amount because of the stock value.
"Lyondell kept two sets of books in order to circumvent an MFN (most favored nation) pricing clause in a long-term supply contract," Stryker said. "I just knew we were going to hit [big] and even predicted the verdict nearly to the dollar."
Besides Stryker's leadership, the outcome of the BASF-Lyondell case and the Huntsman-Rockwood/Albemarle case have one common denominator: Kirkland — and, specifically, Gene Assaf.
Two Lawyers Walk into a Hotel Lobby…
Stryker and Assaf first met in the early 1990s when they ran into each other at a hotel in Albany, New York. Stryker, then a partner at Kirkland, was in Albany for a trial. Assaf, who had recently started at Kirkland as an associate, was there for a deposition.
Stryker asked Assaf if he felt ready for the deposition. Assaf answered yes, so Stryker asked him if he wanted to pitch in on trial prep.
"I went up there and worked all night on his motions for the next day, and that's how we got to know each other," Assaf said. "I always tell young people that [you'll never know] how you get clients, but the one thing I do know is try to be responsible and do good work. It could be the person across the hall from you who will form an opinion of whether they'll trust you in a hard situation."
Stryker and Assaf continued to work together after Stryker moved to Siemens, including some plaintiffs' side trade-secrets cases. Their working relationship, of course, continued at BASF, and Stryker, with the help of Assaf and fellow Kirkland partner Dan Donovan, won the $169 million verdict against Lyondell.
Then came the Rockwood/Albemarle litigation.
"Gene … turned out to be a smarter and classier version of me and has been for more than 35 years," Stryker said. "Gene and Mike Williams tried the Albemarle/Rockwood case for us. They are fiercely loyal, wicked smart, civil and respectful, and just too damn good in court."
Assaf said "all three" companies where Stryker has worked included defense work, but "he brought plaintiff's cases as well."
"That's unusual for a GC," Assaf said. "David likes to lean into things and ask, 'Is this a case that we should be bringing?'"
The Call
Suing Albemarle was never a question once Stryker learned the truth; he immediately knew Huntsman would need to go on the offensive to fight for its rights.
The technology that was the anchor of Huntsman and Rockwood's $1.1 billion deal involves iron-oxide powders used in color-pigments manufacturing. Those in turn are essential in many industries and products, including construction materials.
Historically, U.S. companies that make color pigments have to get the iron-oxide powders from Chinese manufacturers. But as raw materials in China increased in cost, it became more important to try to develop them elsewhere. Rockwood touted that its Bluebird technology was the answer.
Rockwood first developed the Bluebird reactors at its Turin, Italy, plant. Rockwood was building a separate plant in Augusta, Georgia — one of the assets that Huntsman ultimately gained through the acquisition. The Bluebird process promised to forgo higher-priced iron oxide and use much lower-cost iron oxide feedstocks to accomplish the same color-pigments result.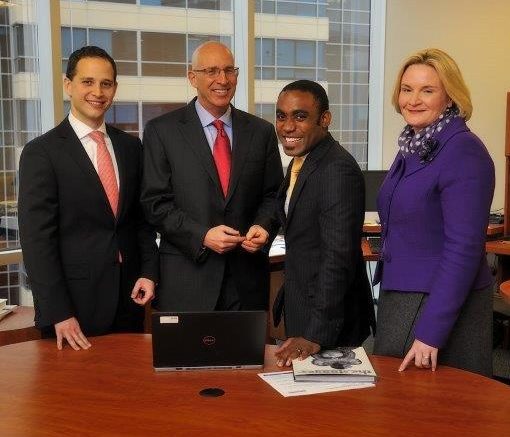 Photo (left to right): Leo Guglielmi, David Stryker, David Francis and Associate GC Andrea Wykman. Guglielmi and Francis are no longer at Huntsman.
Rockwood approached Huntsman about a deal in April 2013. By October 2014, they closed — after Huntsman executives had been given various representations of the technology they were acquiring, including statements by Rockwood executives that the Bluebird reactors had been "demonstrated" and "proven to scale."
But more than a year before Huntsman's deal with Rockwood closed, a whistleblower in Turin during an internal investigation disclosed that the Bluebird technology did not work as Rockwood executives had represented to Huntsman, and that it never would. In its lawsuit Huntsman said Rockwood executives were briefed on this disclosure but never told Huntsman.
Huntsman only found this out after it conducted its own investigation after the deal had closed. After Huntsman had struggled for months to get the technology to work.
Deputy General Counsel Amy Smedley and Huntsman's head of litigation, Peter Jordan, conducted the Huntsman investigation. While at the Augusta plant in the summer of 2016 (which Huntsman had built with its own resources) a former Rockwood employee told them that the Bluebird technology did not work.
That's when they made the August 2016 call to Stryker.
After Assaf flew to Houston, Huntsman and Kirkland began building their case, which the firm took on a contingency basis. Besides Stryker's history with Kirkland, he said he chose the firm to handle this litigation because it is one of the few that would try the case as if it were its "own."
"I need confident counsel who are going to try the case as one of their own — [as if it were] their own resources, their own employees, their own customers, their own reputation on the line," Stryker said. "There are really only a handful of firms and lawyers that fit this burden, fit this standard."
For the rest of 2016, Stryker said he worked heavily with Assaf and Washington, D.C.-based Kirkland partner Mike Williams to draft the lawsuit, and in February 2017 they filed it in New York state court against Albemarle, Rockwood and four individual defendant Rockwood executives.
The lawsuit alleged fraud, breach of contract, negligent misrepresentation and unjust enrichment. The lawsuit alleged that Rockwood and the four executive defendants — Chief Executive Seifollah "Seifi" Ghasemi, General Counsel Michael Valente, Executive Vice President of Law and Administration Thomas Riordan and President of Pigments and Additives Andrew Ross — were motivated to lie to Huntsman because they collectively got millions in cash bonuses and their deal with Albemarle hinged on the success of their deal with Huntsman.
The following month, the defendants and their lawyers — Davis Polk for Albemarle/Rockwood and Skadden Arps for the individual defendants — filed a motion to compel arbitration. The parties spent nearly a year fighting over that issue until Justice Andrea Masley of the New York State Supreme Court sided with the defendants.
The litigation went into the hands of the American Arbitration Association, and in 2019 three former federal judges were selected as the arbitrators: Wayne Andersen of the Northern District of Illinois, Stanwood Duval of the Eastern District of Louisiana and Dennis Cavanaugh of the District of New Jersey, who chaired the three-member panel. Over the next 19 months, the panel held a dozen hearings and issued 28 orders.
Assaf said that before the parties even conducted discovery, the team had drafted an opening statement at Stryker's insistence.
"One of David's talents is he's always thinking about, 'How does this help or hurt at trial?' We always came back to [the opening statement] to figure out … what we needed for trial," Assaf said.
Besides the challenges and delays the pandemic brought, a significant obstacle in the litigation came toward the end when Judge Cavanaugh disclosed in March 2021 — nearly two months before trial — that his daughter-in-law, who was on maternity leave at the time he was appointed to the panel, is an associate in Kirkland's Houston office.
The AAA replaced Cavanaugh with former Judge Michael Reagan of the Southern District of Illinois, but a month before trial the defendants filed an emergency motion in the trial court the litigation originated in an attempt to enjoin the entire arbitration, arguing that the other two arbitrators should be disqualified, too.
Huntsman hired New York litigators from Selendy Gay to handle the expedited briefing around the issue, and on April 5, 2021, Justice Masley denied Albemarle's motion. They appealed and lost again.
The arbitration trial went forward May 2 in AAA's headquarters in New York City and ended May 14. Stryker said the beginning of the trial versus the end marked a visual representation of the before and after of New York's tight Covid lockdown.
"When we started the trial first of May, you could stand out in the middle of Fifth Avenue or Park Avenue at 8 a.m. and be at no risk of being hit by a car or even a bike rider," Stryker said. "Two weeks later, it warmed up and the city had loosened up and people were going back to work."
Besides Assaf and Williams, Kirkland's D.C.-based trial team included partner Peter Farrell and associates Sarah McVay, Grace Brier, Don Hong and T.J. McCarrick — all of whom examined witnesses live at trial.
Nearly six months later, on Oct. 28, 2021, the judgment came back: Albemarle and Rockwood committed fraud and owed Huntsman more than $600 million. The timing could not have been more perfect for Huntsman; the panel issued its judgment the day before the company's third quarter earnings call. Huntsman swiftly worked the announcement into its materials and said it would seek to have the award confirmed in New York State Supreme Court — meaning the panel's findings could be made public.
Albemarle also swiftly said something about the panel's award. In a statement issued the same day of Huntsman's earnings call, Albemarle said it was "shocked" by the award, called the litigation a "legacy dispute" it inherited when it acquired Rockwood and that it was assessing its options, "including seeking to have the award vacated."
But then Albemarle had a change of heart. Stryker said its lawyers at Davis Polk called Kirkland over the weekend. They made a proposal and asked them not to file the motion to confirm planned for Monday. Kirkland responded, "tell your CEO to call ours," Stryker recalled.
After days of CEO-to-CEO negotiations, Huntsman's Peter Huntsman and Albemarle's Kent Masters worked out a $665 million settlement. Huntsman announced the settlement Nov. 5 and said in its release that net of taxes and legal fees, Huntsman would receive $465 million.
"We very much viewed the case as a vindication of our approach to everything we do," Stryker said. "We strive to be honest and we act in good faith and expect other to do the same, and we'll hold them accountable if they don't.
"The message [the outcome] ought to send is remedial and cautionary for anyone whose doing business," Stryker added. "Honesty is not only the best policy, but it is a moral imperative and a legal requirement. It's how we do things at Huntsman, and we expect other to do the same."