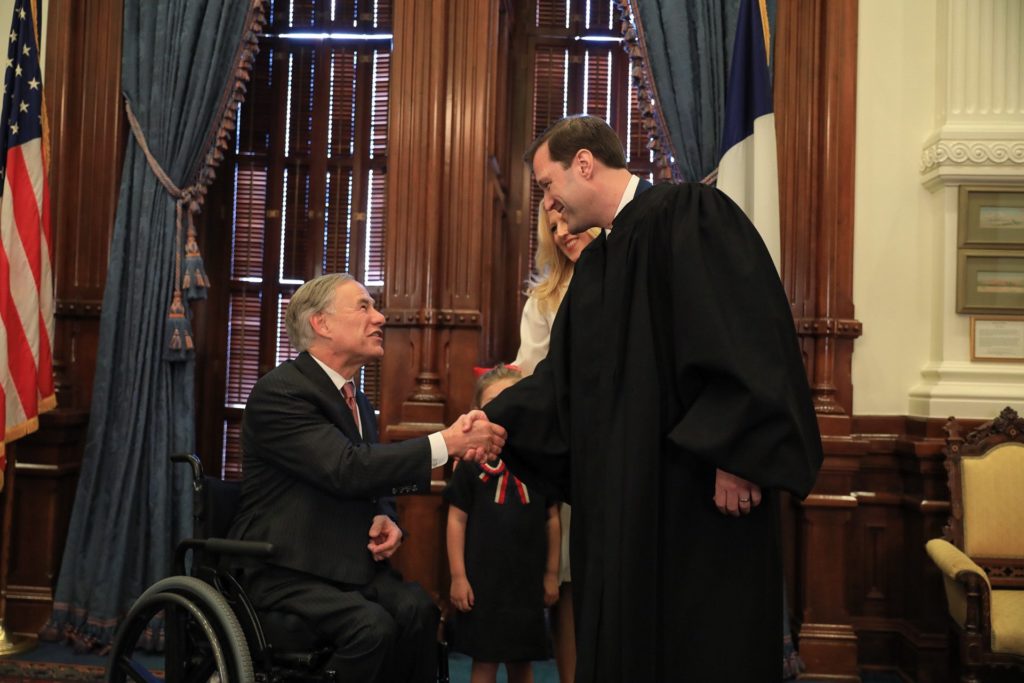 Gov. Greg Abbott congratulates newly sworn Justice Evan Young
Sworn in Nov. 10 as the next justice of the Supreme Court of Texas, Evan Young is hitting the ground running. He is immersed in reading briefs to sit for an oral argument soon after Thanksgiving.
"It wasn't so long ago that I was the one who had to prepare for oral argument on the other side of the bench," Young said in an exclusive Texas Lawbook interview, adding that "I argued nine cases at the Texas Supreme Court and participated as co-counsel in many more." He has also argued twice before the U.S. Supreme Court.
Most appellate lawyers might aspire to argue before the U.S. Supreme Court and to remain as partner for a global firm like Baker Botts. (Average compensations for Baker Botts partners is $1,285,000 according to Am Law 200.) But Young took a different path. He has left a lucrative private practice behind for a state judgeship that will entail running for office. Young already has a campaign logo and Twitter account. (Median salary for Texas Supreme Court justices is $201,600, according to Texas Tribune.)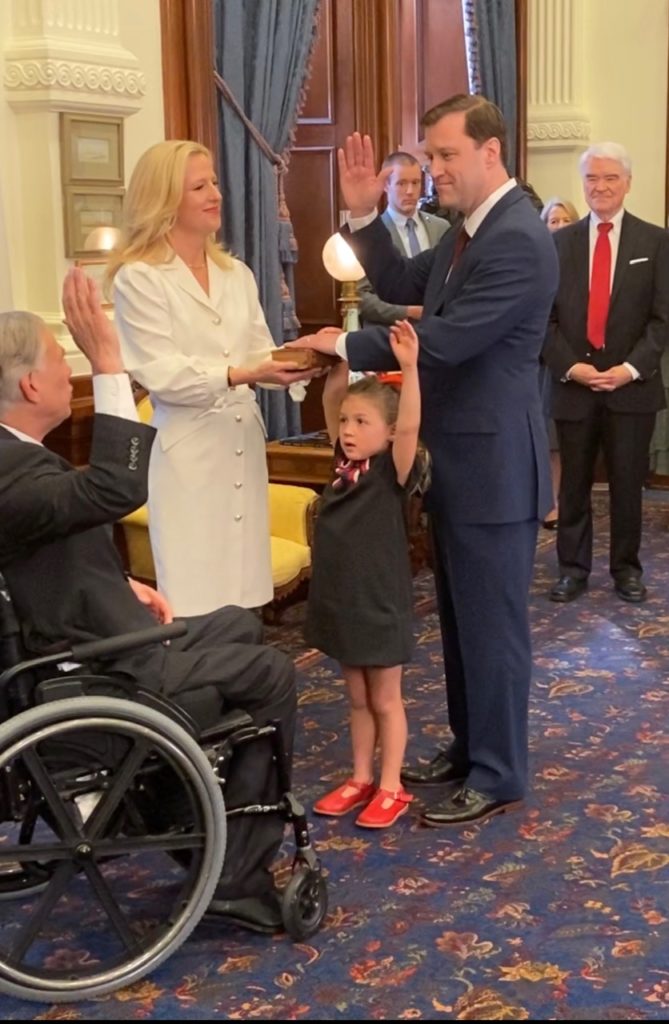 Young (right) taking the oath from Gov. Abbott as his wife and daughter look on.
Young explained the why and how of his move in this interview, slightly trimmed for space.
Texas Lawbook: When and why did the idea of moving to the Texas Supreme Court come to your mind?
Justice Young: Two of my best jobs ever were when I was a law clerk for wonderful appellate judges – Justice [Antonin] Scalia at the Supreme Court and Judge [J. Harvie] Wilkinson on the Fourth Circuit. And I have loved arguing before appellate judges across the country, whether at the U.S. Supreme Court, the Texas Supreme Court or state and federal appellate courts. Gov. [Greg] Abbott appointed me years ago to serve on the Texas Judicial Council, which is a state agency charged with studying the Texas judiciary, making policy to improve its operations and recommending new laws regarding judicial functions for the Legislature's consideration. For many years I also served on the Supreme Court Advisory Committee, which assists the Texas Supreme Court in its duty to promulgate all the rules that govern proceedings in Texas courts. And for a number of years, I have been a trustee of the Texas Supreme Court Historical Society. So, all of those combined experiences have led me to spend a substantial amount of my waking time thinking about the role of the Texas Supreme Court. It has been the honor of a lifetime for the governor, who himself was a Texas Supreme Court Justice, to appoint me to this position.
Texas Lawbook: I am guessing that your salary at the Texas Supreme Court is substantially lower than your salary at Baker Botts. Was it difficult to make your choice?
Justice Young: Like so many other members of the Texas judiciary, I wanted the job because I believe in the judicial mission: to serve the people of Texas by administering our legal system fairly in every single case by applying the law as it is written. Resolving apparent conflicts and adding clarity to the law can be hard work, but it is work that is important to all the people of Texas. And you're right that, like almost all jobs in public service, being a judge often pays less than being in the private sector. That's part of what makes it service. Like other judges on all our courts, the key ingredient for me is a supportive family, which I have in abundance. By far my greatest support has come from my wife, Tobi, who has spent most of her adult life in public service and who understands the value of a strong legal system. She has not hesitated for a second about my move from private practice to the judiciary.
Texas Lawbook: Why did you leave private practice behind?
Justice Young: You're right that there are many parts of private practice that I will miss, wholly apart from salary. I loved my job at Baker Botts. Working with large and talented teams of lawyers from across the country and even the world was truly rewarding. I enjoyed presenting arguments to judges, whether by crafting briefs or presenting oral argument. Getting to know my clients' stories and trying to figure out the best ways to position them for success never stopped being exciting and motivating. And it didn't matter whether they were individuals trying to make ends meet or huge companies dealing with massive financial transactions. I found private practice fulfilling, and I worked as hard as I could for my clients. Now I am going to work at least as hard to serve the people by deciding cases as correctly and as clearly as I can, without any thumb on any scale, in every single case.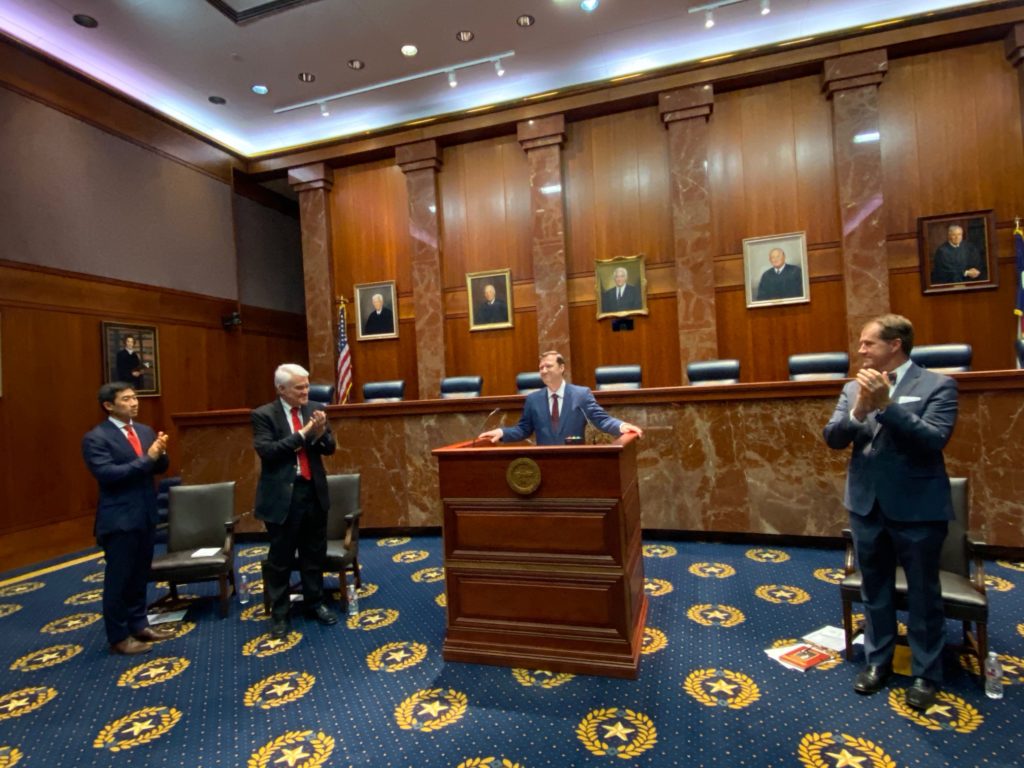 Texas Lawbook: You already have a campaign logo and a Twitter account for launching your campaign. What do you think about the prospect of campaigning and seeking donations?
Justice Young: One genuine virtue of our system is that Texas judges have a duty to talk to as many fellow Texans as possible about why Texans should care about their courts. I can't take positions on litigated issues, but I can explain what I think the rule of law means and I hope that I can persuade my fellow citizens to renewing their view that an impartial judiciary is a treasure to preserve. The people of Texas have maintained a system of judicial selection that requires judges to seek public support, and in doing so to talk about the values that underlie our legal system. I think that message is worth conveying to as many Texans as I can, and I'm willing to work as hard as I can to reach as many as I can. Like any other campaign, that does require resources. Even as a young law firm associate, I appreciated that judges needed to get their message out, so I made donations, and I know that many others think that it is important for candidates for judicial office to have the necessary resources to talk about the constitutional role of the courts.
Texas Lawbook: I understand that Tom Phillips, retired Texas Chief Justice and Baker Botts partner, was your mentor. What does he mean to you, and was he influential in your decision to join the Texas Supreme Court?
Justice Young: For many years, former Chief Justice Tom Phillips has been a mentor, partner, and most importantly a friend. He was younger than I am now when he became chief justice. I can remember voting for him by absentee ballot when I was a college student, and I never dreamed I would have the chance to get to know him and his wife, Lyn, as closely as I have. Tobi and I both regard their friendship as among our greatest blessings. Judge Phillips and I haven't always agreed about everything, and I am sure that we wouldn't be on the same side of every case if we were able to serve on the Supreme Court together. But his example of unquestioned judicial integrity – deciding every single case the best he could using nothing but tools and considerations that are appropriate for judges – is one that has certainly influenced me and one that I will emulate. His encouragement has been a huge source of any professional success that I've had, including my interest in joining the Texas Supreme Court.
Texas Lawbook: What happens with law clerks? Have you taken on Justice Guzman's clerks or picked your own?
Justice Young: I am fortunate that Justice Guzman hired two excellent law clerks who were waiting for me when I arrived. They had been hard at work all along, assisting the other justices and preparing for Justice Guzman's successor. Remarkably, one of those law clerks was once my student – he took Federal Courts class from me at the University of Texas School of Law several years ago. It was a genuine pleasure to see a familiar and friendly face when I walked through the door after taking the oath. Both of my clerks, and indeed everyone at the Supreme Court, have been incredibly helpful and generous since the governor announced my appointment. I look forward to hiring a staff attorney soon.