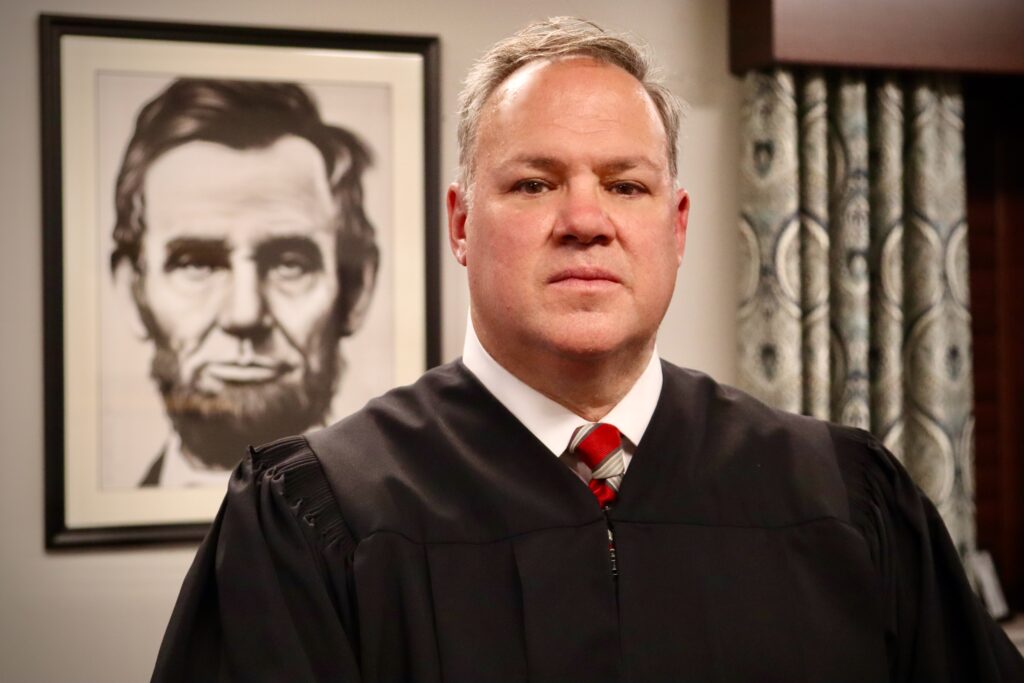 As Gregg Costa neared graduation at Dartmouth College in 1994, he faced a choice: Follow his dream and go directly to law school or take a couple gap years and get a job. He chose the latter.
The decision changed his life forever.
Last week, Costa stepped down as a judge on the U.S. Court of Appeals for the Fifth Circuit to return to private practice, stunning nearly everyone in the legal community and prompting lawyers and judges to ask why a 50-year-old – just one step away from the U.S. Supreme Court – would give up a lifetime appointment.
There were a handful of reasons Costa – who served as a federal prosecutor and led the case against Houston financial fraudster Allen Stanford and then became a federal district judge – quit the Fifth Circuit after eight years on one of the most influential federal courts in the land, Costa told The Texas Lawbook in an exit interview from his office in August.
At 50, he believed he needed a change, needed to pursue a new dream. In essence, a midlife crisis – "more like a midlife reevaluation," he said – that doesn't involve a new BMW convertible or moving to a hippie compound in Oregon.
"My first love is being an advocate – I would rather be in the batter's box swinging at pitches than be the umpire," said Costa, a diehard baseball fan. "I want a new challenge. I want to build a law practice."
Then there's the makeup of the Fifth Circuit itself. When then-President Barack Obama nominated Costa, the Fifth Circuit was conservative but not dogmatically so. Then President Donald Trump named six judges to the federal circuit court, and the more moderate Costa found himself in the minority on issue after issue.
In cases that focused on voting rights, discrimination involving jury selection or deference to trial court judges and juries, Costa went from writing majority opinions just five years ago to repeatedly being a voice of dissent.
"Since I arrived, no question that the court has changed," he said during a multi-hour interview in his office in August. "Writing dissents for the next couple decades is not something I look forward to doing. Knowing that I would be in the dissent on so many important issues would not be fun."
In all, Costa authored more than 300 majority opinions during his time on the Fifth Circuit, including a decision Aug. 30 that struck down a Texas law that prohibited out-of-state electric power providers from constructing new power transmission lines in Texas if those companies do not already have operations in the state – a law that Costa, writing for the Fifth Circuit, called the most protectionist in the U.S.
Two years before joining the appellate bench in 2012, Costa was a U.S. district judge in Galveston, where he conducted more than 30 jury trials throughout the Southern District of Texas.
But Costa's decision to leave the Fifth Circuit – like many of his biggest career choices – can be traced back to Sunflower, Mississippi, an impoverished town of 1,100 about 105 miles north of Jackson.
In 1994, Costa delayed going to law school at the University of Texas so that he could spend two years with the nonprofit Teach For America, which placed him at East Sunflower Elementary for two years teaching third and fourth graders. More than 95 percent of the students were Black, and nearly all lived at or below the poverty line.
"The discipline of having a job and being responsible for these kids was extraordinary," said Costa, who was one of two white teachers at the rural school. "People think there are tough personalities on the Fifth Circuit. The judges here are a piece of cake compared to the students in my classes."
One weekend, Costa invited a handful of students – all African American – to play baseball near his apartment. As they tossed the baseball around, a car drove up. The driver rolled down his window.
"There's a reason why I send my kids to a private school – it is so they don't have to see these [racial slur]," the white man yelled out. "I don't want to see these kids back on my side of town ever again."
Five of Costa's 16 students made the honor role. Several went to college. Two did internships at the U.S. Supreme Court. One of his students is now the mayor of Sunflower.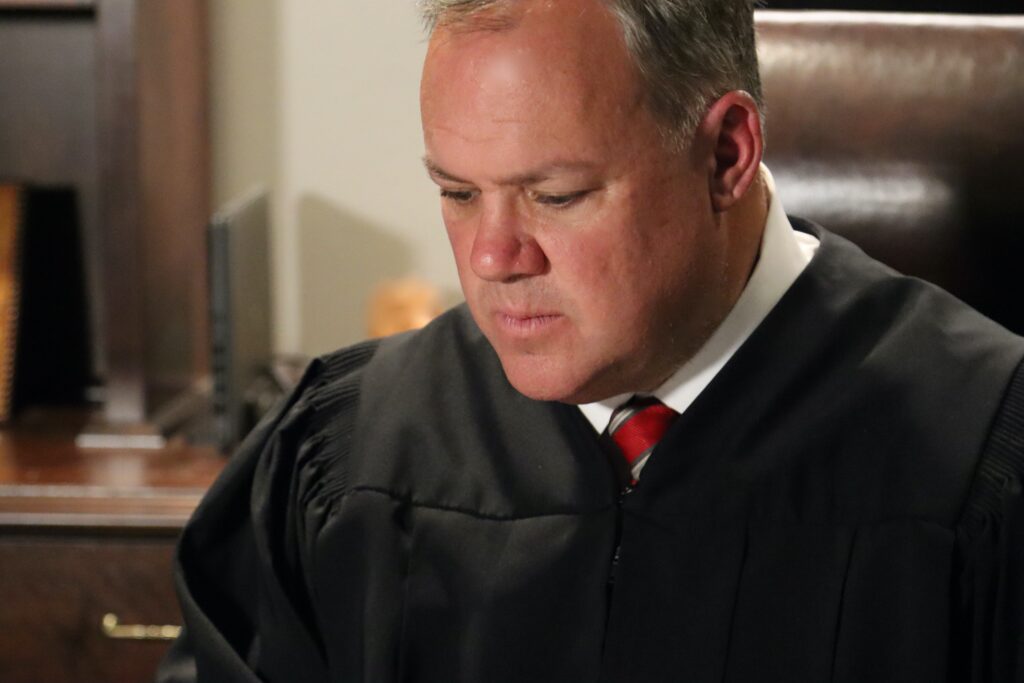 "Writing dissents for the next couple decades is not something I look forward to doing. Knowing that I would be in the dissent on so many important issues would not be fun."
Photo: Sharon Ferranti
"Being a teacher is the best training for lawyers," Costa said. "Most people think that great lawyers have great arguing skills, but the real skill for lawyers is teaching. Rusty Hardin, a great trial lawyer, taught school in Alabama. Rusty knows how to teach juries and judges, and that's why he has been so successful."
"Those two years were time outside of the elite legal bubble, and I learned so much from those two years," he said. "The experiences I had in Sunflower and the lessons I learned from my students there have helped shape so many of my decisions, including this one."
Shawn Raymond, a partner at Susman Godfrey in Houston, taught high school in Sunflower through Teach For America at the same time Costa was there.
"Gregg taught a class on Central America, and the students somehow got it into their heads that the country of Costa Rica was named after one of Gregg's ancestors," Raymond said. "The kids started calling it 'Costa' Rica. Gregg was the big man on campus and all the students loved him."
Jennifer Paine Costa, the judge's wife of two-dozen years and an in-house lawyer at Calpine Energy Solutions, said "everyone in Sunflower got to know Gregg and who he was and would shout out to him."
"Those two years of teaching are fundamental to who Gregg is as a person, who he is today," she said.
Costa is expected to announce this week where he is going next. Large national corporate law firms and Houston litigation boutiques have made offers. Law firms in the running include Kirkland & Ellis, Quinn Emanuel, Gibson Dunn, Gibbs & Bruns and Vinson & Elkins.
Multiple sources told The Texas Lawbook that partners at Gibson Dunn will vote Tuesday on whether to make a partnership offer to Costa.
'Monumental Loss' for Fifth Circuit
Across the board, judges and lawyers say Costa's departure from the Fifth Circuit is a significant loss.
"Gregg is a gifted constitutional scholar and an incredibly gifted writer," said Chief Judge Lee Rosenthal of the Southern District of Texas. "He is truly beloved by district court judges because of his ability and willingness to defend the district judges even when others were dismissive of the role of district judges. He is going to be missed."
Russell Post, a partner at Beck Redden, said that Costa "never made a secret of the fact that he loved being a lawyer."
"That spirit was evident in his questioning on the bench," Post said. "He was always engaged, well-prepared and willing to entertain a serious debate – and if he disagreed with your position, he always did so courteously and with respect for the lawyer's job as an advocate. Win or lose, it was a pleasure to appear before him."
Connie Pfeiffer, an appellate law partner at Yetter Coleman, agreed.
"Judge Costa quickly earned reputation as a rigorous thinker and engaging writer, which helped him assemble unlikely coalitions on a court where outside observers would assume he would be most often writing in dissent," Pfeiffer said. "He could do this thanks to the court's en banc process and the large number of moderate judges serving on senior status with whom he often found himself serving on panels."
Mark Trachtenberg, a partner at Haynes and Boone in Houston who has handled dozens of cases at the Fifth Circuit, said Costa's departure is "a monumental loss" for the appellate court.
"His majority opinions will have a lasting impact because, without fail, they were very well-reasoned and have brought great clarity to many areas of the law," Trachtenberg said. "And while his dissenting opinions do not have the force of law, they always helped sharpen the terms of the debate and made the stakes clear.
"But I hope that his biggest impact will be that future judges on that court will follow his example of how to build bridges across ideological divides, how to disagree without being disagreeable and how to break out of the isolation of chambers to dialogue with the bar, law students and the public about the important work that goes on in that court," he said.
'Red Sox Are His First True Love'
Costa was born in Baltimore, but his family moved to Texas when he was 18 months old. His father investigated disability claims, and his mother worked in retail.
Since he started school, Costa has loved baseball.
"During the summers, we played baseball in the morning, traded baseball cards in the afternoon and played more in the evening," he said. "It was baseball 24/7."
"Gregg loves our family, but we know the [Boston] Red Sox are his first true love," Jennifer Costa adds laughing.
There were no lawyers in the family, but Costa said he knew from the second grade that he wanted to be a lawyer.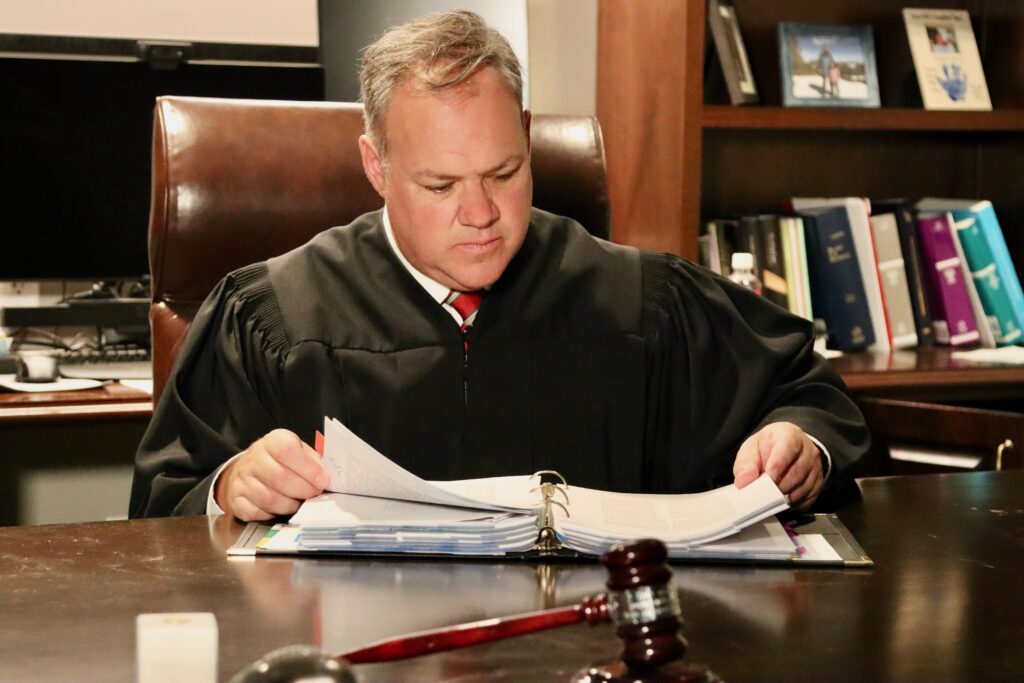 "While his dissenting opinions do not have the force of law, they always helped sharpen the terms of the debate and made the stakes clear."
— Mark Trachtenberg
Photo: Sharon Ferranti
"My dad instilled in a me a love for history, and lawyers played such an outsized role in our nation's history," he said.
In college, Costa read Den of Thieves, a Pulitzer-Prize winning book by New York Times columnist James Stewart about four Wall Street traders who perpetrated an insider-trading scheme that rocked the stock markets.
"I had an instant reaction to the book," he said. "I knew that's what I wanted to do – to prosecute cases against people like Michael Milken and Ivan Boesky."
Costa was Richardson High School student council president, and then went to college at Dartmouth. He applied to only one law school: the University of Texas.
"There's a real condescension of people in the northeast about Texas, and I was determined to show them," he said.
'Be True to Ourselves'
Costa started UT Law School in 1996, which was the same year that his future wife graduated and joined Haynes and Boone's Houston office.
During his first year of law school, Costa remembers then Professor Bill Powers told students that "everyone goes to law school for a reason."
"Don't forget why you went to law school in the first place," Powers said. "Too many students get caught up in whether they are going to be able to get a job at a law firm they never heard of before starting law school and getting that job becomes the most important thing."
"Dean Powers taught us to be true to ourselves, and that stuck in mind," Costa said.
Judge Alex Kozinski of the U.S. Court of Appeals for the Ninth Circuit offered Costa a clerkship when he graduated. But Costa called the famous jurist to decline saying he needed to follow his wife to Washington, D.C.
"In his deep Romanian accent, Judge Kozinski said that my career was important but that my love life was more important and that he understood," Costa said.
Years later, Costa saw Judge Kozinski and reminded him of his advice to him. The jurist responded that he didn't remember saying that and that he was wrong if he did say it. Of course, Kozinski resigned in 2017 amid allegations that he acted inappropriately around women law clerks and staff.
Instead, Costa clerked for Judge A. Raymond Randolph on the U.S. Court of Appeals for the District of Columbia Circuit and then a spent a year in the Office of the U.S. Solicitor General.
A Year with Chief Justice Rehnquist
In 2001, he clerked for U.S. Chief Justice William Rehnquist, who Costa describes as "a wonderful boss and a once-in-a-lifetime experience."
"Chief Justice Rehnquist bet on everything – football, the Kentucky Derby, even the snowfall in the weather forecast," he said. "We would go outside the Supreme Court and have a ceremonial measurement to see how much snow fell and who won."
Costa said the Supreme Court law clerks of all the justices saw the acrimony of the previous Supreme Court clerks over the Bush v. Gore decision and decided that would not happen with them.
Costa had been clerking for just a month when the terrorist attacks of Sept. 11 occurred. The chief justice was presiding over the judicial conference – then Fifth Circuit Chief Judge Carolyn King was in attendance – when it happened.
"Chief Justice Rehnquist came and told us that a plane had struck the World Trade Center," he said. "Everyone gathered around a small black-and-white TV in Justice [David] Souter's chambers and watched the news. A few weeks later, we had the anthrax scare at the Supreme Court and all oral arguments were moved to the D.C. Court of Appeals."
Costa said a key reason that Chief Justice Rehnquist hired him as a clerk was because Costa planned to return to Texas to practice law.
As promised, Costa returned to Texas to work three years at Weil, Gotshal & Manges in Houston, where he was mentored by appellate giant Greg Coleman.
Biggest Case of Costa's Life
In 2005, he joined the U.S. attorney's office as a federal prosecutor – a position he held for seven years.
Tim Johnson, who was the acting U.S. attorney for the Southern District of Texas and is now a partner at Locke Lord, asked Costa if he wanted to be a prosecutor in a new and developing case against Houston financier Allen Stanford.
Costa agreed and found himself leading the biggest case of his life.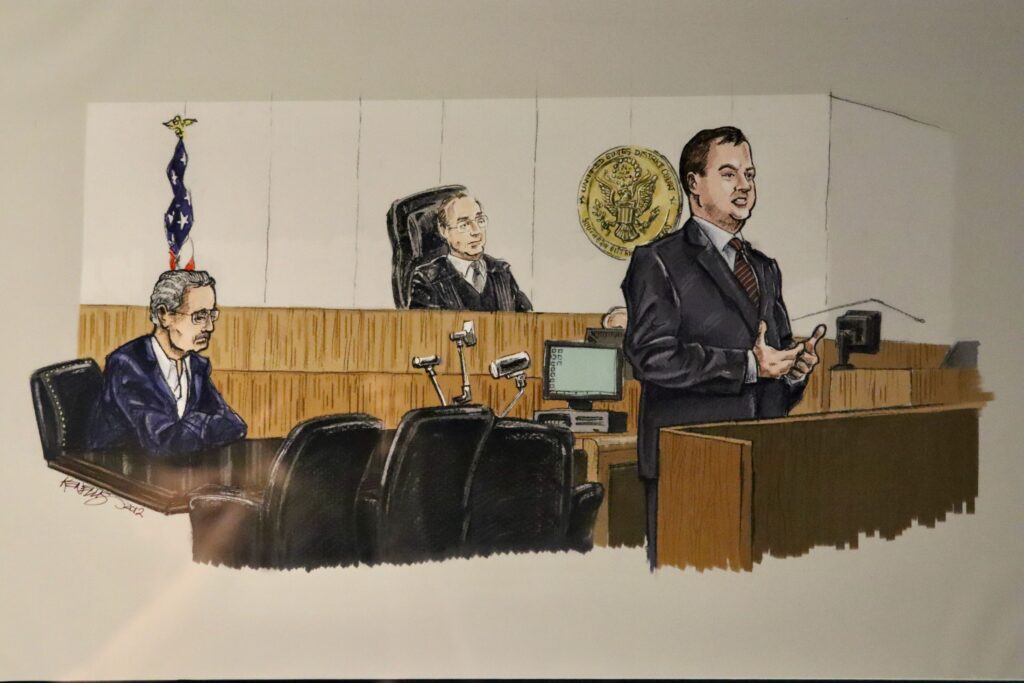 "Stanford was one of the richest people in the world, and we showed that the justice system held him accountable."
Image: Costa (standing) speaking to the jury during the Allen Stanford trial.
"The Stanford prosecution is the single biggest accomplishment of my professional life," he said. "The easy part of the case was the trial, because we had so much evidence against Stanford."
"The management part of the case – juggling all the parties, collecting evidence on five different continents – was the hard part," he said. "The international aspect was unprecedented."
Costa even points back to the two years in Sunflower and his reading of Den of Thieves for his dogged success in the prosecution of Stanford.
"Most people's perception is that the justice system is skewed in favor of the rich and powerful, and they are right," he said. "Stanford was one of the richest people in the world, and we showed that the justice system held him accountable."
With Costa leading the prosecution's trial team, a Houston jury in March 2012 found Stanford guilty of 13 counts of fraud, conspiracy to commit money laundering and obstructing investigators.
During the Stanford case, politically connected lawyers in Texas started advocating for Costa to be nominated for a federal judgeship.
"I thought I was too young and I was definitely not very political, but I thought I would go through the interview process just to get to meet these big lawyers," he said.
'One of the Youngest Federal Judges in U.S.'
The two Texas senators at the time, Kay Bailey Hutchison and John Cornyn, recommended that President Obama nominate Costa to be a U.S. district judge in Galveston. Obama did, and the U.S. senate confirmed Costa on a 97-2 vote. At age 39, he was one of the youngest federal judges in the U.S.
"I loved being a trial judge and being in Galveston," he said. "I knew I just had to be better than the last guy."
The previous federal judge in Galveston was Judge Sam Kent, who resigned in 2009 amid congressional impeachment efforts and a federal criminal investigation on charges of sexual abuse. He pleaded guilty to obstruction of justice charges and was sentenced to 33 months in prison.
"Gregg restored dignity and reliability and trust in the federal bench in Galveston," Chief Judge Rosenthal said. "He was a terrific district judge. He enjoys and relishes managing and trying cases and getting to know the professionals before him."
In December 2013, Obama nominated Costa for an open seat on the Fifth Circuit. Five months later, the senate voted 97-0 to confirm.
Each judge on the Fifth Circuit is involved in about 200 cases annually.
"There is a perception out there that once you get on the Fifth Circuit, it is like being a law professor and you sit around for days pontificating about these things," Costa said in 2020 on a podcast hosted by the law firm Butler Snow. "Our docket, we have to move a lot of cases."
Costa told The Lawbook in August that his mission on the Fifth Circuit was to "exercise the power in the job with humility" and that "I might not always know best – to defer to juries and district court judges."
"We increasingly have appellate courts that are not deferential enough to juries or district judges," he said. "I am increasingly concerned today that our federal courts are politicized, and I find it problematic that single-judge divisions are being used politically and are issuing nationwide injunctions."
"You cannot help but notice on the most politicized cases that the decisions are made along political appointment lines," he said.
Across the board, legal experts say that Costa worked hard to reach across the aisle in reaching and writing opinions.
"Judge Costa had a background of clerking for a conservative circuit judge, a conservative Supreme Court justice, and was supported by a conservative senator," said Josh Blackman, a professor at South Texas College of Law Houston. "Yet, he walked into a court where his own judicial philosophy was in the distinct minority."
"Judge Costa made the best out of the situation," Blackman said. "His savvy allowed him to craft majority opinions that narrowly thread the needle, and he expertly played the en banc game. The Fifth Circuit will miss his moderating influence."
Trachtenberg, an appellate expert at Haynes and Boone, said Costa "earned the deep respect of his fellow Fifth Circuit judges."
"He worked to find ways, where he could, to bridge ideological divides on the court and to find workable compromises in controversial cases," he said. "Judge Costa has an extraordinary intellect, an unparalleled work ethic, a passion for civility and justice, and plenty of street smarts, too – he is going to be hard to replace."