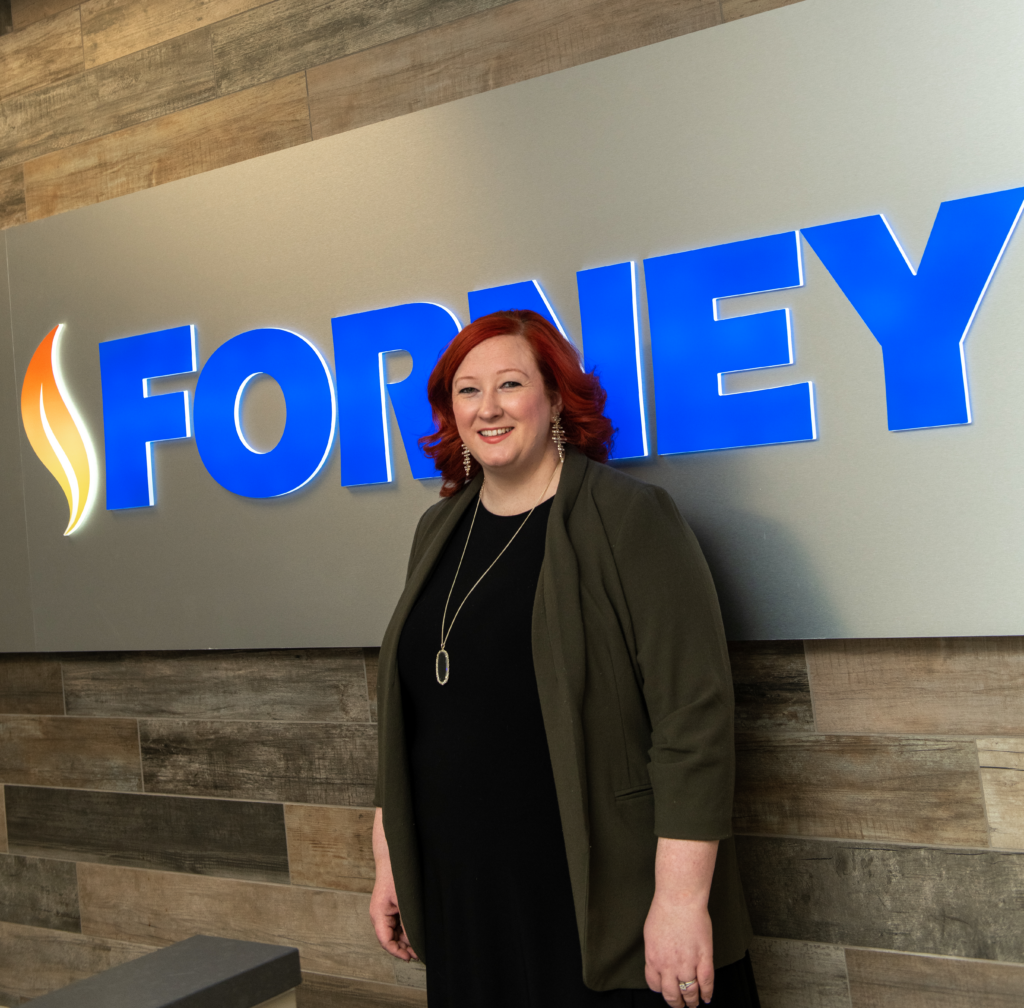 Chelsea Casiano
Chelsea Casiano was pacing nervously reading her notes one final time in the hallway at the University of North Texas College of Law as she waited her turn to deliver an oral argument she had prepared for her legal writing class.
"I knew going into law school that I really had no desire for litigation," she said. "I thought going to court was great — for someone else."
Just then, the elevator door next to Casiano opened and the law school's dean, retired U.S. District Judge Royal Furgeson, stepped right in front of her.
"He asked me how things were going. I confided in him that I was terrified," she said. "He sat down with me, talked me through my argument and told me I had all the tools to succeed. He was right. Not only was I selected to move forward in the competition, but I ended up winning the entire thing."
Six years later, Casiano is the general counsel of the Forney Corporation, a 95-year-old Addison-based manufacturer of front-end combustion components for electric power producers and public utilities. In only 16 months on the job, she has negotiated more than 100 contracts, implemented a new signature designation policy, updated the company's noncompete agreements and wrote the business' new human rights policy to regulate compliance internally and to set expectations for its suppliers and vendors.
"Chelsea has been amazing," said Forney CEO Tom Demrick, who hired Casiano, a former elementary school teacher and family lawyer, as the company's sole in-house lawyer. "I do not know how she goes through all the corporate contracts — many of them 40 to 50 pages of conditions and technical specifications — to make sure that we are protected. She has developed a great grasp of the technical aspects of our business very quickly."
The Association of Corporate Counsel's DFW Chapter and The Texas Lawbook have named Casiano as a finalist for the 2022 DFW Corporate Counsel Award for Rookie of the Year, which goes to lawyers who have been in-house counsel for three years or less.
Premium Subscriber Content: Click Here to read Mark Curriden's Q&A with Cheslea Casiano, who discusses how she hires outside counsel and negotiates rates, her pro bono efforts and the day last September when she had to be rushed to the emergency room.
Casiano and the other finalists will be honored, and the winners announced, at the 2022 DFW Corporate Counsel Awards ceremony on Jan. 26 at the George W. Bush Institute.
"Chelsea has encountered a number of opportunities to better protect the company and to generate revenue, and she has been able to attain extraordinary results," said Kaplan Senior Counsel Emmanuel Nwakibu, who nominated Casiano for the award. "From negotiating warehouse leases and overseeing outside counsel to resolving employee issues and helping with annual regulatory filings, Chelsea's introduction to in-house counsel has had it all, with quite a few noteworthy highlights."
Leah Duncan Bundage, a lawyer at Cavazos Hendricks Poirot, said Casiano is the "definition of a lawyer who genuinely cares about and takes pride in her work."
"If Chelsea is assigned a project, she sees it to the end. Her work ethic and leadership skills are unmatched," said Bundage, who has handled legal work for Forney. "I have witnessed her negotiate rates with outside counsel to save Forney Corporation money. As in-house counsel, she knows how to manage her outside counsel to ensure her company is protected. She knows the right information to provide, the right questions to ask, and the research needed to protect Forney Corporation as its general counsel."
"Her attention to detail is impeccable," she said.
Casiano said 2022 was a whirlwind year for her and that the 16 months she has been at Forney have been tremendous.
"I really enjoy the corporate environment and all the opportunities that come with it," she said. "I love having so many different departments working together and seeing the downline impact of my work."
Born and raised by a single mom in Tarrant County, Casiano had lawyers all around her growing up. Her mother was a paralegal for four decades and is one of only 20 paralegals board certified in real estate law.
"I joke that I spent most of my childhood on the 32nd floor of the old Bank One Building at Law Snakard & Gambill," she said. "Before I was old enough to understand college and law school, both Carol Bracken and Thomas H. Law made it very clear that when I grew up, I was going to be a Longhorn and an attorney — and they were right."
Casiano describes her mother as "far and away the most supportive and encouraging human I have ever met."
"My father terminated his parental rights when I was very young, so we didn't have any communication until I was in my early 20s," she said. "Meeting a parent when you're an adult is an interesting and nerve-wracking experience, but I'm happy that we pushed through it and built a relationship."
Her father, an attorney who specialized in estate planning and elder law, was diagnosed with cancer and died in 2017.
Casiano's brother-in-law and cousins are also lawyers.
At the ripe old age of 20, Casiano graduated from the University of Texas with a degree in history, English and ethical leadership. She had every intent of going to law school, but she simply could not afford it.
Teaching, she said, "was never part of the plan."
"When I couldn't afford to be a lawyer, my brain decided that meant I should be a teacher," she said. "I intended to teach high school — history or English — but I was only 20 years old and still very much looked like I was in high school. So, I quickly realized I was going to need to start with elementary school."
Casiano said the children were fantastic, but she quickly realized teaching wasn't what she wanted to do. One of her mom's friends recommended her for a position at American Airlines, and she "jumped at the chance."
"My plan was to work in the AAdvantage program until I looked old enough to teach high school or made enough money to go to law school, but I fell in love with American Airlines and ended up staying a little over nine years," she said.
For one year, Casiano worked in customer communications. Then she was a coordinator and analyst creating policy and training presentations and manuals. In May 2016, American promoted her to senior projects manager for customer experience innovation. She even worked on communications for the 2014 merger between American and US Airways.
In 2016, Casiano started night classes at UNT Dallas College of Law because they were the only law school in the area that offered an evening program. She wanted to go to law school at Southern Methodist University because that was where her father went, but it had ended its night law school program a year earlier.
"I am a firm believer that everything happens for a reason though, so I made the choice to just be happy that I was finally able to fulfill my dreams, and my law school experience was so much better than I ever could have imagined," she said. "I am convinced I had the best classmates in the world. In a traditionally very competitive environment, our evening class managed to create a friendly and collaborative atmosphere where everyone helped when and where they could."
Despite working full-time during the day, Casiano was a member of the UNT Law School's Board of Advocates, secretary of the Sports and Entertainment Law Society, the evening student representative in the UNT Student Government Association and editor-in-chief of the law review.
She graduated in 2019.
"My plan was always to try and go in-house with American, and I did everything I could think of to make that happen," she said. "Unfortunately, Covid had other plans. I graduated from law school in December 2019 and sat for the February 2020 bar exam."
In March 2020, the world went on lockdown due to the pandemic, and airlines were reducing the legal staff, not hiring.
Because she enjoyed classes on family law, she joined the Diaz Law Firm.
Casiano's first case was a postnuptial agreement for a recently married couple.
"I remember hearing in law school that post-nups aren't too common, and I knew many very senior family attorneys that had never done one," she said. "So, it was fun that I got one on my very first day as a practicing attorney."
"Ultimately, family law wasn't for me," she said. "Good people who never imagined they'd need a lawyer find themselves in court arguing about their children and their money, and it just gets ugly. I really admire family law attorneys because it's a tough job."
In 2021, Forney Corporation posted the job description of in-house counsel on LinkedIn. Casiano was intrigued and applied.
"I was so impressed with Chelsea's motivation and drive," Forney CEO Demrick said. "Being a school teacher and then being at American and then family, but never giving up and constantly moving forward."
Casiano said that the biggest challenges of her first year "revolve around me being a legal team of one."
"Forney Corporation does a good amount of business, and I handle all the legal work," she said. "I've been asked to prepare documents I have never even heard of, and there have been many times when my personal to-do list was a mile long. Thankfully, Forney's parent company has brilliant attorneys willing to help where they can, and I have sought out experienced, local in-house attorneys who have generously provided guidance and mentoring."
Purchase orders, she said, are a key component of Forney's business.
"I negotiated over 100 purchase orders with a very high success rate," she said. "I also created and implemented two new policies this year that have already proven to have significant impact, and I was invited to join the Texas Bar College, which was a big goal of mine."
Those two new policies focused on Forney's position on human rights policy and its signature designation procedures.
Casiano noticed that many of the company's vendors and business partners were adding language regarding human rights conditions in their contracts following the passage of the Uyghur Forced Labor Prevention Act in December 2021. The law prohibits U.S. companies from funding forced labor in China.
"Forney Corporation has always respected human rights in our operation, but we didn't have a specific policy that addressed that commitment and our expectations of our suppliers," she said. "I researched best practices for drafting and implementing a human rights policy. I created a team of executives who assisted with the review of our operations and found areas that could be open to vulnerabilities."
Casiano said she came up with ways to address those vulnerabilities and the new policy she wrote was adopted.
Nwakibu, who nominated Casiano for the award, said Casiano, as she was first joining Forney, "noticed a gap" in its signature designation policy.
"True to form, she quickly researched the best ways to eliminate the vulnerability and safeguard the company's interests," Nwakibu said.
Casiano said that her "main role is to minimize risk."
"When I noticed that each of our teams handled authorization differently, I thought it would be a good idea to streamline and centralize the process," she said. "To ensure that only those who have authority to bind the company, either from the company bylaws, the CEO or the head of a department, I created and implemented a signature designation policy.
"Now, we have documentation of those who can bind the company with their signature, the maximum amount that can be authorized and an approvals process if something doesn't fit within the parameters," she said. "I also added language to our contracts that put our customers on notice as to who can modify terms and conditions of purchase, which we have heard from our customers is very helpful when they need to contact us."
Bundage said Casiano "isn't just a good lawyer, she truly is an amazing lawyer and in-house counsel." "If she is assigned a project, she sees it to the end," Bundage said. "Her work ethic and leadership skills are unmatched. It is an honor for me to know Chelsea and the legal profession is a better place with her in it."