Harry Reasoner was a rookie lawyer who had just joined Vinson & Elkins in 1964 when the firm's lead antitrust law partner, David Searls, asked the young attorney to second chair a major two-week bench trial in Albuquerque brought by the U.S. Department of Justice against their client Conoco.
"I was extremely lucky that such a great lawyer as Searls gave me such a significant role in such a big case so early in my career," Reasoner said in an interview with The Texas Lawbook last week. "He made it clear to me that I should tell him what I thought, though he did not always agree with me."
Searls and Reasoner lost at trial and took the case to the U.S. Supreme Court, where they lost again. But the experience set a course for Reasoner's career that established him quickly as one of the premier antitrust trial lawyers in the U.S.
"It inspired my attitude to always mentor younger lawyers and allow them to take leading roles in cases and trials," he said.
Six decades after that first trial, Reasoner has decided to retire on Dec. 31 at the age of 84.
Reasoner with a team of legal assistants at V&E in 1989
Widely viewed as one of the greatest lawyers in Texas history, Reasoner has won billion-dollar courtroom victories for plaintiffs and corporate defendants. He successfully represented 60 Minutes and Ed Bradley against allegations of defamation and The Dallas Morning News in a landmark antitrust lawsuit brought by then-competitor the Dallas Times Herald. His pro bono and public service contributions, including winning a landmark decision that brought sweeping reforms to its prison system and leading Texas Access to Justice for a dozen years, are unrivaled.
As a law firm manager, he guided V&E through a time of tremendous growth, adopted progressive workplace policies such as same sex benefits — the first corporate law firm in Texas to do so — and put his reputation on the line to help the Houston firm survive the Enron financial scandal.
"Harry is the quintessential advocate," said Texas Supreme Court Chief Justice Nathan Hecht. "Harry is of the old school — he is always the best equipped and most knowledgeable lawyer in the courtroom, and he understands that the goal is to win for your client and not to just fight with the other side."
Texas Supreme Court Justice Jane Bland, who briefly practiced appellate law with Reasoner at V&E, said Reasoner modeled the "joy of practicing as a collaborative effort" and said the legal profession should be thankful for his commitment to Texas Access to Justice and legal aid.
"Harry has never been afraid of being a lifetime learner, and he is an example to so many of us," Justice Bland said.
Reasoner told V&E leadership last month of his plans to retire.
"Harry has had a tremendous impact on the firm," said V&E chair Keith Fullenweider. "Harry showed us how to be lawyers, how to practice law and how to take care of each other. Harry was a strong leader — there was never any doubt who was in charge. He never backed away from challenge. He has been such a good friend, and I cannot thank him enough."
"There is no one better in the courtroom than Harry," said Winston & Strawn partner Paula Hinton, who practiced with Reasoner for a dozen years at V&E. "Harry has been an example of grace and ferocity combined. Harry was beyond a mentor — he was a sponsor. He graciously demanded legal excellence."
Reasoner won two major cases for business clients earlier this year, including being awarded millions of dollars in legal fees. A few potential clients recently asked Reasoner to get involved in new cases. That is when he made the decision that 59 years of law practice was enough.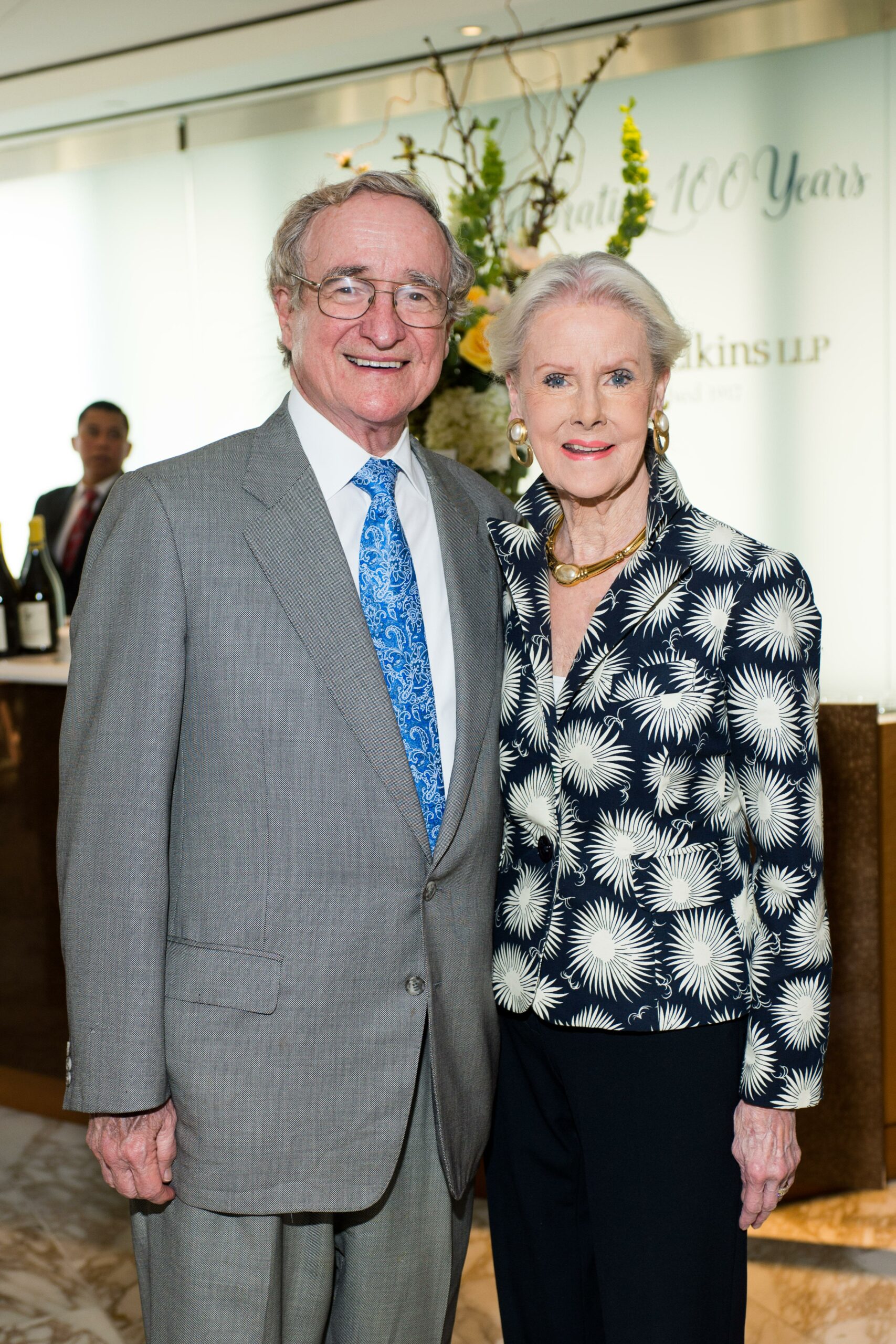 "Do I really want to take more depositions?" he asked himself. "I decided enough is enough. I do not have anything to prove to myself. Macey and I had plans to travel, and Covid came and we stayed home. There's a lot of the world that I still want to see."
Reasoner and his wife Macey (pictured at a V&E party left) — "Macey made me a better lawyer and a better human. It makes a difference when you marry someone smarter than you, which I did," he told me once — raised two children who went to law school and have become two of the most successful lawyers in Texas. (See article by Texas Lawbook reporter Janet Elliott.)
Born in 1939, Reasoner was raised on a farm outside of San Marcos. His father was a mechanic. His mother taught first and second graders for four decades, and she taught Reasoner to read even before he started going to school.
"My mother was strong-willed and had a big impact on my thinking," he said. "She knew that if she could teach kids to read better, they would have a better chance at success in life."
Reasoner said his mother's thinking impacted his approach to legal services for the poor who cannot afford most lawyers. With some basic help from a lawyer, he said, many disadvantaged Texans would see their situations in life significantly improve.
His mother also affected his thinking on gender and diversity. As V&E's managing partner, he launched the firm's highly acclaimed Women's Initiative to institute reforms designed to increase the role of women lawyers in leadership positions at the firm. He appointed Cathy Lamboley, then general counsel at Shell Oil, to co-chair the effort.
"We had a lot of women who taught high school and their husbands were professors at nearby universities, but the women were much smarter than the men," Reasoner said.
As one of the first National Merit Scholars, Reasoner attended Rice University, graduating summa cum laude in 1960 with a bachelor's degree in philosophy. In 1962, he graduated first in his class from the University of Texas School of Law and then attended the London School of Economics on a Rotary Foundation Scholarship.
In 1963, Reasoner did a judicial clerkship with U.S. Circuit Judge Charles E. Clark of the Second Circuit Court of Appeals. Midway through his clerkship, Judge Clark died. As a result, Reasoner was assigned to clerk for U.S. Supreme Court Justice Thurgood Marshall for a few months.
"It was an extraordinary experience to clerk for Justice Marshall," he said.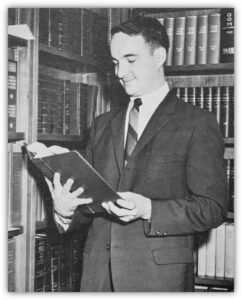 Reasoner joined V&E in the fall 1964. The firm promoted him to partner in 1970 and he became V&E's managing partner in 1992 — a position he held for a decade.
His decision to be the first law firm in Texas to extend healthcare benefits to same-sex couples just made sense, he said.
"I detest discrimination," he said. "We had a number of gay lawyers, and we were trying to recruit the best lawyers in the country. And we wanted them to know that if they came to V&E, they would not be discriminated against over healthcare. It was the right thing to do."
Early in his career, Reasoner established a reputation as an advocate for devoting time to pro bono. He handled divorce and child custody cases. Two high-profile cases stick out as his favorites.
In 1971, Reasoner and a team at V&E were appointed by a federal judge to represent a state prisoner who had filed a class action claiming that Texas Department of Corrections officials were violating his First and Fourteenth amendment rights by censoring his letters to lawyers, family members and journalists. The lawsuit, Guajardo v. Estelle, also accused prison officials of preventing inmates from receiving and reading books and newspapers.
"I think it is damn important and healthy for our state prisoners to be able to write to their lawyers and journalists," he said. "It is particularly important today when we see our state holding inmates in prisons without air conditioning."
The federal courts agreed with Reasoner and appointed V&E to serve as an ombudsman for prisoners' rights for three decades.
"It made a real difference and made Texas prison officials think twice about how their decisions will play in court," he said.
In 1992, the University of Texas School of Law hired Reasoner to represent his alma mater in a lawsuit filed by Cheryl Hopwood, who claimed she was rejected admission to UT Law because of a discriminatory policy that favored ethnic minorities. Reasoner and UT Law won at the district court but lost at the U.S. Court of Appeals for the Fifth Circuit.
Starting in 2009, Reasoner served as chair of the Texas Access to Justice Commission, a statewide umbrella organization to help provide legal services to the poor and underprivileged.
"Harry is a one-of-a-kind, and his contribution to access to justice in Texas has been immeasurable," said Locke Lord partner Harriet Miers, who now serves as TAJC chair. "Harry is a true believer that the justice system should be accessible to all. He has been a remarkable agent for change."
Chief Justice Hecht was with Reasoner several years ago when the duo went to Washington, D.C., for ABA Day to lobby key members of Congress for additional funding for legal aid.
In one meeting, a Texas congresswoman said she planned to vote to defund legal aid.
"The congresswoman said a constituent had called legal aid and gotten no help," the chief justice said. "Harry immediately pulled out his business card and gave it to the congresswoman and told her to have the constituent call him and that he and V&E would represent them."
"Harry won the congresswoman over, and she became a supporter of funding legal aid after that," he said.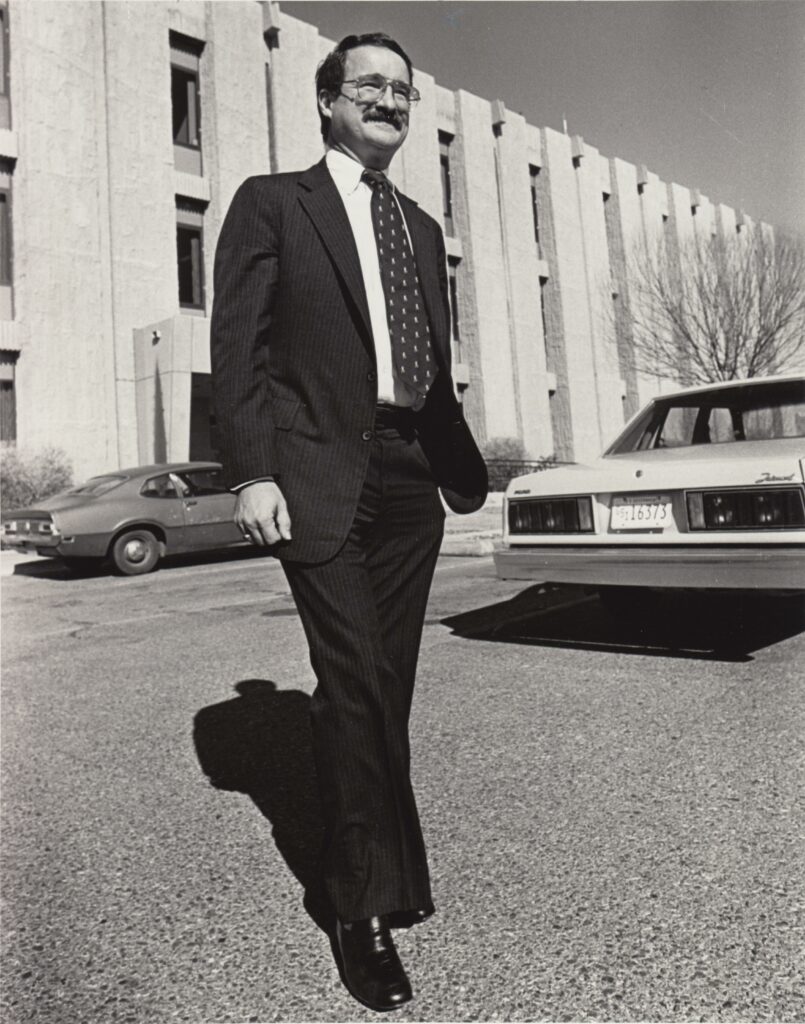 Reasoner outside the federal courthouse in Las Cruces, New Mexico during the trial of El Paso v. Reynolds in 1981
Reasoner has won scores and scores of huge cases for corporate clients, including:
1986: The Dallas Morning News hired Reasoner to defend the newspaper against a $100 million antitrust lawsuit brought by crosstown rival Dallas Times Herald. A multiweek trial ended in 1990 with jurors ruling in favor of The DMN.
1987: Hired by famed Houston trial lawyer Joe Jamail to handle the appeal of his record-setting $10.53 billion jury verdict for Pennzoil against Texaco, Reasoner successfully argued to the state courts of appeal and the Texas Supreme Court that the trial court decision should stand. That paved the way for a $3 billion settlement.
1989: Reasoner won an unprecedented $1 billion antitrust judgment on behalf of ETSI Pipeline Project in litigation involving several railroads that conspired to destroy the pipeline. The judgment was the largest antitrust award of its time.
2008: Reasoner co-led a V&E team hired by Houston-based chemical maker Huntsman to defend a lawsuit filed by Hexion Specialty Chemicals and its private equity backer, Apollo, in Delaware Chancery Court after Hexion attempted to back out of a $10.6 billion merger with Huntsman. The case went to trial less than 10 weeks after the lawsuit was filed. During the trial, CNBC co-anchor David Faber said, "It does have the feeling that the Apollo guys brought a knife to a gun fight." The court decision was lopsided in V&E's favor, and the case settled for hundreds of millions of dollars for Huntsman.
One of Reasoner's more memorable moments occurred when Playboy magazine officials called seeking to hire him for a case.
"I thought it was going to be a wonderful First Amendment case and that I was going to meet all these models," Reasoner told the Houston Chronicle in an interview a dozen years ago.
The case turned out to be a dispute with a Mexico franchise. A court had awarded the franchise $14 million in damages. Reasoner convinced the court to reverse the decision.
The Playboy executive then invited Reasoner and his team at V&E to join them at a celebration party at the Playboy Mansion with Hugh Heffner. The Playboy official then turned to one of the women lawyers on the V&E team.
"Of course, you will have to wear underwear," the Playboy exec said.
"I always wear underwear," the lawyer responded.
Reasoner told the Chronicle that it then dawned on them that the Playboy official meant wearing "only underwear."
There have been difficult days for Reasoner, too. In 2002, V&E came under intense fire for being the lead outside counsel for Enron Corp. The firm was sued in a securities fraud class action, was a target in the Enron bankruptcy and its leaders were subpoenaed by Congress. There were many legal industry insiders who predicted V&E would not survive the scandal.
"Harry was a rock for V&E during the firm's darkest days of Enron," said Rob Walters, who was then a partner at V&E and a protégé of Reasoner. "Harry and his reputation saved the law firm."
The lawyers for the plaintiffs ended up dismissing V&E as a defendant. The firm lost almost no clients and no partners.
"We were damn lucky to come out as well as we did," Reasoner said.
There are several lawyers, including close friends, who question whether Reasoner's commitment to retirement will last.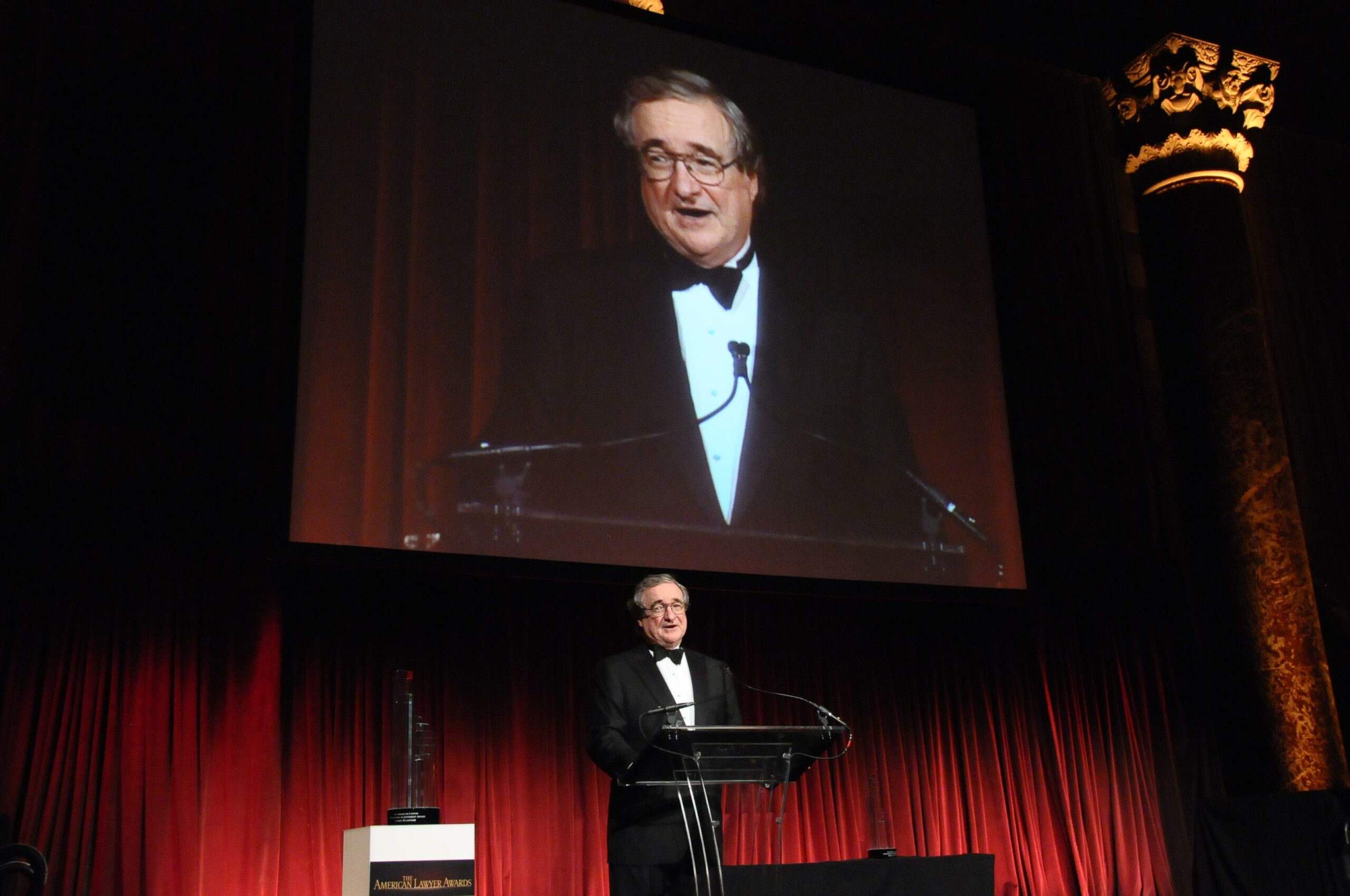 "Harry has such a love and passion for the law that I wonder how long his retirement will stick," Justice Bland said laughing. "I am betting that he doesn't allow his law license to expire."
The chief justice concurs.
"It would not surprise me to see Harry come back and dabble a little bit if the right case comes along," Hecht said.
Reasoner laughs himself. "This time is for real," he said. "I have to say that because Macey is standing right here."
Editor's note: Mark Curriden spent eight years (2002-2010) working directly with Harry Reasoner at Vinson & Elkins.
TEXAS LEGAL INDUSTRY INSIDERS TIP A HAT TO HARRY REASONER
"History will show that Harry Reasoner is one of the top lawyers to ever practice in Texas. If Harry is your friend, he will be there for you and support you all the way. That means a lot in this day and age. I think Harry is serious about retiring, but I also bet that he will make himself available if he's needed." David Beck, founder of Beck Redden and friend of Reasoner for more than 50 years.
"Harry's impact on the legal profession has been profound. Putting aside his many landmark cases, Harry is perhaps best-known for his unwavering commitment to the provision of legal services to those who cannot afford them. Having spent his entire career with a large firm, it would have been easy for Harry to have dedicated himself solely to the bottom line, to the billable hour. But legal services to the poor have always been a priority for Harry, and he has demonstrated that priority through the scores of pro bono matters he has personally handled and through his many years of leadership of the Texas Access to Justice Commission." – Steve Benesh, president of the State Bar of Texas and partner at Bracewell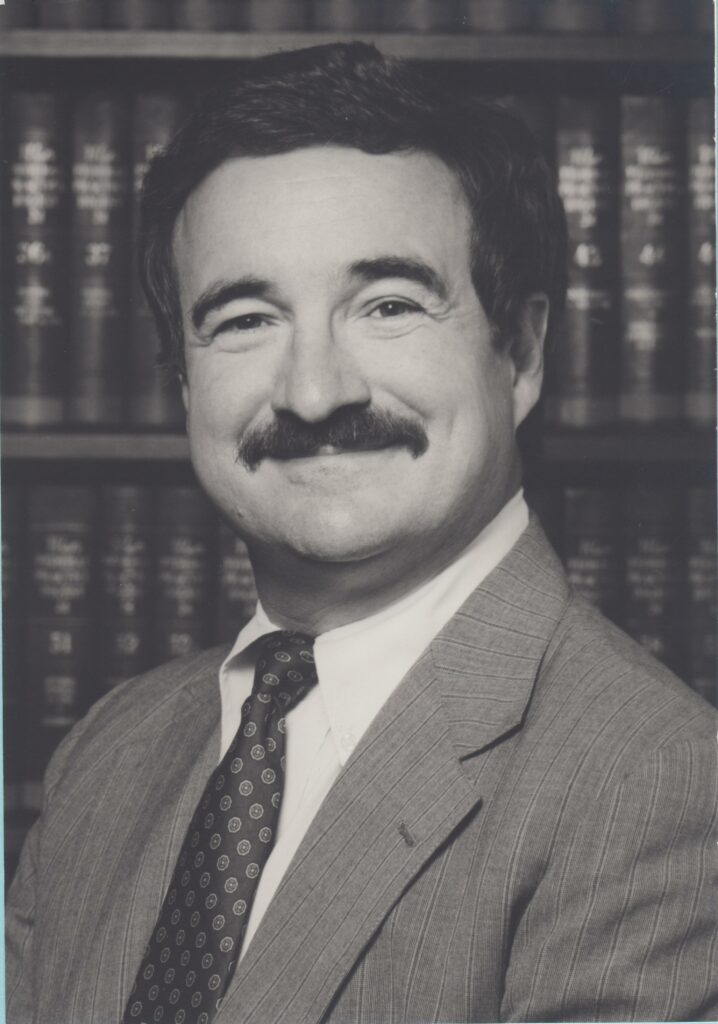 "Harry is one of the finest lawyers I know. I had the privilege as a young lawyer of watching him in action when I was an associate at V&E. Later I had the honor as in-house counsel of hiring Harry to represent my company's interests at the Fifth Circuit Court of Appeals. While his reputation as an unmatched advocate is well-earned, his biggest impact on the legal profession is that he modeled the highest integrity and professionalism in every situation, while also generously sharing his time and talents with his community and the legal profession as a whole. Harry's commitment to pro bono work, which led him eventually to chair the Texas Access to Justice Commission, inspired me as a young lawyer to set aside time for pro bono work and community service. Harry's mark on our profession and in particular on the Texas Bar is unparalleled." Stacey Doré, Vistra Corp. Chief Strategy Officer and former V&E attorney
"Harry Reasoner embodies the very best of the legal profession. On behalf of the Houston Bar Association, I congratulate him on his numerous contributions and storied career that will continue to inspire many future generations of attorneys in Houston, across Texas, and nationwide." Diana Gomez, President of the Houston Bar Association and shareholder at Chamberlain Hrdlicka
"Harry has had a good life and a great run and he deserves some time off. V&E is the model for what a law firm should be and Harry has been its greatest leader and advocate. His word is his bond. Harry is a treasured friend, but I am betting that he will still find his way into the office and into big cases every once in a while" Richard Mithoff, Houston trial lawyer