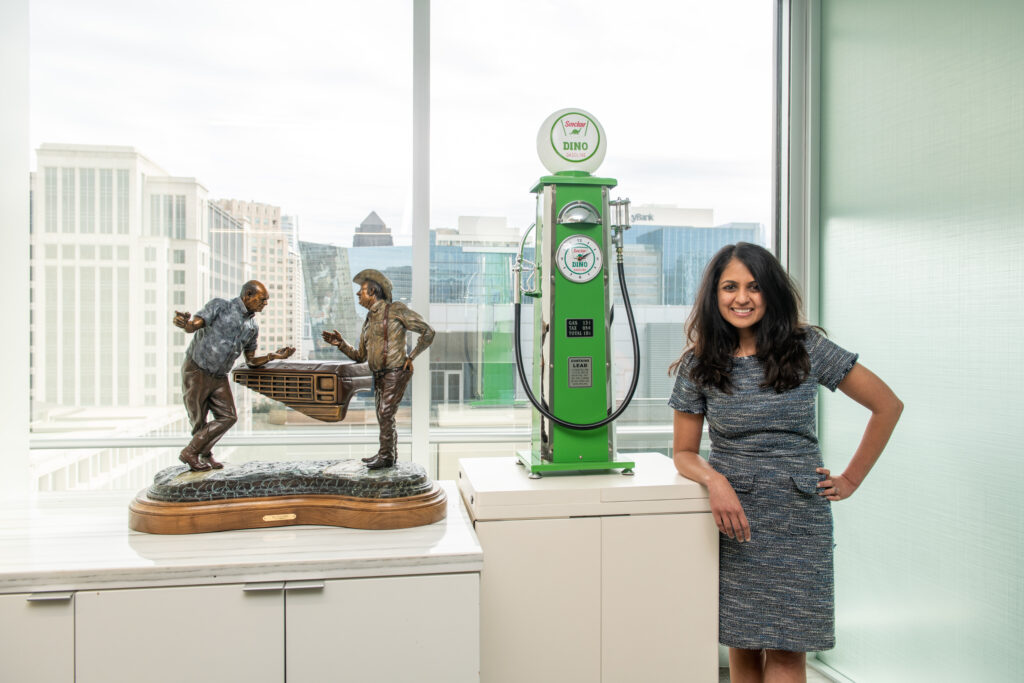 Vaishali Bhatia
Vaishali Bhatia experienced all layers of M&A dealmaking in 2022.
Bhatia was among the small group of executives at HollyFrontier Corporation involved in the early stages of internal discussions about acquiring Sinclair Oil Corporation and Sinclair Transportation. She and her legal team were involved in nearly every aspect of the complex and arduous negotiations.
Bhatia and her team handled the tedious and exhausting work of due diligence and documenting the transaction. They took the lead in obtaining regulatory approvals. Then they created an entirely new transaction structure to get the deal across the finish line.
"The Sinclair acquisition was a very complicated deal that involved transactions between HollyFrontier and Sinclair, between Holly Energy Partners [HollyFrontier's publicly traded MLP] and Sinclair, and between HollyFrontier/HF Sinclair and Holly Energy Partners," she said.
In other words, it was essentially three separate transactions with a deal value of $2.7 billion.
"As part of the transaction structure, we also formed a brand new publicly traded parent entity – HF Sinclair – and had to delist HollyFrontier," she said. "So, we had to coordinate and undertake all the governance and filings that come with that. Because we issued stock as consideration for HollyFrontier's acquisition, we had to hold a special shareholder meeting."
At the same time, Bhatia and her legal team were closing HollyFrontier's $400 million acquisition of the Puget Sound Refinery from Equilon Enterprises. That was immediately followed by a $400 million senior notes offering and a new credit facility.
The Association of Corporate Counsel's DFW Chapter and The Texas Lawbook, citing Bhatia's extraordinary success last year, honored Bhatia with the 2022 DFW Corporate Counsel Award for General of the Year for a Midsized Legal Department (six to 20 attorneys).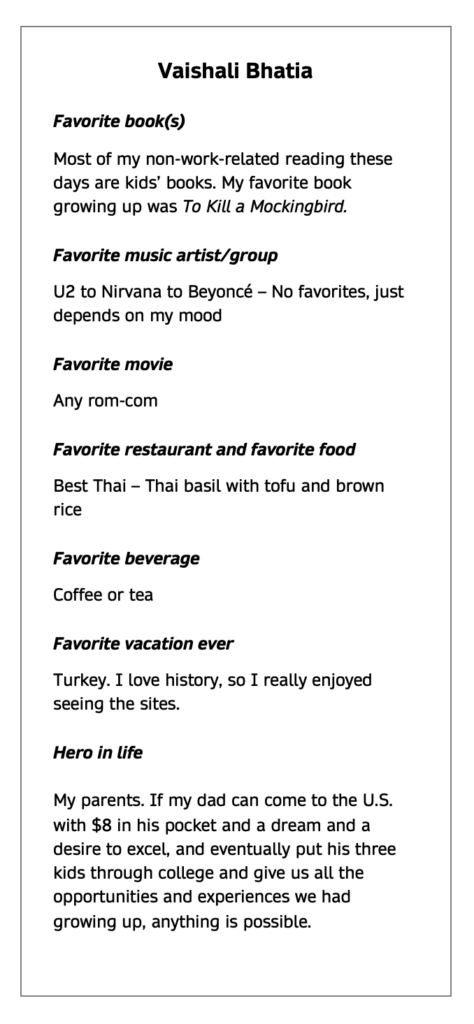 "Vaishali is a remarkable talent, and one of her greatest strengths is her ability to balance the concerns of business with those of the law," said Vinson & Elkins partner Katherine Frank, who nominated Bhatia for the award. "She's an excellent issue-spotter, who asks focused and thoughtful questions. She dives deep into details but never loses sight of the big picture."
"For any legal team, closing this transaction wouldn't have been easy," Frank said. "But for one of HollyFrontier's size, it was a massive undertaking — and a superb achievement."
Other lawyers who work with Bhatia say the Sinclair acquisition demonstrates her legal and leadership skills.
"This was a transformative transaction for HollyFrontier," said Bracewell partner Jason Jean. "The transaction also garnered intense antitrust scrutiny. The amount of time, focus and drive needed to achieve closing and then integration of the acquisition was — and is — tremendous.
"Vaishali engaged a number of legal advisors to address potential conflicts of interest and she managed these large teams expertly," Jean said.
Bhatia was born 40 years ago in Chicago. Her parents immigrated to the U.S. from India in the late 1970s. Her father was a pharmacist until his recent retirement. Her mother worked various jobs.
There were no lawyers in the family and she said she's "not entirely sure" where she got the idea of law school.
"Growing up, my parents always told me that I'd be a lawyer someday. Guess they saw something," she said. "As I got closer to going to college, the idea became more and more real."
Premium Subscriber Content: Click Here to read Mark's Curriden's Q&A with Vaishali Bhatia, who discusses how she selects outside counsel, her thoughts on $2,000 hourly rates and diversity, and advice to young lawyers.
Bhatia's family moved to Texas when she was in high school because her father got a job in the Dallas area. She chose to study business and finance at the University of Texas "just in case I changed my mind about law," she said.
For law school, she chose the University of Illinois because she wanted to move back to the Chicago area.
"However, three years of law school taught me that I didn't like the cold weather or scraping ice and snow off my car in the winter every time I needed to go somewhere," she said. She and her husband, whom she met at the University of Illinois and who holds a Ph.D. in electrical engineering, moved back to Texas.
During law school, Bhatia did a summer clerkship at Jones Day in Dallas. The firm hired her after graduation to practice in its M&A and capital markets groups.
"I enjoyed my time at Jones Day, learned a lot and found great mentors," she said. "After my fifth year at Jones Day, I wanted to move in-house so I could learn more about the business side of legal work and really be involved in matters that outside counsel only get a glimpse into.
"I also wanted the elusive work-life balance," she said.
Holly Corporation and Frontier Oil Corporation merged in 2011 to create a $7 billion mega oil refiner. The new HollyFrontier advertised for an in-house corporate attorney.
"It was right in my wheelhouse," Bhatia said. "Because I was initially doing the same work at HollyFrontier that I was doing at Jones Day, the substantive part of the shift to in-house was easy. The bigger challenge was learning the industry, company, people and culture."
As Bhatia became more familiar with the company and its operations, executives added new duties and challenges.
"When I started, HollyFrontier was a very different company, and we were a very different legal department," she said. "It's been fun to be a part of HollyFrontier's growth. We closed on acquisitions in 2017, 2018, 2019, 2021 and 2022, as well as constructed and started up a renewables segment over the last couple years, which have gotten the company to where it is today."
HollyFrontier had four attorneys and three paralegals when Bhatia started in 2011. The newly merged HF Sinclair has 11 lawyers, seven paralegals and additional specialists in compliance, risk management and government affairs.
Bhatia's accomplishments in 2022 started in May 2021 when HollyFrontier announced that it was buying the Puget Sound Refinery located halfway between Seattle and Vancouver, which produces about 150,000 barrels of crude oil per day. The deal also gave HollyFrontier a deep-water marine dock, a rail terminal and storage tanks that held nearly six million barrels of crude oil.
Bhatia and her team were still closing that transaction when the Sinclair deal started.
"It was very different from any transaction that our in-house team had worked on before," Bhatia said. "Due to the magnitude of the transaction and the need for confidentiality, we had a very small team at HollyFrontier and Holly Energy Partners working on the transaction."
The Sinclair Companies were a privately held, century-old group of assets founded by Harry Sinclair. The company's logo was a green sauropod dinosaur — a Apatosaurus — that was originally based on the then-common belief that oil deposits were the result of dead dinosaur bodies.
The Sinclair acquisition provided HollyFrontier with seven refineries from Kansas to Utah to Washington state. It also came with three renewable production facilities, a multinational lubricants business and a logistics and marketing operation.
From start to finish, more than 100 corporate lawyers from Bracewell, Morgan Lewis, Wachtell Lipton and Vinson & Elkins billed time on the transaction.
"The transaction involved countless hours and intricate details," Bhatia said. "The transaction took a year from the time we agreed on high-level terms to the day the deal closed."
In the meantime, Bhatia and her team had their regular day-to-day demands to manage, including adjusting to an ever-changing landscape in a heavily regulated industry.
"All public companies have seen increased reporting requirements, which will only continue to grow," she said. "With a lean team, we rely heavily on each other and outside resources to make sure nothing is slipping through the cracks, and we're learning to quickly pivot as things continue to change."
Bracewell's Jean said Bhatia is "very quick on her feet."
"Vaishali does not get distracted with minutiae and immediately identifies the material issues and draws the working group's focus to those issues," he said.
Talley Parker, a principal in the Dallas office of Jackson Lewis, agrees.
"Vaishali is quick on the uptake," he said. "She understands the issues and is able to get rid of the fluff and focus on the core issues."
Bhatia said retaining talent was one of her biggest successes during 2022.
"Everyone on the team contributed to the challenging but extremely productive year we had," she said. "It would not have been possible without them."
Bhatia said she makes it a priority to be home for dinner with her family and be at her children's activities.
"I don't want my kids to feel like they're missing out because my husband and I are always busy with work, and I don't want to miss out on time with them," she said. "It's not always perfect, but I try."
V&E's Frank, who has known and worked with Bhatia for more than a decade, said she has a tireless work ethic and a forward-thinking mindset.
"Bhatia was hired as an entry level attorney and so impressed the board of directors and the company's executives that she was promoted to general counsel of two public companies within eight years — and prior to attaining 40 years of age," Frank said. "She is dedicated to her craft and is able to motivate and guide her legal and business teams through complicated transactions seamlessly, while simultaneously juggling many different transactions and demands for the companies."