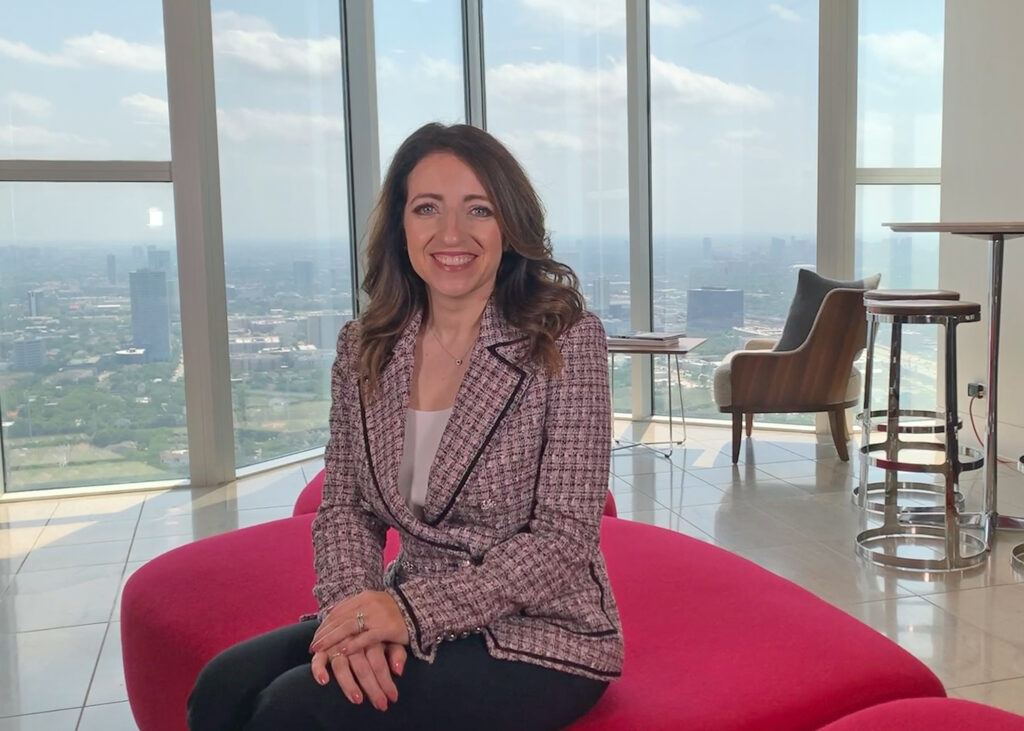 Theresa Terrell was a rookie litigator at Jackson Walker when she realized the trial practice was not a good fit for her.
Fortunately, a Jackson Walker partner also recognized the problem and encouraged Terrell "to try real estate."
"I still remember the first project I worked on was reviewing leasing in connection with a portfolio acquisition of office buildings, and I never looked back," she said. "I love that real estate transactions can feel non-adversarial – deals can get contentious, but both sides ultimately want to get to a mutually beneficial outcome."
Sixteen years later, Terrell is still in the real estate law practice – only now as an assistant general counsel at Hines, a privately held real estate investment firm operating in 28 countries with $90 billion of investments under management.
Since joining Hines in March 2020, Terrell has become one of the most influential commercial real estate attorneys in the U.S., guiding Hines through the most challenging two-year period for the industry in generations. In fact, she started at Hines the very week that the company and the rest of corporate America sent office employees home to work remotely.
"Despite this odd start, Theresa immediately became an absolutely incredible member of our team," said Hines Vice President Evan McCord. "Not only did she advise our internal [human resources department] and business leaders for Hines employee-related policies, Theresa had to navigate how Hines would handle Covid and return to work as a property and facilities manager for millions of square feet globally."
"In many ways, Hines set the standards for navigating Covid for office management, and Theresa was at the forefront of these efforts," McCord said.
In addition, Terrell led or played a critical role in dozens of M&A transactions and vendor contracts in 2021, including a nine-digit facilities management assignment with JP Morgan Chase.
Citing Terrell's extraordinary legal work in the commercial real estate world during the Covid-19 pandemic and the building shutdowns and other ramifications that came with it, the Association of Corporate Counsel's Houston Chapter and The Texas Lawbook honor the Hines assistant GC with the 2022 Houston Corporate Counsel Award for Senior Counsel of the Year for a Large Legal Department.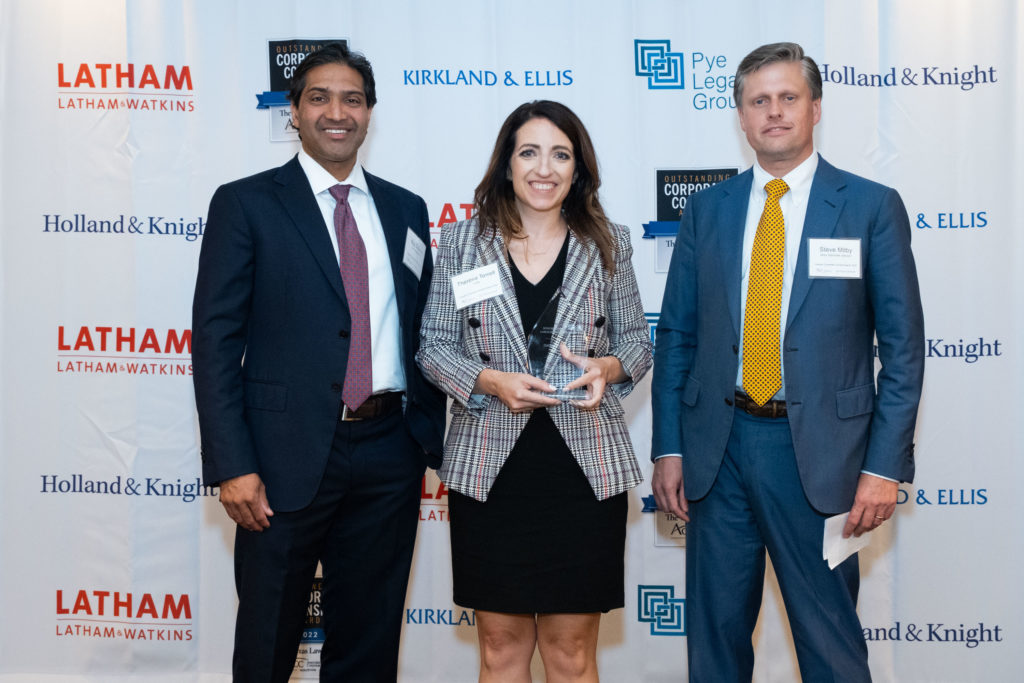 Theresa Terrell, pictured with Raj Duvvuri and Steve Mitby, accepting the Houston Corporate Counsel Award
"Covid itself was a challenge because the legal profession was tasked with answering some unprecedented questions, and as lawyers we had to make some judgement calls that had the potential for big implications," Terrell told The Texas Lawbook.
"I faced that challenge in combination with the challenge of being new to the company and trying to learn the players and culture – all remotely," she said. "It was definitely a character-building career moment, and ultimately I think it helped me integrate into Hines more quickly than I would have had I started without those challenges."
McCord, who also serves as associate general counsel at Hines, said the real estate investment firm is "immensely blessed" to have Terrell during the period of turmoil.
"Theresa built instant trust with our operations management committee, the senior business leaders responsible for our management operations," McCord said. "Her advice became a prerequisite to any higher level Covid-related policy decisions. Following this trial by fire, she also showed her practical legal approach to the management business generally, helping to negotiate multiple very large property and facility management agreements."
For Premium Subscribers: Click Here to read Mark Curriden's Q&A with Theresa Terrell regarding her mentors in life, pet peeves for outside counsel and what she would do if she won the Powerball lottery tomorrow.
Marisela Peña Gonzalez, a partner at Jackson Walker, said Terrell's "ability to see the issues through the lens of the business teams that she works with" makes her a great in-house counsel.
"Theresa's ability to understand what needs to be fought for and what's a risk that can be mitigated help her provide efficient and valuable advice to her clients," Gonzalez said. "She's thoughtful about the needs of those she manages and about matters that affect the entire group and isn't afraid to advocate for what she thinks is right."
Bracewell partner Jonathon Hance said Terrell possesses an "incredible depth of expertise in transactional real estate matters and an ability to balance complex legal needs with ease.
"But what makes her a great lawyer is her seemingly effortless ability to anticipate her client's business needs and use her legal skill to achieve their objectives," Hance said. "While even good lawyers often have a tendency to seize upon legal risks as a means to say 'no' to a client, Theresa will deliberately evaluate and navigate through rough waters of legal risks in order to say 'yes' to the business needs.
"Her unwavering calm under pressure, unflappable attitude and gentle disposition empower her leadership and make her a joy to work alongside," he said.
Terrell was born and raised in the college town of Ames, Iowa, which was small enough that she bumped into folks she knew anywhere she went but also attracted unique cultural events and opportunities because of the university.
Her mother is a nurse and her father is a doctor.
"My mom set a good example for me of being a working mom and having a career while juggling three active kids," she said. "My dad was born in Lebanon and came to the U.S. when he was nine with just his brother, and he worked hard his entire life to get an education and have a successful career. They both made me appreciate that success doesn't come easy; it can only be earned."
There are no lawyers in Terrell's family, but unlike her parents she had no interest in studying science.
After earning a degree in marketing at the University of Arizona, Terrell worked for the college's athletics department.
"My dad was set on me going to graduate school, so he convinced me that if I went to law school I could become a sports agent," she said. "The idea was appealing enough for me to start looking into law school. Within a year and a half, I started at Baylor Law. While the reason for going to law school never panned out, I couldn't be happier with my decision to become a lawyer."
Terrell received her law degree in 2006 and joined Jackson Walker's Houston office that September.
For six years, Terrell honed her commercial real estate legal knowledge and skills at the law firm. But she "always felt like there was a piece missing in private practice."
"I wanted to know what happened when the lease was signed or the building was acquired," she said. "As outside counsel, it was rare to be brought in on those details of the projects. I wanted to see the bigger picture and learn more about the business side of real estate – understand the why."
In 2012, Terrell got the opportunity to join the legal team at Howard Hughes, a real estate development and management firm that had been created two years earlier as a spinoff of General Growth Properties.
"One of the most rewarding things about working at Howard Hughes in The Woodlands was being able to literally see the projects go up around you and experience the impact they had on the community," she said. "When I interviewed with the company in 2012, Hughes Landing – a mixed use development on Lake Woodlands – was nothing more than a rendering and I had the opportunity to handle the leasing for the project and was able to see it all come together firsthand."
Terrell's biggest success at Howard Hughes came near the end of 2019 when she led the complex $565 million acquisition of the former Anadarko Petroleum headquarters, a Montgomery County landmark, along with the old ConocoPhillips campus in The Woodlands.
"It was at the time the company's largest ever acquisition and from start to finish. We completed that transaction in a little over one month and during the year-end holidays," she said. "It was a lot of work and there were a lot of challenges to overcome, but closing that deal was such an accomplishment for me personally."
In early 2020, a former colleague who worked at Hines at the time told Terrell about an opportunity to manage a team and mentor younger lawyer at Hines.
"I had an amazing experience at Howard Hughes, but I felt that I was ready to move into more of a leadership role and Hines was the perfect opportunity," she said. "I loved the idea of working for a family business with a global reach. The opportunities to learn and grow seemed endless – and so far they have been."
Terrell told The Texas Lawbook that she was hired to lead M&A deals for Hines but that Covid and its impact on the economy slowed the company's acquisitions.
Hines shifted her focus from transactions to operations and to advising investor partners seeking direction.
"No one was an expert on these issues when the pandemic started, but I quickly developed into a valuable partner for our operations teams on these issues," she said.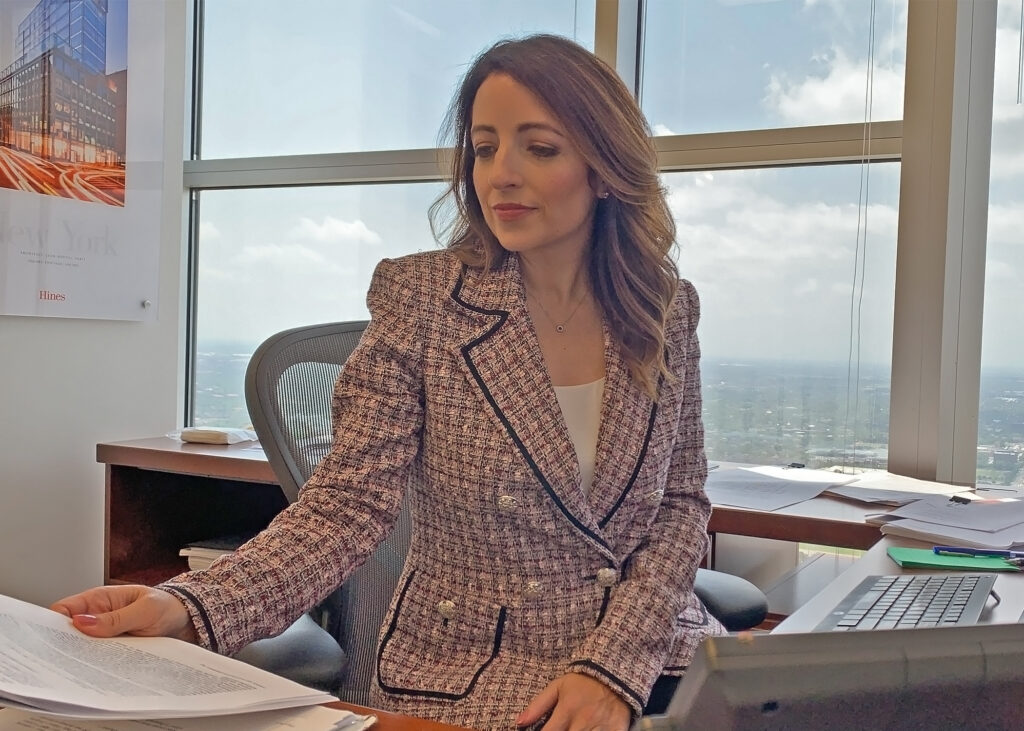 One of Terrell's biggest successes in 2021 came when she led a difficult negotiation of a new agreement with a major facilities-management client.
"We really had an uphill battle with the client to get to a more middle ground," she said. "It's not easy negotiating against a client and customer because there is great importance in maintaining a good relationship and making sure the client is happy with the outcome, while simultaneously trying to serve the best interest of the company.
"It's walking a very fine line in some instances," she said.
Hance has worked with Terrell on several matters, but he was most impressed watching her "manage and negotiate a difficult contract negotiation for a development agreement."
"As in many deals, there were competing objectives and substantial legal risks," he said. "On this deal, Theresa had pressure from her client to 'get the deal done' and a very difficult counterparty to negotiate with. But where even good lawyers would have become frustrated, Theresa was steady, rock solid and calm."
Hance said Terrell "distilled legal risks so that her business counterparts could evaluate them easily."
"I listened as she convinced the counterparty as to the reasonableness of Hines' positions," he said.
Terrell said getting that specific transaction across the finish line was particularly gratifying.
"Theresa has a work ethic that is amazing and rare in today's world," said Bret L. Strong of the Strong Firm in Houston. "She's very practical in approach and incredibly hardworking. An incredible example for younger attorneys working around her. She is an even a better person, wife and mother."