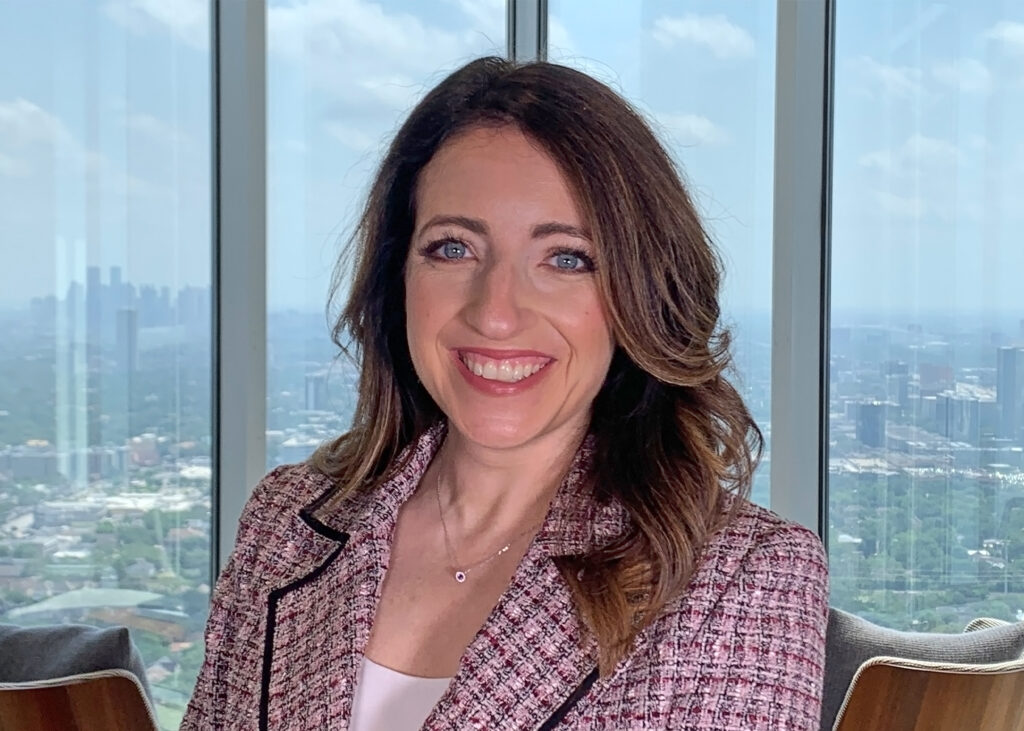 Theresa Terrell was a rookie litigator at Jackson Walker when she realized the trial practice was not a good fit for her and a partner at the firm encouraged her to try real estate. "I still remember the first project I worked on was reviewing leasing in connection with a portfolio acquisition of office buildings, and I never looked back," she said. "I love that real estate transactions can feel non-adversarial – deals can get contentious, but both sides ultimately want to get to a mutually beneficial outcome."
Sixteen years later, Terrell is still in the real estate law practice – only now as an assistant general counsel at Hines, a privately held real estate investment firm operating in 28 countries with $90 billion of investments under management. The Association. of Corporate Counsel's Houston Chapter and The Texas Lawbook honor Terrell with the 2022 Houston Senior Counsel of the Year.
For Mark Curriden's full profile of Theresa Terrell Click Here.
Texas Lawbook: Who are your life or career mentors?
Theresa Terrell: My dad has always been a life mentor for me. He instilled in me a drive to work hard and a desire to always learn. He set a great example of generosity that I hope to replicate. He's someone I always go to for advice and to share my successes.
Lawbook: What are one or two life-impacting experiences you've had?
Terrell: Becoming a mom has been the most impactful experience in my life. I was already well into my career when I had my first daughter in 2016, and I knew I had more I wanted to accomplish as a lawyer, but I also knew I wanted to be the best mom. Having two daughters now has really put so many things into perspective. It's important to me to work hard and achieve in order set a good example for them in the same way my parents did for me, and at the same time it's important that they know they are my first priority. It's a constant balancing act, but I have an incredible support system in my husband. My perspective on being a working mom, woman lawyer and woman in the real estate industry has also changed. There is more significance to what I'm doing, and I'm determined to help other women in law and real estate so that eventually this is all easier for my daughters.
Lawbook: What do you look for in hiring outside counsel?
Terrell: I'm always looking for someone that is solution oriented. As an in-house attorney, it's important to be able to identify and explain the risks, but I think it's even more significant to be able to mitigate or solve for those risks. So when I'm partnering with outside counsel, I'm looking for someone that's trying to help us reach the point where the deal can move forward, not just identify why it can't.
Lawbook: Do you have pet peeves regarding outside counsel?
Terrell: Lack of communication. Deals are always moving at a fast pace internally, so it's always helpful when you're hearing updates from outside counsel before having to reach out requesting the update.
Lawbook: What does outside counsel need to know about you?
Terrell: I love being part of a team and collaborating. If we can work together and problem solve together, we'll have a successful working relationship.
Lawbook: How important is pro bono and diversity in your hiring of outside counsel?
Terrell: Diversity, equity and inclusion is a key focus for Hines globally, so it's important for us in hiring outside counsel. We want to partner with firms that share our same values, especially on this important issue.
Lawbook: What is your favorite part of your role at Hines?
Terrell: The opportunity to lead and mentor others. While being a leader certainly has its challenges, being a trusted resource and mentor for other attorneys is very rewarding. It's important to me to create opportunities for others in our department to help them advance and succeed. I think that is a key part of my role here. If I were to win the Powerball lottery tomorrow, what would I do? After a brief, extravagant beach vacation, I would be back at work at Hines. I know I still have a lot to accomplish, and I'm excited to do that with this company.