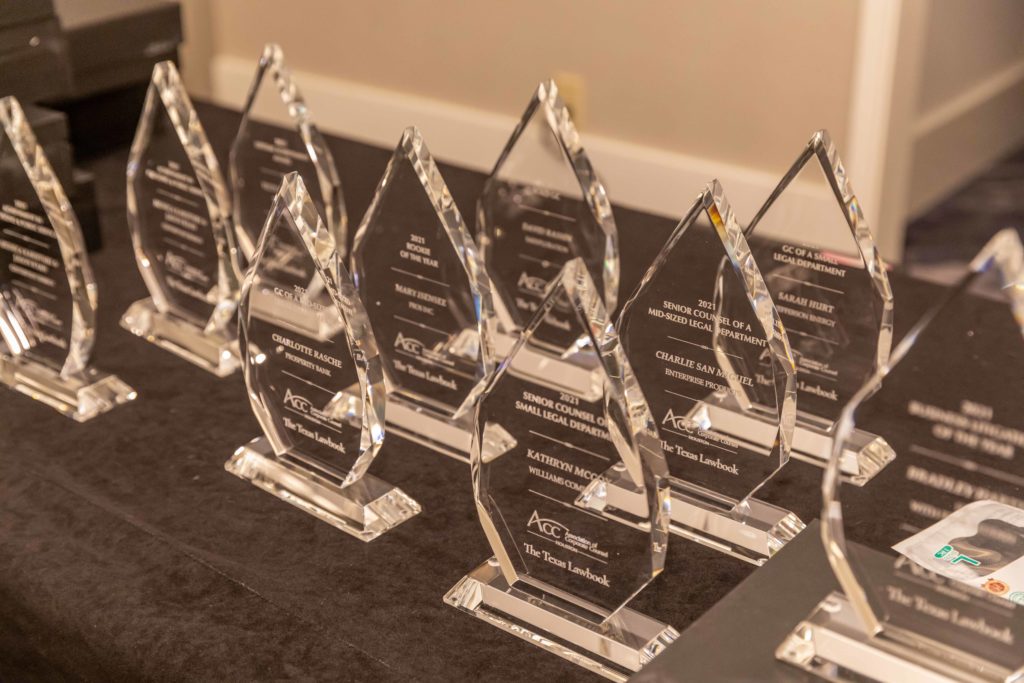 Trophies from the 2021 Houston Corporate Counsel Awards
The Association of Corporate Counsel's Houston Chapter and The Texas Lawbook have named in-house lawyers at energy giant Phillips 66 and GSFSGroup, a finance and insurance provider for the auto industry, as finalists for the 2022 Houston Corporate Counsel of the Year Award for Transaction of the Year.
The Association of Corporate Counsel's Houston Chapter and The Texas Lawbook will honor the four and more than a dozen other corporate in-house lawyers May 19 at the 2022 Houston Corporate Counsel Awards event.
ACC Houston and The Lawbook received scores of nominations highlighting the extraordinary work of corporate in-house counsel in the Southeast Texas area in 2021. Five panels of independent judges, who were screened for potential conflicts, reviewed submissions and chose finalists for a dozen categories.
The Transaction of the Year is one of three awards that recognize in-house counsel and their outside lawyers who worked on the deal. The specific finalists are:
GSFSGroup Chief Legal Officer Diane Greene and senior counselors Joe Fagan and Rob Schmidlin, who were nominated by GSFSGroup President Guy Koenig; and
Phillips 66 Deputy General Counsel Rob Task, Deputy GC Julie Pradel and Managing Counsel Maine Goodfellow. Latham & Watkins partners Thom Brandt and Bill Finnegan advised Phillips 66 in the $3.4 billion acquisition of Phillip 66 Partners. Vinson & Elkins partners Alan Bogdanow and Peter Marshall represented Phillips 66 Partners.
The panel that judged the Transaction of the Year category stated that both legal teams are "highly deserving" of the award and that they were split over which should win.
For some of the categories, however, the judges said clear and undisputed winners existed. Starting this week, The Texas Lawbook will publish in-depth profiles of each of the finalists.
The Houston Chapter of ACC and The Lawbook previously announced these other finalists for the 2022 Houston Corporate Counsel Awards:
The 2022 Houston Corporate Counsel Award for General Counsel of the Year for a Non-Profit/Governmental Institution goes to Dona Cornell, who is general counsel of the University of Houston System. Boyar Miller shareholder Tiffany Melchers nominated Cornell.
The 2022 Houston General Counsel of the Year for a Midsized Legal Department (six to 20 attorneys) goes to Andy Wright, who is the general counsel at Talen Energy. Paul Genender, a partner at Weil, Gotshal & Manges, submitted Wright's name for the award.
Two finalists were selected as finalists for the 2022 Houston General Counsel of the Year for a Small Legal Department (one to five lawyers). They are: Oasis Petroleum General Counsel Nicholas "Niko" Lorentzatos, who was nominated by V&E partner Dave Oelman, and Noble Corp. General Counsel William Turcotte, who was nominated by Kirkland & Ellis partner Sean Wheeler.
Achievement in Pro Bono and Public Service goes to Phillips 66 Senior Counsel Kathleen Bertolatus, who was nominated by Michael Voutsinas, Phillips 66 manager of legal business services.
General Counsel of the Year for a Large Legal Department is Schlumberger Chief Legal Officer Dianne Ralston, who was nominated by Willkie Farr senior counsel Jay Martin.
Business Litigation of the Year is awarded to Huntsman GC David Stryker and his outside legal counsel at Kirkland & Ellis. Business Litigation of the Year is one of two awards given to in-house counsel and the company's outside lawyers.
The Award for Legal Innovation goes to Siltstone Capital General Counsel Mani Walia. Walia was nominated by Shearman & Sterling partner Ian Roberts.
The judges selected two finalists for Achievement in Diversity and Inclusion. They are BHP Senior Counsel Ashley Hill and Travis Torrence, who is Global Litigation Bankruptcy Counsel for Shell Oil. Holland & Knight partner Annapoorni Sankaran nominated Torrence. Norton Rose Fulbright senior associate Jesika Silva Blanco nominated Hill.
Two finalists for the Rookie of the Year Award were chosen: Medical Informatics Corp. Associate Counsel and Compliance Officer Alyssa Desgranges-Ellett and Crescent Energy General Counsel Bo Shi. Vinson & Elkins chair Keith Fullenweider nominated Shi, and Medical Informatics Senior Counsel Kyle Verret supplied the nomination for Desgranges-Ellett.
Senior Counsel of the Year for a Large Legal Department (21 lawyers or more) also has two finalists in 2022. They are TotalEnergies Assistant General Counsel Cynthia Martinez, who advises the energy company's renewable energy unit, and Hines Assistant General Counsel Theresa Terrell. TotalEnergies General Counsel Elizabeth Matthews nominated Martinez, while Hines Associate General Counsel Evan McCord submitted Terrell's nomination.
"The past couple [of] years have proven particularly challenging for many companies because of the Covid pandemic, energy prices, political upheaval and global turmoil," said ACC Houston President-elect Joseph Yao, who is IP counsel with Exxon Mobil. "The nominations we received show that in-house lawyers at these businesses demonstrated true leadership and legal skills in guiding their companies through incredibly difficult times."
Texas Lawbook Publisher Brooks Igo said the news publication's four-year partnership with ACC Houston has allowed the legal profession to showcase great achievers and leaders in the corporate in-house community.
"Over the next three weeks, The Texas Lawbook plans to publish in-depth profiles of each of the award finalists and the stories behind their successes," Igo said. "This year, we have some truly amazing finalists."
The proceeds from the awards ceremony fund two worthwhile causes.
The first is Street Law, an educational outreach effort supported by ACC Houston and The Lawbook into the Houston public schools. Street Law serves multiple purposes, including informing high school students about the legal and justice systems and it shows students that there are many opportunities in the law for them.
Second, The Texas Lawbook, with the support of ACC Houston, is creating a full-time pro bono, public service and diversity reporter position. The Lawbook has created a non-profit foundation to raise funds for this cause. Several corporate in-house counsel and ACC Houston members are on the foundation's board of directors.
For more information about any of these efforts, please contact Brooks Igo at brooks.igo@texaslawbook.net.