Nearly 200 Houston general counsel and corporate lawyers packed the Four Seasons Hotel Thursday night for the 2022 Houston Corporate Counsel Awards.
The big winners of the fourth annual awards, which highlight the successful legal work of corporate in-house counsel, involved general counsel and senior counsel at Shell USA, Crescent Energy, Hines, GSFSGroup and Oasis Petroleum.
The Association of Corporate Counsel's Houston Chapter and The Texas Lawbook appointed 15 independent judges to review more than 70 nominations. A majority of the 14 categories had only one finalist and thus a winner. Those are also listed below.
Five categories had multiple finalists.
2022 Transaction of the Year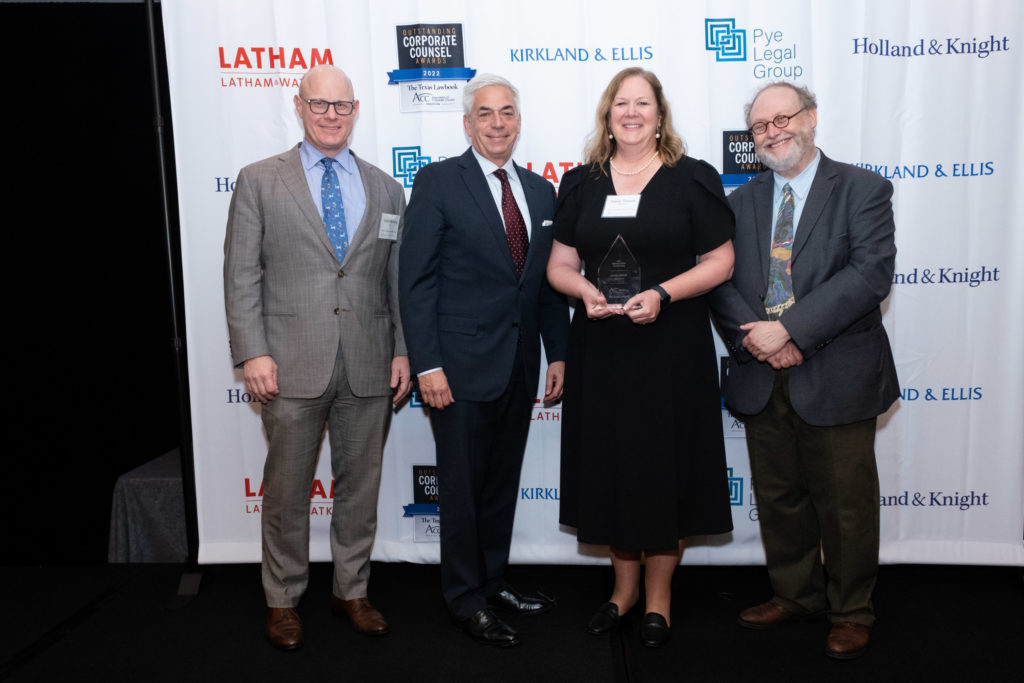 The event's biggest surprise came when the small legal team at GSFSGroup, a Houston-based auto dealer products-services provider, won the 2022 Houston Corporate Counsel award for Transaction of the Year.
GSFSGroup General Diane Greene and her small legal team faced a monumental task in 2021: Develop and complete a transformational partnership agreement regarding vehicle-product services that required approval by 23 state regulatory authorities and 15 consumer-finance lenders — all in less than three months.
The 81-day schedule — from Oct. 11 to Dec. 31 — was established by Houston-based GSFSGroup and Triton Automotive Group, a 130 dealer-services firm headquartered in Indianapolis. It left no room for disruptions, errors or delays to get 1,019 individual contracts across 31 states approved for use.
Add to that, the other side's GC left in the middle of the deal. The agreement, the largest and most important in GSFSGroup's history, added $165 million to its revenue stream and grew its product volume 28 percent.
Senior Counsel of the Year for a Large Legal Department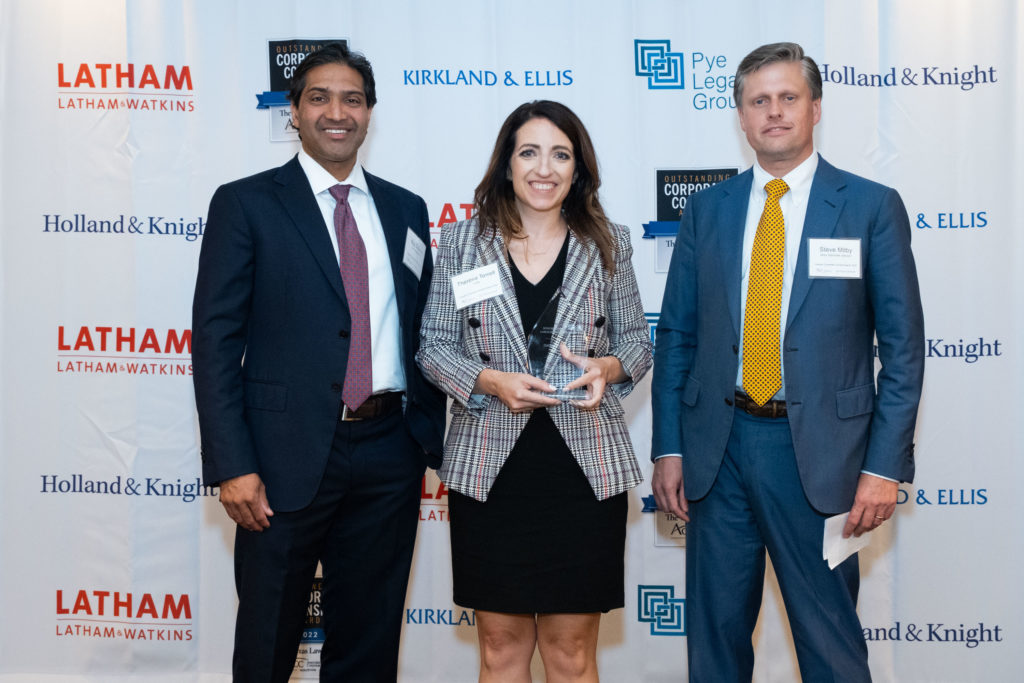 The judges said this was one of the closest categories of the year and that both finalists deserved to win. But in the end the judges selected Theresa Terrell, an assistant general counsel at Hines, a privately owned global real estate investment firm with a presence in 255 cities and more than $80 billion in assets under management. Terrell started at Hines after the pandemic started and she immediately led the development of return-to-work standards and guidelines at the REIT's properties. She also negotiated multiple large property management agreements and quickly became a mentor to many of the younger women employees at Hines.
General Counsel of the Year for a Small Legal Department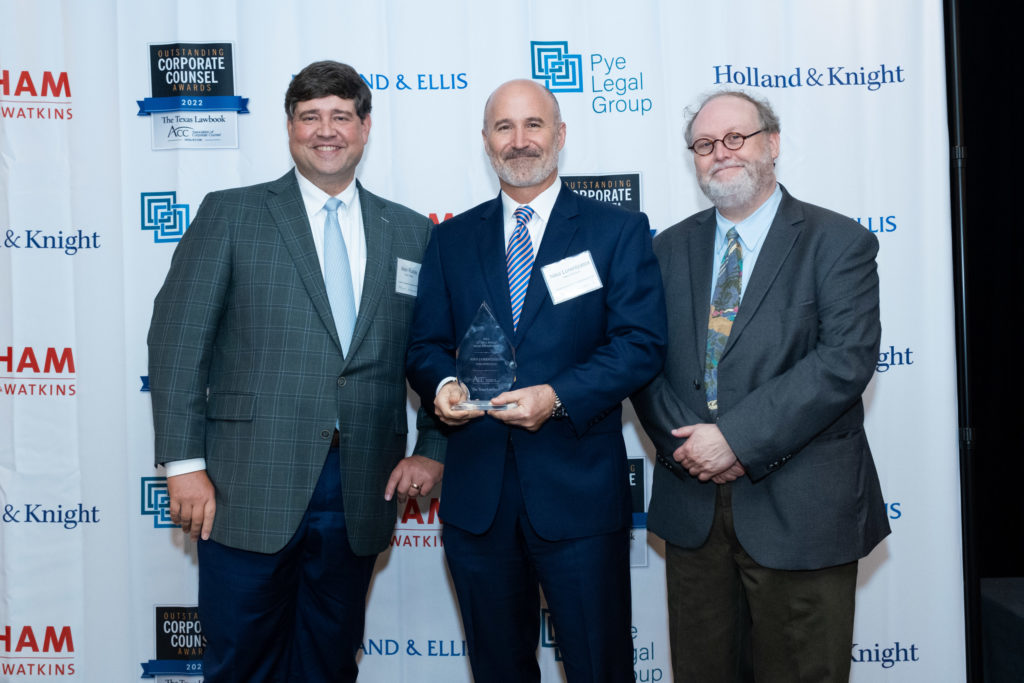 Once again, the judges said the two finalists for this category were incredibly close, but the judges chose Oasis Petroleum General Counsel Niko Lorentzatos as the winner.
Lorentzatos guided Oasis in and out of bankruptcy in only a few months. The energy company emerged from Chapter 11 in November 2020 with a reduction of $1.8 billion in debt and a new $575 million credit facility. In 2021, Lorentzatos led Oasis through a series of strategic transactions that included a $510 million simplification transaction, an acquisition of $745 million in acreage in the Bakken Shale, the sale of $480 of acreage in the Permian, a $7 billion merger with Crestwood Equity Partners and a merger with Whiting Petroleum for $6 billion.
Achievement in Diversity and Inclusion
The judges selected two amazing finalists for the Achievement in Diversity and Inclusion Award. They chose Shell USA's Travis Torrence.
Torrence was in high school when his aunt, a school teacher-turned-political activist, sued her local government under the Voting Rights Act challenging the "at-large" election system.
"She won," Torrence said. "That was the first time I noticed the law being used to effectuate societal change — change that for that community was historic. I remember thinking that the law was the key to justice, fairness, equity and equality."
Travis is the great-great grandson of a slave. He is now the leader of Shell USA's global litigation bankruptcy and credit team and fearlessly tackles diversity, equity and inclusion.
Rookie of the Year
The judges voted Crescent Energy General Counsel Bo Shi as the 2022 Rookie of the Year. Shi had a "crazy" 2021. He started the year as a lawyer at Vinson & Elkins representing trading platform TradeZero Holding in a $556 million SPAC merger. Independence Energy hired Shi as GC in October, where he spent three intense months in the company's $5.7 billion M&A deal with Contango Oil & Gas. Nine weeks later the transaction closed, a publicly traded company called Crescent Energy was created and Shi was named its GC. But Shi took no holiday breaks. Instead, he handled a $200 million securities offering and engineered an $815 million acquisition. The result: Shi received the 2022 Houston Corporate Counsel Award for Rookie of the Year.
The rest of the 2022 Houston Corporate Counsel Award winners are:
Achievement in Pro Bono and Public Service Award: Phillips 66 Senior Counsel Kathleen Bertolatus.
Lifetime Achievement Award: Archrock General Counsel Stephanie Hildebrandt;
GC of a Midsized Legal Department: Talen Energy General Counsel Andrew Wright;
GC of the Year for a Non-Profit or Public Institution: Dona Cornell, general counsel of the University of Houston System;
Business Litigation of the Year: Huntsman Corp. General Counsel David Stryker and outside counsel Kirkland & Ellis;
Legal Innovation of the Year: Siltstone Capital General Counsel Mani Walia;
General Counsel of the Year Award for a Large Legal Department: Schlumberger Chief Legal Officer Dianne Ralston.